I enjoy writing these articles for my readers, you guys. I don't accept payment for writing reviews, my opinion on products is my own, but if you find my recommendations helpful and you end up buying something through one of the links I may be able to receive a commission on that.
More information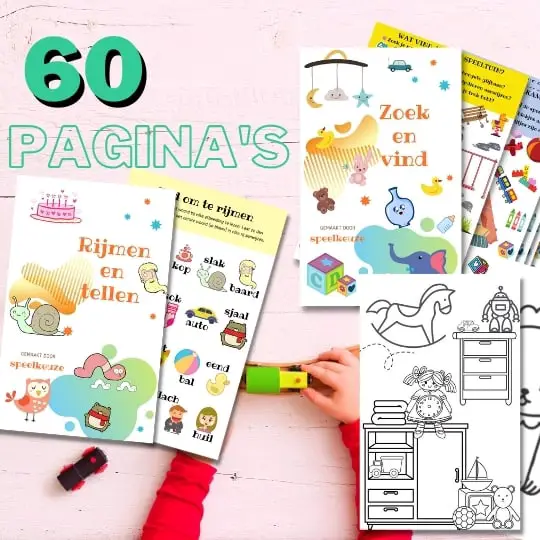 Always something to do for the holidays or rainy day?
Play Choice now has the ultimate activity book collection, with over 60 pages of fun coloring pages and educational puzzles.
Children's favorite toys? That is not very difficult to guess: a train with long rails to ride on!
Or even better, a sustainable wooden train playset with accessories that make it even more real.
Beautiful basic and pure toys for your child and very educational too!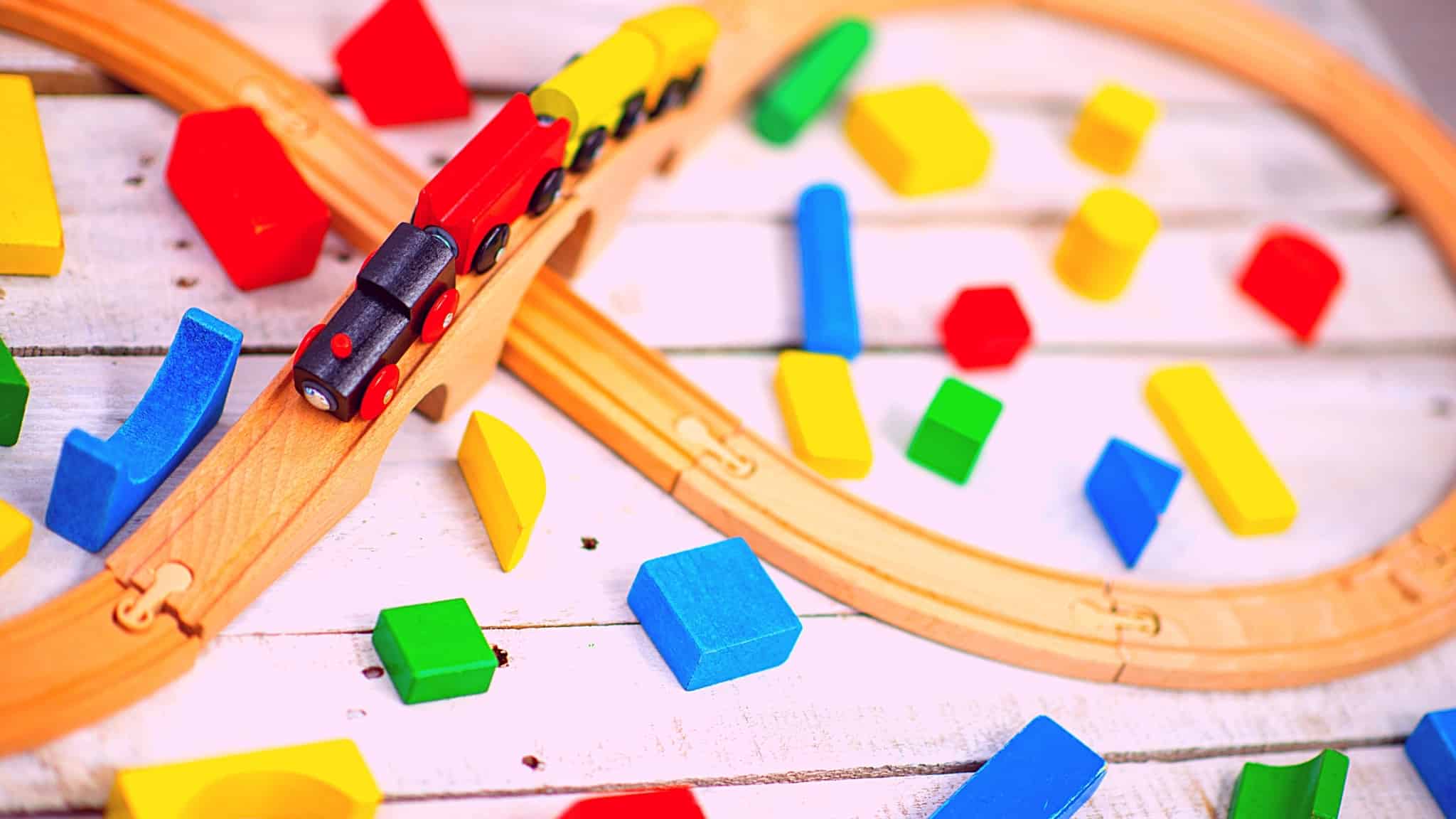 The overall best wooden train set that I have come across is the Bigjigs Alpen train set because it actually already has everything in it with accessories to build your landscape, and a slope to ride down the mountain. (view the images here).
It is very educational and very comprehensive because the train travels through different landscapes to the next station. Mountains, forest and village all come along, it is therefore a long train tracks.
And along the way, your child will not only encounter traffic signs, but also figures in various professions and vehicles.
What a pleasure to play with this train that travels over mountains and valleys!
Usually a train set only becomes fun when you buy more of it so that you can actually make some different tracks, but the Alpen set is already quite extensive.
Furthermore, Bigjigs has a lot of fun, and sometimes special (such as a pirate ship wreck, or a dinosaur), extensions that you can connect to it.
Plus they fit many other brands (more on that later).
More about this topper later, but first to our overall top 11, which is certainly worthwhile to get new ideas in terms of train sets!
I've listed my top picks for the best wooden toy train sets for you here. I will discuss them in more detail later in the article.
Directly below our top 11 you will be able to read a handy review about each train set separately, in which I show what is possible for your child.
I have taken into account children of different ages.
Everyone on board, the train is about to leave!
What should you pay attention to when purchasing a good train set?
A train set gives your child the opportunity to have fun and develop communication and interaction skills while enjoying pushing the train across the track.
There is an awful lot to choose when it comes to wooden toy train sets. So it can be difficult to make a good choice!
What will your child like? Which toys are solid and can take a beating?
Of course we would prefer a train set that is made of sustainable wood and lasts a long time.
A set that is also educational for our child and that they can use in all directions.
There are also a number of plastic train sets available, but we find those made of wood the most suitable and nice and basic.
Your child should have a lot of space to fantasize and act out situations.
Make sure you choose a set in the correct age category and also whether any expansion is possible.
Is the train set solid? With wood we actually know that you buy good quality toys. Wooden toys are practically indestructible and usually last for generations.
Most wooden train sets are suitable for children from 3 years old. However, always check the age, in connection with the safety of your child!
Pay attention to small pieces and keep them separate for the first time if necessary.
Then, where is your child's interest?
Perhaps your little one has a preference for train sets that can be loaded and unloaded, with a crane, a truck and containers, for example.
It may also be that your little one likes to move 'normal' wagons with animals.
Your child can go in many directions with the train sets from our top 11!
Which tracks and trains fit together?
If you want to expand your train set with a set from another brand, pay attention to whether the rails fit together.
If you want to buy additional accessories, you can easily combine the following brands:
BigJigs
VERVE
Eichhorn
Janod
KidKraft
Mentary
Hape
Bandits & Angels
waytoplay
No one rail is completely identical, but that does not mean that the brands do not fit or connect.
Perhaps the pieces do not always connect seamlessly, but the train will be able to pass them without many problems.
They are interchangeable, which means that both the trains fit on the tracks of other brands and the tracks can click on the tracks of other brands.
Which tracks and trains do not fit the above sets?
Unfortunately, not all train tracks will fit the above brands.
The train track of the Ikea children's department for example, can cause problems, it is sometimes difficult to get these pieces of rails together and apart.
I have found that the following wooden train tracks do not fit well on the aforementioned brands:
Lillabo from Ikea
Playtive wooden train track from Lidl
Hema train set
These sets would work well together again.
Best wooden toy train sets rated
Now let's take a look at the top picks for wooden toy train sets.
Each has its own highlights. Which will be your little one's favorite?
Overall best wooden train set: BigJigs Alpen train set (BJT016)
The beautiful Bigjigs Alpen train set is a good choice anyway, and our top recommendation.
Bigjigs makes very good quality, and what makes this set extra beautiful is the possibility to expand it endlessly.
Your child will not get tired of it and the toy set also lasts a long time.
This extensive train set is suitable for children from 4 years; There are a lot of detailed parts included.
The train track is a fun challenge to assemble and with the help of supporting pillars the rails even go up high.
Very spectacular, the train travels through mountains, valleys and over bridges!
A set to enjoy for a long time, ideal as a first train set for a child, and expandable with rails by means of the BigJigs Rails Expansion Set.
All others bigjigs train sets connect seamlessly with it. How about a Dino Train Set with its matching T-Rex tunnel?
Or a pink-purple princess train set, with a bright pink bridge and a purple and pink gate to drive under: houses, trees and even a cool pink helicopter!
Give your creativity free rein and build the whole room with your child with this beautiful train set!
Check the latest prices here
Best wooden train set extension: BigJigs Container Shipyard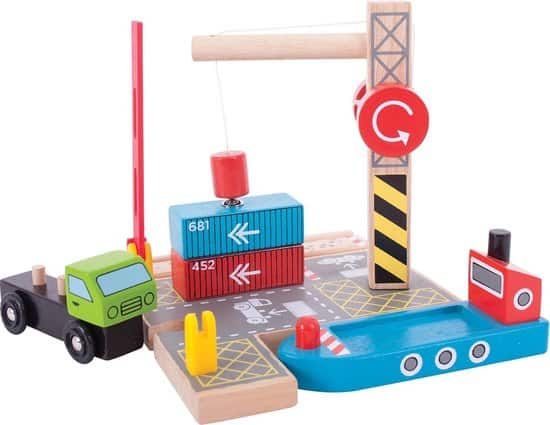 At number 2 our best wooden train set extension: BigJigs Container Shipyard.
We really like this one because of its modern, cool details and bright colors.
The set introduces children to the shipyard and how containers are loaded from a ship onto the truck and vice versa.
Fun - and educational - to expand your child's train set. The crane is especially interesting for our kids.
This cool BigJigs Container Shipyard is another great addition to any BigJigs train set.
Suitable for children aged 3 to 6 years. This extension can easily be attached to an existing set by your child. The pieces are not too small.
Your child will be introduced to a real shipyard here. What's going on there?
A truck loads containers; they are moved from the ship to the truck via the crane and vice versa. What kind of cargo would be in the containers today?
All accessories are nicely colored and especially the tap is a real eye-catcher.
Check prices and availability here
Best Wooden Train Table: Kidkraft Adventure Town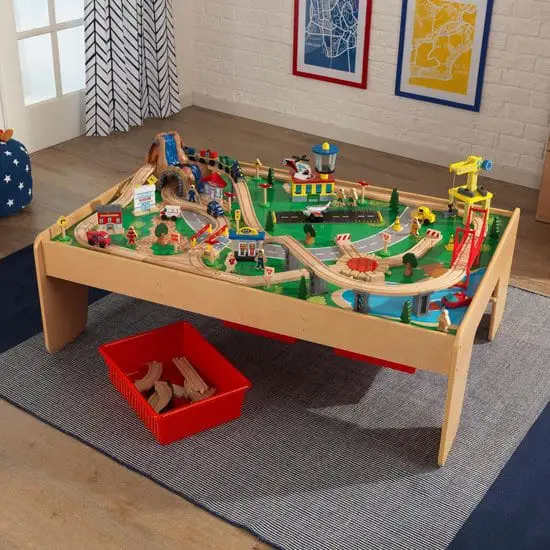 The Table With Waterfall And Mountain Train is a great gaming table with a huge landscape with a train track running through it.
Along the way, the train will encounter a waterfall, but also mountains, forests, a bridge, a police station and much more ... This solid 120-piece train set lets your child experience great adventures!
A large yellow crane lifts the load from the train, a helicopter flies over, there is so much to do! There is a red in the lake speedboat waiting to go sailing.
Here you can see how to assemble it and what is included:
Is it dinner time yet? Then your child has to tidy up, and preferably quickly.
The whole set fits in the practical, extendable storage bins under the table. The table is empty in an instant.
The accessories have beautiful, bright colors and the game table is solid and large enough to play with all friends.
This set is perfect for kids aged 3 to 6, but they do need help setting up the table.
Attention Parents: Please follow the detailed step-by-step assembly instructions for the console.
Setting up the track and also cleaning up can be done by the child himself, because of the large bins under the table.
Check the most current prices and availability here
Do you like the idea of ​​a gaming table? I have Here are more beautiful play tables for children listed!
Best Magnetic Wooden Train Set: BRIO Farm 33719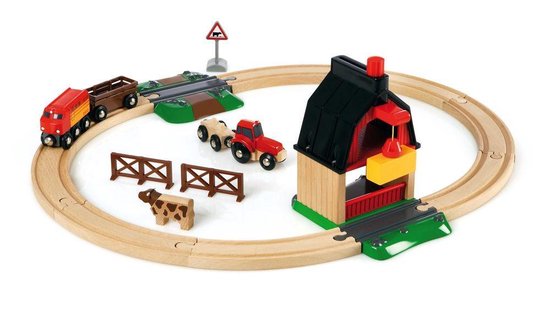 On the red-black-yellow BRIO Farm Train Set, the cow and horse are grazing in the meadow, while the red tractor (here are some nice ones) is haying.
The crane lifts the hay up to the hayloft, where it stays nice and dry.
When it's time to bring the animals in, your child can put them in the wagon and transport them to the stable by train.
This set is easy to set up for a 3 year old. The pieces are a bit bigger, but your child is still challenged in his hand-eye coordination and in his creativity.
In this video Brio shows how it works:
The set can be expanded for not too much money with, for example, the Magnetic bell signal (how cool?) And the red Train of the fire department.
Check the latest prices here
Best Electric Wooden Train Set: BRIO Travel Switching Set with platform 33512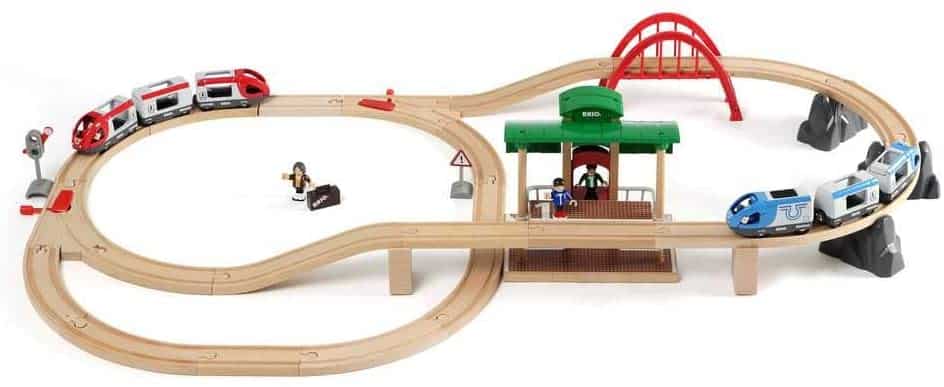 Great, this electric BRIO train set with platform!
The blue line has a battery-powered train that transports all passengers to the ultramodern station: there the track connects to the train with the red line.
The trains have a lot of tracks and switches to ride on. There is even an elevator that really goes up and down!
This set is a bit more difficult to set up, but with some help from an older brother, sister, or mom and dad, it should work out fine.
We think this set is suitable for children from 4 to 8 years old.
Here you can see how the train itself runs:
BRIO World can be expanded with many themes: the six different themes are Travel, Explore, Countryside, Rescue, lift & load and Village.
Check availability here
Most solid wooden toys: Brio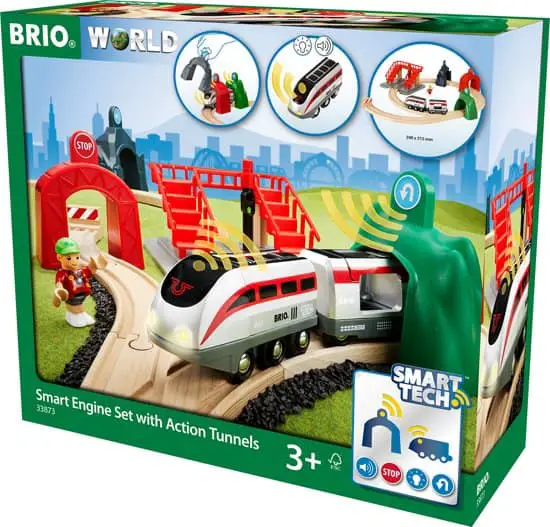 What it is: a small but perfectly formed train set by Brio with 'action' tunnels that respond to the train passing under it by starting and stopping it, changing direction and speed, honking the horn and flashing its lights.
Comes with motor and car, buffer, 3 tunnels, 9 pieces of track, a bridge and a figure. Requires 2 x AA batteries (not included).
Why we like itOur testers were all impressed with the 'action' tunnels - and we loved the solidity and versatility of the track (made from FSC certified wood).
It's expensive, but a high quality buy.
What our child testers have made of it:
"Esmee likes to play with this train set. The tunnels are very clever in how they make the train make noise, stop and reverse! She plays with it for hours, rearranges the track and the tunnels. "


Lisette, mum of Esmee, 3
"Sander says he loves his new train and wants to play with it every day. He and his older sister are having a lot of fun moving the tunnels to see how the train will leave. "


Bregje, Sander's mom, 4
View more sets from Brio here
Why are Brio toys so much fun?
Brio is a brand that was founded in 1884 in Osby, a small town in southern Sweden. Since their inception, they have been making toys with simple designs that boost children's creativity and imagination.
The wooden toy items are produced from traceable FSC certified wood. Since 2015, Brio has been owned by Ravensburger, one of the most famous European puzzle and other games manufacturers.
The wooden toys from Brio are suitable for all ages. There is already a wooden train available for children from 1,5 years old!
The brand is best known for its extremely good quality and innovative products.
At Brio you can choose from various train sets, locomotives, bridges, tunnels, buildings, wagons and vehicles. You can even get wooden draft animals there.
A train from Brio is incredibly versatile. Much attention is paid to details. The wagons and locomotives are equipped with a magnet, so you can easily attach them to each other.
The Brio wooden train track has become the standard for many other brands. The train track can therefore also be combined with these other toy brands.
This means that a Brio train can run on the rails of almost all major wooden train brands, and vice versa!
The Brio wooden train track is made of first-class quality beech wood and is robust and beautifully finished.
The brand offers various starter sets that you can expand further with separate rails, stations, bridges and train sets. You can even go to the brand for electric train sets, for even more play variety!
Brio toys are safe, because only materials that have been rigorously tested are used. Brio trains are the brand's best-known toys.
All the wood they use at Brio is beech wood, except in one case where pine is used. Beech trees only grow in Europe; from the south of Sweden to the northern part of the Balkans.
Since 2014, all the wood they use at Brio is FSC certified; this label guarantees that the wood comes from renewable forests and that no unique biospheres have been destroyed.
Best Cheap Train Set: Tiny Land 60-Piece Track with Crane and Trains
This 60-piece track with crane and trains of the Tiny Land brand is beautiful construction toys for 3+ children.
The rails are universal and fits well on all other brands, the set comes with a magnetic crane, trucks and train wagons. The crane can load and unload all goods.
All items have a cheerful appearance and are colorful, this set inspires the imagination and spatial logic of your child.
Tiny Land toys meet all US safety requirements; the brand is known for ensuring that all materials used are safe and non-toxic.
Your child could build the set themselves. Does this not work the first time? Then show how to work small. There is a good chance that he can do it all by himself the second time.
This luxury train set stands for hours of fun and many learning moments and comes with a colorful storage box.
In this way, your child can easily tidy everything up again and possibly also take the set to a guest address.
Check the latest prices here
Best Little Wooden Train Set: Melissa & Doug Take-Along Railroad
A very nice one, this Melissa & Doug wooden train track.
A simple and solid wooden platform with preformed rails that your little one - from 3 to 6 years - can play with independently.
Simply fold the set - it becomes a portable briefcase - and take it with you to your boyfriend or girlfriend.
Of course that makes it too a very nice game to take with you when you stay!
Experience all kinds of beautiful adventures with the trains, houses and animals.
Of course this track does not fit on the other sets because it is a closed system in a take-away box.
Check prices and availability here
Best luxury train station: Hape Grand City Railway Station E3725
In 2018, this fantastic set was voted Toy of the Year in various countries.
This wooden railway with stations of the Hape brand has no less than two floors and a lift for the passengers.
It is suitable for children aged 3 and up and will require some help from parents to set up the set the first few times.
What a luxurious set and how many nice extras: real train tickets for the travelers and a display board with lighting.
Hape has a huge train collection.
Your set can be nicely expanded - for little - with the Hape Big Engine Shed, the perfect place to park your trains after a long working day.
Here you can see how it is put together:
The train house has three tracks and fits perfectly with your Hape railway set. All Hape sets are made of solid wood and treated with a child-resistant paint.
The bright red Hape Extended double suspension bridge bridges the gap in your child's track, allowing the trains to continue safely.
The bridge is also made with sustainability in mind and meets international safety and quality requirements.
This item is suitable for children from 3 years old. An exciting addition to any train set!
The Hape brand stands for non-toxic substances and child-resistant materials.
Check the latest prices here
Best Wood Train Track with Wild Animals: Bigjigs Safari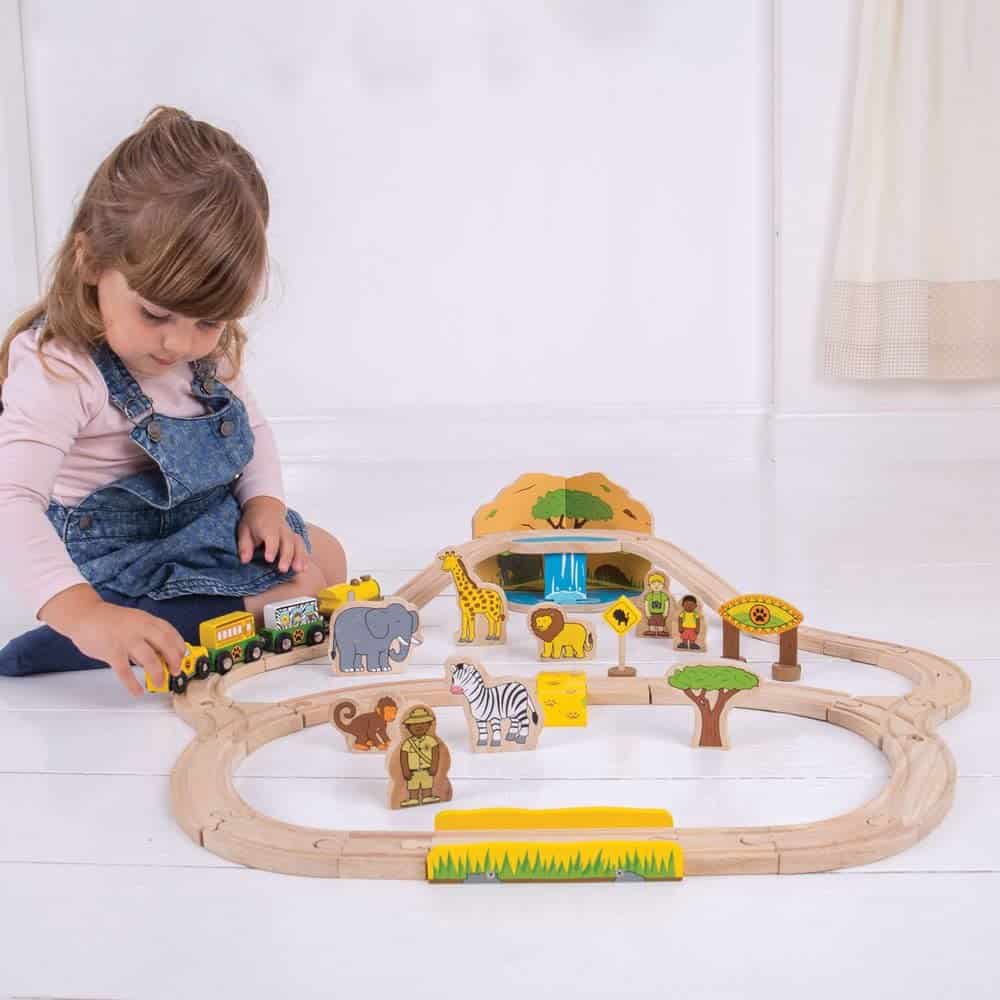 The best train track set with wild animals!
The safari train leaves for a great adventure. Along the way you will encounter all kinds of wild animals, such as a monkey, a giraffe and a beautiful lion!
This 38-piece wooden track set features a locomotive with two carriages, as well as wildlife including an elephant and a zebra.
Here the Izzy's show you what is included:
Did you know that there are all kinds of extra accessories available to expand this set? The rails can be expanded with, among other things, this BigJigs Rails Extension Set.
The train set is suitable for children aged 3 to 12 years.
Check prices and availability here
Best Movable Bridge: BigJigs Rail Lifting Bridge
This BigJigs Rail Lifting Bridge is also a great addition to your child's train set.
Your little one can even raise and lower the bridge!
The bridge fits well with, for example, the BigJigs Alps train set, the number 1 in our top 11. But of course also with the BigJigs train set just discussed. Safari (more wildlife here).
Suitable for children aged 3 to 12 years. The little ones will need a little help setting them up.
Check the latest prices here
Best Wooden Wagon: Janod Story Fire Engine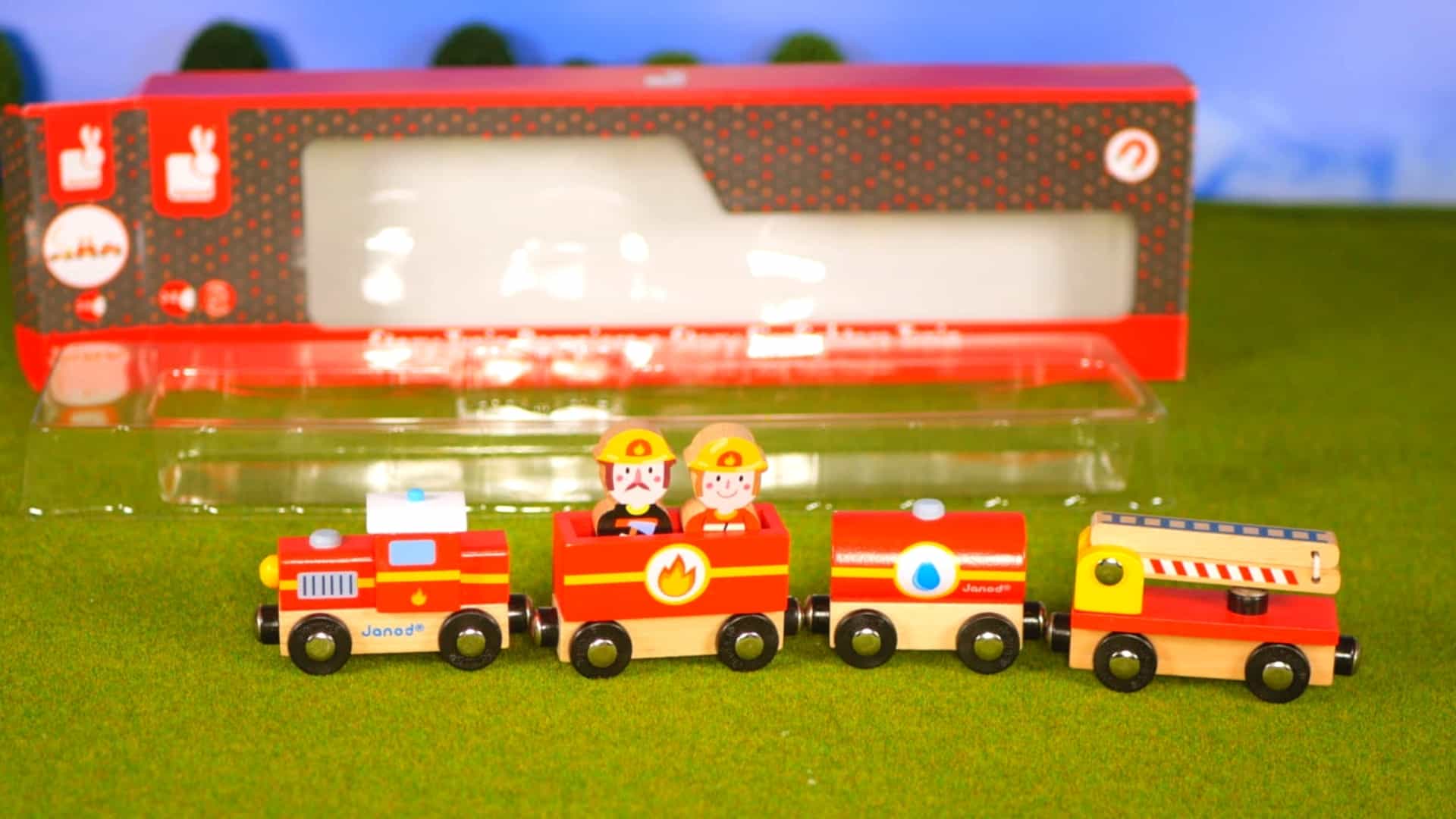 What a beautiful red train, the Story Fire Department train has four wagons and 2 firefighters. The ladder on one of the wagons can be folded out.
The train is suitable for children from 3 to 8 years old and made of beautiful, solid wood.
A perfect extension to any other train set, because it fits on the universal train tracks.
In this video I show you what's included:
However, this is also a great toy to play without rails, your child will love this fire train!
Check the latest prices here
Why buy a train set for your child?
Your child can master a lot of useful skills while playing with a wooden train set.
His vocabulary will increase and his spatial awareness will improve enormously.
He will have to rely on his hand-eye coordination and a lot of puzzling to be able to place the rails properly in order for the train to pass smoothly.
However, it is good if you guide him in this in the beginning.
What a beautiful wooden train set can teach your child:
(together) building and setting up a train tracks, how does your little one puzzle the rails together?
name the dolls, animals, vehicles, buildings and surroundings (tree, mountain, river, etc.)
naming colors
making and naming sounds
show associated professions
make up a story together about the environment
After you have played together like this a few times, your child will then automatically name everything and understand how everything works.
He will feel confident in himself and will make increasingly beautiful rail combinations.
You gave him a real challenge… and he can now handle it all by himself.
Hats off to your toddler or toddler!
Why is a train set good for the development of your child?
Play is very important for a child's overall development.
A child plays for fun, but in a playful way it becomes more convenient and learns a lot about itself and the world around it.
While playing, the child also becomes more self-assured.
A basic wooden train set with some accessories that a child has to bring to life is a great way to play. Your child's imagination is stimulated and the role play begins.
Does your little one choose to be the train driver, the conductor, or maybe a passenger going on a trip today?
Playing with a train set not only inspires your child's imagination, but also improves his spatial awareness.
While playing your child learns about professions and sounds and develops his vocabulary.
Children learn to build and work together. To run a train, you need a track, which you can build nicely with your boyfriend.
You can take turns acting as a driver and take the train with its passengers or cargo to its final destination. And what do you encounter along the way?
Watch out for the mountains and sharp bends, you don't want to tip over wagons!
Do you want to know what a primary school teacher has to say about toy trains?
See here what Miss Maike says about trains.
Conclusion
We have already indicated that we think a train set is great toys for a child: for a toddler, toddler as well as toddler.
Of course, pay attention to any small pieces with a toddler!
Wooden toys is - compared to plastic toys - finer, more environmentally friendly and often a bit more basic, so that your child has to provide the necessary input.
There are no batteries, no loud noises and unnecessary items. Your child will have to make up the sounds themselves, just like the story and the structure of the set.
Playing with a wooden train set is attractive and enjoyable for every child.
And you know, through role-playing and his own imagination, your little one will learn a lot: words, sounds, functions and professions.
By building the rails and placing the set, eye-hand coordination is stimulated and your child improves his spatial awareness.
He will be able to use this spatial insight well, at primary school and in his later life.
If you let your child play with a friend, building and setting up together also improves his social skills.
Last but not least another tip from us: it is also very nice for your child to go out with the real train and experience what it is like to see the varied landscape fly by.
He will also see the train driver and the conductor at work and once at home, everything can be reenacted, what a pleasure!
So is a wooden train set educational and responsible toys for children?
We can only answer with a resounding "Yes!"
Also read: When can a child travel alone by train?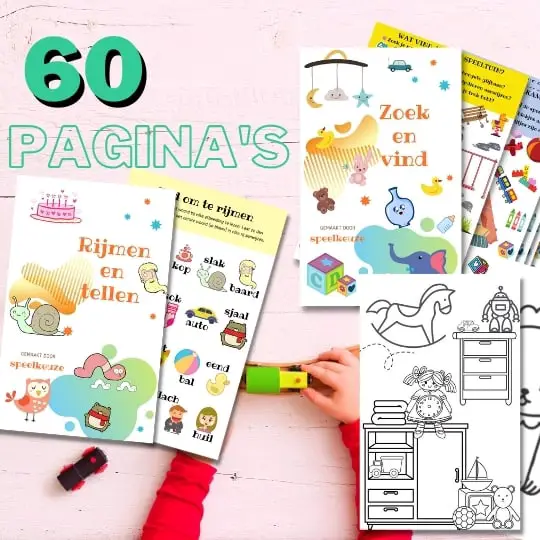 Always something to do for the holidays or rainy day?
Play Choice now has the ultimate activity book collection, with over 60 pages of fun coloring pages and educational puzzles.
Joost Nusselder, the founder of Speelkeuze.nl is a content marketer, father and loves trying out new toys. As a child he came into contact with everything related to games when his mother started the Tinnen Soldaat in Ede. Now he and his team create helpful blog articles to help loyal readers with fun play ideas.