Best Wooden Toys for School Kids: Ages 6 to 10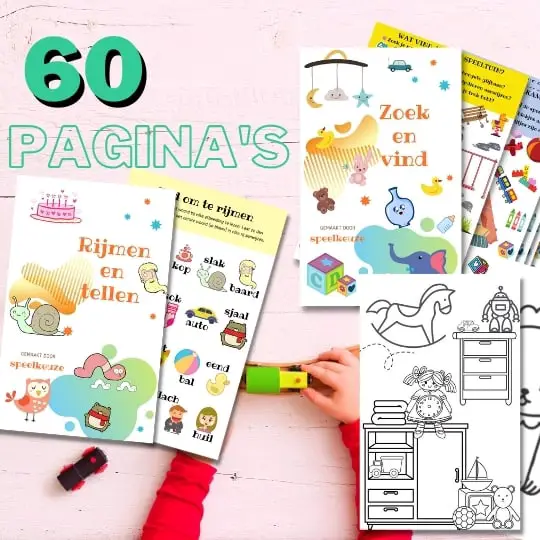 Always something to do for the holidays or rainy day?
Play Choice now has the ultimate activity book collection, with over 60 pages of fun coloring pages and educational puzzles.
For babies to toddlers there is a lot of nice wooden ones toys, but if you are looking for toys for your schoolchild, then it is suddenly scarce!
While wooden toys like these magnetic wooden blocks from Tegu still very fun and educational for your child. The Tegu set is beautiful up to about 8 years old and they can build a lot with it.
In this article I have found the 7 best wooden toy sets for children aged 6 to 10 and I will tell you what to look out for when purchasing.
Let's take a look at the best sets in a short overview. Then I'll dive deeper into each of these choices.
Wooden toys for school children buying guide
With wooden toys for children you want to pay attention to a number of things.
Age
Does it offer enough challenge for a school child. Many wooden toys are made for babies and toddlers, but there are also toys that are still fun or that are made for school children.
Take Tegu's magnetic wooden blocks for example. Because of their different shapes, you can still build a lot with them as a 6-year-old. Just like Kapla's planks.
Some toys that require more thinking become fun for 8 or 9 year olds.
In this overview, I've arranged the toys on this list by age.
Furthermore, I rated each toy for education, replayability, and durability on a 5-point scale.
Best Wooden Toys for School Kids Reviewed
Tegu is a responsible brand wooden toys in Honduras are made from sustainable wood.
The toy is therefore also naturally safe without plastic, BPA and with water-based paint.
You spend a little more on these blocks, but playing with real wood gives a hand feel that plastic will never be able to give your child.
Tegu is one of the few brands that treats the planet in such a responsible way while also bringing modern toys to the market, such as magnetic building blocks.
This set has blocks in different shapes and the slats also ensure that you can do a lot more.
For example, you can make perfect house constructions, or a real race car:
It is by far the best set in this list, but you pay a higher price for it.
Djeco proves that you can also teach schoolchildren about cause and effect in a playful way. What a wonderful educational chain reaction!
You can build and test different layouts, which also makes it a creative game. Especially when you add more of these sets, because they have quite a few.
Entirely in the VOTE mindset. It teaches you to think about what will happen when you set up the track in a certain way.
The material is very sturdy so will definitely last a while. However, you have to pay attention to some parts that can break off a bit more easily.
I would therefore definitely recommend it from the age of 7. Smaller children may be too rough with it.
I have to say that there are not many different jobs to think of with just this set. But if your child really gets the hang of it, you could consider an extra set.
You can also always combine it with other domino toys you may have, or other small blocks if they are light enough that you can knock them over.
This is where it starts to get real. Real hammering with real nails and a very nice first start in handicraft.
There are 80 wooden pieces included to make a few different constructions. To make it even more real, you also get 2 pencils, a ruler, nails, sandpaper, glue, a storage bag and a hammer.
You really have to work here with drawing and fitting and measuring.
It is a pity that not all projects are equally well developed. The truck was a lot of fun to do but the plane wasn't very clear.
Also, the pieces are not labeled, but I think this is on purpose and part of it so they have to measure and select the right pieces.
That does lead to some frustration with some users, according to the reviews.
I also think that from the age of 8 it will be fun to get started.
With this set of 50 parts you can make 10 different projects. Very suitable as a STEM toy to learn more about technology and science.
They can work with it for quite some time and it is also fun to rebuild the projects. Then it will go a lot faster.
The first time it takes about 30 to 60 minutes per project.
In addition, the toys also stimulate creativity because you can also come up with your own things with the different building pieces.
The construction pieces and electrical parts are very sturdy, you just have to be careful with the rubber bands that drive the motors.
There are no unnecessary accessories. All pieces are purely to create a working concept. Which stimulates even more in how you can use the pieces in multiple ways.
Younger children can also use it. I've even seen someone team up with a 6-year-old to learn about engines.
However, it will be the best for 9 years so that they can work it out themselves and come up with their own creations.
Brain teasers are always fun to give to school children. It challenges them to think and think in terms of solutions.
But a wooden puzzle like this also gives a good hand feeling, completely Montessori and is so much more durable than plastic.
A very difficult puzzle because the wooden pieces are not identical.
The wooden pieces are very sturdy and the puzzle will last a long time.
The package says 6 to 99, and in my experience it is doable from 10 years old with enough challenge.
Unlike what you are used to from the other building games, the Kapla boards are identical. The precision makes it possible to build larger buildings.
Each board has the ratio 15: 3: 1 and the dimensions are (lxwxh) 11,7 x 2,34 x 0,78 cm. The boards are made of pine and are untreated, although you can also get boards in color.
The toys are available in boxes of 20, 40, 100, 200, 280 and 1000 boards. The sets come with interesting ideas booklets, but don't expect step-by-step guides.
The target group is mainly children. In both the Netherlands and France, Kapla is used as educational toys in schools and childcare. However, more and more adults also find these toys attractive.
To create the most beautiful structures with Kapla, you do not need any glue, clamps or screws. With Kapla toys you can build bridges, a complete city, robots or castles.
Kapla can be played in many different ways. Kapla can therefore be combined with all other toys and is therefore extremely universal.
Simple but so much fun. The toy has already been awarded several times. Originally the Kapla boards were neutral in color, but nowadays they are available in different colors.
You can choose to make small, cute buildings of cheerful colors. Or do you prefer complicated structures, such as skyscrapers and ships?
The toys contribute to the development of a child's fine motor skills and spatial awareness. In addition, the brain is stimulated in terms of concentration, logic, patience and creativity.
Kapla is fun for everyone from 3 years old, but you can also make complicated things with it so that it is still great fun for school children.
This is a game for 2 players. You can play with your sibling or a parent. According to the box suitable from 8 years old, but 7 year olds can also do it nicely.
It is named after the Greek mathematician Archimedes because you have to think carefully about gravity, balance and math.
It is also a nice game to play in between because it takes about 15 minutes. So not a very long game.
But you will probably want to play the best of three games after you lose your 8 year old :)
It is a very sturdy wooden toy on a wooden platform. This is a game to keep for generations.
Conclusion
There's a ton of fun toys for school kids out there if you know where to look. I hope this list of wooden toys has helped you for another play idea!
Also read: these are the 20 best wooden toy brands of the moment