5 Best Toy Restaurants Rated for Fantasy Play
I enjoy writing these articles for my readers, you guys. I don't accept payment for writing reviews, my opinion on products is my own, but if you find my recommendations helpful and you end up buying something through one of the links I may be able to receive a commission on that.
More information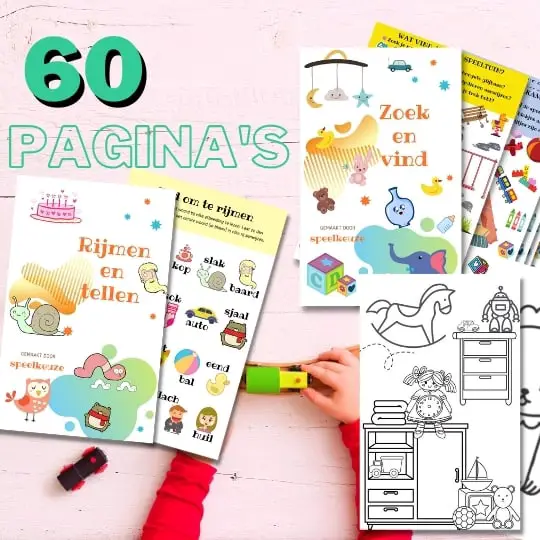 Always something to do for the holidays or rainy day?
Play Choice now has the ultimate activity book collection, with over 60 pages of fun coloring pages and educational puzzles.
Many children love to stand in the kitchen and help their parents cook or bake cakes.
Isn't it nice to knead your own dough and try out different spices in dishes?
But there are more different restaurants, even small ones, and it is very educational for your child. Read why and view the best choices.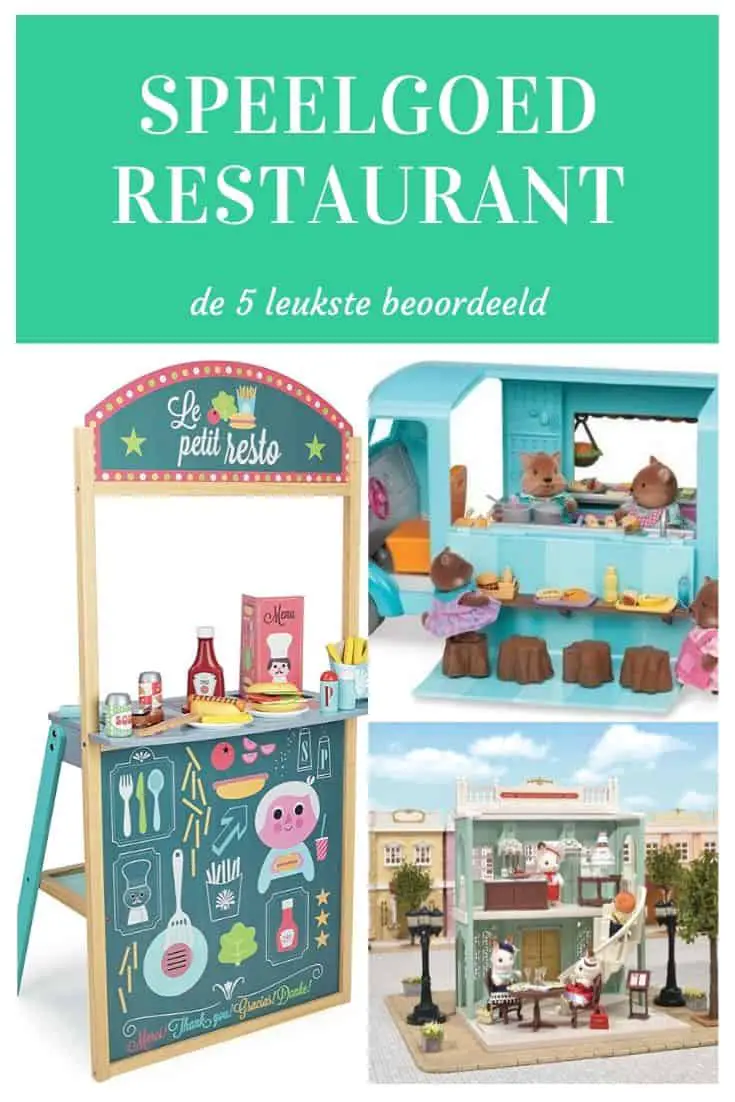 Partly because of the many cooking programs on television such as 'Masterchef', more and more of our kids have an interest in cooking from a very young age.
For this reason, we like to present you a number of toy restaurants.
This way, they can also get started with 'cooking' and playing restaurant, without the help of adults. Bet you will make your kids happy with that?
Here are the nicest ones in a quick rundown, then I'll dig into each of these picks in more detail: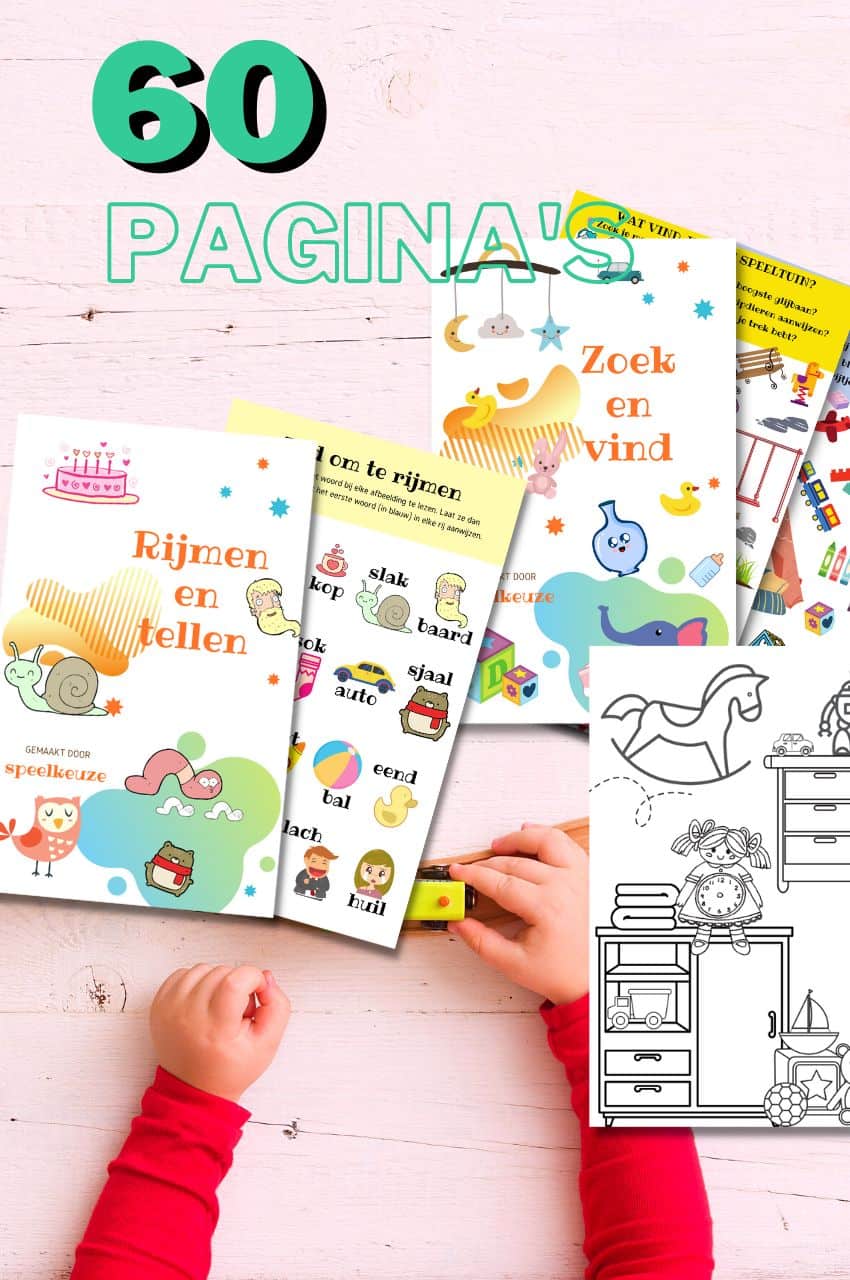 A play theme in your mailbox every month?
Fun play tips, activity books and more, with the first email being our free mini-guide "educational toys"
We will only use your email address for this newsletter and respect your privacy
What does your child learn from a restaurant?
Let your little one help in the kitchen (or cut the vegetables in the play kitchen)! It is not only fun, but also educational.
Motor development and cooking
At the age of two and a half to three years, your little one can already help a lot in the kitchen.
Yes, from the shore in the ditch you think in turn! But it is possible, helping will greatly benefit the development of your child.
His or her motor, social and mental development are all addressed in the kitchen.
Now take the stirring of batter; great to develop fine motor skills. Your little one also feels involved and important in your joint activities in the kitchen.
Incentives in the kitchen Many stimuli come to your child during 'help with cooking', such as smelling and tasting food.
For example, the flavors salty, sweet and sour recognize the feeling and kneading.
An egg is hard, but when you break it open it is a sludge, sugar tastes sweet and is grainy, flour tastes like nothing and is powdery and dough is sometimes sweet and feels soft and elastic.
In this way your little one learns to make a connection between the smell and taste of food and how the food in question feels.
Give your child a lot of explanation while you cook together and a new world will open up for him or her.
Stimulate interest in food
Take your child to go shopping and choose together with your child what you want to prepare today.
If you indicate that you want to make pasta but your little one wants rice, be prepared to give in sometimes, or indicate that you will prepare what he or she wants tomorrow.
Children's tasks in the kitchen Good tasks for your little one can be washing carrots, kneading cookie dough and making molds, stirring with a beater or helping to set the table (be careful with the knives).
Clearly state what is and isn't allowed about your little one and set boundaries. Do not forget to compliment your child and keep encouraging your child!
Why is knowledge about food important to children?
Interest in cooking and learning to handle food and flavors well at a young age is very useful at a later age, but also learning how to deal with hygiene in the kitchen and being social.
It not only stimulates your child in creativity, but also ensures that your child becomes stress resistant and pays attention to safety.
Your child's confidence will be boosted if he or she is successful baking a cake or preparing a meal.
Being busy preparing food is also very joyful.
Doing the shopping and having them look at the price per kilo or liter when they are older is also very educational.
All these facets of food are fascinating to experience with your children, just like baking cookies and cakes or delicious fresh pizza.
Food is so great when you choose the ingredients yourself, stand in the kitchen to prepare it and take the time.
No meal is as delicious as one you make at home with the right ingredients!
5 best toy restaurants rated
Cutest toy restaurant: Sylvanian Families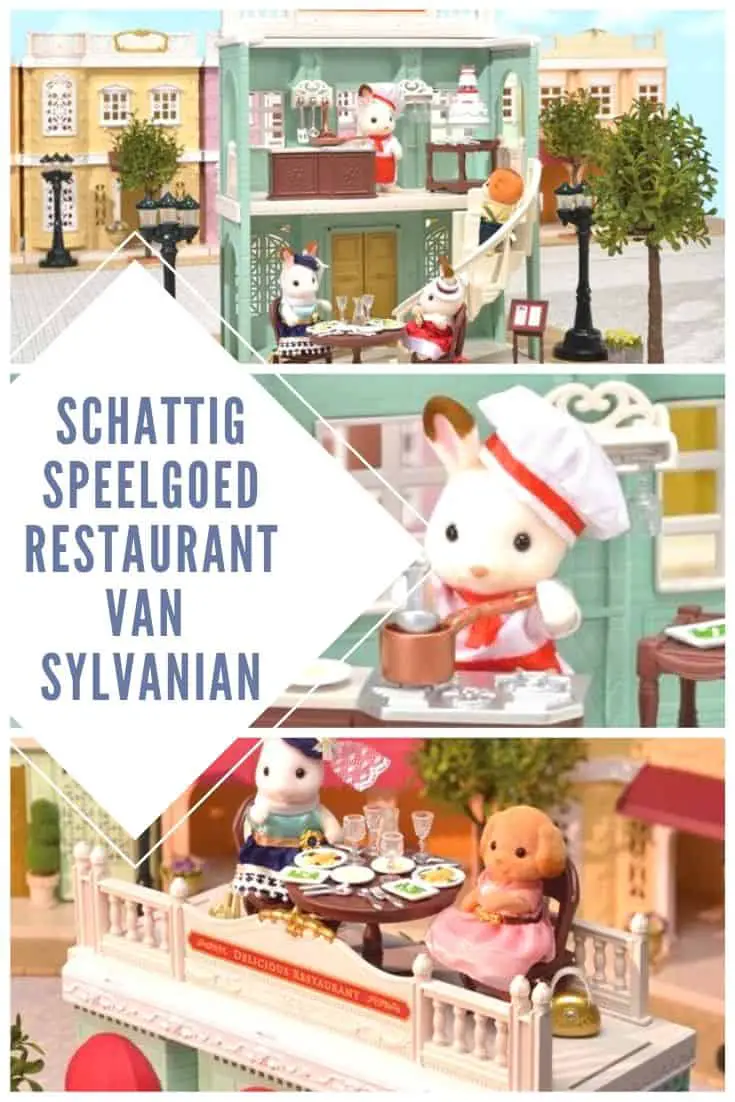 The beautiful Sylvanian Families Delicious Restaurant serves the best food in town.
The chef puts on his high chef's hat and has already put on his apron.
His meals are greatly appreciated by the guests and as a surprise he even prepared a chic three-story cake for them!
Sylvanian Families was founded in 1985: a fun series with cute animal characters.
These only figures from the Sylvanian World are originally from Japan and later became known in Europe and around the world. The sets look like dollhouses, but with animals.
All animals have movable arms, feet and a movable head.
Sylvanian contributes to the development of motor skills, children are stimulated in their fine motor skills and also in developing their creativity.
Best LEGO toy restaurant: Fire at the hamburger restaurant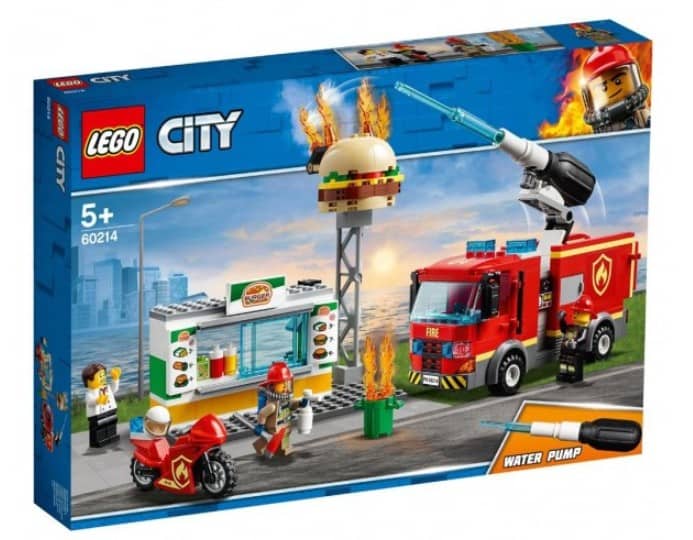 This Lego hamburger restaurant comes with a Lego fire truck. Oh dear, a fire in the kitchen!
If your little one doesn't quickly get out from behind the pans and call the fire brigade, the burger restaurant might go up in flames!
luckily comes the fire engine of course well in time to extinguish the fire quickly enough and save everyone.
Despite the panic from just now, everything fizzles out and the chefs can get back to work preparing the meals.
A nice Lego package for children over five years old.
View it here at the cave toy store
Best toy Food truck: Imaginarium Riding Restaurant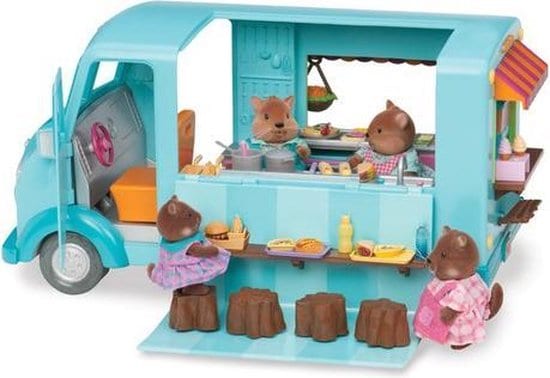 This Imaginarium Toy Food Truck is suitable for children from four to eight years old. The Riding restaurant has no fewer than 88 accessories;
There is, among other things
into an oven,
a grill,
cupboards
a window with a counter,
bar stools
and kitchen utensils.
The side can be transformed into a beautiful table
and a sitting area with stools.
The counter has a nice orange-pink canopy. In the world of these Camomille families, each family member has their own task and lives in harmony with nature.
However, the Camomille dolls are sold separately. An awesome additional detail is that all Imaginarium toys are nicely packed!
A trendy playset; really something for your toddler!
Check the most current prices and availability here
Nice cheap toy restaurant: Fast food restaurant 29-piece clay set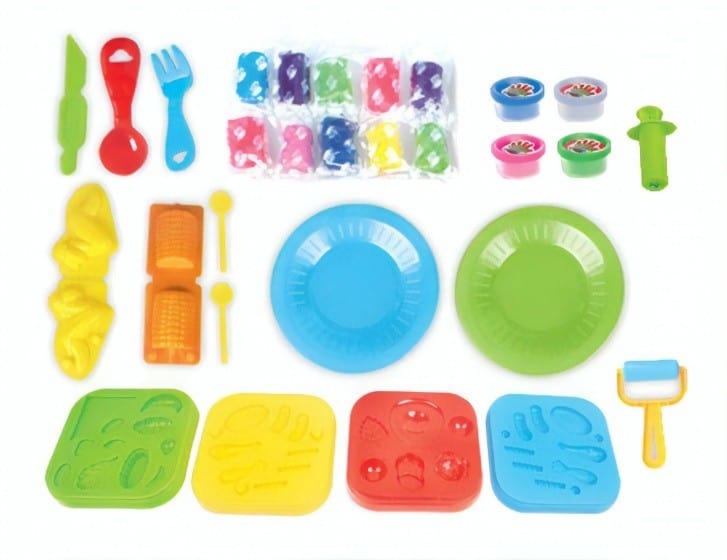 The simple clay set is perfect for your little one to make tasty food from clay.
With all the different shapes your child can prepare whatever he wants:
pasta,
vegetable
or meat!
With the rolling pin, the dough can be rolled out to bake cookies or maybe a pizza! Nice set for little ones to get creative with preparing (clay) meals.
Best wooden toy restaurant: Vilac play restaurant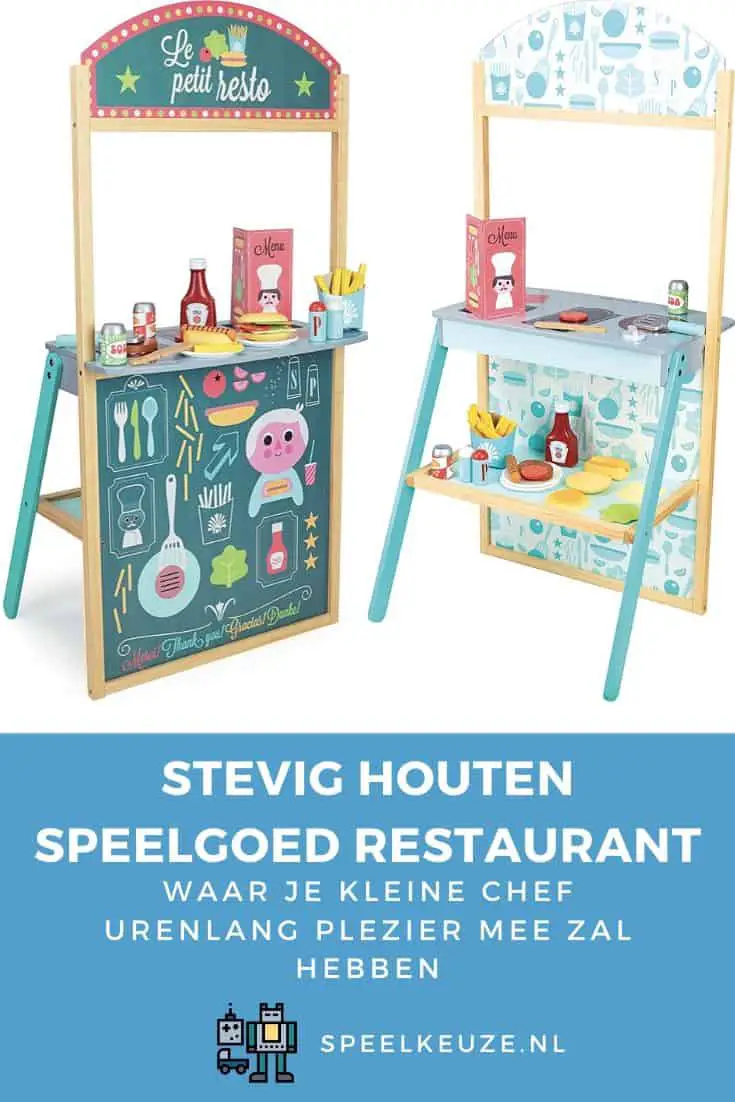 What a beautiful wooden restaurant in Vilac. It is made full size and your child can physically sit behind the counter.
The ketchup for the hot dogs is ready and the fries smell delicious! Your little chef's customers can take a look at the menu and maybe order a delicious hamburger.
This colorful stall with the name "Le petit Resto" is highly recommended for your mini chef!
Play restaurant
You can do this at home or at school.
As a parent or teacher you first put all things ready:
a tablecloth,
plates,
cutlery,
(plastic cups,
napkins,
lemonade or water,
aprons for the cooks
and pencils for the menu.
When everything is ready, you will explain to the kids how the game works. It might be useful to ask them first who has been to a restaurant and what is going on there.
First you get a menu with food and drinks, then you order the food and drinks.
In the kitchen, the chefs prepare the meals and the waiter brings the food and drinks.
When everyone has finished eating, the waiter will pick up all the plates, cutlery and cups and you pay the bill at the checkout.
Now let the children set a table together and make a menu. Then the children can divide the tasks themselves and dress up if necessary.
Who are the guests, who the cook (s), who the waiter (s) and who pays? Let the kids cooks prepare something simple and let them serve it to their guests. The more fun!
At the end of the game, make sure that the children collect the materials together.
Optionally, the game can be played again in which the children each get a different role.
Conclusion
We hope you got excited about restaurant toys for kids after reading this article.
Not only is it a great fun pastime, it is also good for a child's development to understand how a restaurant works and to engage with food.
Try to involve your child in cooking every now and then. Are you up for the challenge?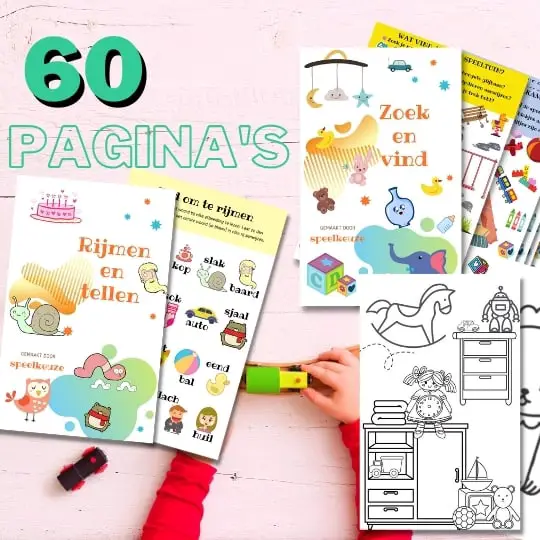 Always something to do for the holidays or rainy day?
Play Choice now has the ultimate activity book collection, with over 60 pages of fun coloring pages and educational puzzles.
Joost Nusselder, the founder of Speelkeuze.nl is a content marketer, father and loves trying out new toys. As a child he came into contact with everything related to games when his mother started the Tinnen Soldaat in Ede. Now he and his team create helpful blog articles to help loyal readers with fun play ideas.