Shop at these 10 great children's clothing stores in Leiden
I enjoy writing these articles for my readers, you guys. I don't accept payment for writing reviews, my opinion on products is my own, but if you find my recommendations helpful and you end up buying something through one of the links I may be able to receive a commission on that.
More information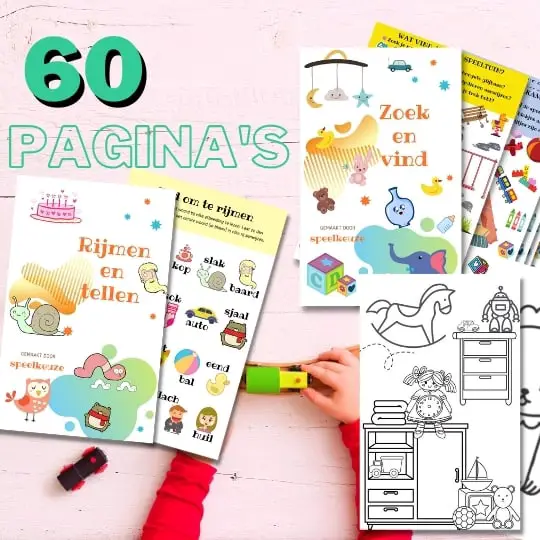 Always something to do for the holidays or rainy day?
Play Choice now has the ultimate activity book collection, with over 60 pages of fun coloring pages and educational puzzles.
Leiden is a nice city with cozy places to eat and drink.
That's great because you and your kids will be hungry and thirsty from all that great shopping you can do. These are the nicest children's clothing shops in Leiden!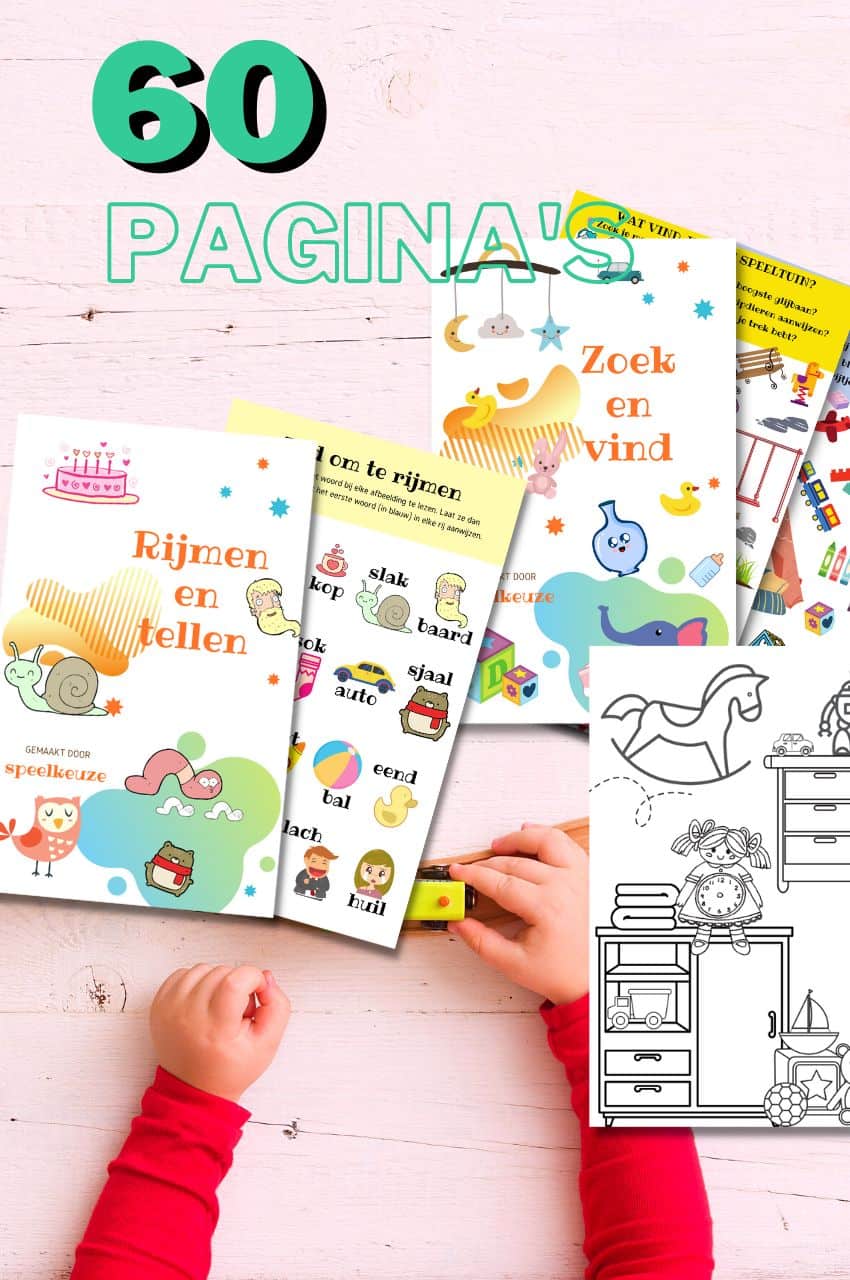 A play theme in your mailbox every month?
Fun play tips, activity books and more, with the first email being our free mini-guide "educational toys"
We will only use your email address for this newsletter and respect your privacy
children's clothing stores on the map of Leiden:
10 best children's clothing stores in Leiden
Tokkelientje - Hogewoerd 10A
At Tokkelientje you will find beautiful fabrics and materials.
They are comfortable, different from usual and of good quality, that makes the people behind Tokkelientje happy!
At Tokkelientje people are always trying to find the best brands, the entire net is searched and the best fairs are visited.
There is a wide range of children's clothing from 0 to 16 years old. Tokkelientje is located at Hogewoerd 10-A, 2311 HM Leiden.
Fladder & Beer - Hogewoerd 64
In Leiden you will find a very special store: FLADDER & BEER. Handmade clothing is available here.
The garments but also the other products that you can obtain at FLADDER & BEER are made by enthusiastic people with great attention, care and with great pleasure in their own unique style.
There is also the possibility to get a certain item of clothing in your favorite color and size. You can also choose your own material for this.
As you could have imagined, all products are very unique and made with love.
You will certainly succeed in finding a nice outfit for your boy or your girl. FLADDER & BEER is located at Hogewoerd 64, 2311 HP Leiden
Also read: maxi cosi or another brand of car seat?
Humpy - Rooseveltstraat 18D
At Humpy you are at the right place for cool and stylish children's clothing from babies to teenagers.
For more than 40 years, Humpy has been on the road and sells the nicest and hippest clothes for both boys and girls.
Humpy offers its customers a wide variety of children's clothing from exclusive, well-known and trendy brands in the field of baby, children's and teen clothing from size 50 to 176.
At Humpy you will find children's clothing from the brands: Nik Nik, Vingino, geisha, Tumble n Dry and Quapi.
In addition to our exclusive children's clothing, you will also find very nice and solid children's shoes and a lot of accessories such as: bags, hats, belts, caps and suspenders.
You can go to our webshop 1 × 24 hours to do your shopping.
We also offer you an exclusive service on the webshop and we want all our customers to be 100% satisfied at all times.
Our collection is always up-to-date so you are guaranteed to find a very nice outfit for your little one or tough teenager.
Humpy strives to meet all your needs. They have low shipping costs, fast delivery and excellent customer service.
Feel free to visit the store or visit our website. Humpy is located at Rooseveltstraat 18D, 2321 BM Leiden.
Sister & Son - Hogewoerd 13
Zus & Zoon has been around for more than 15 years and offers a varied range of baby and children's clothing.
They also have slightly different toys and many other accessories. The friendly staff is also there to serve you at all times.
In our shop you will find brands such as: Feetje, Jubel, Baby-steps, Someone, Dirkje children's slippers and much more.
Zus & Zoon is located at Hogewoerd 13 in Leiden. It is a side street of the Breestraat.
It is really a cozy and nice shopping street with lots of beautiful shops that can offer you all kinds of nice things.
Not far from the shop, just around the bend, you will find the weekly market and terraces, parking and easily accessible by public transport.
In short; a complete shopping day for the whole family on and around De Hogewoerd. Zus & Zoon is located at Hogewoerd 13, 2311 HE Leiden.
Farout BV - Haagweg 4
FarOut is a special children's clothing brand which was founded by Marieke Vos. She is an artist and designer and has developed jackets for Private Label for many years.
She can safely call herself a specialist, can't she! Her designed jackets were a great success, but her FarOut brand also became a top seller.
FarOut is known as a unique, cheerful and colorful children's clothing brand that relies blindly on its specialists.
The FarOut range includes children's jackets and swimwear. And they will continue to do so.
Until now there is no need to expand the collection with other items of clothing. Here are some examples from the FarOut collection:
Bikinis: Jaylana Triangle. The FarOut triangle bikini with a floral print and matching trims. Jaylana is standard in our range and has been a great success for years because it is so comfortable and is always offered in super bright colors.
Eliza Bandana. The Elize is so popular because of the cute strings on the top and the matching colored pockets combined with super striking prints. You're a princess on the beach in this top bikini.
Mila la laaa. You will receive compliments with the Mila on. Mila is comfortable, comfortable and also has the cheerfulness of a real FarOut bikini! So buy.
Shirley (for one) Poppy. Shirley is a new style from FarOut. The beads make the bikini sweet and pop. The print is poppy, the style is poppy!
Sophia with a bow. Sophia Small Flower is also a new style from FarOut. The bottom of the Sophia has a sporty look due to the bow and orange details. The bandana is known at FarOut and that also gives this style its recognizable look.
Anna, sooooo sweet. Anna is so sweet and cute. She is designed for the smaller girls with pull straps and beads, which makes the style so super cute. Anna is available up to size 140 and is so comfortable that you want to go to school with it!
Swimsuits: Happy Dana. Dana is the must-have of the FarOut collection. The double straps on the back and the cheerful looks make you happy. Dana is also great so you stay happy!
Liry the sweetie. Liry is the swimsuit with the ruffle on the hip and a crotch strap on the back, making our smallest treasures even more adorable. This style is available up to size 128.
Vera deri Vedera. Vera is tough and sweet at the same time. The print gives the style a cheerful and cool look and the ruffle at the top is the nod. Vera fits like a glove!
Swimwear: Tough Brad for in the pool. The dark blue Brad is tough and strong. The beautiful print on the side gives the swimsuit a cheerful twist. Brad is good and comfortable!
Miquel: With the Miquel on you will receive compliments. Miquel is comfortable, comfortable and also has the cheerfulness of a real FarOut swimsuit! So buy!
We would like to meet you, so come by very soon! FarOut is located at Haagweg 4, E11, 2311 AA Leiden.
Name It - Haarlemmerstraat 181-185
Yet another great clothing store and clothing brand is NAME IT.
They design beautiful and affordable children's clothing for kids who know exactly what they want.
We love denim in our clothing and always make sure that safety, quality and comfort are very important to us.
Name it has been designing contemporary and affordable clothing for kids and teens for both boys and girls for over 30 years.
Much attention is paid to personal appearance and the latest fashion.
In our Name it collection we have 4 sub brands. We have:
Baby. 0-9 months. / size 40-74. Comfortable baby clothing with a focus on safety, quality and the latest trends.
Mini. 1-5 y. / Size 80-110. Cool clothing for little adventurers with an emphasis on personality, wearing comfort and durable fabrics.
Kids. 6-12 y. / Size 116-152. Trendy items for active children who need a lot of freedom of movement and who are starting to develop their own style.
LMTD. 10-16 y. / Size 140-174. A brand for the next generation of trendsetters who will wear the fashion of the future.
At Name it we know that a good fit is very important for you and your child. Just look at our jeans, they have an adjustable waist.
As you can already understand, our clothing is suitable for every child. So size, length and build don't really matter. Name It is also available online
At Name it we do everything we can to deliver safe and comfortable quality products.
Our clothing is aimed to translate our creativity back to the directness, spontaneity and sincerity of the kids.
That is why you will find different clothing for every taste, style and occasion with us. From babies to kids, tweens and teens. There is something for everyone.
You can choose between different tops, pants, skirts, clothing for outside, school or a party.
Our clothing is made from organic cotton. Look forward to our shirts, vests, t-shirts, sweaters and so much more.
At Name it we have nice pants for your boys and cute skirts for the girls between 0 and 12 years. You can choose from various models and styles.
You can also opt for cool jeans pants or do you prefer comfortable soft leggings. We have something for every budget.
Pants, denim suits, shorts, skirts and what about capri pants. Girls in particular can choose from colorful dresses, tunics, aprons and skirts in beautiful, new styles with beautiful details and romantic patterns and motifs.
Every girl should have these beautiful suits in their wardrobe. Name it pays a lot of attention to their outerwear.
After all, they must be resistant to wear and tear and the Dutch climate. We have snowsuits, rain gear, softshell jumpsuits and jackets
Name IT is located at Haarlemmerstraat 181-185, 2312 DP Leiden.
Jut and Juul Lifestyle for Kids - Nieuwe Rijn 58
Jut & Juul Lifestyle Kids has been the best address for more than 10 years when it comes to decorating the baby room, baby care, maternity gifts and baby clothes in sizes 50 to 74.
At Jut & Juul Lifestyle for Kids you are there for sweet, sturdy and quality clothing from the latest trends.
People are always looking for new, beautiful and special brands in the Netherlands but also abroad.
The best clothing and fashion fairs are visited the entire internet is being researched to find the best and special brands that you will also really like.
With us you will find the best and special (maternity) gifts, unique children's room accessories, books, care products and beautiful cuddly toys / toys from special brands.
When bringing in new brands, quality and appearance are very strict. The brands must meet the 'Jut en Juul' standards.
We offer you a personal approach, good knowledge, quality and a very good service.
If necessary, we can help you put together color combinations for the nursery or decorate it.
In our range you will certainly find very nice blankets, sheets, duvets, cushion covers, music boxes, play tents and many more accessories to decorate the nursery.
In our collection you will certainly find the Dutch basic brands: Koeka and Cottonbaby.
Jut & Juul Lifestyle for Kids also has many cool trendy brands such as: Ferm Living, Oyoy Mini, Foxrider, Trybike, Noodoll, Kek Amsterdam, Imps & Elfs, Fresk, INKE, Aden & Anais, Trixie Baby, Done by Deer, Franck & Fischer, Oohnoo, Klippan, Repose Amsterdam, Fiona Walker, Liewood, Cam Cam Copenhagen, Konges Slojd, Pinch Toys, Mies & Co Baby Lifestyle, Klippan, Donsje Amsterdam, WEE Gallery, Beton Studio, Rose in April, CINK bamboo children's service, Playforever, Brikkon, Jellycat, Moulin Roty and many more fun!
As you can see, a very extensive collection. In our webshop you will find more than 2000 articles that we also have in stock.
You can shop online with us, but we also welcome you in our store. Jut & Juul Lifestyle Kids is located at Nieuwe Rijn 58, 2312 JH Leiden.
Olive Oyl's Rusty Zipper - Pieterskerk-Choorsteeg 30
For the best second-hand designer clothes you are definitely in the right place at "Olive Oyl's Rusty Zipper".
You will be welcomed in a warm cozy shop with friendly staff. The atmosphere in the store evokes some nostalgia for the 60s and 70s of the last century.
In our shop you will find accessories from Brigitte Bardot, Emma Peel and Twiggy, among others. But that is not everything. No!
We don't just sell vintage in the "Rusty Zipper. In our special store you can also find contemporary, clean, as good as new ladies and children's clothing.
Our clothing is very competitively priced and of very good quality. We have enough people who supply good quality clothing, different styles according to the latest trends.
Our collection is therefore always up to date. You will also find a lot of accessories such as shoes, bags and jewelry.
When you enter you will certainly find a nice outfit for your child. At Olive Oyl's Rusty Zipper you always succeed and certainly.
Address: Pieterskerk-Choorsteeg 30, 2311 TR Leiden.
Shoeby - Vijf Meiplein 29-31
At Shoeby, a lot of personal attention, service, cozy shops at strategic locations and a trendy collection are very important.
Shoeby offers trendy and a well-priced collection. In our collection you will find beautiful and trendy clothes for girls and boys.
Girls 134 - 176. It's not that easy to find children's clothing in sizes 92 - 134.
The girls are growing so fast that their clothes have to be changed in a short time.
Of course you want to put together a super nice outfit for your little diva without spending a lot of money on it.
At Shoeby you will find exactly what you need to dress your girl according to the latest fashion trend. Shoeby has a wide collection of children's clothing.
Nice girls' clothing for an affordable price and of good quality. You will certainly succeed online too.
At Shoeby you will find the best dresses, jeans clothing, cardigans and trendy skirts in sizes 134 - 176.
In addition to clothing, Shoeby also has very nice accessories and shoes according to the latest fashion. So your girl always looks good in comfortable clothes.
They also have the right clothing for school at Shoeby. Also look at the own fashion brand Jill and the brand Tumble 'n Dry.
In this way you create a stylish, portable and affordable look for your girl. Complete her outfit with the fun accessories.
You will find very nice accessories for every outfit to complete the outfit. You will find hair bands and striking jewelry.
By mixing trendy clothes you can put together a stylish and timeless wardrobe. You can also view this in one of their many other stores
Boys 134 - 176. There is also a lot to be found for the boys. The boys grow just like cabbage so their wardrobe has to be replaced after a while.
At Shoeby you will find trendy and cool clothes for your son and it doesn't even cost that much money. At Shoeby they really have very competitive prices.
They have a wide collection of boys' clothing for a good price and the quality is also very good. Your tough guy looks very hip at school too.
For him you will find jeans, cardigans, T-shirts and jackets in the size selection 134 - 176. And what about the nice accessories such as belts and caps.
It is important to Shoeby that the clothing is nice and comfortable. Every boy is now different and have their own style.
At Shoeby you will also find the right outfit for the picky boy. At school he certainly looks hip, trendy and confident.
Look at the fashion brands Mitch and Tumble 'n Dry. From this collection you will certainly find a successful outfit that your son will certainly like.
Comfortable clothing in which they can move freely and happily. Don't forget our beautiful boxer shorts. Because that is also in the Shoeby range.
You can shop online conveniently and cheaply at Shoeby.nl.
Shoeby is located at Vijf Meiplein 29-31, 2321 BN Leiden.
Also read: rated the best night lights such as with timer or sensor function
Jeans Center - Haarlemmerstraat 100
Another nice store in Leiden where you can find nice children's clothing is Jeans Center.
They have been around for over 42 years and have grown into a retail chain with nearly 100 stores.
Jeans Center is known for offering high-quality jeans and contemporary fashion to its customers at a good price.
A lot of thought is put into making shopping at Jeans Center a real fun experience.
They have qualified sales force and a high level of service. It is not without reason that Jeans Center is seen as the jeans specialist.
At Jeans Center you will find children's clothing for all ages! Here you have a choice of fun and cool children's clothing according to the latest fashion trends.
You will definitely score a nice outfit for your cool son, daughter, niece or nephew. There is an extensive collection so that a choice is made very quickly.
There is also a lot to get for the girls. There is plenty of choice from the many bright and colorful skirts, dresses and jeans clothing.
Boys will certainly get their money's worth with our cool outfit with boys' jeans and a nice cardigan. It is important that the clothing is always good and comfortable.
The children must be able to be themselves in our clothes. They must be able to run, play and romp. Our clothing can really take a beating.
Jeans Centre's children's fashion is made of comfortable and sturdy materials. This way, the children's clothing lasts a long time and the items remain beautiful.
It can sometimes happen that your child does not like to go shopping. They think it's just a drag and they don't like that many walks.
That is why we also have the option of shopping online for parents.
You can then sit on the couch with your kids and look at the many nice children's clothes that can be found.
Once they have made their favorite choice, you can simply place the order online.
You will receive the children's clothing free of charge and you can return it for free if you do not like it.
Jeans Center is located at Haarlemmerstraat 100, 2312 GD Leiden.
Accessibility shopping center Leiden
The location of the city of Leiden is ideal: a stone's throw from major centers such as The Hague and Amsterdam.
The city is internationally accessible, with Schiphol Airport 20 minutes away and the smaller Rotterdam The Hague Airport 25 minutes away.
You will also find the North Sea coast, the flower bulb fields about ten kilometers from Leiden and you are also in the area of ​​the Green Heart.
By car: Located between the A4 and A44 highways, Leiden is easily accessible by car. The city center is car-free, but in a circle around the historic heart there are more than three thousand parking spaces, spread over various parking garages and parking lots.
Parking: You can park in Leiden at the Lammermarkt parking garage. This is a few minutes' walk from the city center with museums, shops, restaurants and theater. The 22-meter-deep garage offers space for 525 cars, with special family spaces, charging options for electric cars and a number of disabled parking spaces. You can walk to the city center in 8 minutes.
By bike: Leiden is a real cycling city and is easily accessible for cyclists. You can also rent bicycles at some places, such as at the station. In the center you can park your bicycle for free in the Waag parking, under Hudson's Bay with entrances at Breestraat and Aalmarkt. This shed has space for 880 bicycles and is supervised.
Public Tansport: Leiden is easily accessible by public transport. Trains from all directions stop at Leiden Central station. The Hague is ten minutes by train and Amsterdam Central only 35 minutes. You can walk straight into the city center from the station. Buses run at a high frequency to almost all places within the city, but also to the region.
Lees meer: how do the clothes of Gabbiano and Imps & Elves fall?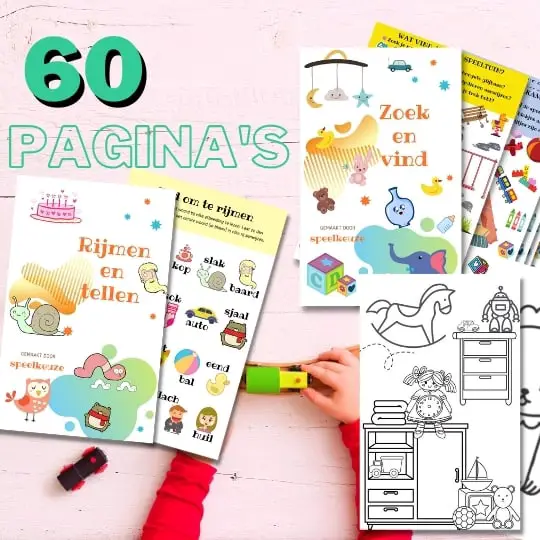 Always something to do for the holidays or rainy day?
Play Choice now has the ultimate activity book collection, with over 60 pages of fun coloring pages and educational puzzles.
Joost Nusselder, the founder of Speelkeuze.nl is a content marketer, father and loves trying out new toys. As a child he came into contact with everything related to games when his mother started the Tinnen Soldaat in Ede. Now he and his team create helpful blog articles to help loyal readers with fun play ideas.