25 Best Toys for 5 Year Olds: Cool Gadgets and Gifts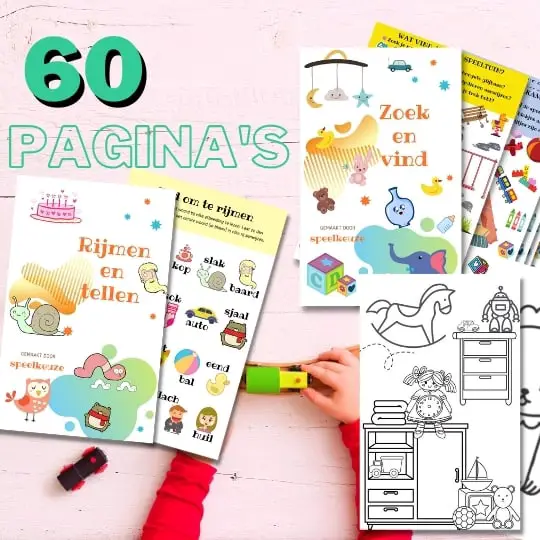 Always something to do for the holidays or rainy day?
Play Choice now has the ultimate activity book collection, with over 60 pages of fun coloring pages and educational puzzles.
The best toys for 5-year-olds are educational building sets, books and board games that encourage creativity, skills and social development. 5 year olds love to play and enjoy activities that stimulate their imagination and allow them to create stories and scenarios.
They show interest in a wide variety of subjects and are often interested in role playing, musical instruments, cooking and motor activities.
So the best small gift for 5-year-olds is a creative set for both boys and girls that they can make themselves, such as these Chunkies Paint Sticks from Ooly. It's paint, but without the mess and chance of smudges. Perfect for this age when they can still be a bit clumsy.
But of course there are many more toys and gift ideas.
It's important not only to buy girlish or boyish gifts, but also to choose gender-neutral toys that don't limit their development.
A helpful guideline when giving gifts is the "5 gift rule" which considers practical needs, educational items, creative toys, something to wear and something they love.
Educational toys can also help transition into kindergarten and teach skills 5-year-olds need at this age, such as drawing, reading, and social interaction.
When buying toys for a 5-year-old, it's important to keep the following 3 features in mind:
they must be extremely fun
help learn something new
or help with physical health.
In this list you'll find the 25 best gift ideas for all these purposes because all children have different tastes and abilities.
#1 Ooly Chunkies Paint Sticks – Best overall small cheap gift for 5 year olds
From 3 years

Best: 4 – 5 years

Until: 6 years
Fortunately, the paint sticks work very intuitively because they glide gently over the paper. It's like painting with a crayon and it's a completely different experience than chalking or drawing.
What I particularly noticed is that the Paint Sticks are easy to hold. Their thick barreled casing is perfect for small hands. That is why they are also suitable from 3 years.
I was a little concerned that you wouldn't be able to draw precisely with it because the paint surface is so large, but you paint with a small portion of the tip so you can still make precise drawings.
The degree of open-ended play and imagination is huge with these sticks because they can draw anything with them.
The portable design of the Ooly Paint Sticks is great, as it comes in a sturdy cardboard box with rubber bands on either side to secure the lid. So you can take it with you everywhere.
You can also easily combine it with other toys because it is a new way of drawing. My son has already combined it with markers, pencils, but also stickers and cardboard boxes.
#2 Hama Fuse Beads in a Barrel – Best creative arts and crafts toy for 5 year olds
Hama Fuse Beads are a fantastic activity for children 5 years old. The set comes in a handy starter tube and contains no less than 4.000 beads and 3 pegboards in different shapes - square, round and star. The beads are brightly colored and offer endless possibilities for creative fun.
If you make a safe environment with, for example, a wooden box with raised edges, it is a good mess-free way of crafting because there is no residual material left, no dirty hands, and nothing to clean up.
Making a pattern takes about 15 minutes and he has made three in a row. Together with ironing the beads, we had 60 minutes of playing time in one session.
That's very good for toys. And also the next two times we played with it we spent 30 to 45 minutes.
In the beginning I thought, what have I gotten myself into, because how do I iron them, but that was actually very easy and went well in one go. Pollie, a reviewer from Germany, also found the iron-on beads and base plates to be of good quality and the finished artwork easy to iron.
There are enough beads for about 70 designs, depending on how big you make them each time. The molds are handy, but I thought it was a bit small when I saw them.
#3 Schleich Tyrannosaurus Rex – Most Realistic Dinosaur Toy (5 years)
Our second favorite dinosaur toy is the Tyrannosaurus Rex from the Schleich brand.
An extremely simple toy, but one that we think should not be missing in the dinosaur collection of the enthusiast.
The Tyrannosaurus Rex is one of the best known and most feared dinosaur types. The T-Rex is designed very true to nature, both in terms of design and colors.
A nice toy at an attractive price that is fun for any dinosaur fan.
Our top two deserves an extensive explanation and explanation.
Play with this big Tyrannosaurus Rex. This is one of the most impressive dinosaurs that existed.
It had 20 cm teeth, and it could grow up to 14 meters. This replica is very realistic.
A very nice replica of the Tyrannosaurus Rex dinosaur, which will certainly be appreciated by children who have a certain affinity with dinosaurs.
The design of the T-Rex and the colors make it a very realistic figure. The T-Rex is the dinosaur that most children are familiar with.
This type of dinosaur is carnivorous and biped. It is on average about 12 meters long, 5,5 meters high and can weigh up to 6,5 tons!
The head of this impressive animal has a width of 120 centimeters, and the teeth are 20 centimeters long.
The T-Rex lived in the Cretaceous era in the forests of North America, tundra, on the beach and also in coniferous forests.
We are a fan of this fantastic replica of the Tyrannosaurus Rex and also think that the price makes this toy 100% worth it!
The toys are from the German brand Schleich, which focuses on the design of detailed figures for children to play with.
The brand really contains all animals in its range, all with a lifelike character.
Vehicles and famous buildings are also designed by this brand, to play with but also for adults to decorate the house.
#4 Learning Resources Tumble Trax - Best science toy for smart 5 year olds
From 4 years

Best: 5 – 7 years

Until: 8 years
Play value: ease of use, degree of open-endedness, imagination, social interaction, interactivity, versatility, aesthetics, ability to combine, portability, longevity, durability, safety, materials. Educational: +awards and educational value
In terms of play value and replayability, this Tumble Trax set scores above average, but not great. The ease of use is ok, but it is difficult to get started. And the fact that you can almost only stick it on the refrigerator where the balls can easily roll under the refrigerator or other equipment is also not ideal. It is not particularly versatile or easy to combine and does not encourage social interaction very much.
Where the set does excel is in educational value. Many children enjoy learning about physics and how the world works. With these Learning Resources kits they can pick this up in a playful way.
It is of course also fun to build a good marble track, but hanging it up with the help of magnets and the challenging assignment booklet also means learning about gravity. And the assignment booklet is very good. It is not without reason that it has won several awards, including the Toy Industry Association 2016 Specialty Toy of the Year Award.
#5 Spin Master Kinetic Sand - Best hands-on imaginative gift for 5 year olds
From 3 years

Best: 3 – 6 years

Until: 8 years
Kinetic Sand is often referred to as magnetic sand because it kind of sticks together, but it's not really magnetic. This gives it extra educational value because it feels good and you can model anything with it. Perfect for fine motor skills and creativity.
It feels really weird the first time you hold it, like wet sand but dry and like it should move differently than it does, sliding through your hand. This composition ensures that it does not dry out like clay and has a long life. If you take good care of it, it will last forever. It is also perfect to combine with sandbox toys or dinos or cars, all of which benefit the replayability.
The "magnetic" properties of the sand make it ideal for indoor use as it will not go all over your floor as loose grains, but will stick together more like loose slices or balls of sand. Good for ease of use and play value. In addition, it is perfect for open-ended play.
The material is made of non-toxic polymers and is even free of wheat, gluten and casein.
#6 SportX Dive Sticks - Best pool toy for 5 year olds
I recently discovered the SportX Dive Sticks and I can say they are a great addition to any pool experience, especially for 5 year olds in their developmental phase.
The dive bars are made of durable and safe plastic material, which takes away my worry about any damage or toxins. Safety is always my priority, especially when it comes to pool toys.
What I like about these dive bars is that they sink on their own and don't need to be filled with water first. This makes it easy for kids to pick them up and dive underwater. My 5 year old can't get enough of throwing them up over and over and then popping up to find them. It not only improves his swimming skills, but also his confidence in the water.
#7 Hot Wheels Monster Trucks Unstoppable Tiger Shark – Best RC monster truck car for 5 year olds
What do you think of this Tiger Shark Monster truck?
If you're looking for a remote control monster truck, this is a great option.
With remote control (range 30 meters) and USB cable
Maximum speed: 10 km/h
Suitable for children from 4 years old
Thanks to the HW Terrain Stomp Technology, it can drive over grass, rocks and roads without any problems. You can charge the Monster truck via the supplied USB cable.
You can drive for 25 minutes on a full battery and have a range of over 30 meters. You can reach speeds of almost 10 km/h!
This Monster truck has an innovative design. The Tread Attack tires are huge and can therefore handle any surface.
The tires also have excellent grip. The vehicle has many details and is made on a scale of 1:15.
As a true fan of Monster trucks, you can recreate your favorite stunts from the show with this Tiger Shark Monster truck.
#8 TickiT Rainbow Blocks - Best educational learning toy for 5 year olds
From 1 years

Best: 3 – 5 years

Until: 6 years
These TickiT Rainbow Blocks are amazing and a great way to learn colors. Children can simply stack them in front of the window and the light will shine through. You can also use a separate light table. This makes it extremely educational and versatile.
They are ideal for group play and can promote children's social and emotional development. In addition, they are also suitable for children with special needs, as they can help with focus and language development.
The play value is high because they are easy to use and appeal to the imagination in open-ended play where you can build anything or mix colors and it encourages social interaction because it is almost irresistible not to interfere with the colors .
The replayability is also very high because you can combine the blocks in all kinds of games, for example as houses in fantasy play, and the durability of the material is very good. They are just a bit difficult to carry because of their size.
The blocks are made of sturdy wood with a translucent acrylic plastic in the middle, and we haven't been able to break one of them, even after six months of playing. They are designed for children from one to three years old, but I think four and even five years old can learn even more from them by combining the colors and going deeper into how colors work.
#9 BS Toys Silk Dance Ribbon - Best cheap outdoor toy for 5 year olds
The silk ribbon with wooden handle is a beautiful strand of color and magic, and I love the quality products of this brand. The addition of a wooden handle makes it a fantastic wand.
The great thing is that the toy is not specifically aimed at a particular princess or wizard, so children can interpret it in their own way.
I have taken this toy to the schoolyard and have enjoyed watching the preschoolers let their imaginations run wild. It's great to see how the influence of a story and the freedom of the toy come together in perfect harmony of role play.
Whether spinning, running or making up their own dance routines, kids will love the endless possibilities for fun and exercise.
The quality of the Dance Ribbon is excellent. The silk ribbon is colorful and attracts the attention of young children. In addition, the toy is made of safe and durable materials suitable for children.
The only downside I've noticed is that some users have reported that the ribbon gets tangled after a short while. This can be frustrating, especially for younger children.
#10 Razor A Step - Best active toy for 5 year olds
As I mentioned in the introduction, children from about 5 years old are able to get on a scooter with two wheels. That is because a child at that age can already keep his or her balance well.
My favorite scooter for a child from 5 years old is the Razor A, which I will tell you more about right away.
This classic scooter is made of robust aircraft aluminum. The 125mm inline style urethane wheels have a springless, shock absorbing system.
The patented rear fender brake ensures quick stops and the scooter is foldable for easy transport. The scooter supports children weighing up to 143 pounds (about 65 kilos).
The handlebars are adjustable in height and the scooter is really top quality!
The scooter is equipped with ABEC-5 high-speed bearings and the front wheel has a shock-absorbing suspension for comfortable rides.
The scooter also has a folding handlebar and a wheelie bar for tricks.
Here you can see how smoothly the scooter rides:
This scooter has a beautiful blue color, but is also available in gray and green!
#11 Learning Resources Botley 2.0 Activity Set – Best STEM robot for 5 year olds
From 4 years

Best: 5 – 6 years

Until: 7 years
The Botley 2.0 has multiple ways to program and learn from it. Programming is done using the supplied controller, so the child can learn sequences and even start learning loops.
Botley does not actually learn to code, after all, the programming is done on a controller, but they do learn the basic skills of thinking like a programmer, and is therefore also a robot for 5 to 7 years.
There is a lot going on here and that is good for the versatility. You can really do anything with it and that also makes it easy to combine with other toys such as Duplo that you have lying around or to build something from magnetic tiles that it has to go through without knocking it over.
Botley was a lot of fun to play with, but the play value could have been higher if the ease of use had been better. My son is now 5 years old and having the patience to play with it properly is sometimes difficult. I also think playing with it under 5 will be a challenge. The play value is still very high due to the enormous interactivity, from coding to secret cheat codes.
Botley 2.0 has also won several awards, including Innovative Toy of the Year, Best of CES from Reuters and Best Toy of the Year 2018 from Parents magazine.
#12 Hasbro Spider-Man Titan Hero – Best superhero action figure for 5 year olds
Spider-Man Titan is a great addition to my 5 year old son's toy arsenal! This action figure is a whopping 12 inches (30 cm) tall, making it perfect for little hands to hold and play with. My son is totally fascinated with superheroes, and Spider-Man is his favorite, so this figure was a hit!
The quality of the material is durable and safe, which is important to me as a parent. I don't have to worry about sharp edges or toxic materials as this figure is made of non-toxic plastic. It's also stable enough to stay upright, despite sometimes going on wild adventures in my son's hands.
#13 Toyrific Foosball – Best 1 vs 1 game for 5 year olds
This mini foosball table is perfect for a child who loves football. They will use their newfound skills to have friendly matches with siblings, friends or family!
It is intended for smaller spaces and tighter budgets, but still provides hours of fun. See how the competitive side of the kids shines!
#14 Smart Games Camelot Jr. – Best brain teaser for 5 year olds
Smart Games Camelot Jr. is a fantastic thinking game for children from 4 years old. It is beautifully made of wood and has 48 challenging challenges where children have to build paths to connect the knight and the princess.
This game is not only fun but also educational. It helps children develop flexible thinking, logic, planning and concentration while they play. They will even forget they are learning!
The puzzle comes with a princess and knight, a wooden game board, six wooden towers and stairs, and a booklet with 48 challenges and solutions.
What I personally love about this game is that it has different levels from Starter to Master, making it suitable for different ages and skill levels. My 3 year old loves just playing with the blocks and matching the pictures, while my older kids love playing the challenges for real. And honestly, I like to participate too!
Let's take a closer look at each of my favorites. What makes these products a good choice for your child?
#15 Osmo Coding Starter Kit – Best interactive toy for 5 year olds
OSMO has emerged as one of the foremost toy manufacturers in the recent past and is known to produce some of the most interactive toys.
What will my child learn?
The OSMO Coding Starter Kit can be divided into 3 parts; Single player to learn to code, coding duo with more difficult puzzles and music to learn to think in sequences. With the help of your iPad, it not only teaches your child about these topics, but also deals with them.
Do I need accessories?
You do need a Base to use it, which is included in this package. The app comes free with the kit. It has won several awards, including Time Magzine's Best Invention Award.
Most important points:
Compatible with iOS and Fire
Very interactive
Award winning toys
#16 Nutty Toys Pop Tubes – Best sensory fidget toy for 5 year olds
These colorful tubes are a great toy for preschoolers and offer lots of benefits for activity and concentration.
I was immediately impressed by the Pop Tubes from Nutty Toys. The bright colors and simple design make them attractive to children.
My kids were thrilled to play with it and soon discovered how to connect the tubes together, similar to Lego blocks.
This gave them the freedom to explore their own designs and creations, which was great for stimulating their imagination and motor skills.
What I really appreciated about these Pop Tubes is that they are not only fun, but also educational. I was able to help my kids learn letters and shapes as they played. The toys provided a fun and interactive way to engage them in learning activities.
Another notable benefit of the Pop Tubes is their calming effect. The uneven texture and satisfying sound of the tubes popping have a soothing effect.
#17 Playmobil Country Farm 70132 – Best animal toy set for 5 year olds
Large farm playset from Playmobil with many country farm animals and a silo.
The Playmobil Big Farm playset not only looks great, but also offers a lot of options to the child who will play with it.
It teaches your child in a very playful way to know different animals and how to deal with animals.
From taking care of the animals to feeding the animals and even cleaning the pens.
Numerous animal adventures
The playset has all the attributes your child needs to make up and experience countless stories and adventures.
It contains all kinds of animals that you can encounter on the farm and many other nice pieces that should not be missing on the farm.
This absolutely stimulates the child's imagination. You will be amazed when you hear them play or maybe laugh very loudly, because children are very creative in their thinking and make up the funniest stories.
A real farm
Your child can build his own farm with this playset, because the pieces are loose. This allows a nice creation to be made.
#18 Desire Deluxe Magnet Tiles Building Set – Best building toy for 5 year olds
From 3 years

Best: 3 – 5 years

Until: 7 years
Building and constructing with magnet tiles requires problem-solving thinking and engineering skills. Children should think about how to connect the tiles correctly to create sturdy structures. This stimulates their spatial skills and improves their ability to plan and build and gives it a high educational value.
Desire Deluxe are a cheaper variant of Magna Tiles (the original magnetic tiles) with a very good price-quality ratio and fit on any of these types of magnetic tiles. In addition, it is also great to combine with almost any kind of game, because you can make all kinds of things with it. From houses for animals or dolls to robots to beat. This gives it tremendous replayability.
These types of tiles may look a bit cheap, but they are safe. I tried to break the case by throwing it and hitting it with a rock, but the magnets wouldn't come out. The toy score could have been slightly higher if the material used and the lifespan had been slightly higher, but in the end this only has a small impact on the fun.
The play value is also very high, especially due to the open-ended game where children can use their imagination. In addition, a large set like this gives the opportunity to build together and seek social interaction.
#19 Learning Resources Gears! gears! gears! Robots in Motion - Best gear toy for 5 year olds
Being creative with technology and ensuring that everything works together, for inquisitive children from 6 years old.
The way a child thinks begins to change in grade 3. A six-year-old child gradually learns to think logically.
They see the consequences of certain actions.
This makes them curious. Toys for children with which they can experiment also meet the needs of the schoolchild.
The educational technology set from Learning Resources makes it possible to assemble robot constructions. With the 116 parts, different structures can be set in motion.
If the gears do not move, it is up to the child to determine the cause of the problem.
A good way to stimulate cognitive skills and creativity. Playing with technical educational toys also improves spatial awareness.
The development of logical thinking ensures that the child can invent and assemble constructions that work independently.
#20 Kraftic Woodworking Kit - Best modeling kit for 5 year olds
From 4 years

Best: 8 – 10 years

Until: 12 years
This is where it starts to get real. Real hammering with real nails and a very nice first start in handicraft. There are 80 wooden pieces to experience a few different constructions. This makes it versatile, and there are also plenty of possibilities to eventually combine the created with other toys. Also good for replayability.
The ease of use could have been a little better. It is a pity that not all projects are equally well developed. The truck was a lot of fun to do but the plane wasn't very clear. Also, the pieces are not labeled, but I think this is on purpose and part of the job so they have to measure and select the correct pieces.
The social interaction in building is good for the play value, and it's probably a project you'll do with your kids.
#21 Melissa & Doug Mailbox Playset – Best pretend Play for 5 year olds
In a world where everything is digital, this set might be an unusual gift. But this way they can learn again what it is like to make and post letters.
With a sturdy wooden mailbox and a bright red flag you can immediately see when there is mail again! The mailbox has a sturdy hinged door.
They can personalize everything with the stickers. And I especially like the letters, on which you can write or draw, which you can also wipe off.
To be able to use it as a game, there are drawing activities and play ideas. So there is always something to send.
A nice set for 4 to 6 years. The door jams a bit, making it really difficult for smaller children to play independently.
#22 LEGO Creator 3 in 1 Space Shuttle 31134 – Best Space Rocket for 5 year olds
LEGO Space Shuttle is a great set for ages 6 and up, and my 5 year old had a blast with it! It's a beautiful 3-in-1 building set that stimulates their imagination and creativity.
What I love about this set is that it offers three different build and play experiences. First, they can build the cool Space Shuttle, complete with opening hatch and removable satellite. Putting the parts together is a fun challenge and gives a sense of accomplishment when it's finally done.
Then they can rebuild the set into a cool astronaut figure with a jetpack and a flag to "plant". This opens the door to imaginative play and lets my child take on the role of an astronaut as he explores space.
#23 Melissa & Doug Scratch Art - Best travel toy for 5 year olds
Sratch art is a unique pastime for children without the chance that they'll stain a chair.
A perfect travel toy for pre-schoolers on airplanes that will hardly take up space in your bag!
My son takes about 25 minutes to complete 1 page, although he occasionally went back and forth to other pages to do some scratching there as well. But with 10 pages in a booklet, that's good for 250 minutes total playing time, or 4 hours.
Of course they won't do that in one session, playing alone for 20 minutes was the maximum for us. When I also started playing along, for example by asking questions or making suggestions to do something with the supplied template, I could stretch that to 35 minutes of continuous playing time.
#24 Hape Science Experiment Toolbox - Best tool toy for 5 year olds