Best Robot Toys for Kids Tested: Top 8 [+Videos]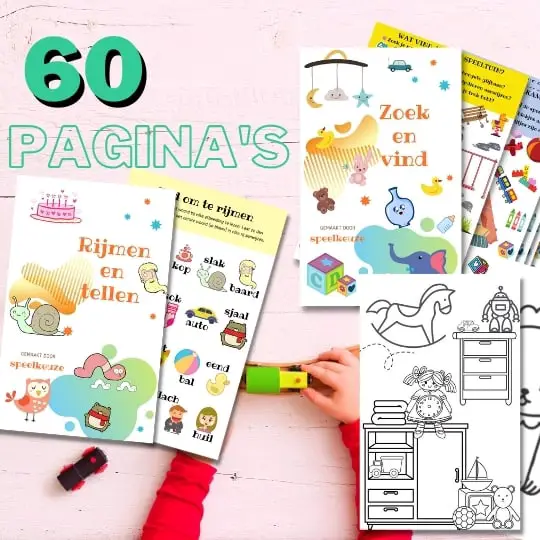 Always something to do for the holidays or rainy day?
Play Choice now has the ultimate activity book collection, with over 60 pages of fun coloring pages and educational puzzles.
Robots are no longer just those toys that waddle back and forth and put their arms forward.
They have become smart devices that can teach your child a lot about cause and effect and programming.
For most kids who want to start with a robot I would recommend this Wonder Workshop Dash recommend, especially from 6 years to about 8, although it is also fun later on. An award-winning design and great fun to learn different challenges.
In this article I will take you through all the possibilities that the world of robots for children has to offer.
We have made the best robot selection for you in different categories, from the best basic functions to the best personality and the most extensive programmable functions.
Let's take a look at all the options first, then I'll go into more detail on each of these choices:
Robot Toys Buying Guide
In this digital age, technology has become the second human language after speech. Hence, it is necessary to involve them as early as possible.
But how do you know which toy robots are suitable for your child?
Here are some helpful tips to keep in mind when buying robotic toys for the little ones.
Does the robot fit their age?
It is important that toys are age appropriate to suit their skill level and stage of development.
For example, while pet robots are suitable for younger children, it may not appeal to teens as they require more sophisticated toys.
In addition, robot toys for toddlers should:
Made of attractive colors to appeal to children
Be light to prevent children from getting hurt if they fall on them
Be sturdy and well built to prevent breakage easily
Should not be sharp to avoid stinging or even cutting children
Adds stories and songs to keep them busy
How big is the robot?
Toys should be small enough for toddlers and children of other ages to hold or lift them.
How safe is the robot?
To ensure that robot toys are safe for children, they must:
Be big enough not to fit in a child's mouth to avoid choking when buying one for your toddler
Be made of non-toxic materials and lead-free paint
Have a safe and sturdy battery housing
Be made of a fire resistant material
How sustainable is the robot?
Younger children are known for being rough when it comes to handling toys.
Especially with toddlers, toys are subject to falls and is thrown on hard surfaces, but certainly also older children can play rough with it.
Toys must be made of a strong material.
How educational is the robot?
Depending on the age, robot toys must have different educational skills, including
identifying objects
numbering
sorting colors and shapes
grammar
and coding.
Ability / limitations of the child
The type of toy is determined by the child's physical and mental ability.
Children with special needs may need different toys than the rest of the children their age.
For this reason, there are robots specially designed to meet their social needs.
Your child's intention / interest
What is your goal to buy robot toys for a child?
Where do their passion and interests lie?
Do you want them to learn to speak, count, tell stories?
What do they want to learn: wetenschap, coding or math?
That said, choosing the right robot for your child is easy.
If you notice their interest in science or technology, a Makeblock robot is an ideal gift for them.
Best 8 Robot Toys Reviewed
Let's take a closer look at each of these:
Dash is a colorful robot designed to make coding fun without the typical frustrations of building and programming a robot.
Winner of the "Best Toy Award", Dash is ready to play right out of the box, responds to your voice and rolls through the living room immediately after opening.
While Dash is ready to recognize a number of commands and can be used in games like hot potato, programming it for hundreds of other activities is really fun.
Use the free Apple, Android, or Kindle Fire apps to code in a fun 'Quest Mode' that's colorful and engaging, a great introduction to coding for kids from six years old.
Here's a first overview of what he can do:
With the push of a button, he can explore all his surroundings right out of the box. He sees for himself where he can go and where not.
He will automatically see where the edges of a table or room are, although the table can sometimes present challenges and it could fall off.
Dash can be programmed to follow a race track, dance, light up, make sounds, joust or play all kinds of other games.
Actually very easy with Blockly, an app on your phone or children's tablet to create a pattern for Dash to follow.
This is the best overall robot because of its many features and easy functions straight out of the box without actually programming.
Your kids unlock new skills the more programming assignments they make, using a reward system to keep them motivated and engaged.
Dash robots play well together, so your kids and their friends can even complete missions together.
This robot is well built, endlessly entertaining, and actually fun to program.
The mBot Robot is an educational beginner's kit intended to introduce children to STEM fundamentals such as programming, electronics and robotics.
Assembly parts are easy to put together, but allow for a deeper level of creativity and thinking to do with your child.
Assembly is a balance between accessibility and complexity;
the loose assembly parts are easy to assemble,
but allow deeper levels of creativity and programming capabilities.
Programming is fueled by Makeblock software Scratch 2.0, which provides kids with a drag-and-drop graphics programming platform to dictate a variety of robotic functions.
The nuclear robot is a simple vehicle with two wheels and a cute smiling face that is controlled via an app.
It is very affordable for what it can do and can be used right away, of course if you buy more add-ons you get more options but it can end up being more expensive than one of the others.
The system is therefore very flexible and the most educational of any of the robots here.
Choose from a variety of games such as balloon bursts or football and sumo - each one requires fun programming goals.
They can even customize the robot with Makeblock extensions and legos as they evolve in the Arduino open source ecosystem so they can create the robot of their dreams!
Expand your child's robot universe with this three-in-one add-on package that adds sound and light to their programming arsenal.
The kit includes light and LED sensors, as well as a sound sensor that reacts to blows.
They can build a scorpion robot that combines sound and color recognition or a light-chasing robot that follows the light with its eyes. Or, your child can equip their own desk lamp with an intelligent desk lamp robot that responds to touch and sound.
So you can control it with your voice.
All possible creations and parts can be combined with other robots to expand the number of fun games they can program.
All programming is done in Scratch 2.0, where kids learn STEM fundamentals in a fun and accessible way.
Let your child conquer the outdoors with Ollie, a cool rolling robot designed to perform adrenaline-pumping stunts.
If there was an X-Games for robots, Ollie would roll gold medals.
Coated in a durable polycarbonate housing that can survive a trip to the skate park for some cool tricks
The robot is coated in a durable polycarbonate housing that can survive a fall from a cliff, so there's no need to play carefully.
It can go as fast as 14 mph and capture the sensation of speed in a small cylindrical body that fits in your child's hand.
It comes with two blue Nubby Tires for indoor and smooth surfaces, while the Prime Hubs can conquer all kinds of terrain.
They can take Ollie to the skate park or the quarry and control the action with a smartphone.
Bluetooth is good for up to 30 meters of range and LEDs help them keep track of the robot at night.
He can do great tricks like:
Spin: turn around on its axis
Fast spin: Keep holding the trackpad for quick laps
Bounce: By controlling it smartly, it can spin around and start to bounce and come off the ground
Crazy Olly: bounce rolling off the ground
Remmen: a quick stop, including drifting on slippery surfaces
Drive Switch: turns around so that it rolls backwards
You see, all kinds of tricks inspired by skateboarding and skating.
And all easy to control with the help of the app, which is actually as simple as a game controller.
And there is always a help menu in the app to show you how you did the tricks before.
Fun for children who, for example, also skate, or love stunt scooters.
Full movements ensure precise precision in trick mode, and the app even alerts them when they perform a difficult trick.
Ollie accessories add personalization and style.
Coko is a programmable crocodile robot. This STEM toys for preschoolers (Science, Technology, Engineering and Mathematics) is the perfect start to the development of your child's technical skills.
Robot Coko helps your kids learn technology and basic coding. There is a playful training.
Your child will be interested in this game with everything you need to execute commands and you can program this crocodile.
You can try to make different routes and the robot will ride them. He can swim and he can even go to sleep. You can also give him special food.
It helps develop the basics of your child's programming and logic. Give your child a present! Give him or her his first robot!
Bring Star Wars to life with the BB-9 smart droid, the perfect companion for any young fan.
BB-9 responds and recognizes voices, springs to life, and rolls around the living room or patio for commands such as "move forward."
Built with a camera and kids can even record holographic messages that can be viewed in augmented reality
You can also control BB-9 from a smartphone, where some instructions can send BB-9 out exploring the area at top speed of 4,5 mph.
BB-9 is built with a camera and kids can even record holographic messages that can be viewed in augmented reality, transforming the galaxy around them.
BB-9 rolls over carpets, wet surfaces, correcting its course through its surroundings, even modifying its personality in response to others.
I have a bit of a love-hate relationship with these robots.
On the one hand, it's just fun entertainment and good bashing for a relatively low price, where you get two robots.
On the other hand, they are not very smart and in the end it is more just pounding than strategy
But perhaps you shouldn't expect too much robot-like behavior from it either.
Still, I wanted to list them because of the AI ​​that Silverlit put into it. That means you can play on your own while the other robot defends itself with the help of AI.
For example, I used that to create these scenes in our Playmobil Country movie, turned into a REAL BATTLE!
So you can fight in pairs by each picking up a controller, or you can battle alone by using only one of the two included controllers so that the other robot will defend itself.
A small disadvantage is that they often overlap each other.
Maybe it was made on purpose to make the fight last a little longer and you have to time when the other strikes.
But…. you can pack some punches, and that makes it a nice playset for children who need to get rid of something, shall we say.
But all in all, you shouldn't expect too much AI and not too much robot smartness.
A tracer robot is also a great fun toy for smaller children. For example, my son is just between the Lego and Duplo, and often wants to build blocks with Duplo.
Now with such a tracer bot, he has another nice reason to take them out again, namely to build obstacles and tunnels so that the tracer robot can pass underneath.
A tracer bot is a robot that scans the ground for lines. Once he finds one, he will continue to follow that line, as in the picture above.
With this set you get a base plate, although it is a bit small, but that ensures that you immediately understand how it can work.
With every black marker you can draw a line however you want, and thus create a pattern that the tracer will continue to follow bot.
We first saw this on Youtube videos about hamster mazes, and this model at least appears as a robot boss at Major Hamster in several videos that they have made.
We wondered how that worked exactly, and it is a sensor that detects thick lines based on induction:
Now it has become a great addition to our son's toy suitcase, and nice and small so he could take it with him as a gift when traveling.
Robot toys for children's learning
Many systems and tools have been used over the years to aid in the development of children.
In both the school and home curriculum, many robots and other digital devices are now included as learning tools for children.
Especially in recent years, robot toys for children are gaining popularity in many households.
The use of robot technology for children's toys has shown a significant positive impact on the lives of the little ones.
It has long been known that home is the first school for children and parents are the first educators in their lives.
For this reason, parents choose to give their children robot toys. This way they can have fun and learn at the same time.
Why should you buy a toy robot?
Although toys are mainly seen as fun objects for children, they do more than just play items.
In general, toys have been shown to improve children's development. They enjoy themselves, increase their creativity and stimulate their imagination.
For a variety of reasons, some kids fall completely in love with robot toys. But what distinguishes robotic toys?
They seem more realistic and responsive because they are programmed to perform certain activities such as
talk
to sing
bark
smile
making eye movements
dancing
and tell stories.
This integration of machine-human aspect makes them attractive to children.
Some can also record and play children's voices, using hands-on experiential techniques that actively involve them in the game.
They are versatile and can be used to create a variety of designs and they simplify technology and complex STEM principles such as programming to a level that suits the skills of children.
They are educational in a fun way and make them great learning buddies for kids.
Robot kits pave the way for their future success in working life with their own programming and building kits.
They give children computational and creative writing skills.
What can children learn with a robot?
In addition to what children learn in school, educational robotic toys include learning and problem-solving activities.
STEM robots provide them with programming basics.
While it may just be fun for them, they are slowly learning the basics of programming without even knowing it!
By figuring out how to link parts of a robot to create different designs, they gain an understanding of how programming works.
This process of designing interactive robots improve their hand-eye coordination and creativity.
They also learn that solving challenges involves breaking them down into small manageable portions.
Why coding is important to learn for young children
It used to be believed that coding was difficult and boring and that it was a specialist profession mainly devoted to men.
But today our world has changed a lot. Coding is now an important part in many industries.
In the future, coding, like computer literacy, is believed to be a mandatory qualification in almost every career.
Robot kits and coding toys have made computer programming and coding easier and more fun for young children.
While there is no right or wrong age to learn to code, the sooner the better.
Young children and teens learn better when it comes to acquiring new skills.
Children are also driven by an unquenchable thirst to discover and explore challenging new things.
In addition, this period lays a great foundation for their maturity and shapes their future relationships.
As we get older, it becomes more difficult to learn new complex skills.
Maybe it's because of the busy lifestyles and responsibilities of us adults.
While it is true that the Internet offers numerous tutorials on coding for kids, there is undeniable beauty and power in learning to code using real and tangible items as compared to virtual learning.
But also read my article on learning to code for kids which contains a lot of tips and online material.
This is where robot toys and robot kits can help. In their own simple yet entertaining ways, they can get kids' attention.
The practice-oriented approach allows them to experiment.
Robot toy innovation has debunked the notion that it is difficult to master the art of programming.
Coding robots, especially the construction robots, help children to appreciate and use STEM skills. By doing it practically, they can understand it better.
Learning to code offers a lot more than gaining coding skills.
The benefits of coding for kids
In addition to being fun and educational, the STEM robot toy helps children develop valuable life skills and qualities.
Let's take a look at the features and benefits of learning to code.
Teaches patience and persistence
By trying and failing multiple times, they learn that failure is part of progress. They are more motivated to keep exercising.
They apply this skill in real life to give them hope to keep going when things seem difficult.
Problem solving skills / decision making ability
Coding can be challenging for children at first. They learn by trial and error. This way they know which decision works best and which does not.
By working with robots, they learn that every step, no matter how small, leads to success. This ability is extended to dealing with a difficult life situation.
Improves clear thinking and communication
The best communicators are those who can explain their complex ideas in the simplest language.
Clarity is a skill that many adults and children lack.
When children understand how things work, they can express themselves both orally and in writing in a logical and systematic way.
Feeds their creativity
By experimenting and learning new skills, children can improve their creativity and broaden their knowledge.
Improves computational skills
By to build blocks and learning to balance, they learn to solve math equations in a simple way.
Builds their confidence and self-esteem
When children finally manage to create building blocks and create different designs, they are more confident and can believe in their ability to solve problems.
Opens endless career opportunities
Programmers, software, game and app developers are the most sought after professionals. In fact, the demand is so high that some vacancies are not filled.
In addition, these careers are lucrative. It paves the way to their financial freedom. Unfortunately, most people never achieve financial freedom in their lives.
On the contrary, there is an increasing trend of emerging millennial millionaires. But what sets many of these individuals apart from the rest of the population?
You guessed it good programming knowledge.
Robotic Stem Toys and Kits for Teens
Robot kits for teens range from beginner to intermediate level. They are more sophisticated but still entertaining to get their attention.
Teenagers have a better understanding of programming and can read scripts, follow instructions and commands.
As they get closer to the job market, STEM gives them an edge over their peers.
Also, because they are critical thinkers and like to apply what they learn in a real situation, many will likely enjoy developing their own applications and robots.
Robot toys in the lives of children with special needs
Many toys for children are categorized by age group, as most children reach a developmental milestone in a certain time frame and in a predictable way.
But this is usually not the case with children with special needs. It takes patience, consistent practice and repetitive actions to learn skills.
That's why there are support robot toys designed especially for them.
Robot toys for autistic children, for example, provide them with a companion and help them practice their social skills.
How we tested
Our reviewers spent five hours testing a top-rated robot.
To get the most comprehensive results, they looked at how their children interacted and tried out the different functions.
We asked our testers to consider the most important features when using this robot, from STEM features to durability.
We have outlined the most important collection points, so that you also know what to look for when buying.
Also read: modern racing tracks with the latest AI
What we paid attention to
STEM features: Robots are fun, but let's face it: a lot of the reasoning that goes into spouting a toy like this is for STEM learning. Different robots and robotics have different levels of STEM; some have it as a primary focus, while for others it is just a result of using the robot. If you specifically want your child to learn about coding or robotics, it may be better to choose a model that emphasizes these features.
Age level: Your child's age plays an important role in what kind of robot is best for them. You may want to consider getting a robot that will grow with them when your child is young, with basic features at the beginning with room to expand later. On the other hand, if your child is old enough to learn to code, a more advanced model might work better.
Personality: It's hard not to get attached to a robot, especially when you consider how cute some of them are. Some robots even have a personality that will evolve based on interaction and use. If you think your child would like to have a robot companion to play with, choosing a person with a personality can be a fun idea.
Test Results: Wonder Workshop Dash Robot (Best Overall)
Below, briefly, the findings of our best overall robot.
What we like
Perfect for developing STEM skills
Nice feature for voice recording / playback
Sustainability and
What we don't like
Minimal built-in automation
Our reviewers found the Dash robot to be a "fun" and "intriguing" toy with a strong focus on helping a child develop STEM skills.
Although it included some built-in commands, the robot required critical thinking skills for the majority of its movements, sounds and interactions, according to our testers.
With a big emphasis on coding skills, less advanced users of programming and interacting with Dash might find interacting with Dash to be time consuming and somewhat frustrating, one of our reviewers warned, but over time the robot will develop a fun personality.
As one of our testers revealed, "Dash is like a member of the family - our very own robot!"
Conclusion
The innovation of robot toys is a step in the right direction to raise a generation of tech-savvy children.
Not only do they expose children to the world of coding early in life, but they also make their future brighter.
Like video games, as robotic toys become more and more popular in our society, they can be addictive and obsessive.
Therefore, parents must ensure that their children balance real human interaction, physical activities and keeping in touch with the real world.
also look at our review of these best tablets with wifi to control them