Best wooden toys with wheels: 7 mobile sets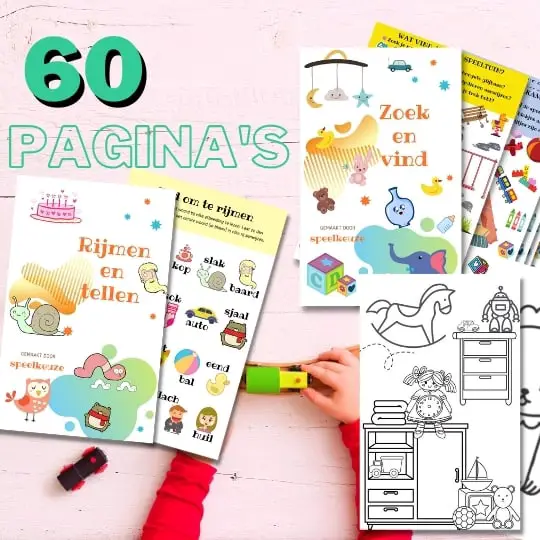 Always something to do for the holidays or rainy day?
Play Choice now has the ultimate activity book collection, with over 60 pages of fun coloring pages and educational puzzles.
At wooden toys with wheels you quickly think of a car, but there is so much more possible.
For example, think of this huge wooden train set from Bigjigs. A great piece toys with wooden trains with wheels, but so many more accessories for fun pretend play.
In this article I discuss the 7 best wooden toys with wheels and what you should pay attention to when purchasing.
Let's look at the options in a quick overview. Then I'll go into more detail about each of these choices.
Wooden toys with wheels buying guide
When you wooden toys buy, please pay close attention to the quality of it wood and the finishing.
Is it massive? wood or pressed wood. This makes a big difference to its sustainability.
That's why we rated all sets for durability on a scale of 1 to 5 points.
In addition, you should of course pay attention to the wheels.
Wooden toys are not known for having the best rolling wheels. That's a shame because the extra weight of it wood can actually provide good speed.
Wheels are often not properly attached because that is difficult wood, or they run a bit like the Kidwill set, which is a very nice building set.
I have with every piece toys also looked at the ride quality.
I also looked at the replayability. It's always fun to return to it.
This partly has to do with how well you can drive it, but also how fun extra activities you can do with it.
Activities like pretend play with the school bus, or assembling with Tegu and Kidwill.
For each product, the scores are given on a 5-point scale.
Best wooden toys with wheels reviewed
From: 3 years

Best: 4 – 6 years

Up to: 7 years
The play value of this mountain set is extremely high. The degree of open end is enormous due to all the accessories supplied. You can build the train track, play with it, there are dolls for fantasy play and everything appeals to the imagination.
For example, there are children and a grandpa and grandma, and my son plays that the children go to visit by train. The possibilities with the set are endless, but it is also easy to combine with other train tracks. For example, I expanded it with a Brio track. In addition, a train set can also participate in almost any other fantasy game. That also makes the replayability high.
Only when the ease of use was higher could the set have an even higher play value. Building with the bridge pieces and the mountain is fun, but playing with it is difficult because the bridge often collapses. Sometimes this causes frustration, but luckily it usually becomes part of the game.
Social interaction is high. I like to play along and because it's such a big set, friends who come over can always join in without getting in each other's way. Furthermore, there are some interactive elements such as the crane that can hoist, and the figures have a nice appearance.
It's not for nothing that they have already won the Independent Toy Awards, and with a versatile set like this you can't miss for hours of fun.
Having an wooden car is fun to play with. Nice and heavy and easy to drive. But do 7 wooden Add some figures and it immediately becomes a lot more fun.
They are massive wooden play figures with smoothly rolling wheels. Perfect to go together with your other toys use cars.
But it's really fun because it's a school bus. This allows for hours of imaginative play. He is brought up again and again with us.
The children visit the farm, the construction site, the magnet tile tower.
You name it.
It's quite sturdy with a working door and a flip-up stop sign for safe crossings. It is attached with elastic so it can't actually break.
Tegu is a toy brand that offers everything from wood makes. Beautiful and sturdy wood.
It's durable and made in Honduras in a responsible manner, that's playing good.
It also makes the set a bit more expensive, but play with it wood gives your child much more in return than plastic toys.
The set is also just very well put together. The magnets click well and stay in place, even during heavy driving.
And that's ultimately what you want from one toys car.
This set offers less building options than the Magformers police set. But you can also supplement this with other sets from Tegu.
They all fit together. Here you get at least 12 building pieces.
Wooden toys You don't just have to have wheels toys to be that you can hold in your hands. Take this sturdy balance bike from Hape, for example.
It has rubber around the wheels so that your floors don't get damaged. This also makes the wheels last much longer. Very durable toys.
In fact, he was the winner of the Oppenheim Toy Portfolio Gold Seal Award and the Parent's Choice Recommended Award.
It is of course for the smallest children. Perfect for testing their mobility and practicing their gross motor skills.
Toddlers from 12 months can actually start on it.
The wood is sourced from environmentally sustainable forests and made with safe paint.
Also read: this is the best wooden toy for toddlers and preschoolers
Everything is from wood including a sturdy one wooden Suitcase. That makes this a very nice construction set.
In addition, it naturally has wheels in the set, so that you can also build nice cars with the building pieces.
Everything is included such as a hammer, wrench, pliers, ruler, saw, screwdriver, nuts and bolts.
You can build a lot more than just cars using the wooden building pieces and nuts and bolts. In fact, they can make anything they can think of.
It is sometimes a bit of fiddling, but that is also very good for fine motor skills. I often had to help my son (4) when he wanted to build more difficult things.
It is made of solid wood and quite sturdy. The suitcase could have been a little more sturdy, especially considering the age category for which it is intended.
From: 1 years

Best: 1 – 4 years

Up to: 5 years
Very handy to use because of the magnetic suspension points and the box to store everything. The magnets could have been a bit stronger, but with the storage compartments and anti-fall system, the set ultimately scores high on ease of use.
The walker is also extremely versatile, you can walk, build and hammer in one. There are also enough pieces and tools to enable social interaction, which adds to the play value. The set does not really appeal to the imagination and there are also no accessories to immediately look up social interaction.
It's nice to have a little bit of everything. That also makes it a bit of a shame because you can't really build anything nice with the set. It's really more about exploring and hammering and screwing things into the car.
It is made of sturdy wood and the wheels even have metal axles with rubber surrounds so it rolls smoothly and doesn't damage your floor. The durability is therefore high, although the lifespan is somewhat less. The paint quickly showed some scratches with us.
Good idea to make it so you can roll and hammer it with some more building activity. This makes it more mobile than other hammer sets.
He also often goes from playing location to playing location so that something is always done with it. We made a string to it so that it can be dragged along.
There are 18 building blocks, 30 screws, 1 hammer and a screwdriver and is suitable for children from 3 years.
Unfortunately, it is a cheaply made car. You also don't pay that much for many activities, but there are also some flaws.
Although the car and the wooden While building pieces are quite sturdy, the plastic screws are not. The nails that you have to hammer in also fit directly into the holes. So that does take some of the game away.
A cheap set to play with, but other sets are better.
Conclusion
There is a lot wooden toys with wheels outside of cars. I hope this selection has given you an idea of ​​the possibilities.
Also read: these are the best wooden toy brands of the moment