Children's wardrobe | This way you keep the nursery tidy
I enjoy writing these articles for my readers, you guys. I don't accept payment for writing reviews, my opinion on products is my own, but if you find my recommendations helpful and you end up buying something through one of the links I may be able to receive a commission on that.
More information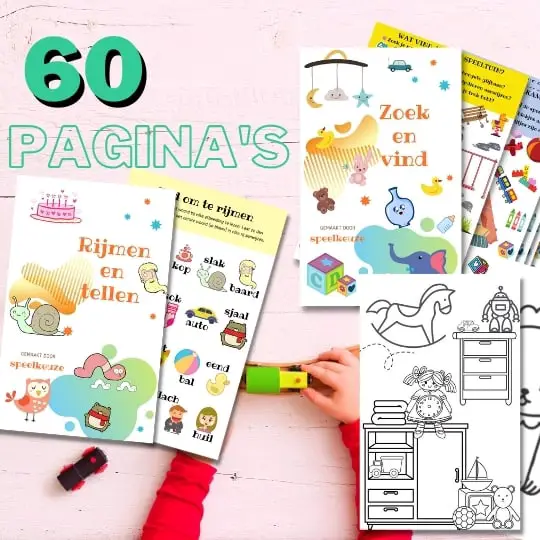 Always something to do for the holidays or rainy day?
Play Choice now has the ultimate activity book collection, with over 60 pages of fun coloring pages and educational puzzles.
The kid's wardrobe, or rather any wardrobe, is a place almost every parent tries to avoid. That is, if you're a parent like me.
You probably know the feeling when you have just neatly folded a load of clean laundry, which you then have to sort and store in the children's wardrobe.
Only when walking to your child's closet does your heart sink in your shoes.
In this article, I'll look at how you can do it better.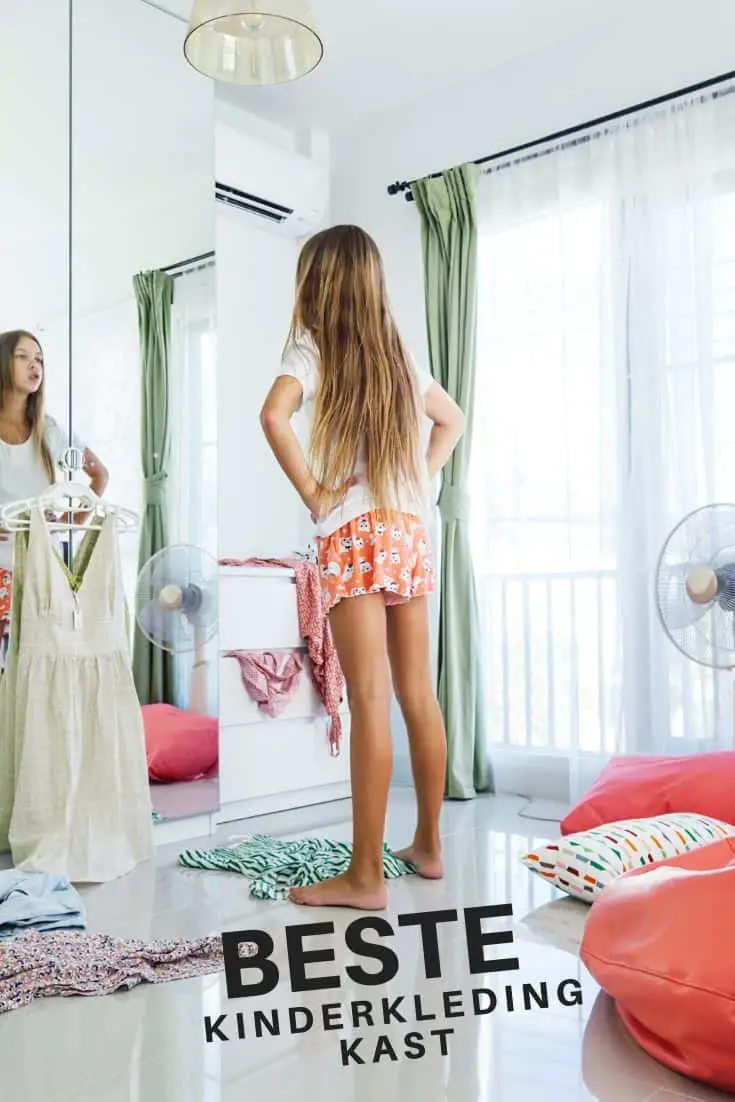 You know that what you will encounter will immediately make you wonder why you just folded the clothes with so much care and effort.
Come on, admit it, the battle to keep a children's wardrobe neat and tidy is one that you as a parent don't easily win.
But do you know that this continuous battle with the children's wardrobe is not invincible? When it has been hanging out of your throat long enough, you start looking for a solution!
And whoever seeks will find.
Did you ever think that there are different systems that can help you sort and store your children's clothes?
But luckily they exist and what good about other parents that they want to share them with the rest.
The bulging mountain of children's clothes in the children's wardrobe can really be transformed into a neat and easy-to-handle system that works great.
Especially in the morning! You will thank me later.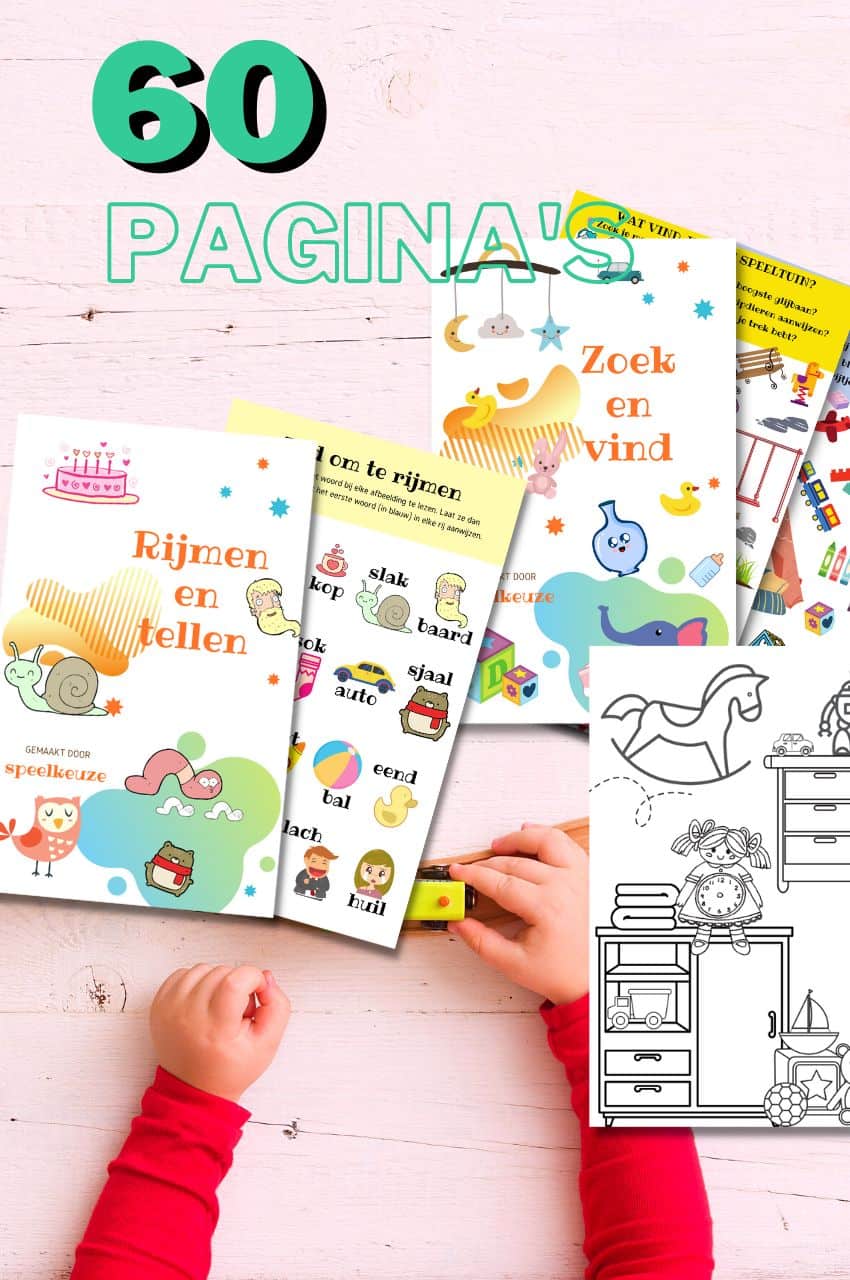 A play theme in your mailbox every month?
Fun play tips, activity books and more, with the first email being our free mini-guide "educational toys"
We will only use your email address for this newsletter and respect your privacy
A children's wardrobe system that works
There are a lot of systems that you will encounter that work… for that one parent and her situation.
What I was looking for, however, had to be simple and doable for everyone.
With all due respect to the inventors, but who has time for a 12-step system ?!
Exactly, most of us don't have that much time on our hands.
The system of sorting and storing children's clothes in the wardrobe must be efficient and time-saving.
And maintaining it as well. Otherwise, I don't see the point of a system.
Without looking back at my pushing clothes in an overflowing kids' wardrobe and my sighs during an exhausting expedition to find that one favorite pink sweater, which is still missing, by the way, I found a storage system that works for everyone.
No long-winded step-by-step plan, just handy ways of storing children's clothing!
Buy and store children's clothing
I found that the choices you make when buying both the children's clothing and the children's wardrobe go hand in hand.
But before I tell about that, I first have to define a few things.
The system I am talking about includes a system for two or more children.
This system was chosen because, in principle, it becomes more difficult to maintain a neat and tidy wardrobe from two children.
We will discuss the system with two children, but you can easily add a third or a fourth child or you can simplify it according to the needs of a child.
The principles are the same.
The clothes you now have in your wardrobe basically fall into the following categories:
Clothing that currently fits child # 1
Clothing that currently fits child # 2
Clothes that have become too small for both children
Clothes that are too big for both children (bought for the future)
Clothes that no longer fit child # 1, but are too big for child # 2
The Superouder children's clothing storage system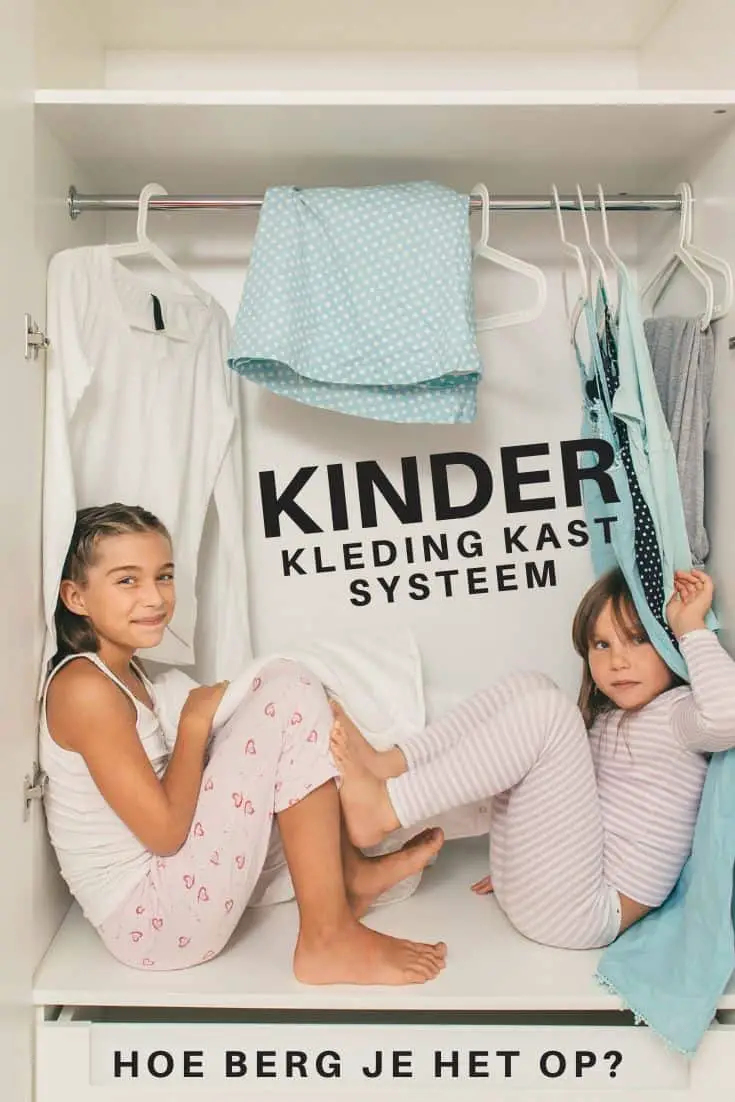 Now that we've done that, here's the handy and doable 4-step system that any superparent can handle.
With this step-by-step plan you save yourself time and effort in the morning and any other time when your children have to get dressed.
Step 1: Sort the kids clothes
I'm going to be very honest. This step is the biggest and most time consuming step. But once you've done it, the foundation is laid for everything else.
You start by going through each item of clothing and sorting it into the five categories listed above.
Clothing in category 3 (clothing that no longer fits both children) is further divided into the following categories:
to donate
keep as a reminder
and sell
If you have two or more children, you know the phenomenon of clothes being passed on from the oldest to the youngest. Completely normal and budget friendly too!
A golden rule of forwarding clothes is: the garment must not be torn, faded or worn out.
I also think this rule fits well for selling and donating second-hand children's clothing.
Step 2: Clear the children's wardrobe
Category 3 clothing that was still in good condition (no rips and stains) and that was currently in season is being packed and sold.
You can now easily find various marketplaces for this online.
By selling the second-hand clothing, you are not only devastating, but you also earn some euros. Nice is not it!
The out-of-season items destined for sale are set aside in the attic and ready for when the appropriate season arrives.
All items of clothing kept as a keepsake are placed in a large bin in the attic for an extended period of time.
Be sure to put a label on the box that indicates what is in the box!
Step 3: Organize and save the kids clothes
Then, the garments that currently fit (categories 1 and 2) are hung in their respective children's wardrobes or placed in the dresser drawers.
Still category 4 and 5 clothing. Category 4 and 5 items are sorted by size and season and a plastic bin is designated for each of these groups.
Then make some space in the attic for the 'Future clothes' bins. Sort them by size / season. Voila! And your super-parent storage system is ready!
Step 4: Maintenance of the children's clothing system
Once the clothing system is in place, some action points should be performed routinely to maintain the cleanliness of the wardrobe.
Place an empty container, without a lid, on the bottom of each child's closet.
You use this bin to collect items of clothing that will no longer fit the child during the year.
In the spring and autumn you empty the bins to sell or donate the category 3 garments.
In addition, you visit the attic every spring and fall to:
Move new Category 5 clothing to their appropriate storage bin
Pick up the right "Future Clothes" bin for each child for the coming season.
What do you pay attention to when buying a children's wardrobe?
As mentioned earlier, buying the children's clothing goes together with the children's wardrobe.
In the sense that you only buy the amount of clothes that fit in the closet.
It will not often happen that you buy a larger closet, because the quantity of the clothes has increased.
You are more likely to dispose of clothes to make room in the closet, especially if you have carefully selected the best children's wardrobe.
And if you do have to buy clothes, follow a practical rule: preferably buy basic clothes and some special items.
Basic garments you can always mix and match and also send it on to the next child without difficulty.
Best children's wardrobes reviewed
I also have a rule for buying a children's wardrobe: the wardrobe must be easy to handle for a child.
By this I mean that the cabinet layout is clear and has sufficient storage and hanging options.
Drawers are a must-have and basically work better than shelves.
This is because drawers are usually located at the bottom of a cupboard, so that a child can easily reach them and see them at a glance.
My favorite White children's wardrobe
I found my favorite children's wardrobe at leenbakker.nl. It is a simplistic, but functional children's wardrobe with two drawers and two doors and I feel has just enough space for a small kids wardrobe and more.
I'm talking about the Vipack wardrobe Kiddy. The simple and minimalist design immediately appealed to me.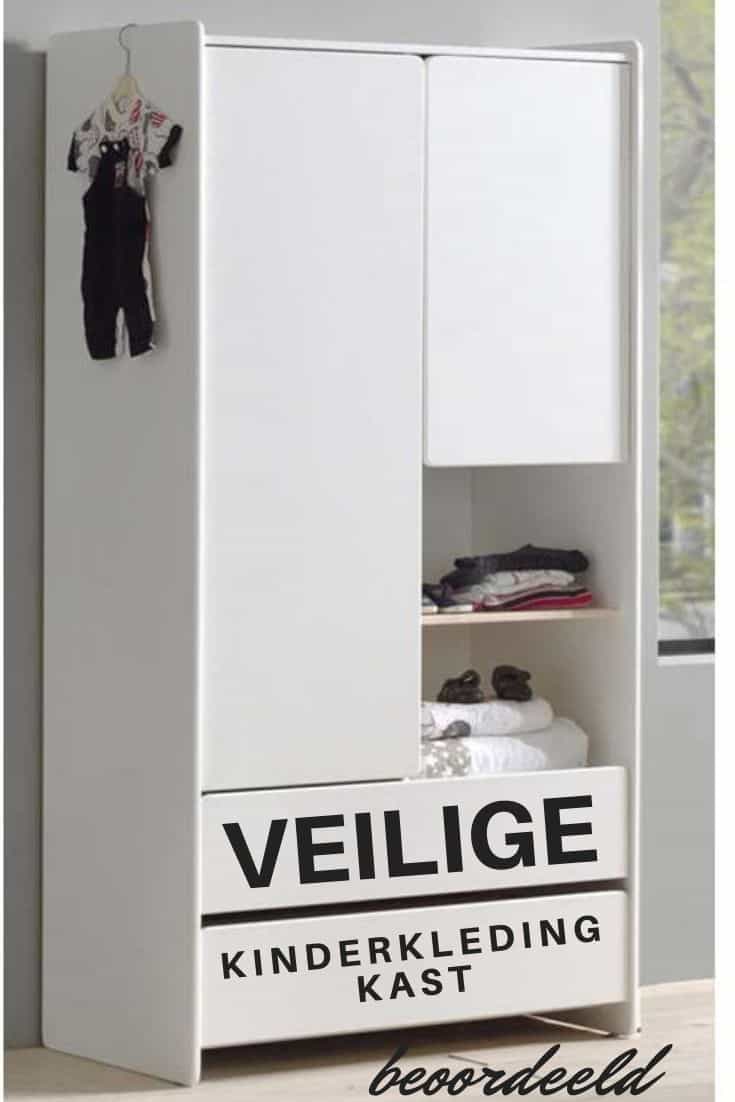 This makes the cabinet fit in almost any nursery regardless of the furniture that is already in it.
Also because of the white version, you can easily combine this children's wardrobe with other pieces of furniture.
The handle-less and incidentally rounded panels of the cabinet and the drawers give the piece of furniture a playful yet modern look.
In short, a beautiful children's wardrobe!
Besides a beautiful also a practical children's wardrobe
The cabinet is not only beautiful, but above all that I just mentioned: functional and practical! I really like that very much.
The children's wardrobe has two spacious drawers at the bottom for anything and everything, such as socks, underwear, swimming clothes and so on.
You can store clothing such as play clothes and pajamas in the five compartments at the top.
If you want to use the shelves even more effectively, you can put them in the stuff, for example a storage box stop and then place it on the shelf.
This way your child can access it quickly and easily.
The open compartment can be used to store gadgets or can serve nicely as a bookshelf.
You can use it however you want. At the section with the rod you hang things like the school uniform and coats.
This children's wardrobe is practically divided and has a size of 90 x 180 x 55 cm (LxHxD).
That is a good standard size that is not too big and fits perfectly in every nursery.
Your child can also easily reach his clothes, because the closet is not too high.
The material used to make this cabinet is a combination of MDF and pinewood.
The cabinet is nicely finished and looks just great!
A cheap alternative children's wardrobe
A cheaper alternative to the Vipack wardrobe is the Hioahop Spell Wardrobe.
This children's wardrobe is lower in price, but you do not compromise on the storage options.
It is also a white cabinet with a stylish and timeless design, so basically the same applies: you can easily connect the cabinet to the furniture you already have.
This children's wardrobe has three doors and three drawers, a large hanging space and three shelves. You can store a lot of clothes in the cupboard's shelf space.
The drawers are conveniently placed one below the other at the bottom of the cabinet.
The space under the hanging area offers extra space for example these organizers to bet.
The size of the wardrobe is 115,8 × 175,4 cm (LxHxD) and offers enough storage space for a complete children's wardrobe.
This children's wardrobe is made of chipboard and all door and drawer panels are fitted with handles.
In terms of price, the cabinet is a cheaper alternative and it actually offers a little more storage space.
If you have a little more space in the nursery, this cupboard is a great item to purchase.
A budget-friendly children's wardrobe
If you have a limited budget, but you still want to have all the clothes in order, then the VidaXL wardrobe a budget-friendly alternative to consider.
This wardrobe has the same storage options as any other wardrobe. The cupboard has eleven compartments and a rod for hanging clothes.
It is a portable cabinet that is intended for storing clothes and shoes.
It is versatile and can be used everywhere: in the nursery, in the bedroom or in the attic.
Thanks to the various storage compartments you can store everything you would put in a form-retaining cupboard.
Once the cabinet has been set up, it functions exactly as a shape-retaining cabinet.
However, because the cabinet is made of a non-woven fabric, you should just take into account that you do not overload the cabinet.
But otherwise it works perfectly!
Thanks to the zippers, opening and closing the cover is made easy.
The rolled up cover is held at the top with a Velcro, so that you have a good overview of the closet.
The cabinet is made of durable non-woven fabric and moisture-resistant iron pipes.
These materials ensure that the assembly of the cabinet is fast and time-saving.
The cabinet has a size of 45 x 150 x 176 cm, offers enough storage space, but is itself space-saving.
Due to its compact size, you can place it in any room.
Storage tips: roll, fold and hang up
Why should you only roll up your clothes instead of folding them when you travel? You can do this at home too!
Rolled up clothes wrinkle less, they take up much less space and you have a better overview.
In this video, you can see useful ways to roll and fold your clothes more efficiently.
It is also always good to have many hanging options in the nursery.
Children can sometimes be in a hurry and throw their clothes off left and right.
With hanging hooks and an nice children's coat rack you give your children the opportunity to neatly hang the clothes away.
Finally, the last bonus tip: give your children each your own laundry basket. When they are done with an outfit, it can be put in the basket immediately.
You will have to chase clothes a lot less and the nursery will look a lot nicer without children's clothes lying around.
Looking for good quality children's clothing? Here we have the best children's clothing brands!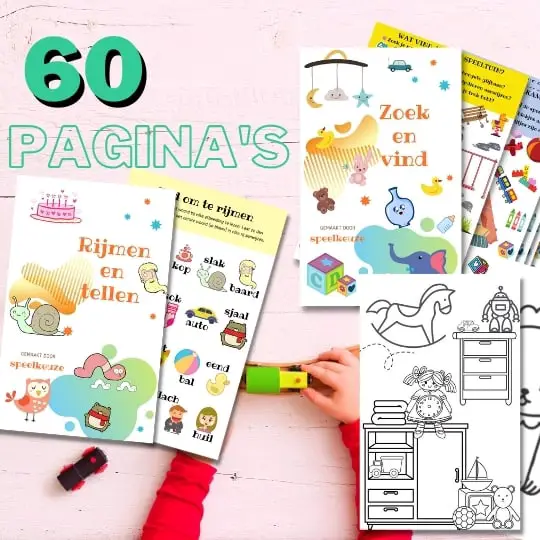 Always something to do for the holidays or rainy day?
Play Choice now has the ultimate activity book collection, with over 60 pages of fun coloring pages and educational puzzles.
Joost Nusselder, the founder of Speelkeuze.nl is a content marketer, father and loves trying out new toys. As a child he came into contact with everything related to games when his mother started the Tinnen Soldaat in Ede. Now he and his team create helpful blog articles to help loyal readers with fun play ideas.