I enjoy writing these articles for my readers, you guys. I don't accept payment for writing reviews, my opinion on products is my own, but if you find my recommendations helpful and you end up buying something through one of the links I may be able to receive a commission on that.
More information
In a toddler, the motor development still progresses rapidly. However, the child no longer takes the big steps he / she made as a baby.
A child from 2 to 4 years old mainly works out the movements it has learned. For example, the balance bike slowly being exchanged for a bicycle with training wheels.
My favorite for these ages is this sand and water table from Little Tikes because they can have so much fun with it and it can also last a long time as they get a little older and learn to build sand things themselves or do water fantasy games with their other toys.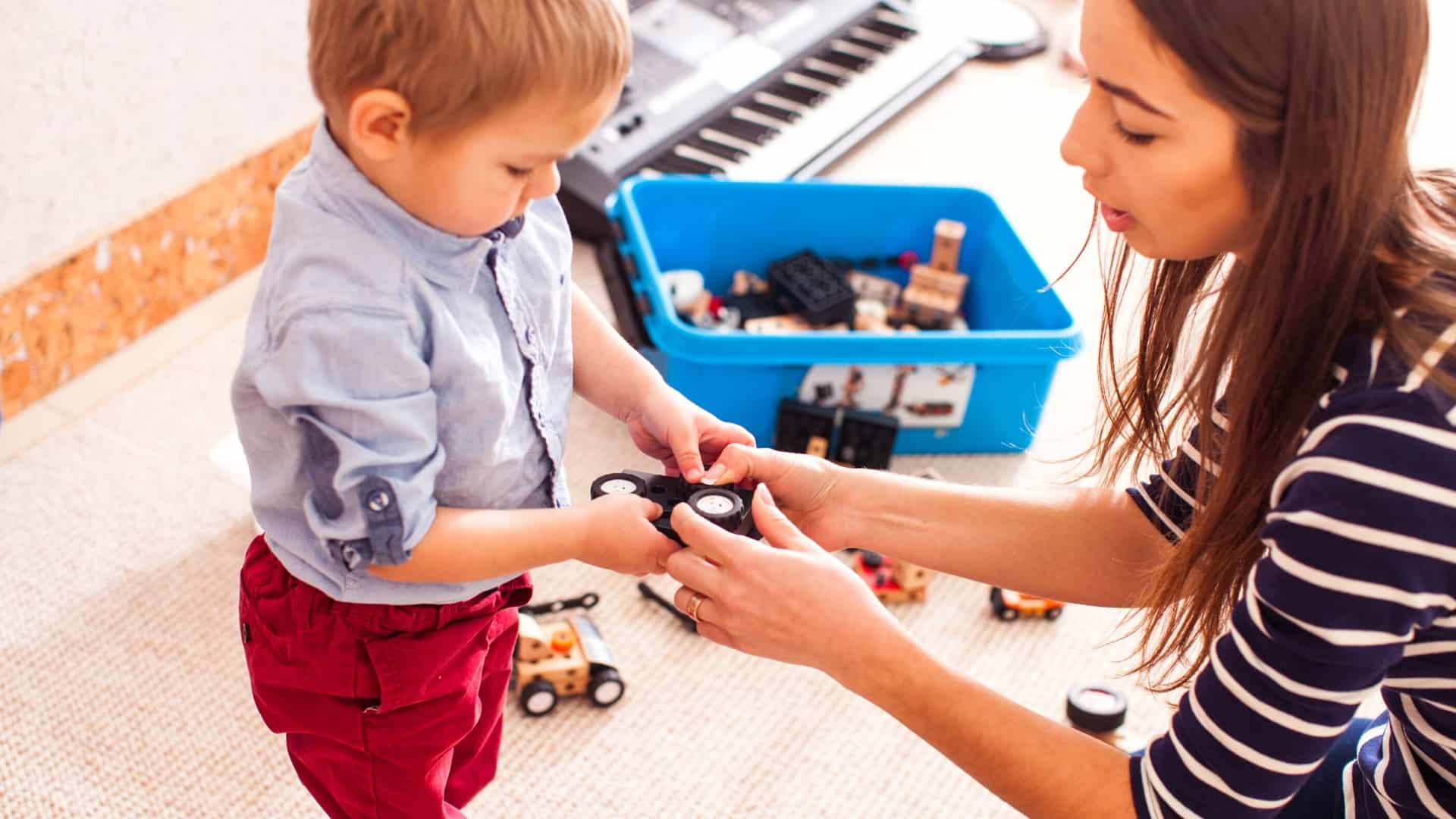 Toddlers are undergoing major cognitive development.
Because this goes hand-in-hand with language skills, the child is increasingly able to articulate the acquired knowledge.
Recognizing colors is also a cognitive skill that a toddler will master.
In addition to the colors, they also learn to recognize mathematical shapes and they are increasingly familiar with the cause-effect relationship.
Where the baby and toddler used to live mainly in the 'me world', a toddler will learn to take others into account.
Recognizing feelings in oneself as well as in others is an important social-emotional development.
There are plenty of educational toys that can encourage this skill in toddlers.
Due to their great imagination, role play can often teach them to express their feelings.
Here in a nutshell all the best choices:
Educational toy child of 2 years
First of all, let's take a look at fun toys from 2 years old:
Best for all ages: Little Tikes Fish and Splash Water Table
Children from 2 years and up to a lot older. Can be used with both water and sand.
The toddler has undergone great motor development. Now that the child can stand and walk on its own, it really starts exploring.
Gradually space is made in the 'me world' for other children.
A toy that perfectly meets the needs of the young toddler is the educational game table from Little Tikes.
But this is also super fun for slightly smaller children from approximately 13 months.
As soon as they can stand stable, they want to stand against something, so when it is warm they can also splash!
This brand has been developing educational toys for children since 1970.
The Pirate Sand / Water Table offers more than just water fun. Children are introduced to science and technology.
They get to know the operation of different mechanisms and become familiar with the consequences of their actions.
Playing together with other children also prepares them for the coming infancy. This certainly benefits the social-emotional skills.
The motor skills are also stimulated by the large amount of parts that the table contains; like the anchor that can be rolled out.
The toy is also made of durable plastic and can therefore last a considerable time.
Fortunately, because even the older children still seem to want to play with this play table.
Little Tikes has sand / water tables in these different sizes so that they also fit in your garden.
Check prices and availability here
Cutest building toys: Melissa & Doug Colored Wooden Block Box
Nice building for children from 2 years. A little younger is also possible, but then they like to throw what you build :)
These Melissa and Doug base blocks are a classic and one of the best gifts for 2 year olds.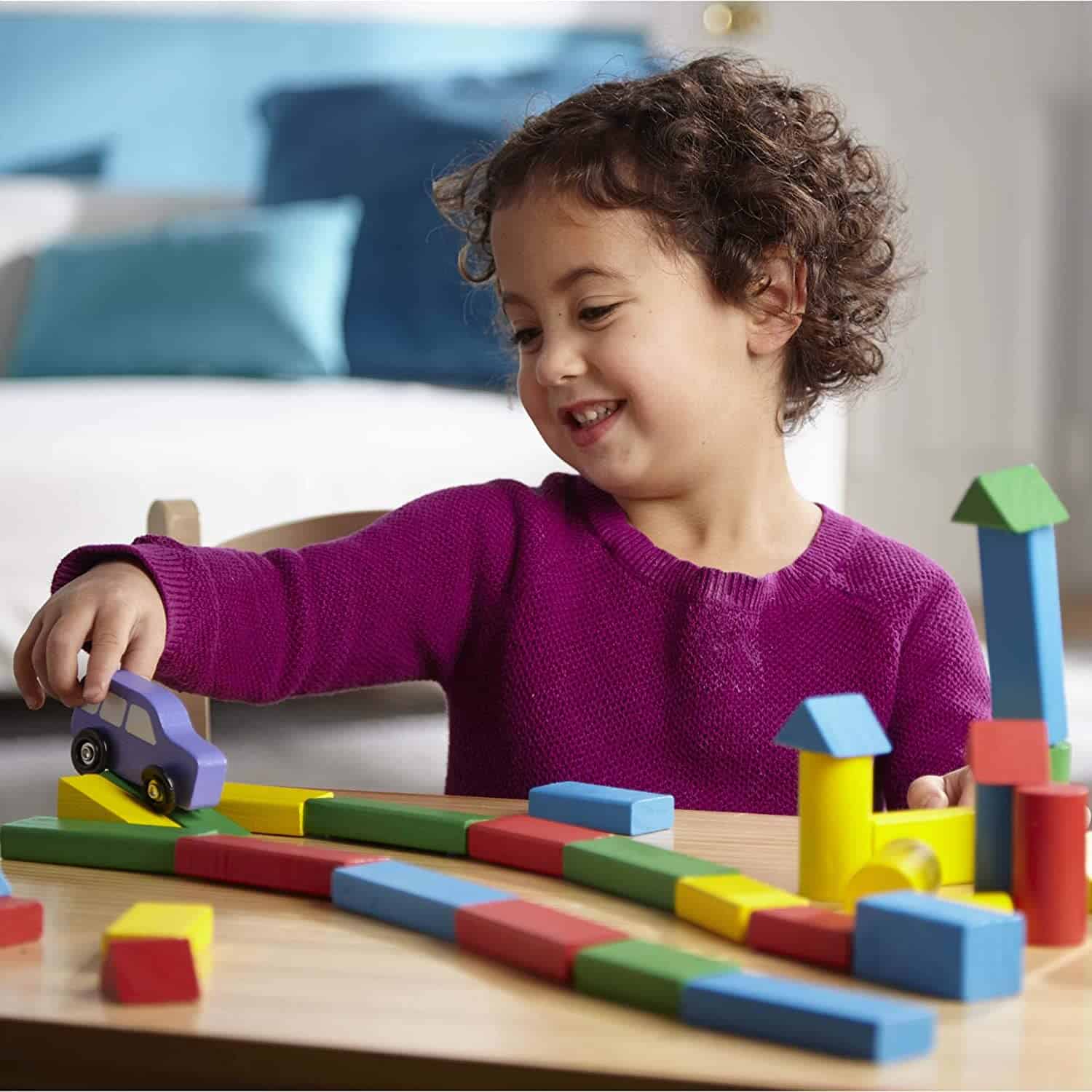 There are endless possibilities for building and younger children can chew them safely because the blocks are painted with non-toxic paint.
What they learn: Children effortlessly learn shapes, colors, building skills and patience.
Check the latest prices here
Best ride: Little Tikes Cozy Coupe Dino
Best for children from 2 years old to drive around.
What a great ride-on car this Little Tykes Cozy Coupe is.
With this Cozy Coupe you steal the show! This walker has a funny face and is ideal for growing toddlers.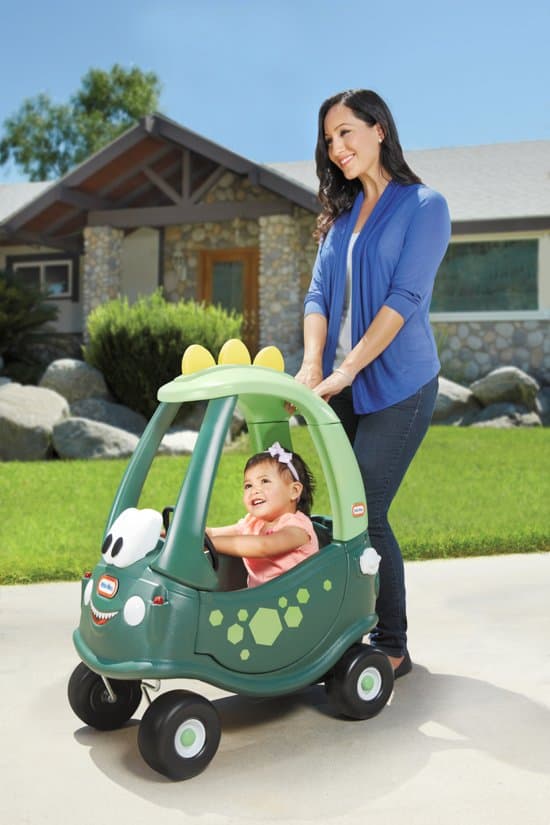 Phase 1: push handle in the roof for parents, feet of the child stand on removable base plate
Phase 2: classic locomotion with feet on the ground
Bottom plate (removable) to protect feet
Door can open and close
Door lock for extra security
Drink holder in the rear storage compartment
The front wheels can rotate 360 ​​degrees
Including "ignition key"
Throttle valve that can really open and close
Sturdy and durable wheels
Made of sturdy plastic
What they learnWashing the car, filling the tank with gasoline or repairing a broken down car are all ways to learn new words, participate in a conversation and gather information about real life.
Check prices and availability here
Educational toy child of 3 years
Best role-play: Fisher-Price Doctor's Set
At the age of 3 they find it more and more fun to act out things, such as going to the doctor, which makes a considerable impression.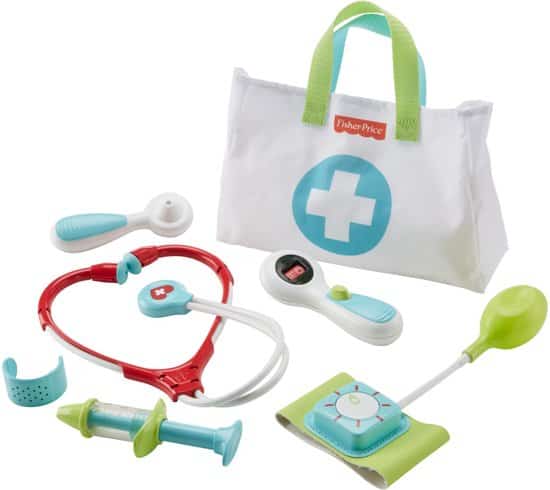 This Fisher Price doctor kit is very simple, without a ton of accessories, making it my top pick of the many options.
What they learnNot only will this kit help familiarize your toddler with new words, it will also help make doctors seem a lot less scary.
This doctor's set is available here
Best play kitchen: KidKraft Vintage Wooden Kitchen
This is also reenactment, but what happens inside with this wooden play kitchen from 3 years.
A play kitchen and food might be the best educational toys for 3-year-olds.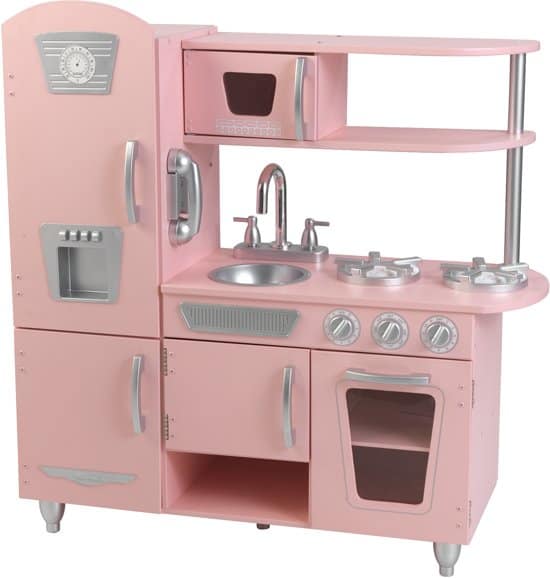 Toddlers will even make a toy kitchen out of furniture or boxes, so don't feel pressured to buy the latest and greatest.
But then if you have some money to spend and want to buy a kitchen that will last for many years, consider this KidKraft Vintage kitchen.
It is the perfect size for toddlers who will last until they are a bit older and with plenty of storage space and buttons it is not too overwhelming.
It is also nice to add some food, and I saw this grilled chicken with Velcro bolts. Awesome :)
What they learn: names of fruits, vegetables, and cooking utensils, how to set a table, and practice what adults saw them, such as washing dishes, using a microwave, or baking in the oven.
The Kidkraft play kitchen is for sale here
Cutest animals: Melissa & Doug Farm stable
Children of 3 years also learn a lot from playing with animals, especially when it is close to home, such as with a farm.
This farm stable is suitable for children over 3 years old and comes with some fun farm animals.
It has lockable doors which makes it great fun for children to discover how it works to keep the animals safe in the stable.
It has no fewer than six doors, each with different locks with which the doors can be locked.
There are 4 farm animals:
a cow
a horse
a pig
and a goat
What they learn: everything about animals and how to care for them, counting, sorting.
Check the latest prices here
Best for spatial awareness: Bigjigs Train Set Transport
With a train set, children from the age of 3 can practice placing worldly objects in a spatial field.
Any wooden train set is great for a 3-year-old child. They will love it for many years to come so it is a good investment.
This wooden train set is very well made and compatible with extension packs or other trainsets:
The trains connect with magnets and the wooden rail pieces can be easily put together.
The train set includes:
track
tren
people
cars
railway station
tunnel
level crossing with barriers
helicopter and helipad
trees
road signs
What they learn: everything about trains, construction skills and logical thinking.
Check the latest prices here
Best gadget: Vtech Activity table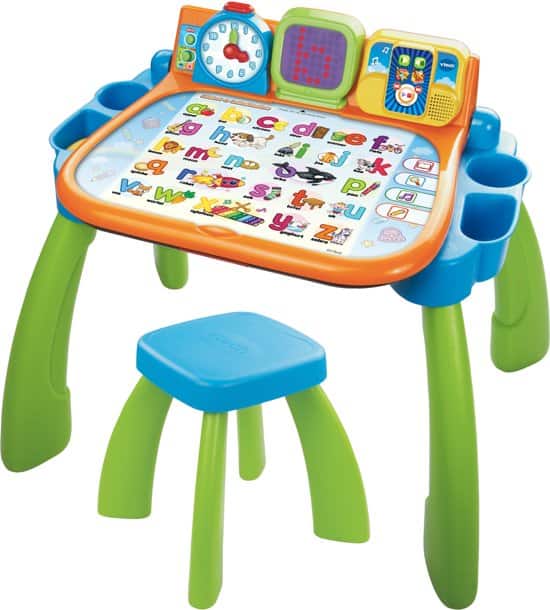 Super fun from 3 years and older if they can sit still a bit longer is an educational activity table.
Children of this age love to discover and try new things, so we also have two 'non-technical' gadgets that can also be a lot of fun and educational.
The first gadget is the Vtech 2in1 Activity Table: a small table full of fun things for the child to do and try.
Piano keys, a booklet, a toy telephone and many other small play elements ensure that a child is entertained and at the same time comes into contact with different letters, colors, shapes and so on.
Conclusion
Another educational toy that we recommend is a balance bike.
The Netherlands is simply the country of cyclists and in this way a child comes into contact with it at an early stage, so that he / she has less trouble learning to cycle later.
This way you as a parent can go outside with your child and your child also learns something from it. read our full post about balance bikes.
Joost Nusselder, the founder of Speelkeuze.nl is a content marketer, father and loves trying out new toys. As a child, he came into contact with everything around games when his mother started the Tin Soldier in Ede. Since 2016, he and his team have been creating helpful blog articles to help loyal readers with fun play ideas.