I enjoy writing these articles for my readers, you guys. I don't accept payment for writing reviews, my opinion on products is my own, but if you find my recommendations helpful and you end up buying something through one of the links I may be able to receive a commission on that.
More information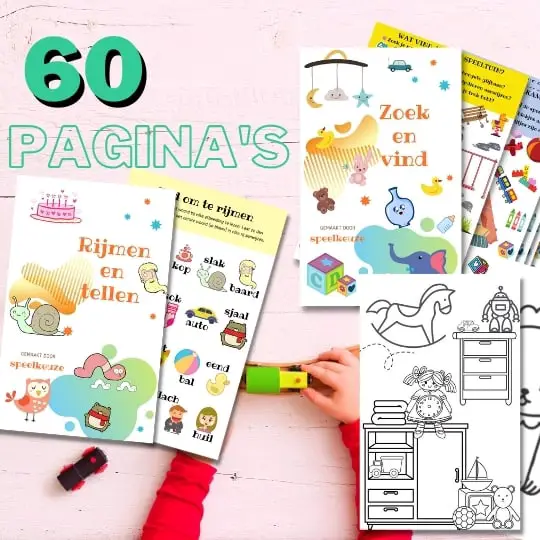 Always something to do for the holidays or rainy day?
Play Choice now has the ultimate activity book collection, with over 60 pages of fun coloring pages and educational puzzles.
Every child likes to play knights. The exciting battle between good and evil in a medieval setting.
Dragons, princesses, castles, there is so much to discover in the knight world! LEGO has a number of beautiful packages that respond to this with their LEGO Kingdoms theme.
LEGO Kingdoms is a sub-theme of LEGO Castle that was released in 2007. The Kingdoms sub-theme was introduced in 2010 and ran until 2012.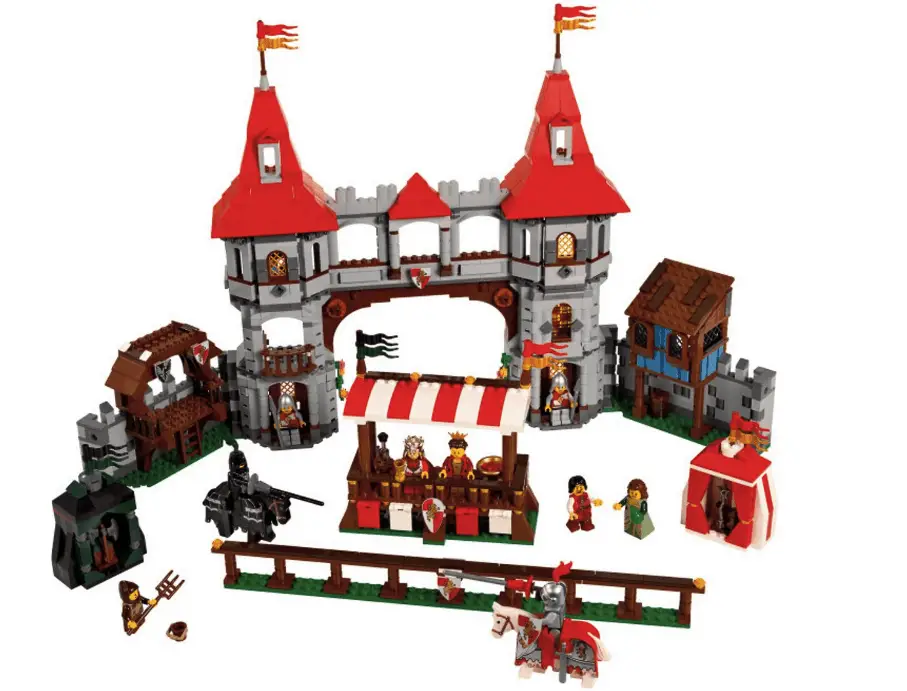 The new Castle theme built on that in the year 2013.
So there is plenty of LEGO with these themes!
To help you make a choice, we will list our favorite LEGO Kingdoms packages in this article and explain what makes them so much fun.
We will also further highlight LEGO and the various themes. Draw your sword!
In the table below you will find our top 5 LEGO Kingdoms packages.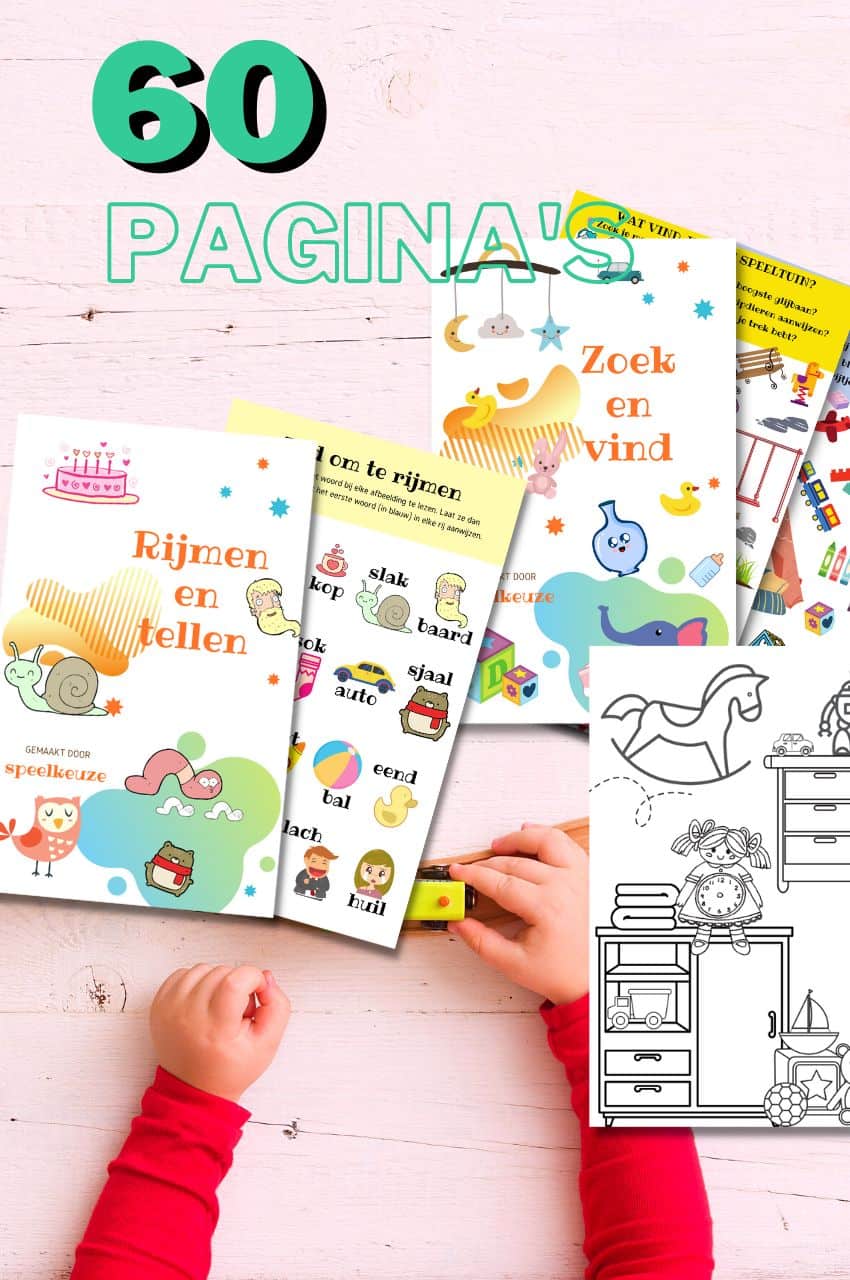 A play theme in your mailbox every month?
Fun play tips, activity books and more, with the first email being our free mini-guide "educational toys"
We will only use your email address for this newsletter and respect your privacy
The story of LEGO Kingdoms
LEGO Kingdoms takes place in a medieval era with European-style building sets from the 15th century.
Unlike the Castle theme from 2007 which was more fantasy based, Kingdoms is based on two human kingdoms fighting each other, namely the Lion Realm and the Dragon Realm.
Lions versus dragons in LEGO Kingdoms
The Lion Realm is led by the Lion King and the leader of the Dragon Realm is unknown, although it is sometimes implied that he is the Wizard of the LEGO Kingdoms Wizard set: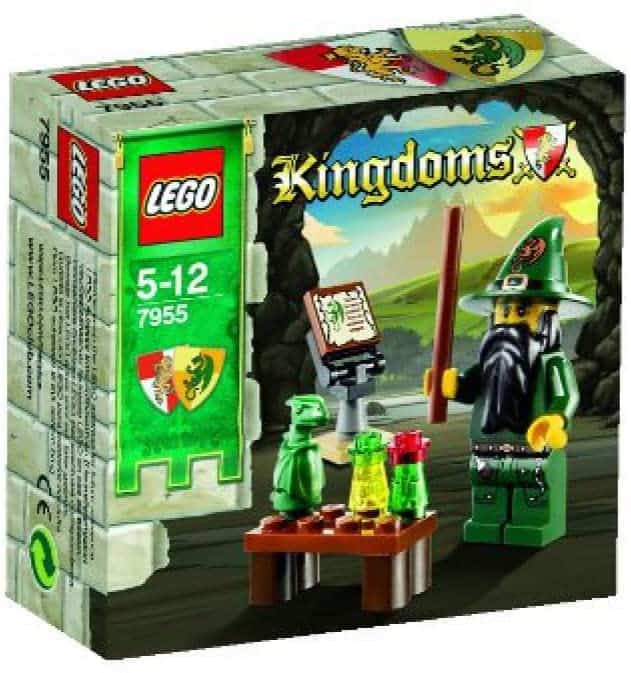 You can read more about the various LEGO themes later in this article.
Various LEGO Kingdoms building kits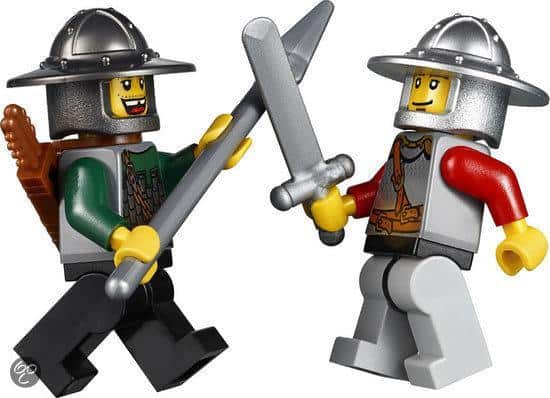 LEGO has developed several cool building sets with the Kingdoms theme that are still popular today.
We have looked at these sets and made a top 5 for you which you can find in the table below.
Best Lego Kingdoms set: Joust 10223
Our ultimate favorite LEGO Kingdoms set is the LEGO Kingdoms Joust: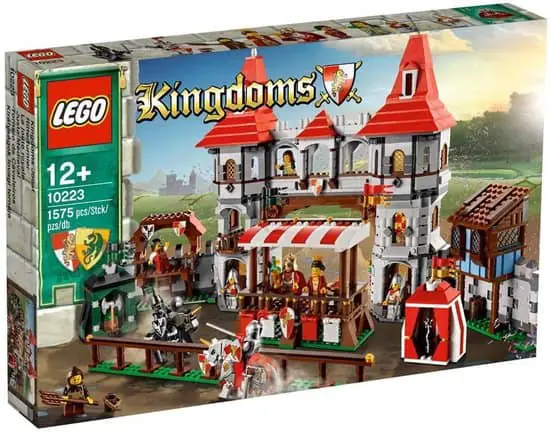 We realize a set with a pretty high price tag, but very extensive and guaranteed a lot of fun.
With this set you build a huge and extensive castle with all the trimmings. You also get nine minifigures with the purchase of this set, for endless role-play.
The set consists of no less than 1575 building blocks that can be enjoyed for hours on end.
With 1575 parts you build a large castle, 2 weapon tents, a tournament fence and a royal box.
The set comes with no less than 9 minifigures: the king, queen, a princess, 2 knights, a young squire, nobleman and 2 soldiers.
All minifigures come with matching accessories. You also get two jousting horses.
Our favorite LEGO Kingdoms package, the LEGO Kingdoms Joust, is an incredibly exciting package consisting of no less than 1575 building parts.
With all these parts you build a huge castle, two weapon tents with weapon holders, a tournament fence and a royal box.
Extensive role-playing games with this set
Since the pack comes with nine minifigures, there's plenty of room for creative role-play.
Role-play is important for the development of every child, allowing them to act out various everyday situations and develop a better problem-solving capacity.
All minifigures included in this fantastic pack are equipped with interesting (fighting) accessories.
You also get two beautiful jousting horses with the package on which the knights can ride and fight each other.
Very detailed package
The knights' armor includes a helmet, shield, stitching material and two other extra weapons.
The castle that you build with the LEGO blocks consists of no less than six detailed rooms.
Watch the knights battle it out at the Royal Joust - the most exciting event in the LEGO Kingdoms world!
The knights on horseback fight for the hand of the beautiful princess. This detailed set recreates a typical scene of a medieval spectacle.
Explore the magical castle and explore the grand castle rooms!
Build this LEGO Kingdoms set together
According to LEGO, the set is suitable for children with an age of 12 years or older.
In our opinion the package is also suitable for a slightly younger audience, but they may need some help with building.
The kit consists of many small parts.
An afternoon of building together with your brother or sister, mom or dad is of course great fun!
Combine various Kingdoms sets for an impressive medieval scene!
Check prices and availability here
Most Exciting LEGO Kingdoms Story: Rescue From The Prison Tower 7947
This set consists of 365 parts.
You build a prison tower with this and the set includes five minifigures: 2 Dragon Knights, 1 knight of the king on a white horse, 1 soldier of the king and 1 princess.
The set contains various interesting accessories.
Another package that can be a super cool addition to your LEGO Kingdoms collection is our number four, LEGO Kingdoms Rescue From The Prison Tower.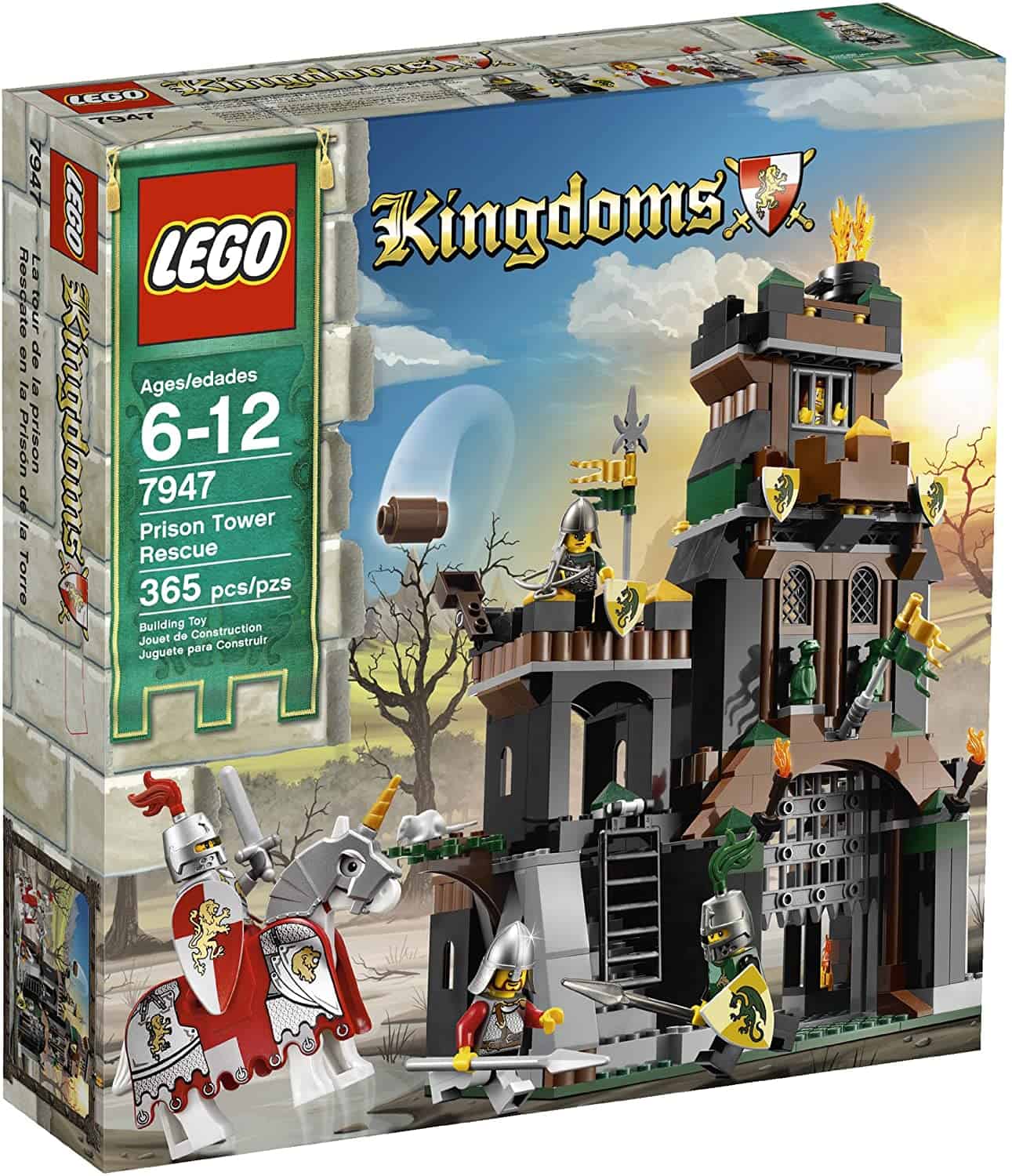 A knight of the king wants to save her from prison as soon as possible. The tower is unfortunately well secured, which makes it a difficult job for the knight.
The Dragon Knights try to keep their enemies at bay with the catapult.
But the king's knight does everything he can to save the princess from the dangerous hands of the Dragon Knights.
Discover the hidden stairs and the treasure chest hidden in the tower. This set is suitable for kids between the ages of 6 and 12.
In addition to the LEGO Kingdoms set, you can also purchase other packages / themes that match our number two in terms of subject.
Check the prices here
Cutest little LEGO Kingdoms package: Rescue From The Prison Car 7949
A set that combines well with our number two is the LEGO Kingdoms Rescue From The Prison Wagon, which is number three in our top 5.
This package is fairly simple but great fun!
With 50 parts you build a prison car that is pulled by a black horse.
The set comes with 3 minifigures, namely 1 army soldier of the king, 1 knight of the king and 1 dragon knight.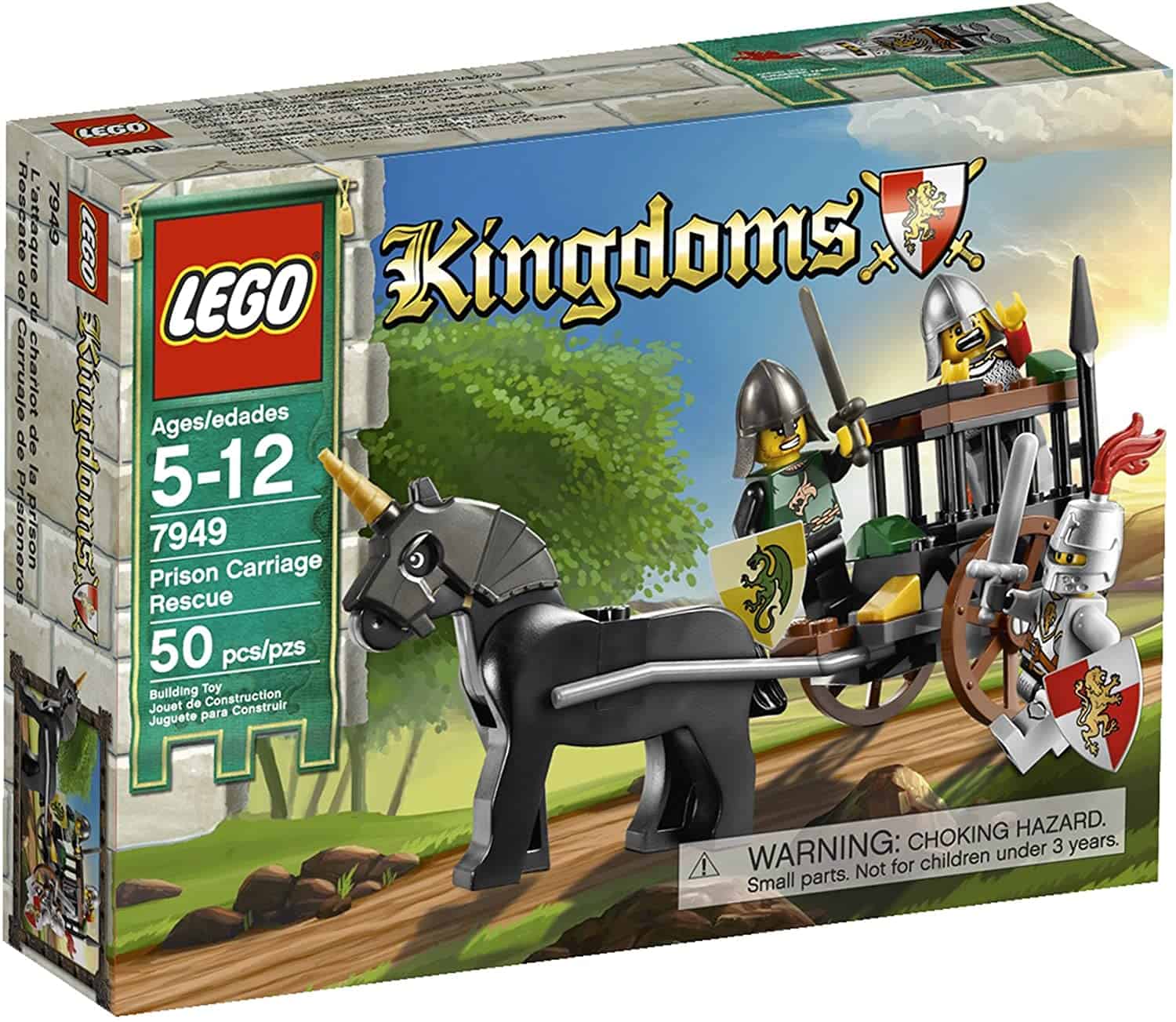 With 50 parts you build a crook's car that is pulled by a black one unicorn.
The story behind this set is that a soldier of the king has been captured. A knight goes after the chariot, he wants to save the soldier!
With the three minifigures in the form of the King Soldier, a Knight of the King and a Dragon Soldier, endless role plays can be created.
The set is designed for children aged between 5 and 12 years.
Check prices and availability here
Best Lego Kingdoms castle: Attack On The Lookout Tower 7948
Our second favorite pack of this theme is the LEGO Kingdoms Watchtower Attack: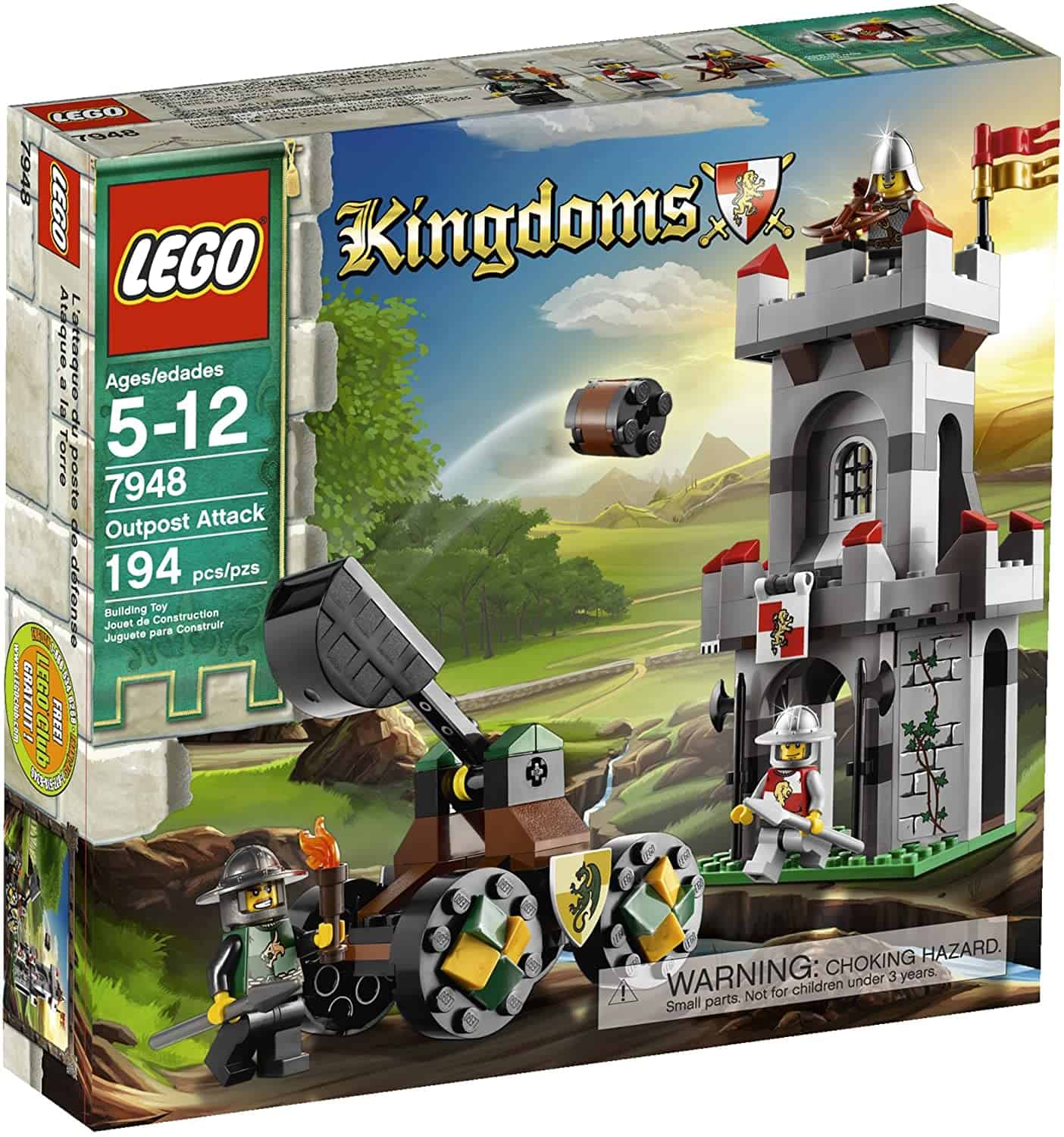 Sure, there are bigger castle sets, but I also wanted to add a slightly cheaper one that you can play with at the same time.
A package that is a bit cheaper in price than our number one but also a bit simpler in terms of structure.
The package has only 194 building blocks with which you can build a beautiful watchtower.
You also get three minifigures in the form of brave soldiers with this LEGO building kit.
Build a lookout tower for the soldiers with 194 pieces. The set includes 3 minifigures: 2 king's army soldiers and 1 dragon knight.
The watchtower has a falling wall feature. The set also includes a giant catapult that hurls LEGO bricks.
Our second favorite LEGO Kingsoms building set is, as mentioned above, the LEGO Kingdoms Attack On The Watchtower.
This package would be a great alternative to our number one if the budget is a bit lower and in case you are looking for a not too complicated LEGO set for your son or daughter.
The package is similar in theme to package number one and just as fun, but a lot simpler and less extensive because fewer building blocks are offered in this package.
With this fun package consisting of 194 building blocks you build a watchtower for the brave soldiers.
The soldiers have to defend the kingdom from bad guys who want to invade.
Watch out for the Dragon Knight who attacks the watchtowers with his big catapult!
Nice opportunities for creative role play
The set comes with three minifigures: two king's soldiers and a dragon knight. The watchtower also has a falling wall feature!
You can shoot LEGO bricks with the knight's catapult.
The pack may not contain many LEGO bricks, but with the real catapult and falling wall function, it offers interesting play options for a child who is fascinated by medieval scenes and brave knight tales and who would like to play the hero by defeating the bad guys.
Which child does not dream of this? The set is suitable for children between the ages of 5 and 12.
Check prices and availability here
Most comprehensive LEGO Kingdoms set: King's Castle 70404
In addition to the various packages of the LEGO Kingdoms theme, there are also other sets that perfectly match our number one.
These sets are from matching themes such as LEGO Castle. Examples are the LEGO Castle King's Castle and the LEGO Castle Dragonberg.
LEGO Castle King's castle
The LEGO Castle King's Castle is, just like our number one, a large set consisting of no less than 996 parts.
This set is from the Castle 2013 series, the series that builds on the LEGO Kingdoms series after it was no longer produced by LEGO.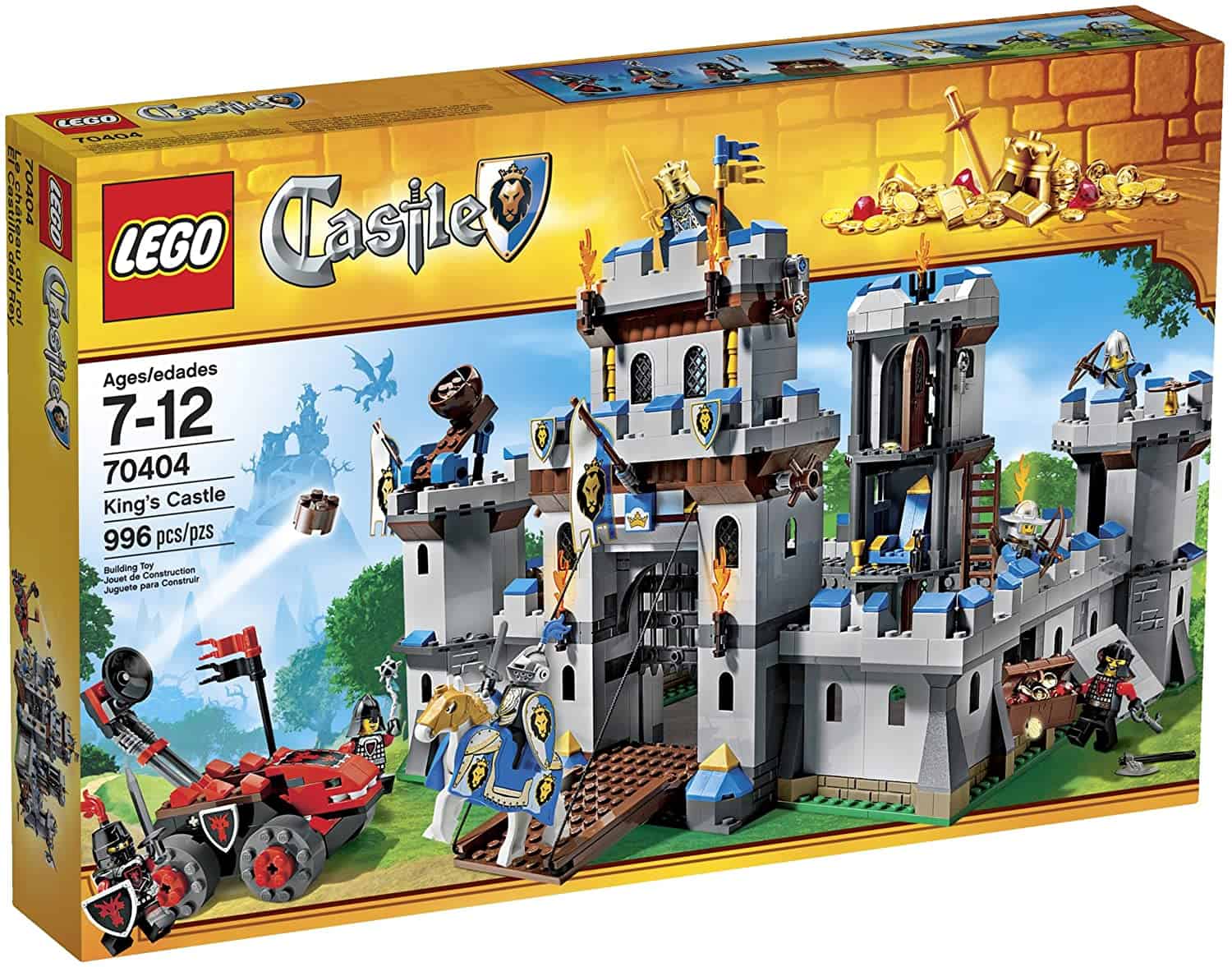 With this pack you build the huge King's castle with towers, a throne for the king, a dungeon, large table for the knights, a secret escape door and many more surprising details!
The set comes with seven minifigures, namely the King, White Knight and various king and dragon soldiers.
The package is suitable for children between the ages of 7 and 12.
Check the latest prices here
Best battle: LEGO Castle Drakenberg 70403
The other package, the LEGO Castle Drakenberg, is suitable for children between 6 and 12 years old.
This set consists of 376 parts with which you can assemble a dragon tower and build the big dangerous dragon.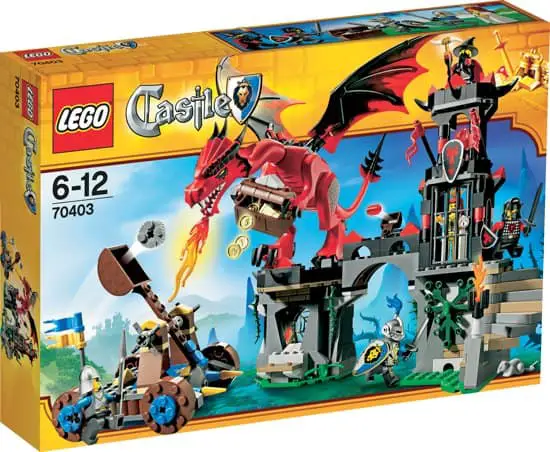 (view more images)
These two packages are slightly simpler in terms of construction than our number one, which is why LEGO also indicates that the packages are suitable for younger children.
However, the three can be perfectly combined because of the corresponding themes and game possibilities they offer.
View this set here
Best addition: LEGO Kingdoms Court Jester 7953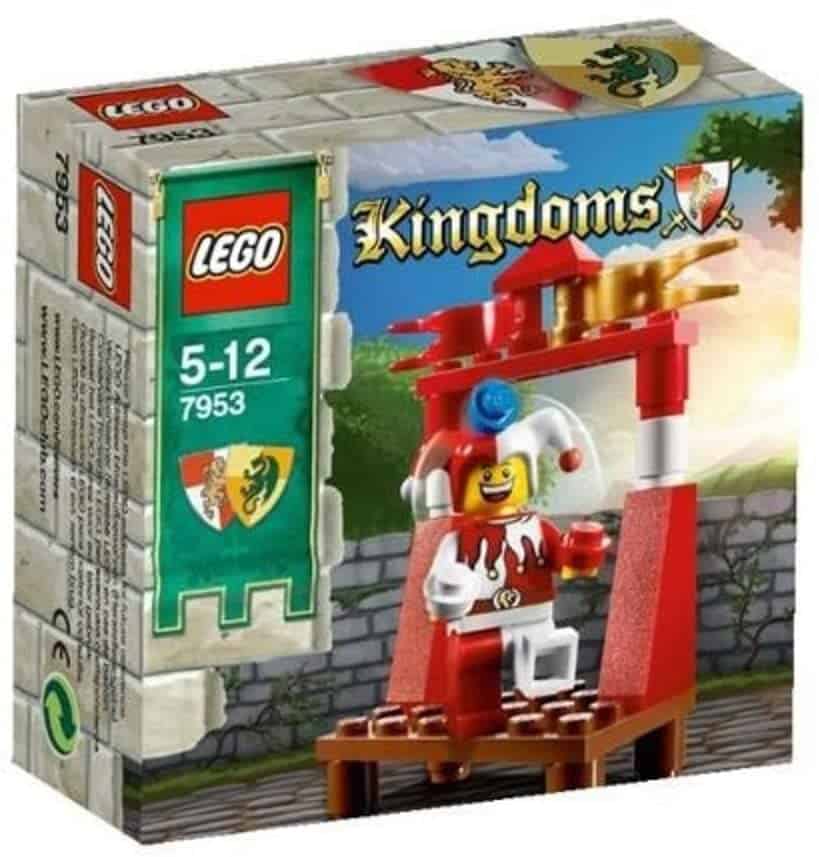 With this package consisting of 25 parts you build a small stage for a court jester who shows his juggling skills to the king.
Great package for a child who is just getting acquainted with LEGO toys.
Check availability here
About LEGO Castle, LEGO Knights' Kingdom and LEGO Kingdoms
LEGO Castle is a medieval LEGO fantasy theme with knights and castles (what kid doesn't love castles!). It was introduced in 1978 and ran until 1997.
The LEGO minifigure knights in the first Castle sets have movable visor pieces with eye slots and they also carry a weapon.
Development of the LEGO pieces
Since no horse-specific elements had been developed by LEGO at that time, the knights' horses were built entirely from LEGO bricks!
In 1984, the LEGO Group released new Castle sets with castles that looked more realistic and knights that portrayed the Middle Ages more accurately. The new sets include many new elements, such as one-piece horses (instead of multiple LEGO bricks), horse saddles, helmets with fixed visors, plumes, waving flags and bows and arrows.
The sets also mark the debut of several new knight parties with symbols on their shields. The largest parties are the Crusaders (Crusaders) and the Black Falcons (Black Falcons).
The medieval theme was then continued in the LEGO Knights Kingdoms theme and later in the LEGO Kingdoms theme.
LEGO Knights' Kingdom
LEGO Knights' Kingdom was all about a conflict between the Lions led by King Leo and the Bulls, led by Cedric The Bull.
This theme consisted of many small sets of minifigures and was the first castle theme with two female minifigures in the form of Queen Leonora and Princess Storm. The Lions had a castle where King Leo lived, but the Bulls had no castle.
A game called "LEGO Creator: Knights' KingdomWas released by LEGO Software in late 2000 and made it possible for kids to create their own kingdoms based on the Knights' Kingdom theme.
LEGO Knights' Kingdom II
Knights 'Kingdom II, aimed at children ages six to 2003, was first officially announced in November XNUMX. LEGO Knights' Kingdom II describes the legends of the kingdom of Morcia, a fantasy world and the adventures that take place within it.
The main characters are the knights of the opposing factions from LEGO Knights' Kingdom. So it's basically an updated version of the Knights' Kingdom LEGO theme, but this time with bigger action-style characters and more colorfully dressed minifigures.
Although the Knights' Kingdom II theme is officially called "Knights' Kingdom" on the packaging, it is popularly known as "Knights' Kingdom II" to distinguish it from the original theme that only features LEGO minifigures and various knights, King and Villains characters.
With the emergence of a new Castle line in 2007, the Kinghts' Kingdom II theme was discontinued.
LEGO Kingdoms
LEGO Kingdoms is the name of the medieval LEGO theme released in June 2010 that replaces the fantasy-based Castle theme that had existed since 2007.
More to reality
Kingdoms starts from the concept of a fantasy world inhabited by orcs and dwarfs, among others, and returns to a more realistic world modeled on the European Middle Ages. The only fantasy elements that you will find in this theme are the wizard minifigures. The Kingdoms theme thus contains building kits that are reminiscent of the earlier sets of the classic Castle theme.
Defenders against the attackers
As described in the introduction, in the LEGO Kingdoms theme, two human factions are pitted against each other, unlike the Knights' Kingdoms theme. One side has the role of the attackers, with more focus on vehicles and siege engines (The Green Kingdom / Dragon Knights).
The other side has the role of the defenders, with an emphasis on buildings (The Red Kingdom / Lion Knights). The Kingdoms theme, as with the most recent Castle theme from 2007, includes farmers and civilians as well as military factions.
The Kingdoms theme was then discontinued in 2012 and then replaced by The Lord of the Rings franchise sets.
Does your little one love exciting LEGO adventures and role-playing games, but prefer pirates instead of knights? Then take a look at these beautiful LEGO Pirates building sets.
About LEGO - which will never get boring
LEGO toys are extremely popular and are not only intended for small children. There are also beautiful building sets for young people and even adults that, after construction, can be used as real eye-catcher in the living room.
LEGO plays for development
LEGO aims to stimulate the development of children. First of all, by teaching them how to use various building blocks to create a product. In addition, kids learn role-playing through the minifigures, which is also very important for the healthy development of every child.
In this way, children are always busy with both the brain and the hands. LEGO offers unlimited play options, for boys and girls, young and old. What makes LEGO special is that various building sets are provided with realistic items and details, so that a link with reality is always made.
So while playing, children learn about various (everyday) situations. With LEGO toys, children are challenged in a creative way.
Self-confidence by building yourself
When children learn how to put something together at an early age, they will benefit later in life. Assembling the LEGO building sets requires understanding that several steps must be taken in a certain sequence and only then can a certain end goal be achieved. When a child manages to build such a set, it gives a pleasant feeling and self-confidence.
Always something new to experience with LEGO
LEGO keeps releasing new toys with interesting themes. LEGO has various options for smaller children Disney themes, for the older children themes that are based on, for example, city life or building interesting machines.
For adults there is, among other things the 'architecture' theme where well-known monuments can be built and used as a new detail in the living room or bedroom.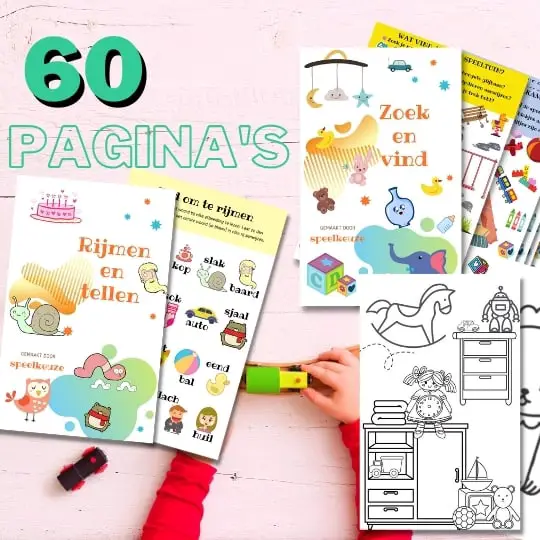 Always something to do for the holidays or rainy day?
Play Choice now has the ultimate activity book collection, with over 60 pages of fun coloring pages and educational puzzles.
Joost Nusselder, the founder of Speelkeuze.nl is a content marketer, father and loves trying out new toys. As a child he came into contact with everything related to games when his mother started the Tinnen Soldaat in Ede. Now he and his team create helpful blog articles to help loyal readers with fun play ideas.