21 Best Toys for 2 Year Olds: Fun and Unique Gift Ideas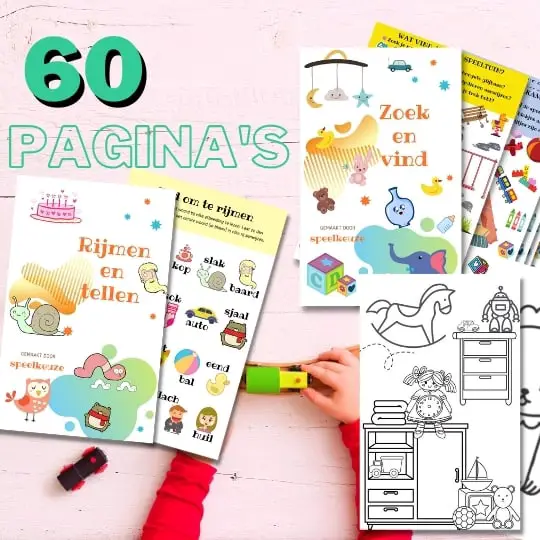 Always something to do for the holidays or rainy day?
Play Choice now has the ultimate activity book collection, with over 60 pages of fun coloring pages and educational puzzles.
The best toys for 2-year-olds are educational toys that promote motor skills, imagination, and social interaction. It's important that the toys are age appropriate and safe to play with.
For example, toys for 2-year-olds shouldn't contain small parts because they can still put toys in their mouths at this age.
Toys for 2-year-olds for Christmas or birthdays may vary slightly, but ultimately you need to consider their interests and developmental level.
Some examples of suitable toys are puzzles, books, and interactive toys that make sounds. In addition, non-toy gifts, such as subscriptions to children's books or activities, can also contribute to their development.
The best toys are the ones they can get creative with, such as these reusable stickers from Eyelike. A great set that they can use again and again in new combinations.
But there are many more toy options.
Toys can help 2-year-olds develop skills they need for preschool.
Choosing the right toys to suit their individual needs and interests is important.
This list has the best toys for 2-year-olds for each of these purposes.
#1 Eyelike Reusable Stickers – Overall best small cheap birthday gift for 2 year old
Your child can be creative by covering the windows of the holiday home, or the airplane or car windows with this fun set of window toys. So it is also perfect for traveling or an outing.
That brightens up any location and brings home a little bit of home from home.
Placing a large number of reusable stickers is fun and engaging and there is a large surface to work on in the car, or in your cottage.
The advantage of the reusable stickers is that they can always be taken anywhere, even if you visit multiple locations on vacation.
#2 Melissa & Doug Thick Dinosaur Puzzle - Best dinosaur toy for 2 year olds
From 1 years

Best: 2 – 3 years

Until: 3 years
This set is great because the puzzle pieces are nice and thick. This means you can also stand them up and use them for pretend play. In this way, it simultaneously stimulates fine motor skills and imagination for a strong educational value.
This also makes it possible to combine it with other toys for high play value and social interaction. However, the puzzle pieces fall out easily, making it a bit difficult to take with you. One of the few points that makes the replayability a bit less than it could have been, despite the enormous versatility.
The pieces are also more rounded and suitable from 2 years. It includes a pteranodon, ankylosaurus, apatosaurus, T-Rex, triceratops, stegosaurus and hadrosaurus. Melissa & Doug contributes a lot to the replanting of forests for better sustainability and use of materials.
#3 Fisher-Price Little People Interactive Animal Care Farm - Best toy farm for 2 year olds
What play opportunities this Fisher-Price Little People Animal Care Farm offers your child!
A nice, sturdy farm and the surprise buttons are a real plus: there is a button to open the stable doors for the horse and you hear fun songs and phrases. Finally electronic toys that don't sound too loud.
Even when opening the hay hatch in the shed, your child activates even more sounds and sentences.
With the push of a button, the eggs can 'hatch' and you can turn the silo over to hear the corn fall down. The maize can be fed to the chickens, because of course they also have to eat.
When the bell rings, all the animals come together in the yard. It is then dinner time!
Packed with exciting activities, this Fisher Price playset is much more than just a farm with animals - it's a true home for all farm animals.
Besides the great fun, this farm offers a great stimulus for the development of your child.
After all, it is nice to let things happen by means of the buttons - perhaps their first encounter with cause and effect - and to explore various materials with the little fingers.
The cheerful colors, songs and sounds give your child that little bit extra.
Let your little farmer help Jed, he is always so busy taking care of all the animals on the Little People care farm and could use some assistance.
It is wonderful for children to discover how to take care of the animals, such as putting the cow under a warm blanket. This is conducive to their self-development and empathy.
The accessories are a bit bigger and rounder than at the other toy farms. Suitable for children aged 1-4 years.
#4 Joyjoz Music Dance Mat – Best active toy for 2 year olds
The mat has two modes, including a random mode with 9 melodies and a mode with 9 music keys and 7 animal sounds. The sound of the mat rewards nice stomping and touching, which is a lot of fun.
What I also like about this mat is that there are no less than 25 built-in sounds, including 7 animal sounds, 9 melodies and 9 musical keys. This helps not only to have fun but also to learn more about music. The mat is made of soft material, which is non-slip and safe, environmentally friendly and non-toxic. It's also easy to clean so I don't have to worry about safety while they have fun with it.
A great activity for 2 year olds that combines dance with music and physical activity.
#5 Melissa & Doug Workbench with Tools - Best big toy for 2 year olds
If you want to take the construction game a little more literally, you can go to Melissa & Doug's workbench.
It includes 4 tools and a vise to play pretend play for woodworking.
The set has a total of 62 parts. In addition to the tools, there is a lot of building material such as rings, screws, nails, planks and blocks.
There is a lot to do with it, and the creations also often participate in fantasy play such as running police and building bridges.
The Melissa & Doug Workbench is a unique toy for kids anywhere between 2 and 5 years old and the most fun between 3 and 4 years old.
There is a lot to build with and the quality is good, but the age limit is really the age limit. If your child is older, they will probably break it.
#6 Wishbone Recycled Balance Bike – Best outdoor sports toy for 2 year olds
Sturdy bike with extra low entry to start young and adjustable in height up to 5 years, an award-winning design in the European Product Design Awards for best toddler product.
Seat height: 28 - 46 cm
Age: 1 to 5 year
Loadable weight40 kg
This is perfect to use as a first balance bike to practice balance. Not only is it durable to last their entire toddler through toddlerhood, it's also just AWESOME design!
Perfection from top to bottom, Wishbone provides a smooth, easy ride for young toddlers so they can keep their balance.
A winning combination of a lightweight, extremely low step-through frame, a low minimum seat height and extra soft pneumatic tires make this bike a winner.
The taller handlebars place the toddler in a natural, upright position with their weight centered over their hips, helping your kids feel less precarious when trying to keep their balance.
In addition, it is easy to convert into a balance bike with a high seat and lasts much longer, up to 5 years.
#7 Do A Dot Art! Washable Paint Markers - Best creative toy for 2 year olds
From 2 years

Best: 3 – 4 years

Until: 5 years
The ease of use is enormous. The markers are easy to hold and the paint comes out effortlessly from the spongy tip. With the washable paint that dries quickly, there is no mess. The markers have a high open-ended quality and the way of drawing appeals to the imagination. All this ensures a high playing value.
They are easy to carry in the box and you can also easily combine them with other drawing materials such as markers or pencils. Both good for the replayability, which could only have been a bit higher if it had been a little more versatile. In the end you can only dot. Ultimately, a lot can be done with this with some imagination.
The materials are safe and the paint is even gluten-free, should a child eat it. Everything has been thought of for an educational and well-balanced toy.
#8 Haba Feeding Animals – Best first game for 2 year olds
The Haba animal feed game is already suitable for your 2-year-old child. Your child must find out what the cat, turtle or mouse is eating.
The animal cards, the wooden pieces, the shapes and color cards must be properly sorted by your little one.
Children have to appeal to their memory with this game to make as many sets of animal cards and color cards as possible. This game promotes their speech and animal knowledge.
The game comes with 5 wooden pieces - 1 carrot, 1 sod, 1 fish, 1 piece of cheese and 1 bone - and 5 animal cards, 5 shape cards, 5 color cards and 1 a manual.
Children therefore tell each other which different types of food, animals, colors and shapes there are and which ones match.
The cards are mixed up and at each turn one is turned over, the children tell which animal it is or what color the card has.
Whoever finds both the correct color and the correct animal card with his own food card wins the game.
The game can be played with up to five people and only lasts about five minutes. I also like to play it with my toddler.
Made of beech wood and cardboard, the game is one of the top rated games for toddlers.
#9 LEGO DUPLO Town Parking Garage and Car Wash 10948 – Best toy car imaginative play for 2 year olds
Duplo is always super fun to play with for toddlers and they can even build something with it. So is this Town Car Wash.
There are 4 DUPLO figures that can perform the work or drive through the car wash in the car.
The car wash doesn't really work, but I really liked the fabric cleaning curtain, and what toddler can resist a movable barrier?
It is quite a complete set because there are 3 cars, one of which is even a Push&Go car.
There are 112 pieces in total and it says suitable from 2 years old, but my son could already play with it at 1 year old. Then you might hold back the very smallest parts for a while.
#10 Learning Resources Smart Snacks Numbers Ice Creams - Best educational counting toy for 2 year olds
From 2 years

Best: 2 – 4 years

Until: 4 years
Educational toys that teach math, but are also fun for the imagination and offer open-ended play. The set contains 10 pops and 10 matching cases, each with a number and corresponding colored dots. This makes it extremely versatile and can be easily combined with other play kitchen toys. Perfect for both play value and replayability.
I was also curious if the shells were self-correcting, but unfortunately they are not. They all fit on any popsicle, but the color of the dots corresponds to the "color coating" of the popsicle. This gives children a 50/50 chance of guessing the correct answer if they are unsure. That makes the educational value slightly lower than it could have been.
It's made of sturdy plastic and feels like it could last a long time, even the joint at the stick.
#11 CoComelon Stuffed JJ Boo Boo - Best interactive light up toy for 2 year olds
The CoComelon JJ Boo Boo is a cute plush doll that can provide a lot of fun for 2-year-olds. With this interactive cuddly toy, your little one will learn how to say 'bye bye' to 'boo angry' in a playful way.
This unusual plush toy has lights and sound effects that activate when JJ gets hurt. Your child can then take care of the corresponding spots with the CoComelon bandages. This toy stimulates your child's empathy and teaches them caring.
I experienced the CoComelon JJ Boo Boo myself as a very cute and cuddly doll. My 2 year old was fascinated by the lights and sounds and loved taking care of JJ's spots with the patches.
It's a fun way to teach your child about 'boo angry' and how to deal with it. The toy is of good quality and feels soft, which is nice for small children's hands.
#12 Melissa & Doug Rainbow Caterpillar Gears - Best cause and effect gears for 2 year olds
Gears always have something magical for a small child. That's why the Melissa & Doug Caterpillar is so educational.
It certainly holds their attention!
It is a solid wooden base. What a pity that the gears are made of plastic, but that makes it a bit sturdier.
Because of the different colors, your baby can also learn color recognition right away and it is of course wonderful for fine motor skills.
The gears fall off very easily when you pick it up. Of course, that's also learning cause and effect, but that means you're probably picking up all the time with a baby.
Maybe it's part of it, but for many parents this leads to frustration.
With 1,5 years they can also put it together again themselves.
#13 Melissa & Doug Building Blocks 100 Pieces – Best wooden blocks for 2 year olds
With Melissa & Doug wooden blocks you can build small things. A beautiful house or perhaps a beautiful castle, a fast train or a large car!
Let your little one use his or her imagination. The colorful wooden blocks come in all kinds of shapes and have different colors. Completely open-ended style.
#14 Rolly Toys RollyKid John Deere Tractor with Trailer - Best Ride on Toy for 2 Year Olds
2 years
This green pedal tractor has a trailer and large tires. It is extremely suitable as a pedal vehicle when a child is ready to switch from walking car to pedal car.
The chain guard is shielded so that the tractor is safe to use. The product stimulates movement in children by means of the pedals.
It is a John Deere version, the tractor brand par excellence.
What makes the Rolly Toys rollyKid - Pedal Tractor with Trailer our favorite?
In addition to the friendly price for such a product, this is a tractor that is ideal for children who are going to make the switch from walking car to pedal car.
Where they were used to moving around with dragging movements, children are challenged with this tractor to get started with the pedals.
That may seem like a complicated job for children at first, but practice makes perfect.
When kids have figured out how to use the pedals, they'll want to ride the tractor all day long.
The tractor is suitable for children between 2 and 5 years old.
In this video from the German Stan you can see his son working on it:
The tractor has solid tires and comes with a trailer where children can store and transport their things.
Children will also feel useful when they can help mom and dad move objects or do odd jobs in the garden.
#15 New Classic Toys Bon Appetit Play Kitchen - Best pretend play toy for 2 year olds
A play kitchen is an excellent playgroup toy because it encourages role play and social interaction. Plus they can often play with it for a while on their own, unaccompanied. Suitable for ages 2 and up and best for ages 3 to 4.
The nicest wooden children's kitchen I've found is this one from New Classic Toys, and not that expensive at all, which makes it the best price-quality ratio choice.
There is plenty to play with with the included pans, ladle, spatulas, pepper pot and salt set and even plates. A whole lot of accessories that you don't see in every kitchen, and all made of wood (except for the removable metal sink).
That gives it even more reason to offer the best value for money because you don't necessarily have to buy extra accessories, although treating vegetables like me further below makes it extra fun.
Where the kitchen excels in particular is in the solid rotary knobs of the oven that actually click so that you have the feeling that you are actually setting an oven setting.
Many kitchens, and especially the cheaper ones, have knobs that simply turn loose, with no tactile feeling, and that is less fun for fantasy play.
Furthermore, the burners on the stove can be turned on at the push of a button so that they light up and really produce a bubbling cooking sound, which is just that little bit more real when making delicious dishes.
Not too big, fits in a corner of the room like with our dad's (also retro) guitar and amplifier and still gives your child a lot of fun.
#16 Boby Fish Stacking Game – Best stacking toy for 2 year olds
Boby's game is also very well built. It is made of Romanian beech wood.
This Montessori toy combines a magnetic fishing game with stacking, stringing beads and a balance game.
They themselves indicate that this is most suitable for 18 to 36 months, so 1,5 to 3 years.
You can put the fish on the correct color on the play mat and then fish them up
The large whale can be used as a base for stacking
The back of the whale has rods to push the fish on
There is a cord to thread the fish
It is indeed a lot of fun to play, but I have the feeling that they wanted to cram too many games into 1.
It's just not the fishing game. The fish should stand upright because the metal tip is on their nose. This is because there already had to be a hole in the middle for threading and stacking.
The threading is fun, but there are much more fun threading games. The whale is a bit crazy with wooden bars behind it because the fish can also use them.
You get a lot of game for your money and you don't have to buy such things separately, but it's not all that.
#17 Little Tikes Big Car Transporter – Best big truck for 2 year olds
Transport
Includes two sports cars
High Quality
2-6
Little Tikes is definitely one of the popular brands within the toy industry.
The large car transporter of this brand is suitable for kids with an age between 2 and 6 years. This car is equipped with a flap so that you can load and unload cars with it.
Perfect toys to play with indoors, but also ideal outdoor toys. It is made of an indestructible quality.
#18 Appleround Rocking Horse - Best bouncy toy for 2 year olds
Suitable for outside but also very nice for inside, this rocking cow is easy to inflate and nice and bouncy!
This brand mainly focuses on outdoor toys, we have already treated a nice octopus for outside on the garden hose from them. This rocking cow is inflatable and therefore also suitable for outdoor use, but it is also great for indoor use.
It is great fun for children from about one and a half to three to sit on and bump around and every now and then when my son watches TV he likes to grab it and just sit on it.
It is very easy to inflate with a nozzle at the bottom and actually since we got it, we only had to inflate once more and that was actually because it had been outside for a while, so it is hardly necessary at all .
It looks very nice in the room and it is nice to drag along and to bump into rows every now and then. And what I like most is that he's just standing there.
There are all books in which also cows occur and then he recognizes it and then says "cow" and then he immediately sits on it!
#19 Tomy Octopals - Best squirting bath toy for 2 year olds
I couldn't pass up this article about the cutest squirt toys without mentioning these cute characters.
They are Tomy's Octopals and they can stick to your wall.
They are also suitable for a bath if you also have a bath because they can also float in addition to sticking. Nice to give to your little one.
You can also easily use them as toys for the water table or any other place where you play with water, such as an outdoor pool.
They can soak themselves with water and spray quite a bit when you squeeze them. That is always fun to do with your child!
I have to say that sticking it on the wall can be quite difficult for a small child, you have to understand how to do it and I had to help myself.
This can sometimes be frustrating for a toddler, but from a toddler they can do it better themselves. But if you don't mind helping, it's fun for a toddler too.
Furthermore, my son just really likes to count them and put them back on the platform one by one and then take them away again. He is now almost two years old.
#20 Ostheimer Woodcut Waldorf Animals - Best open ended toy for 2 year olds
From 1 years

Best: 2 – 5 years

Until: 7 years
It doesn't get much better than Ostheimer's hand-carved animals. It is a Waldorf toy par excellence.
Very well finished and durable wood. These will last a lifetime. Well, several lives actually. The design is extremely simple and therefore easy to use. The simple rendering also greatly appeals to the imagination and leads to quality open-ended play.
All materials are safe and durable, the construction has strong and rounded corners and it is great to combine with other wooden animals or with other pretend play.
The play value could only be higher if it were a little more versatile. After all, it is only a wooden animal and if you want to buy several it is extremely expensive. The price-quality ratio is therefore slightly lower, but you get a unique and handmade heirloom toy for it.
#21 Learning Resources Build It! Robot Factory – Best toy robot for 2 year olds
What a great toy the Learning Resources Robot Factory is for 2 year olds! With this building kit, children can make their own imaginative robot creations. The toy encourages early engineering skills, critical thinking and other STEM skills.
The parts are easy to grasp, allowing little hands to develop their fine motor skills.
My 2 year old sometimes struggles with fine motor skills but this toy has been great for him.
I thought it would be smaller pieces, like LEGO, which he doesn't really like. But the pieces are a bit bigger, some as big as my hand, and easier for him to snap together and take apart without getting frustrated. That is why this building set is already suitable for 2-year-olds.
How do you choose 2 year olds Christmas and birthday gifts?
You should choose gifts for 2-year-olds by considering their skills, interests and development. Choose gifts that stimulate their motor, cognitive and social skills, such as toys that encourage interaction, collaboration and imagination.
Consider their age and make sure the gifts are safe and meet child safety standards. Also consider gifts such as books and subscriptions to educational activities to support their development.
There are differences between Christmas and birthday gifts. Christmas gifts often focus on the festive spirit and may have specific themes to match the holiday season. Birthday gifts are more personal and can better suit the child's individual interests.
A study conducted by Not On The High Street shows that children born in December tend to receive fewer gifts in their lifetime. This may be due to the rush of the holiday season and the fact that people often give gifts at the same time as the Christmas celebration.
So keep the gifts personal even around the holidays and celebrate a separate party if necessary.
For 2-year-olds, suitable gifts include toys that stimulate the senses, such as stuffed animals with different textures and sounds. Toys that promote motor skills, such as building blocks and puzzles, are also suitable.
In addition, gifts that support cognitive development, such as books and educational games, can be helpful. Make sure the gifts are safe and appropriate for the child's age.
What do kids at 2 years of age like?
At the age of 2, children love to be creative. According to research by Toomela (1999), 2-year-old children almost always only draw doodles. But creative sets that help them get more out of their scribbling work are perfect.
In addition, they love to play with blocks and simple puzzles. They also enjoy toys that stimulate their senses, such as xylophones and rattles. They also enjoy playing outside with tricycles and bouncing balls.
In addition, they like to imitate adults, for example by playing with age appropriate toys such as doctor's sets and washable markers for coloring. These activities stimulate their motor skills, creativity and social interaction.
What do 2 year olds play with?
2 year olds love to play with different toys. They enjoy activities that stimulate their senses and promote their motor skills. Examples include building blocks, puzzles and board games. These toy sets help them develop their spatial awareness and fine motor skills.
In addition, they enjoy playing with musical instruments, such as a xylophone or tambourine, which allow them to express their creativity.
In addition to toys, there are other gifts that can contribute to a 2-year-old's play. Think of coloring books and washable markers, with which they can express their creativity without worrying about stains.
A subscription to a children's magazine can also provide fun activities and stories to stimulate their imagination. In addition, they can enjoy playing with soft toys and accessories, such as a play kitchen with pots and pans, which they can use to develop their social skills and basic skills.
Giving them gifts based on educational and creative activities allows them to learn and have fun in a safe way.
What are the best non-toy gifts for 2-year-olds?
The best gifts for 2-year-olds that aren't toys are educational books, craft sets, and a kid's cooking set. Books promote language development and literacy, while craft kits encourage creativity and help children develop their fine motor skills. With a children's cooking set, they can safely participate in the baking process and use their imagination.
Are gifts for 2-year-old daughters different from those for sons?
No, gifts do not have to be different for daughters and sons. It is important to look at their interests. Preferences may differ between the two, but there are also gender-neutral toy options, especially useful if you have both sons and daughters.
When selecting gifts, it is important to consider individual interests, regardless of gender. Popular gift ideas include building blocks, musical instruments, plush toys, puzzles, outdoor toys such as steps and bouncy balls, and subscription boxes.
It's also important to consider which toys stimulate the senses and are enjoyed by the child.
Can toys help 2-year-olds prepare for preschool?
Yes, toys can help 2-year-olds prepare for preschool by promoting their motor, cognitive, social and communication development. Toys can help them develop skills such as coordination, dexterity, counting, memory and pattern matching.
Early math can be encouraged through interactive toys that encourage interaction and collaboration. Role play toys can engage them in exploring the world around them and building their vocabulary.
It's important to choose age-appropriate toys that are safe and don't have a choking hazard or sharp edges.
Parents can play an important role by providing involvement and guidance in the use of toys for preschool to support their child's development.
What should the best age-appropriate developmental toys for 2-year-olds have?
The best age-appropriate developmental toys for 2-year-olds should focus on promoting their motor, cognitive, social, and sensory skills.
When choosing toys for this age group, it is important to consider safety and opt for toys that are specifically designed to meet the developmental needs of toddlers.
Some examples of suitable toys are building blocks, musical instruments, simple puzzles and toys with moving parts. It is also important to keep the child's preferences and interests in mind when choosing toys.
For the development of toddlers for preschool, it's important that they learn to play and learn. Toys can help with this by stimulating interaction and imagination. It can also help them develop skills such as counting, memory, matching, and basic math.
Selecting toys that match their interests and development can increase their interaction and engagement. In addition, toys can also promote social interaction by encouraging play with other children. Providing a safe and stimulating play environment is essential for toddlers' development.