15 Best Gifts for 6 Year Olds: Cool and unique toys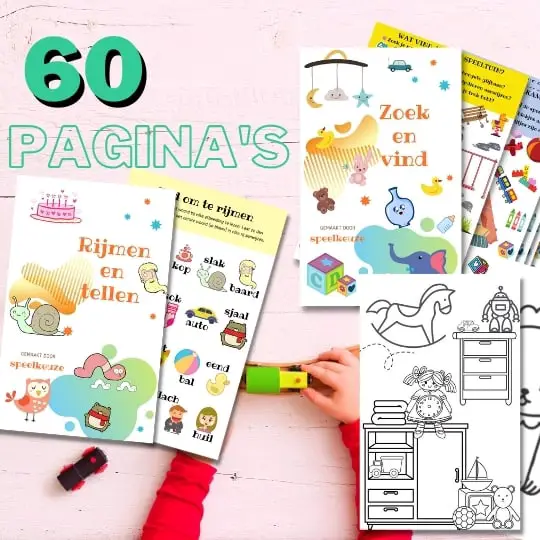 Always something to do for the holidays or rainy day?
Play Choice now has the ultimate activity book collection, with over 60 pages of fun coloring pages and educational puzzles.
Gifts for 6-year-olds should be age-appropriate and help them develop their imagination, creativity and motor skills. Building blocks, board games, puzzles, musical instruments, sports equipment, and dress-up clothes are all good options. Toys that promote reading, writing, math, science, nature, and friendship are also suitable.
It's important to choose toys that are collaborative, fair play, and encourage 6-year-olds' growing interest in science and nature.
The overall best birthday gift for a 6-year-old right now, from my testing and according to many reviewers, is the new toy from Haba "Rhino Hero". A game that perfectly matches their age in terms of playing together, fine motor skills and theme.
But luckily there are a lot more options that would also be perfect, suitable for different interests and areas of development.
In addition to educational toys, there are other popular gift options for 6-year-olds. Science toys that encourage open-ended play and experimentation are popular. Board games and walkie talkies promote social interaction and collaboration. Books are also important gifts and can cement the interests of 6-year-olds.
Picture books and comic books are generally good choices. The best gift for 6-year-olds is the one that aligns with their interests and encourages open-ended play, challenges and encourages social interaction.
What makes gifts cool and popular depends on the strong opinions and interests of 6-year-olds. This can differ between boys and girls. It is important to choose gifts that match their interests.
In this list you will find the most suitable gifts and toys for a 6-year-old.
#1 Haba Rhino Hero Super Battle – Best overall birthday present for 6 year olds
I recently played Haba Rhino Hero Super Battle game and I can say that it is really great game. It is a sequel to the original Rhino Hero game and adds new elements that make the experience even more fun.
The game revolves around building a spectacular 3D cardboard skyscraper. With two different height walls, this ensures exciting staggering during the game. It is even possible to start from several foundations and connect the towers with bridges.
Rhino Hero is joined by three new action heroes and hanging spider monkeys. The game also includes 2 hero battle dice when they land on the same floor. The game is suitable for 2-4 players aged 5-99 and takes about 10-20 minutes.
What I really like about Rhino Hero Super Battle is that the game plays differently every time. There are more challenging variations for advanced players, so it always remains exciting and entertaining. In addition, the game can be combined with the original Rhino Hero game, making it even more varied. The walls from the original game can be used as short walls, and even 5 players can join in with the additional Rhino Hero figure.
With only 2 mph top speed, fast riders will have to wait until they're older!
#2 Hikr Kids Binoculars – Best outdoor toy for 6 year olds
Nice for the little explorer who loves the outdoors, and maybe also nice for you together in the wilderness.
Every child loves binoculars and that is why there are different binoculars for sale!
But these binoculars from Hikr for children are different because of the compact construction and handy and sturdy storage bag.
Also, the binoculars do not blur the image nor cause eye strain.
The perfect binoculars for your outdoor explorations, forest walks, mountain camping and more.
Great binoculars for your kids to enjoy the wonders of nature.
Benefits:
Interesting for kids to have fun
Helps stimulate interest in nature
Neck strap to provide comfort while walking and not lose it
Cons:
Should be handled with care
Has few other attractive functions
#3 Engino Discovering Stem Mechanics - Best educational STEM toy for 6 year old
From 5 years

Best: 6 – 8 years

Until: 9 years
Play value: ease of use, degree of open-endedness, imagination, social interaction, interactivity, versatility, aesthetics, ability to combine, portability, longevity, durability, safety, materials. Educational: +awards and educational value
The educational value in the field of STEM and engineering is great with this set, Engino's biggest advantage compared to, for example, LEGO blocks. Although LEGO Technic comes close, it is really focused on developing skills and problem-solving thinking. The included app is very educational and shows children how these vehicles work.
The play value is also good with a high level of ease of use and interaction with the app, although it does not really appeal to the imagination and social interaction is less stimulated. Due to the small set, it is mainly solo building.
The replayability is slightly higher than the play value, mainly because you can play well with what you have built. This makes it easy to combine and the versatility of the toy great. The durability is also very good, the plastic is sturdy and will not break easily.
This building toy from Engino has won several awards, including the Cyprus Innovation Award and the Toy Russia Most Innovative Toy.
#4 LEGO Jurassic World Escape from Stygimoloch – Best dinosaur toy for 6 year olds
Build the laboratory where dinosaurs are tested.
The pack comes with XNUMX minifigures in the form of Dr. Wu and a guard and a Stygimoloch (dinosaur) minifigure.
The package contains various fun elements to stimulate role play. The set contains 222 parts.
#5 Bruder MAN Fire Truck 02771 – Best Toy Car with Sound (6 years)
Come to the rescue with this Bruder Fire Truck! With the fire brigade you can save people! Turn on the siren (which makes a real sound) and let everyone know that the heroes are on their way!
Of course it has a high crane so that is great fun and you can do up and down then and it can also stretch very far with the tray that can tilt.
Furthermore, the front can be detached and then you can actually see what is in it under the hood in such a car.
The car is also quite big. Very big actually. That's very cool of course, but it makes it difficult to combine with other toys.
Fortunately, we have quite a few other Bruder toys that fit it exactly, but many other toys are in 1:24 scale or smaller.
Still, it is very nice to play with and although a child of 3 can already play with it, it is the best from 6 years old.
#6 Wonder Workshop Dash – Best interactive coding robot for 6 year olds
From 5 years

Best: 6 – 8 years

Until: 9 years
Dash is a colorful robot designed to make coding fun. It comes with 4 educational apps, each focused on a different type of game, that take your child through lessons to create increasingly elaborate functions. Taking this by hand makes the educational value extremely high.
The play value is good because it is extremely easy to use. At the push of a button he can explore all his surroundings right out of the box. It will automatically see where the edges of a table or room are, although sometimes the table can pose challenges and it can fall off. The interactivity is also very high with, for example, speech recognition and the multiple apps.
The robot encourages social interaction, another important part of the play value. They are toys that interact with each other, so your children and their friends can even complete missions together.
The replayability is also very good, especially due to the versatility of the game options, but they have also thought about the possibilities of combining it. For example, there are LEGO connectors with which you can use LEGO to personalize Dash. Dash can be programmed to follow a race track, dance, light up, make sounds, joust or play a variety of other games.
Dash is extremely sturdy and can take a beating and is the winner of the Parent's Choice and the Oppenheim Award.
#7 Small Foot Pirate Hammer Art - Most creative wooden Montessori open ended toy for 6 year olds
From 5 years

Best: 6 – 7 years

Until: 8 years
Small Foot makes products with FSC certified wood and non-toxic paint and where possible without the use of plastic. There is no piece of plastic used in this pirate hammer set. Small Foot is the winner of the ToyAward 2022 in the toddler category.
You have to hammer pirates and their accessories out of wood and cardboard onto a cork board. Very fun to do and you can make many creative scenes. This gives it a high play value.
There are 4 examples so you can get through them quickly. But it's more fun to come up with things yourself. You could also create assignments for them to complete. Creativity is only limited by the size of the cork board. Not really big enough to use everything you can think of and even making the examples is difficult.
Still a very nice set that can keep them busy for quite a few creative hours. The social score could have been higher if this set had more gender and cultural representation in the pirates.
#8 Lionel Hogwarts Express – Best train set for a 6 year old
It may look like just any toy train, but for any Harry Potter fan who grew up with a love of trains and sorcery, it's the pinnacle of sorcery!
This remote-controlled edition of the Hogwarts Express includes working headlights to add some realism. Amazingly authentic with sounds that make it sound more realistic.
Along with locomotive noise rolling down the track or around its circular infield, this makes for a seriously thunderous ride, ideal for your schoolchild!
#9 Dominator Trooper - Best Big Toy for 6 Years
The Dominator Trooper is a small scooter specially made for children around 6 years old with a length of approximately 110 cm
It has special Eagle wheels of 10 cm with a strong core
It includes a brand new two-piece bar design
It has been designed specifically to provide a smoother ride
This stunt scooter has a low profile that makes it more manageable
It has a threaded headset
The height of the Dominator Trooper is 75 cm
It weighs 3,5 kg
It has a threaded front fork
The Dominator Trooper stunt scooter is a fun model that is also suitable for beginners. This scooter is also ideal so that your little one can learn his very first tricks.
The model is ideal for children around 6 years old with a height of about 110 cm.
For example, the slightly older Dawson reviews the Trooper and gives it a fairly low mark because it is too small for him. The second video explains a bit more about the background of the brand by skate shop Scooters Canada.
The scooter consists of strong materials such as high-quality aluminum. It includes a brand new two-piece bar design. It also has a threaded front fork.
The scooter has special Eagle wheels of 10 cm with a strong core. Eagle is the best known brand for making scooter wheels.
The model is specially designed to provide a smoother ride. It is fast and can drive on different types of terrain with ease.
#10 Barefoot Slackline - Best unique physical challenge for 6 year old
The kit in box contains all the necessary balancing tools for newbies to get started.
It is lightweight and easy to transport, making it perfect for indoor use as well.
This walkable slackline allows you to train your core in a fun way that won't make you cringe even a little!
After training with the supplied line, which has a guide to how high to tie it based on your age and skill level, you'll make longer strides over more of the rope without falling off – so easy!
#11 Magformers Basic Set Line – Best imaginative building toy for 6 year olds
From 3 years

Best: 5 – 8 years

Until: 10 years
The tiles with open interiors are quite challenging to build with, just like the Geosmart tiles. This makes it more educational than other magnetic tiles and building toys, because it mainly concerns making geometric shapes.
The recommended age is 3 years. Although a 3-year-old child can already play with it, this set only really becomes fun at the age of 4 to 5. I think the recommended age of 3 is more about the safety of the toy than the age at which it is fun.
Laying out a flat shape like a cube or ball and then picking it up to 3D shape it is a lot of fun.
The replayability is also high because you can also build nice buildings with them (and robots like my 4-year-old son likes to do) so you could buy them for a 3-year-old so that you have toys that they will not quickly outgrow.
The play value is also enormous. It is easy to use, completely open-ended and appeals to the imagination, and making shapes also encourages social interaction, where our children looked at what someone else had made to copy it (or even make it better). ).
The material is extremely sturdy and cannot be broken, so the magnets remain safely in their housing. It is not without reason that these are prize-winning toys from, among others, the NPPA Award.
#12 Kan Jam Ultimate Disc Game – Best active gift for 6 year old
"Gather your friends, family, or anyone else you can think of to start an epic KanJam Ultimate Disc Game!
This game is such a blast for big parties as it allows up to eight players to play simultaneously for two teams.
It does best on a lawn, but don't worry if there isn't – pavement will do just fine!"
#13 Hasbro Pie Face Game – Best family game for 6 year old
The excitement will build as players stick their heads in this toy and wait for a beating through the 18,5 ounce pie!
Can you avoid getting beaten?
Try your luck against other players or even take on the challenge with some time left, but be careful: One wrong move can make you paint these walls red.
At Hasbro Inc. they believe that not all toys are created equal – but for something truly satisfying, there's nothing better than taking a gamble with Pie Face!
#14 Razor Crazy Cart Shift – Best ride on toy for 6 year old
Speeding through corners in this ride-on toy will make you feel like a race car driver.
The Razor Crazy Cart features a drift steering wheel that allows kids to steer their kart into 180 degree turns and spinouts for added realism.
If they're in need of some indoor racing fun, they can use the 17-inch height with automatic brakes for safety and control.
#15 Learning Resources Gears! gears! gears! Robots in Motion - Best tech toy for 6 year olds
Being creative with technology and ensuring that everything works together, for inquisitive children from 6 years old.
The way a child thinks begins to change in grade 3. A six-year-old child gradually learns to think logically.
They see the consequences of certain actions.
This makes them curious. Toys for children with which they can experiment also meet the needs of the schoolchild.
The educational technology set from Learning Resources makes it possible to assemble robot constructions. With the 116 parts, different structures can be set in motion.
If the gears do not move, it is up to the child to determine the cause of the problem.
A good way to stimulate cognitive skills and creativity. Playing with technical educational toys also improves spatial awareness.
The development of logical thinking ensures that the child can invent and assemble constructions that work independently.
Which type of learning toys are suitable for 6-year-old school children?
Toys for 6-year-olds should stimulate imagination and creativity, develop motor skills and provide age-appropriate activities. Building blocks, board games, puzzles, musical instruments, sports equipment, and dress-up clothes are good options.
Toys that promote reading, writing, math, science, nature and friendship are also suitable.
It's important to choose toys that encourage collaborative play, fair play, and that cater to 6-year-olds' growing interest in science and nature.
Educational toys that match their developmental level in primary school is of course one of the best options.
Should you consider boys vs girls toys for 6 year olds?
No, you shouldn't consider too much boy versus girl toys for 6 year olds, but instead look at what the child likes to do. Children benefit from a variety of toy options, regardless of gender.
Toys can help children express feelings and explore new ideas. Playing with different toys can help develop cognitive, creative and spatial skills.
It's worth getting girls to play with boys' toys and boys with girls' toys, as this gives them the chance to develop different skills they need to grow.
How are summer gifts different from Christmas gifts?
Gifts may differ from summer to Christmas due to the fact that there may be more indoor activities during the winter season. Summer gifts often focus on outdoor activities, such as beach accessories and picnic supplies, while Christmas gifts often focus on winter activities and personal items such as handmade and personalized gifts.
As for the difference in toys, there are examples of toys that are popular in every season. For the winter, there are toys such as inflatable sleds and remote-controlled cars that can drive on land and water.
For the summer, there are toys such as pool and beach accessories and outdoor games. Most importantly, the best toys for each season depend on the recipient's interests and needs, and whether they live in a warm climate where summer activities are possible year-round.
What makes gifts cool and popular for this age group?
Six-year-olds determine whether something is cool based on their strong opinions and interests. It's important to choose gifts that align with their interests, such as science toys that encourage open-ended play and experimentation. Toys that promote social interaction and collaboration, such as board games and walkie-talkies, are also popular.
It's also important to choose books that affirm their interests, such as themed picture books and comic books.
In general, the best gifts for six-year-olds are those that match their interests, encourage open-ended play, provide challenge, and promote social interaction such as toys appropriate to their age group.