13 best toy cars for toddlers for some fun tearing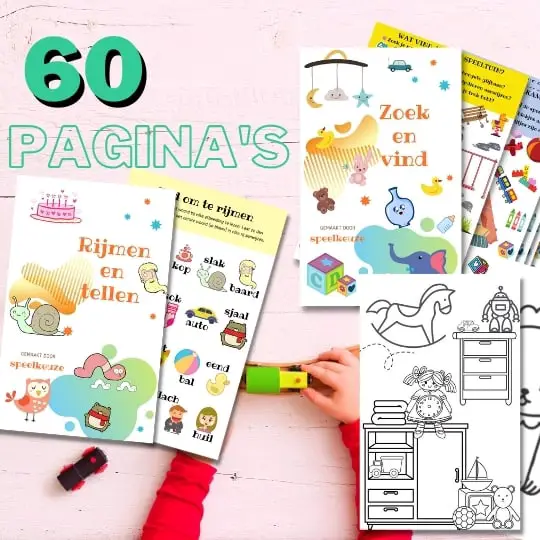 Always something to do for the holidays or rainy day?
Play Choice now has the ultimate activity book collection, with over 60 pages of fun coloring pages and educational puzzles.
Toddlerhood is such a beautiful age for toys cars. It lets them run around the house while taking the wagons everywhere.
For instance this great set of wooden cars from Le Toy Van. A nice retro style and they drive well. The weight is especially nice and with that they can drive well over the floor.
In this guide I take a look at the 13 best toy cars for toddlers and what you should pay attention to when purchasing.
Let's take a quick look at the top options. Then I'll go into more detail about each of these choices.
Toy cars for toddlers buying guide
What should you pay attention to when buying toy cars for toddlers?
At this age they can just enjoy a car in their hand and drive smoothly across the floor.
Durability is especially important at this age, and they need to be fun to ride.
Sustainability
There are quite a few differences in quality between toy car brands. Just look at the difference between Green Toys and Joyin, you can clearly feel the quality.
With a full wooden auto in any case, almost nothing can go wrong. That is what I paid extra attention to when assessing the durability of the cars.
Quality of driving
With toy cars you want them to be able to drive well. A few things to watch out for are:
the distance from the wheels to the chassis: some toy cars run into problems so they don't drive very well
the rigidity of the shaft: some toy cars are very wobbly so the wheels can move far in and out, and still rub
the quality of the wheels: is it plastic or are there really rubber wheels on the tires? Rubber rolls a lot better
the weight of the car: you may not realize this right away, but the weight of the car plays a very large role in how well it rolls. A heavier car made of diecast or wood rolls a lot better and further than a plastic car
Replayability
Much of the car's replayability is in how well it drives, but there are other factors that determine how often they return to it.
Age also plays a part. Is it a car that stays on the left after toddlerhood or can it last longer because it is also suitable for older children?
The number of extra functions also plays a major role, such as the extra activities at Joyin or the blocks of Blockaroo.
I rated each of the cars on this list on these parts on a 5-point scale.
Top 13 toy cars for toddlers reviewed
This is the kind of car I want my child to play with. No, I want to play with it myself! Beautiful classic vehicles in soft pastel colours.
Especially with such an outspoken model it is good to have a set to be able to play with it together.
Sure, other cars often join the game, but they often end up together in one way or another.
They are an Independent Toy Award winner, painted with non-toxic paint and made from renewable rubber trees.
Just the right size for small children's hands. Great quality for an affordable price.
Age: 3 years +
Furthermore, it is nice and high and both floors are equipped with a spiral slope, making it fun to drive down with one of the 2 included cars. A helicopter is also included.
The gas station at the bottom is a nice addition for some pretend play. The hoses can go into the cars.
What it is: a medium (42 x 93 x 43 centimeters), solid wood, 3-tier garage with road markings, a pulley lift, two spiral ramps, 3 cars and a ramp with a lever. Requires assembly with screwdriver (including instructions).
Why I like him: this is a good price for a sturdy wooden garage that is fairly easy to assemble (the instructions are good and clear).
Some reviews do state that the lift is a bit stiff and the ramp is a bit steep, but they all thought it was fun to play with.
Type: Toy Grade
This is a car for when you want to drive around without worrying about bumping into something.
That could be because you really like it yourself, but it's also perfect for toddlers and preschoolers who don't know what they are doing yet.
You see these kind of 360 degree rotation cars popping up everywhere, and the best brand for this type of RC car at the moment is Sgile.
Super sturdy so bumping or falling from something won't hurt it and it charges nice and fast (in 1,5 hours) so your child will never run out of battery (because they will often forget to charge it before they want to ride) ).
Oh, and charging is done via USB so you can do that anytime, anywhere.
That fast charging is also necessary because it can only last 25 minutes on a single charge. That is one of the major drawbacks.

But they also paid attention to safety with high-quality ABS materials that are non-toxic and environmentally friendly. The battery has short circuit protection and overcharge protection.
Hotwheels cars are known for being easy to drive on the floor and for being fast, but… you also have many different options.
That is why I am also looking at these Color Shifters from Hotwheels.
Someone indicated that it doesn't work no matter what he tried, but most people can still get some fun out of it:
Exactly as advertised. I ordered three cars and luckily they were all different (thank you !!!) The kids take them to the bath with a cup of ice and enjoy the color changes.
It is indeed difficult to get the color changing effect.
Warm must be really very warm and cold very cold, otherwise it won't work. But for example in a warm bath is fine and then with a glass of ice water next to it.
There are not many cars that can take a bath, so that is a welcome addition.
Using
the demountable car,
4 interchangeable straps,
3 interchangeable label sets,
the screwdriver
and of course the working Bosch electric screwdriver
you can assemble the car and then take it apart again, and do it as often as you want!
All the plates can be detached, so you can actually see exactly how a car is put together.
There is also a sticker sheet with which you can give those blue parts nice speed stripes, just like a real race car.
A very nice set from Bosch so that they can learn a little about how to work with screwdrivers and also with power tools, with the wheels and everything there is to a car to get to know them a bit.
The car is not very sturdy. It's hard to play well with it.
That's why it was mainly used with us to take apart and rebuild, but never made it in our son's pretend play.
The Melissa & Doug Magnetic Wood Truck Crane with Vehicles consists of six parts and includes a red loader with magnetic army arm, a car transport trailer and four magnetic wooden cars.
The four cars all have a different color, namely red, blue, yellow and white and each has its own number. In this way, a child learns to count, sort and group and playfully stimulate fantasy.
I had already written about it here with the nicest wooden toys as wooden toy car, that the magnet (like this magnetic toy) could have been a little stronger.
That is really the case because it becomes very challenging to drive the car while holding something.
You can pick up cars with the magnetic crane on the truck and they are very loose. You have to be extremely dexterous with that magnet.
In the end, he liked picking up other magnet toys, such as magnetic blocks and magnetic animals.
But it's such a fun and cute set and my son is absolutely full of it.
Joyin is not my favorite brand because it's a bit cheap plastic, but the amount of fun they manage to put into their toys every time is huge.
And my son never finds the build quality much of a problem.
This garbage truck can be taken apart with the screwdriver with 3 types of replaceable heads. It is 12,5 inches long and 4,5 inches wide (31 x 11,4 cm).
The best activity is the garbage arm that can actually lift the 3 included garbage cans.
It is also a friction powered system (push-n-go without batteries) and has lights and sounds.
It is not suitable for children under 3 years old because all screws and such are very small. But if you stay with it, a 2-year-old could also play with it.
You will probably have to put it back together yourself often because they can unscrew it with 3, but they can no longer put it together.
They have tried to cram a whole lot into one car, so everything has not been worked out properly.
But it gives a lot of fun and it is mainly me who has a problem with it, not my child.
Age: 3 years +
What it is: A garage theme (6cm x 14cm x 30cm). Comes with different colored cars from Melissa & Doug.
Why we love it: the sliding doors are really fun to play with. It's a basic garage if you want to keep it small, not too expensive, but still want quality.
The car wash is at the back and it is basically a road for the cars to drive through.
But it does give extra fun with fantasy play.
For a cheap car it has very realistic sounds. It is a 10-inch (25 cm) Cat Dump Truck made of very sturdy plastic.
The engine rumbles when you start the car. It also has flashing lights, engine revs, reversing and hydraulic sounds.
It takes 2 AA batteries and it lasts quite a long time. The car is also super sturdy, but there is one weak spot at the connection of the box. There he could break over time.
But with us he lasted a very long time with intense play, so definitely one for wild children.
Also read: are your children ready for toy cars for toddlers? These are the best!
For a small price you get 187 parts to build and drive with, in a dinosaur theme.
It is actually 144 track pieces with 2 more cars and 4 dinos. There are also parts such as the bridge and trees and the like.
But 144 track pieces is certainly enough to come up with many different setups.
The pieces are easy to click together but are still fairly tight afterwards. They are flexible so you can also make them in funny curves.
Unfortunately, the batteries don't last that long so make sure you have some on hand.
The material is a bit cheap. The track itself is ok, but the accessories have clearly been saved because the trees and signs don't stay in place very well.
But yes, what do you want with so many parts for such a low price.
Green Toys lives up to its name with toys made from fully recycled plastic. Naturally BPA-free and it can even be put in the dishwasher.
It's time for a holiday with this toy. A nice trip with the Camper. It is actually a 3-in-1 playset with two trailers and some accessories.
The boat can also float in the bath so they can even be taken there.
With so many included, it's fun for toddlers to explore and use in all their other pretend play.
There are 2 characters, 2 chairs, a picnic table and a camping stove with a total of 10 pieces in the set.
You may pay a little more, but it is better for the environment and toys that can withstand many brothers and sisters and later even grandchildren.
The Blockaroo Roadster is a great fun set for toddlers. They can actually start building something with this.
The box says from 3 years old, but a 2-year-old can also appreciate it. In any case, all preschool children can use it.
There are 13 parts, and it is foam that makes the blocks. Nice and soft and good for sensory stimulation.
They can therefore also take a bath and shower, which is definitely worth trying (they can also be put in the dishwasher afterwards).
As with the Smartmax vehicles, the wheels here are not great either. It's more about building and being able to drive it is a bonus.
13 blocks is not very much, but they also fit on other Blockaroo sets.
This is another children's car with a sturdy seat. This makes it great fun for kids who are between 3 and 8 years old.
They can drive around with their friends or siblings!
We liked that they gave the parents some extra safety assurance by giving them a remote control.
This gives parents total control over the car in the event that their child is inexperienced with driving or has a collision.
Even if your child is driving the vehicle, the remote can take control at any time.
The top speed that this trip on the car can each be 6 km / h. Children can move backwards and forwards and steer the car in any direction.
There is also a sound system built into this car toy. You can connect devices via an Aux plug-in or listen to the radio.
We liked that they have also implemented a screen that provides you with information.
These include details about battery life and whether the lights for the car are on or off.
What age are these toys recommended for?
3 years
What makes these toys stand out?
Parents are also happy to find that they can be in control of the vehicle at any time.
Conclusion
There are a lot of toy cars aimed at toddlers and they are also such a fun age to play with.
Pretend play might start off a bit, but it's mostly about good driving and chases.
The cars that add fun activities are totally awesome at this age.
Also read: these are the best toy cars for all ages