7 best embossing & die cutting machines: the tips for perfect cutting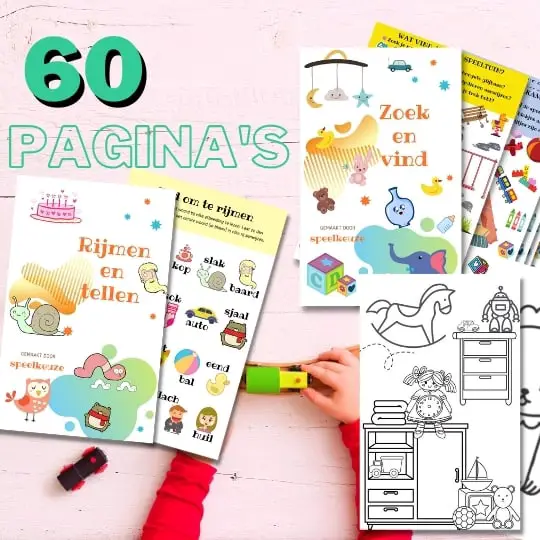 Always something to do for the holidays or rainy day?
Play Choice now has the ultimate activity book collection, with over 60 pages of fun coloring pages and educational puzzles.
There is such versatility to it die cutting machines that it is difficult to choose.
The overall best machine is this Cricut Maker, very extensive and perfectly suitable for all sewing, quilting and craft activities you can think of. It is packed with features and easy to use. It is especially good in leather embossing.
But do you want a computer-controlled one? Or is manual fine too?
In this article, I'll help you choose with our buying guide and 7 best models reviewed.
I'll tell you more about these options in a moment, but first take a look at the top 7 choices:
What should you pay attention to when purchasing a die-cutting and embossing machine?
Perhaps you are a real DIYer and you already know a lot about embossing and die cutting. But if you don't know that yet, I'll first explain what I'm talking about.
While you're with a die cutting machine can cut out beautiful details and shapes (think of greeting cards for example), embossing is a technique that adds relief to a material, often giving it a "pop up" effect.
And what could be better than having a perfect combination of punching and embossing?
With the vast number of designs and letters available, the embossing process is widely used for wedding invitations, cards, logo creation and much more.
However, before you make a purchase, make sure you are well informed. First think about where you want the embossing & die cutting machine will use it the most.
I would therefore like to give you a few tips before you make a choice.
Keep the following points in mind:
What do you want to do with this machine? You may have specific wishes. If you are going to cut more, think about the cutting force. Or are you going to do more embossing?
Do you want a machine with even more options than just embossing and punching? You may also want a machine that you can use for your sewing and quilting projects, for example…
Note the size of the device. Does it fit in your hobby room?
Does a manual machine meet your requirements, or do you prefer an electronic one?
Best 7 Embossing and Die Cutting Machines Reviewed
With that in mind, now let's take a look at my favorites.
With the Cricut Maker you will receive a scoring tool, a rotating blade, extra powerful blades, pens and other useful accessories.
Known among the die-hard crafter, it is highly sought after for its versatility.
A die-cutting machine is a device that punches out a template with (manual) pressure and is often only able to do that, but the Cricut Maker is one of the best electronic cutters, and capable of cutting over 300 different materials, including heavy materials such as board and balsa wood, it excels at cutting leather.
The new blade can basically cut anything you want.
However, more materials also means more tools: there are 11 extra tools available to give your designs the complete, finishing touch.
You can easily change tools with the push of a button on the universal attachment. The Maker's technology goes one step further compared to other cutting machines.
In addition to the precise cutting, the knife adjusts the cutting pressure to the material you are using. The cutting power is 10 times higher, so you can cut through all materials.
As far as embossing is concerned, the Cricut embossing pen works great, it gives a somewhat classic look to your designs. Engraving or debossing is also easy, you can do that with the engraving pen: it slowly gushes a design out of your material.
A Cricut Maker usually comes with: power cable, rotary blade, black fine scribe, practice project and a Fabric Grip mat.
The main difference between the Cricut Maker and the Cricut Explore machine is the technology that powers them.
Most important features
The Maker is powered by the Adaptive Tool System.
Weighs around 12 kg
Power 4k
Cutting depth up to 2,4 mm
Bluetooth & USB Port
57.4 x 18 x 15.7 cm
Benefits
Extremely versatile
Beautiful machine
High Quality
Quick change tools
Cons
Difficult to use at first
Heavy
Cricut Maker vs Cricut Explore Air
The Cricut Maker is for the professional embosser who really takes his work seriously, the Explore Air is for the enthusiastic hobbyist, that's the best way to explain the difference in one go.
The Explore Air is a lot cheaper than the Maker, but you can only process 100 different materials instead of 300
You can't engrave and deboss with the Air while the Maker can
The quality is a lot less than the commercial quality of the Maker, but sufficient for an experienced hobbyist
A good beginners die cutting machine is the Gemini Mini, a popular machine that both cuts and embosses well.
This very simple one die cutting machine Comes with a pair of standard cutting mats and a standard platform.
You can use it for making cards, photo frames and decorations, and therefore also for scrapbooking.
The machine is compact and portable and can cut quite a few different materials. It weighs only 1.8kg and is easy to carry.
Compared to the Sizzix SideKick, which is about the same price, the Gemini Mini seems a little less solid, but it's certainly fun for the novice crafter.
Most important features
Max. Cutting size: 7.8 x 16 cm
Size 28 x 49 x 18 cm
1.8 kg.
Benefits
it couldn't be simpler
great for scrapbooking
compact and light, easy to carry and clean up
Cons
too limited for the advanced DIY-ers and crafters
durability is questionable
Gemini Mini vs Gemini Junior
The Gemini Mini is a super small and light manual slicer while the Junior is an electric machine, both with manual feed.
They are also both relatively cheap machines in their category, perhaps not the most durable build quality, but they do last a while.
The real beginner can handle the Gemini Mini, but if you want to do more or want to work hard materials like metal, you will want to choose the Gemini Junior.
Many potential Cricut Explore Air buyers wonder if they can emboss with this electronic cutting machine. My answer is yes and a bit no.
Officially, Cricut does not have specific embossing tools for the Explore machines. The Cricut Maker, for example, does have a "debossing" tool, but it's not compatible with the Explore Air 2.
Fortunately, there are ways to get around this limitation and you can safely use both heat embossing and dry embossing with your Cricut Explore cutting machine.
They are fun and creative techniques that you can use in card making and scrapbooking.
This fast DIY machine – 2x faster than the Cricut Maker – combines time-saving performance with simplicity, cutting 100 different materials from card stock, vinyl and iron-on vinyl to a range of specialty materials.
Most important features
Fine-point knife included, for cutting all popular craft materials.
Fast mode for cutting and embossing up to 2 times faster.
Cuts over a hundred different materials: from cardboard, vinyl and iron-on sheets to specialty materials such as glitter paper, cork and glued fabric.
Technologically more advanced than his older brother
Benefits
Over 5000 accessible images
No complicated set ups – just use the button to adjust the material
Faster cutting speed compared to the previous model
Wireless use
Can cut and write in one easy step
Cons
You will lose all your images if you cancel your subscription
Some designs can be tricky
Watch this video for how to apply embossing with the Cricut Explore:
The electronic Gemini Junior is ideal for portable use as it is compact, small and efficient. It is much smaller than the Cricut machines, but this model will still meet your crafting needs.
You can also easily take the Gemini Junior to classes and craft weekends because it is portable. It is not only lighter, but also quieter than other machines and is made for intricate die cuts.
But it is also capable of cutting heavy materials such as metal, thicker cardboard, foil, vinyl and multiple layers of fabric. It has a higher pressure than many other die-cutting and embossing machines.
This makes it possible to cut more elaborate designs. It also allows cutting edge to edge. The Gemini Junior can resume, pause, and reverse the plates in the device.
It comes with 2 metal stamps, 1 metal shim, 2 transparent plates, 1 3D embossing folding module, 1 rubber and 1 magnetic shim.
Most important features
Compatible with most embossing folders and thin metal dies.
The plate size is 15,2 x 2,6 cm
20 x 27,9 x 13 cm (lxwxh)
Benefits
Trustworthy
Handy control buttons
A big platform
Compact and lightweight
Suitable for light and heavy materials
Silent in use
Lots of free accessories included
Takes up little space
Cons
The cutting plates do not last long
Not compatible with wooden and plastic molds
Cannot be used with flower shapes
The edges of the metal cutting platform can be sharp, I do not recommend that children under the age of 14 work with it.
Tip: Turn your plates regularly, so that warping is prevented as much as possible.
Read more about Crafter's Companion Gemini machines in my in-depth brand review!
This manual device has a solid build, gives beautiful results every time, has an adjustable platform and is easy to use.
The award-winning Sizzix Big Shot really lives up to its name. With a 6 inch opening for embossing or die cutting, this machine is perfect for beginners and professionals alike.
The Big Shot is versatile enough to use dies from a variety of brands, including
Cuttlebug die-cuts
Spellbinders die-cuts
QuicKut die-cuts
Anna Griffin die cuts
Acquiquilt die cuts
Note: These dies must be purchased separately.
The large cutter is suitable for cutting and embossing a wide variety of materials, including felt, fabric, foam, magnet, cardboard, leather, aluminum, aluminum foil and chipboard, and so on.
With its rubber feet, the Big Shot stands firmly and will not move when you are cutting or embossing.
Great for home decor, scrapbooking and even quilting, but this last option of course not as extensive as with the Cricut Maker.
Most important features
Dimensions 36,2 x 31,4 x 16,8 cm (lxwxh)
5,3 kg.
A5 aperture
Compatible with the Sizzix library
Benefits
Compatible with dies from other companies
Can also be used for quilting
A good quality-price ratio
Versatility – can cut and emboss many materials
Good quality
Cons
Some of the larger dies will not fit
There may be a stability problem
Expensive parts
The Spellbinders Platinum is one of the best embossing machines.
With a look that is both tough and elegant, they are available in two sizes. So you can choose between a model with a cutting width of 8,5 inches or a model with a cutting width of 6 inches.
It is a heavy model, which goes for both models, so it can be quite difficult to move, but this will prevent it from shifting when embossing or cutting.
When the machine is not in use, the sides can be folded up for easy storage.
It's worth noting that if you buy the 8,5 inch model, it only comes with the 6 inch cutting plate. You will need to purchase the XL insert through the Spellbinders website.
The Spellbinder can emboss using other branded materials, although it will take some time to perfecting what you want, but using a shim can often help you with certain materials.
The main advantage of the Spellbinders cutting and embossing machine is that it can cut up to 40 different materials, and with some materials it can cut up to 8 layers at a time.
This makes it more powerful than the Sizzix BigShot machine, but also a bit more expensive. View the options below.
Most important features
Available in 8,5 or 6 inch
Versa Cut Technology
Benefits
Strong and sturdy design
Can cut up to 40 different materials, up to 3 layers thick
The weight of the machine prevents movement when cutting and embossing
Cons
The accessories for this machine can be a bit expensive
The 8,5 inch model only comes with a 6 inch plate unless purchased from the Spellbinders website, the XL plate must be purchased separately
Heavy, weighs about 10 kilos
A satisfied customer writes:
Suitable for cutting and embossing, it works with over 40 different materials up to 8,5 inches wide, has unsurpassed cutting pressure and power.
The manual Sizzix Sidekick is a good machine for beginners and has a good price.
It's affordable, beautiful and portable. It comes with everything you need to start your crafting ideas from scratch.
It is a great tool not only for beginners but also for professional crafters. The Sidekick is made for use with embossing folders and wafer-thin dies up to 2,5 inches wide.
You can make perfect cards, scrapbooking projects, invitations for it weddings and events, but also make home decorations.
It is best to place it on a flat surface, where it will stay in place perfectly, thanks to the vacuum feet.
What I like most about this model is the sleek white – gray design, a nicer design than the somewhat childish Gemini Mini in the same price range. The ergonomic handle makes it easy to turn.
When you buy this machine you get this starter pack and you can get started right away: a pair of cutting plates, an embossing mat, 1 Framelits die, 11 Thinlits dies, 1 small embossing folder with Texture Fades embossing and 6 stamps.
Most important features
Machine dimensions: 19,7 x 12 x 8,9 cm
Comes with a complete starter kit
The opening of the machine is 6,35 cm
Weight kg 5
Benefits
Lightweight and easy to store
Compatible with various stamps and embossing folders
Vacuum seal for extra stability
Perfect for craft projects on the go
Comes with a lot of hobby materials
Cons
Conclusion
Embossing and die cutting is a perfect example of a modern take on traditional production methods. These best embossing and die cutting machines will give you a helping hand in realizing your most beautiful DIY projects.
Paper projects such as envelopes, letterhead or thank you notes will become beautiful and personal with these techniques, but projects with other materials will also look great.
I hope you find my reviews of the best embossing tools helpful die cutting machines and that you can make the right choice!
Also read: 6 best kids smartwatches [for peace of mind & independence] tested