9 best inflatables rated | from castle to slide
I enjoy writing these articles for my readers, you guys. I don't accept payment for writing reviews, my opinion on products is my own, but if you find my recommendations helpful and you end up buying something through one of the links I may be able to receive a commission on that.
More information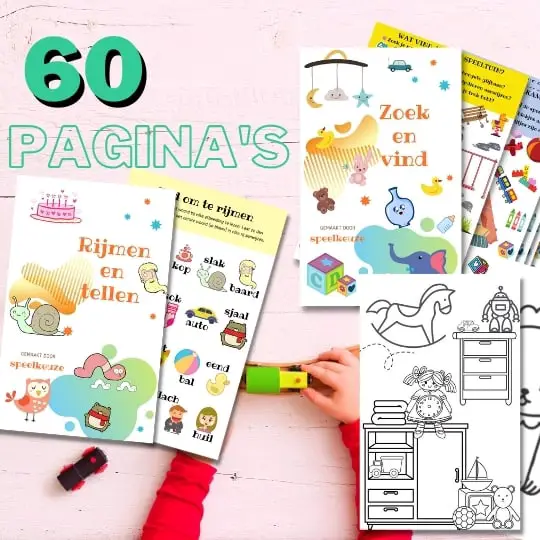 Always something to do for the holidays or rainy day?
Play Choice now has the ultimate activity book collection, with over 60 pages of fun coloring pages and educational puzzles.
Anyone who has ever been to a children's party or an amusement park has probably seen happy children jumping up and down on a bouncy castle.
You may even have seen some adults on the bouncy castle who enjoyed it too.
An inflatable is a great invention, which has brought a lot of pleasure to young and old since its arrival.
In the past, you could only use a bouncer when you rented one or during special events at fairs and festivals.
Fortunately, that can now be done differently and you are no longer dependent on a special event, but you can get your own bouncy castle yourself.
Thanks to the various technological advancements and production methods, you can buy an inflatable for the same amount as the cost of renting it.
This is a nice bonus for when you throw a party at home, but also just for every day, because jumping on a bouncy castle certainly gives your children some extra exercise.
And you just have your own bouncy castle in your backyard. How nice is that ?!
As a parent, an inflatable always gets a big thumbs up from us, because it is a fun and safe recreation tool.
Moreover, you offer your children an alternative and healthy activity and you get them away from behind their tablet or mobile phone.
We understand that not every bouncy castle suits everyone. Not everyone has the same preferences, or the same space or the same budget.
That is why we have listed the best inflatables per category for you in this article.
Fortunately, there is a range of variants of inflatables from which you can easily and quickly make a good choice for your situation.
My favorite bouncer is this Avyna Bouncy Castle Fun Palace 6-1. This bouncy castle offers a lot of fun and just fits in a spacious one Outdoor.
You can climb, slide, jump in it and there is a separate room for possibly some balls to make a to make a ball pit if you don't want to buy a separate one.
In fact, a good copy with parkour options. Your children will be entertained for hours with this bouncy castle.
It's really amazing, but maybe a bit pricey so I also looked up a lot of alternatives for you.
You can also read an extensive review in the article about our favorite bouncer, also a parkour bouncer, and other bouncers in the categories such as:
best bouncy castle
best bouncer small
best inflatable for rental
and 5 other categories.
Below you will find a handy overview of the best inflatables per category.
It is an extensive list from inflatables with a slide to a bouncy castle for a princess.
So if you have less time, you can immediately consult the overview or read the extensive review per product a little further in this article: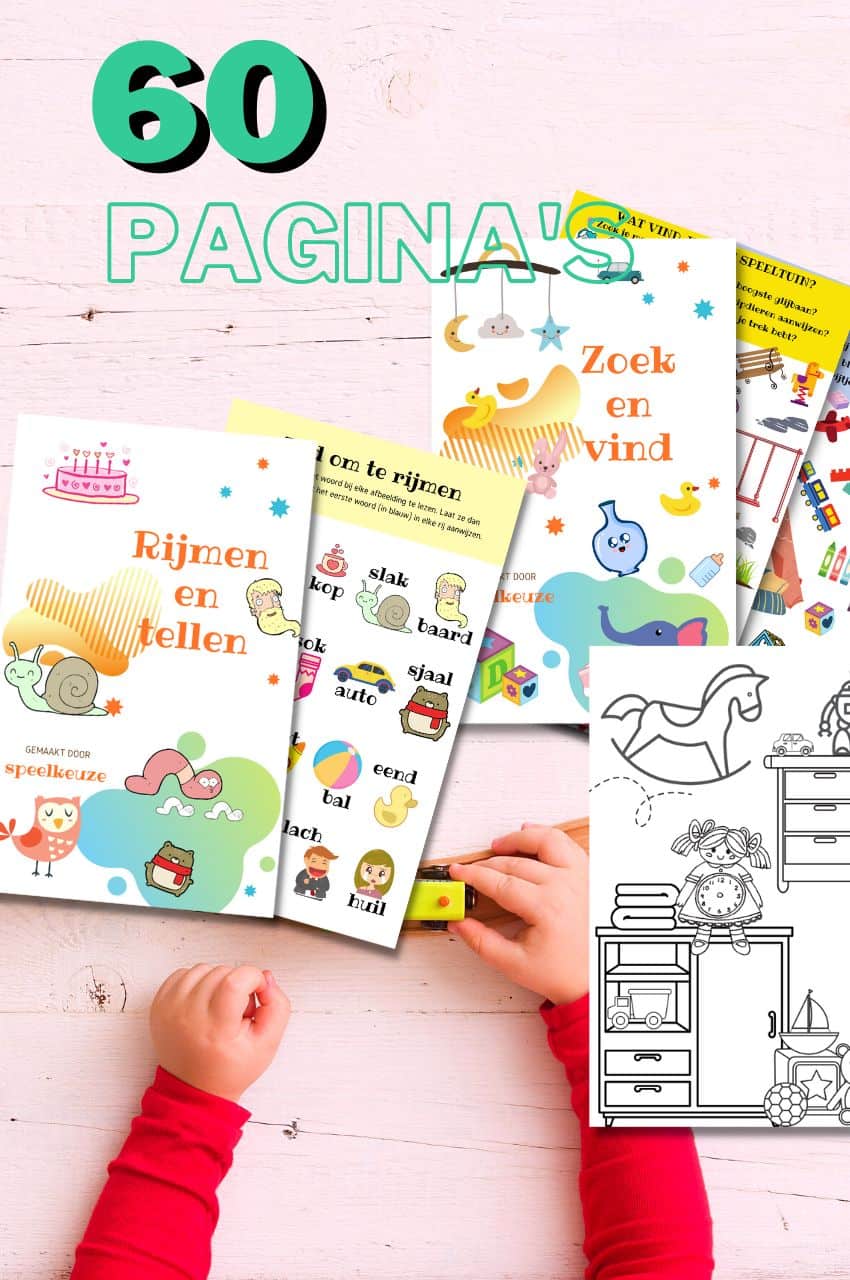 A play theme in your mailbox every month?
Fun play tips, activity books and more, with the first email being our free mini-guide "educational toys"
We will only use your email address for this newsletter and respect your privacy
9 best inflatables rated
Let's take a closer look at them:
Best bouncer parkour: Avyna Fun Palace 6-1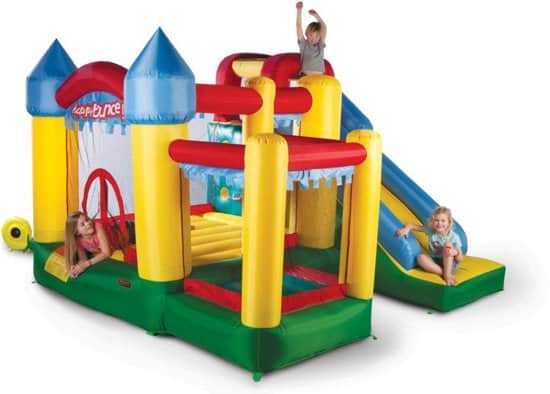 So if you are looking for a bouncy castle with many options, then the Avyna Bouncy Castle Fun Palace 6-1 is definitely worth considering.
Except the fresh colors and the playful design of a castle, which children always love, this bouncy castle offers a lot of options in terms of movement options.
As expected, the bouncy castle offers a jumping space to jump on to your heart's content.
The bouncy castle is also provided with an extra space to make a ball pit. This option is possible thanks to the safety nets around the inflatable.
No balls that will escape from the bouncer, but the nets also offer safety for your jumping children.
The bouncy castle also has a staircase on which your kids can climb to reach the top of the slide.
In short, enough fun parkour exercises to do in this bouncy castle!
The bouncy castle measures 300 × 210 cm and offers enough space for children between 3-8 years to play.
Furthermore, the bouncy castle is made of PVC and comes with an inflatable blower. This inflatable is intended for outdoor use.
Check the most current prices and availability here
Best Inflatable Bouncer for Rentals: Avyna Fun Palace Big 9-1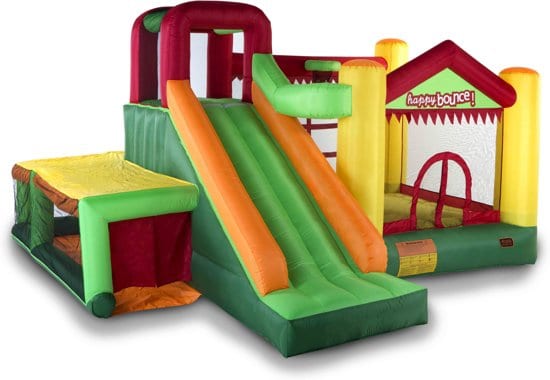 The Avyna Bouncy Castle Fun Palace Big 9-1 is a beautiful, large bouncy castle that is perfect for renting out.
With a size of 450x400x250cm (lxwxh), this bouncer has enough space to accommodate several children at the same time.
In short, perfect if you plan to rent it out for children's parties and events.
The bouncy castle has a nice crawl space, which is protected with safety nets, to enjoy hide and seek (always fun) to play in.
Children can also really enjoy the high and wide slide.
With a height of 250 cm, the slide of this enormous bouncy castle is quite high and which means for children: even more fun and even more exciting!
In the area where you have to jump, the bouncer is also equipped with safety nets to prevent enthusiastic jumping children from falling out of the bouncer.
They can jump on it as fast as they want, because they are safe and the inflatable has no roof so they can jump as high as possible.
An extra function with this bouncer is the basketball hoop at the jumping area.
So the children can not only jump, but also try out other fun tricks with a ball.
The bouncer comes with a bouncer blower and is suitable for children between 3-8 years.
Best festival bouncer: Happy Hop Mega Slide-Combo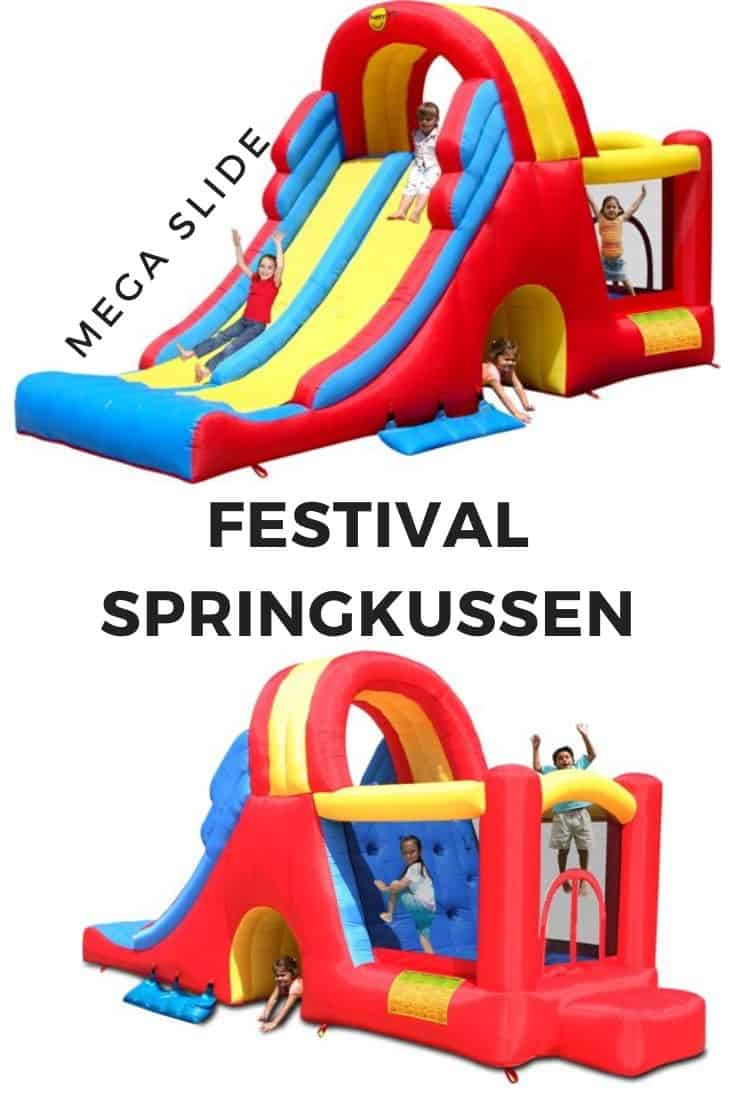 Inflatables also remain a popular attraction at festivals. Kids love it and you can count on getting your investment out.
We think the Happy Hop Mega Slide-Combo is a good bouncy castle to use during festivals.
The bouncer has a size of 215x600x285cm (lxwxh) and offers enough space to play.
This inflatable is divided into three parts:
a jumping area, here children can go crazy jumping,
then they climb up a wall
and get to the top of the slide.
The handy thing about this bouncer is that it is equipped with two slides, so that you can have fun with two children at the same time instead of one child.
Sliding down the high slide together with a boyfriend or girlfriend is always great fun.
Under the bouncy castle there is a nice tunnel to crawl through. This bouncy castle is ideal for festivals because slightly older children can also use it.
The bouncer comes with a bouncer blower, a carrying bag and a repair kit.
Best little bouncer: Intex bouncy castle Jump-O-Lene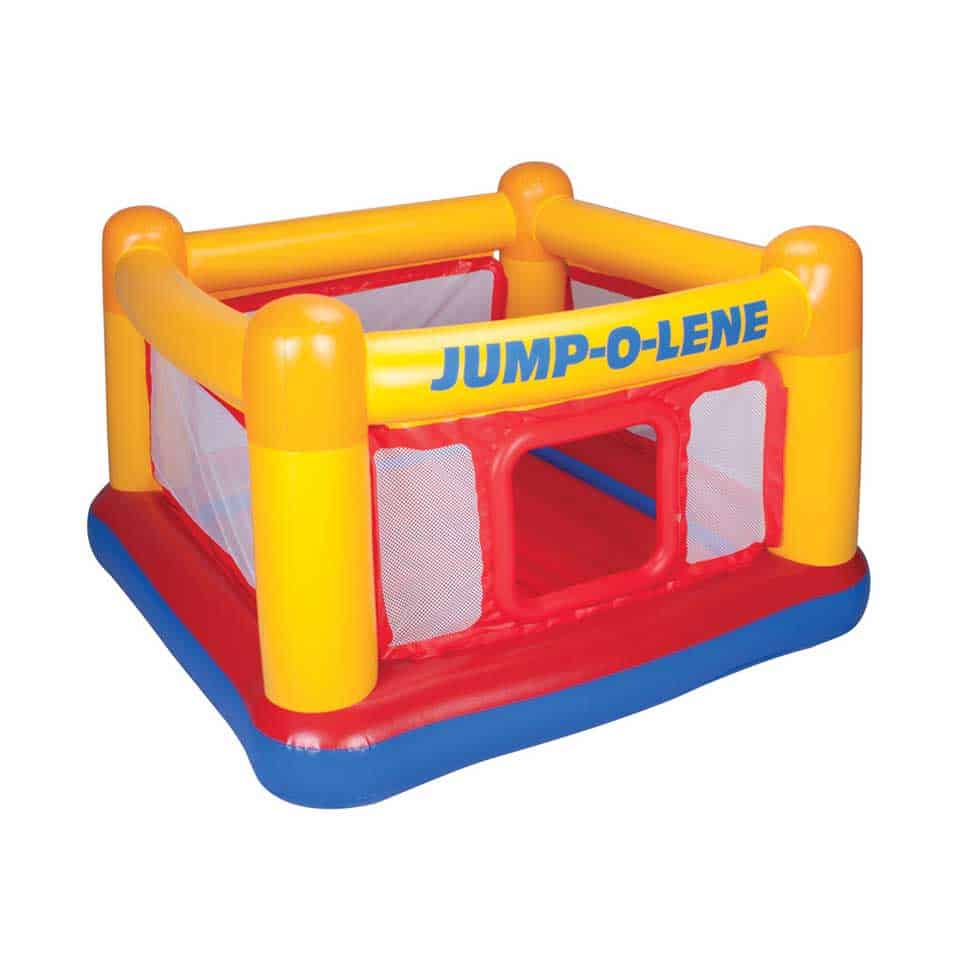 This Intex bouncy castle Jump-O-Lene is a small bouncy castle that you can use both indoors and outdoors.
With a size of 174 x 174 x 112 cm, the bouncer is the right size for people who have little space, but still want to enjoy a bouncy castle.
The bouncy castle is not for very large children, but is more intended for the slightly smaller between 3-8 years with a maximum weight of 54 kg.
You can set up the small inflatable bouncer at home or outside in no time. Both the floor and the walls are inflatable.
The trampoline has fresh and bright colors and immediately makes every child happy.
Definitely a great idea to give as a gift if you are not sure whether it will fit in the available space.
Best bouncy castle with slide: Happy Hop Super Glijtoren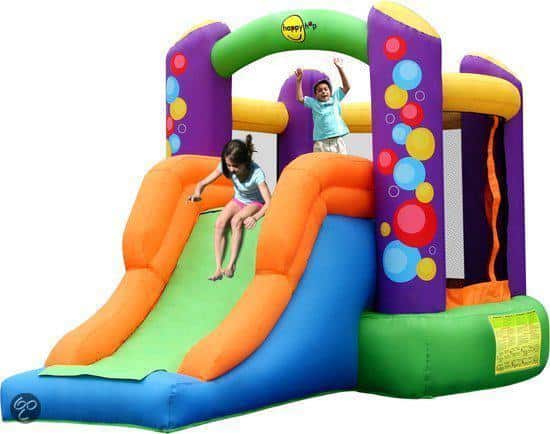 You can of course enjoy jumping and sliding on the Super Glijtoren.
This very nice bouncy castle has a size of 210x350x200cm (lxwxh) and a ground surface of over 7 m².
Enough space to jump freely and happily, but also to slide freely.
The bouncy castle has a beautiful design and is executed in vibrant colors that radiate energy.
At a time, 2 children (max. 90 kg) can use the inflatable at the same time. The age category for this inflatable is 3-16 years.
Handy are the included bouncy castle blower, repair set, storage bag and anchoring material.
This way you immediately have everything you need at hand, so that your children can enjoy themselves optimally.
Best bouncy castle: Bouncy castle with sword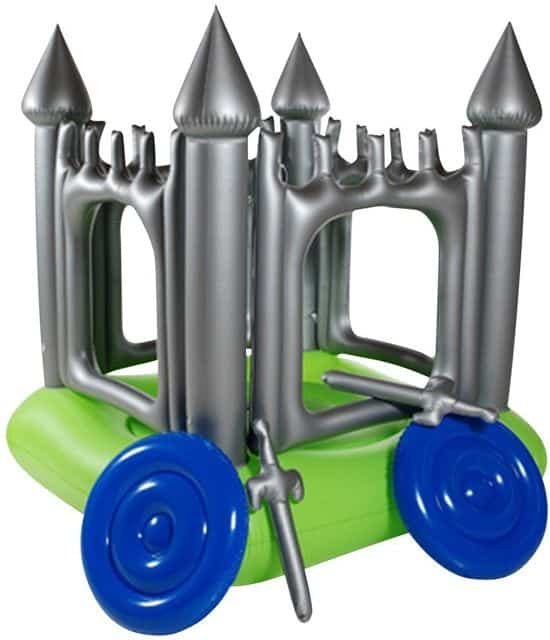 The best bouncy castle should not be missing from this list of the best bouncers.
This bouncer really has the shape of a true castle and certainly suits a theme party as a fun attraction for the slightly smaller children up to 7 years.
This bouncy castle is not very big, and measures 160x160x180 cm.
The inflatable swords and shields are fun matching accessories that are included for even more fun.
The bouncy castle consists of parts that you have to inflate and put together. Very easy to set up, but also easy to clean up.
Check prices and availability here
Best jungle themed bouncer: Happy HopJungle Fun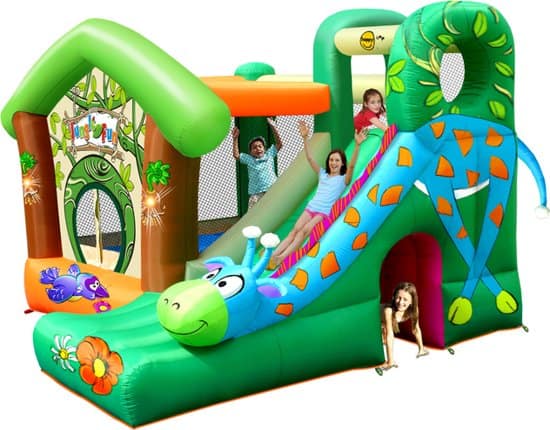 A jungle themed bouncy castle at your party will definitely be a hit.
The Happy HopJungle Fun is a fun bouncy castle, which is beautifully decorated with drawings of animals and the jungle.
The bouncy castle looks very inviting to jump up and slide right down the giraffe's long neck.
You can also experience a fun adventure under the bouncy castle by crawling into the tunnel.
We bet the kids won't get enough of it and will have hours of fun.
It is a spacious bouncy castle of 340x350x245cm (lxwxh) in which 4 children between 3-8 years can play at the same time.
The bouncer also comes with a blower, pegs, a bag and a repair kit. Very handy to immediately have everything when purchasing.
Best Toddler Bouncer: Fisher-Price Playcentre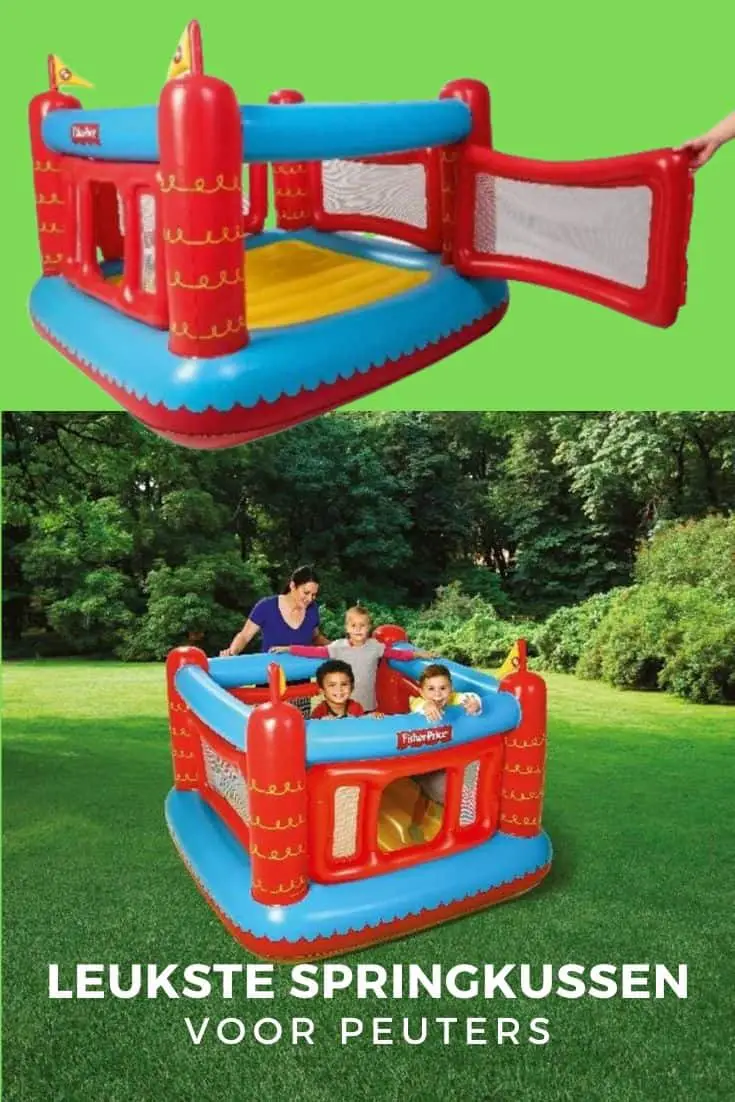 Toddlers also love a bouncy castle.
This Fisher-Price bouncer Playcentre is a beautiful and very nice bouncer that will undoubtedly keep the little one sweet for a few hours.
The bouncer is an inflatable model, of which the floor and the soft ring walls have to be inflated to set it up.
This is done easily and quickly and you also have it cleaned up quickly.
You can use the bouncer both indoors and outdoors and it takes up a space of 175 x 173 x 135 cm (L x W x D).
The perfect size for a toddler who also needs to lose some energy.
The inflatable has beautiful bright colors and can carry a maximum weight of 80 kg. The recommended age for this inflatable is 2-8 years.
Best princess themed bouncer: Happy Hop Purple Pink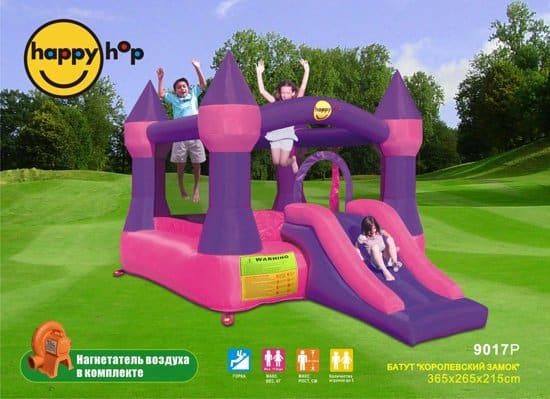 Only the best is good enough for your princess and that is why we chose the Happy Hop Castle Purple Pink bouncy castle.
The bouncy castle has the shape of a castle and is ideal for any princess with class and style.
This bouncy castle has a spacious jumping area and also a nice slide to get in and out of the bouncer.
All four sides of the bouncer are equipped with safety nets so that your princess can jump safely without falling out of the bouncer.
The beautiful pink and purple colors go perfectly with a princess theme.
The dimensions of the inflatable are 265 x 365 x 215 cm. It offers enough space for the princess and her friends to have a nice party.
Best inflatable repair kit: Tear solution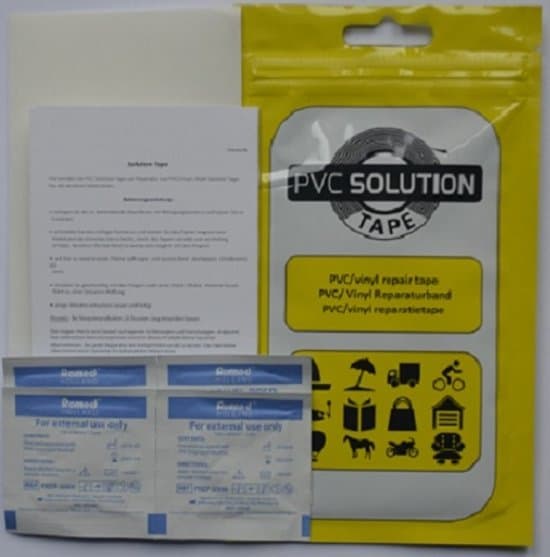 Now that you have chosen an inflatable that suits you, it is certainly important that you also make the necessary preparations.
The worst thing that can happen to you is that your children are jumping and the bouncer suddenly punctures.
This is not only frustrating for the children, but also for the parents. Of course, this would be many times worse if it happened at a party!
That would be a real disaster.
To ensure that you are well prepared, you must have everything ready in case of a leak.
Although most inflatables come with the necessary tools, not all have a repair kit that is included.
So if you choose an inflatable that comes without a repair kit (for example one of the cheaper ones), you can simply choose this Repair tape as an addition to your inflatable.
You won't regret doing this beforehand instead of afterwards.
This repair tape is very strong, transparent and flexible and can be used on various playground equipment except inflatables, such as tarpaulins, swimming pools and trampoline edges.
So you buy a multi-purpose product that you can use on your inflatable and other PVC toys.
The repair tape can also be applied under water and is therefore certainly useful if you have a bouncy castle with water options.
What do you pay attention to when purchasing an inflatable?
As you have seen, inflatables can have many properties. From a slide to climbing walls and you name it.
Which bouncer you ultimately choose will initially depend on what you want to do with your children, then the available space and your budget.
Investing in a bouncy castle is a great idea if you plan to throw children's parties on a regular basis, as well as if you are looking for a safe activity for your kids.
So if you plan to invest your hard earned money in a bouncy castle, it is useful to know what is available.
Indoors and outdoors
Some inflatables can only be used outdoors. Others offer the opportunity to enjoy jumping indoors as well.
In that case you look for one that you can easily inflate and take down quickly.
If you plan to put the bouncer outside, prefer a bouncy castle with a shade cloth.
The material of the bouncy castle can get quite hot if it is just in the blazing sun.
On the other hand, a shade cloth prevents the children from jumping freely.
Be sure to consider this and ask yourself who will use the bouncer and how often.
Wet and dry
Some inflatables are a combination of a bouncy castle and a pool.
Although most inflatables are made of weather resistant material, it is not recommended that the inflatables are constantly full of water.
If you plan to use the inflatable in the summer, you can choose one with a 'water option'.
I've also devoted an entire article to outdoor slides with water option.
Many of these choices are actually a kind of bouncy castle, although the focus is more on the sliding aspect which is of course also very nice with water.
If you do not need this option or will your inflatable be used mostly at home, then you obviously do not need an inflatable with a 'water option'.
Inflatables that have both options are usually more expensive to buy because of the special material they are made of.
Leaks
If you buy an inflatable for the first time, you will notice that air comes out of the seams.
This will make you think the bouncer is leaking, but fortunately it is not. The 'holes' are part of the bouncer to maintain the pressure while jumping.
If the bouncer did not release air while the kids were jumping, it would eventually burst.
So don't panic if you see air escaping. The escaped air is therefore continuously supplied by the blower.
However, if you notice holes that are larger than a dime, you have to repair them, because the holes provide an inefficient distribution of tension, so that the bouncer is not used efficiently and no longer jumps well.
Bouncer blower
An inflatable blower is an essential part of an inflatable to maintain air pressure.
Since the seams let air out of the bouncer, a bouncer blower must provide a continuous supply of air, so that it remains upright.
Longer tube blowers are better protected from kids who get a little too enthusiastic.
Usually an inflatable blower is supplied with an inflatable.
If this is not the case, keep in mind that buying such a blower separately will increase the costs.
Do you think it is all a bit much, but do you want to let your children jump? Take a look at these nicest trampolines which I have previously reviewed.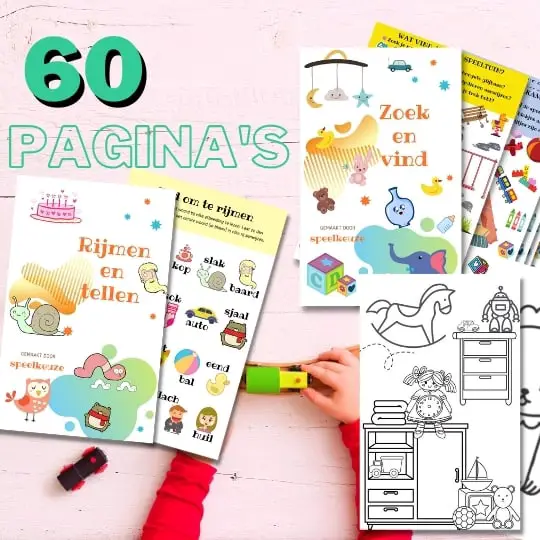 Always something to do for the holidays or rainy day?
Play Choice now has the ultimate activity book collection, with over 60 pages of fun coloring pages and educational puzzles.
Joost Nusselder, the founder of Speelkeuze.nl is a content marketer, father and loves trying out new toys. As a child he came into contact with everything related to games when his mother started the Tinnen Soldaat in Ede. Now he and his team create helpful blog articles to help loyal readers with fun play ideas.