7 Best Magnetic Learning Toys For Toddlers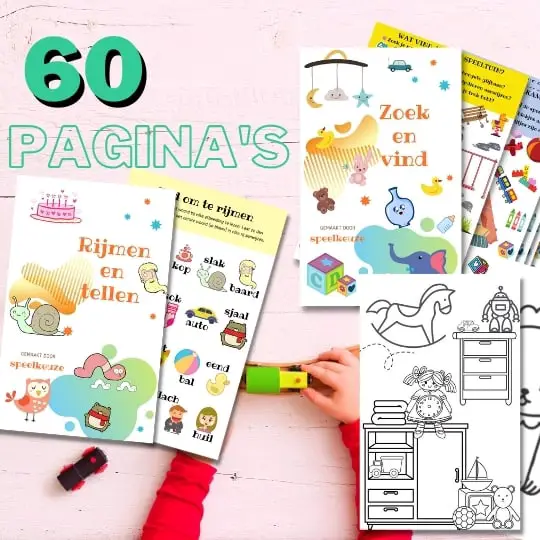 Always something to do for the holidays or rainy day?
Play Choice now has the ultimate activity book collection, with over 60 pages of fun coloring pages and educational puzzles.
Toddlers still have so much to learn, fine motor skills and spatial insight are now coming into play.
The best playset for learning I've come across is this Melissa & Doug Pattern Set. You can imitate all kinds of animals and other things with geometric shapes on a magnetic board. The shapes stick well and are made of wood.
All sets in this list are very educational but also fun to play with. Let's see what you should pay attention to.
Here are all the educational magnetic play sets for toddlers. Then I'll take a closer look at each of these sets.
Magnetic toys for toddlers buying guide
What should you pay attention to when buying educational magnetic toys for toddlers?
Age
The toys should match the level of the toddler. The best educational games are:
something with the first numbers or letters to learn that way
to sort
creativity
learn to build
basic geometric shapes
role play
For example, magnet tiles from Magna Tiles are age-appropriate, but not very educational (beyond creativity and fine motor skills).
The Magformers tiles with which you can build Geometric shapes are very educational, but not yet suitable for this age.
I have also reviewed such tiles in my article about the 8 best magnetic tile brands.
The toys should also be large enough so that small children cannot swallow them. You have to watch out for this, especially with magnets.
I also recommend always being present when you let them play with magnet toys.
Magnet
The magnets in the toy must be strong enough to stick properly. Otherwise, it will quickly become frustrating for your little toddler.
They must also be able to let go, otherwise they will not be able to release it themselves.
So it's a balance of clicking and releasing for the best playability.
Replayability
Sometimes toys are very educational, but just not very fun to play. You want toys that they can come back to again and again.
Usually these are open-ended toys that they can work with themselves.
Toys with a lesson in them, such as with assignment cards, but also playing yourself often work best.
The Janod Magnetibook is a good example of this. The Melissa & Doug wooden pattern set is also a good example.
Sustainability
When you have found a toy that they want to play with again and again, it is also good to know that it will last a long time.
With this age they can still throw a bit, so it must be throw-resistant.
And maybe you still want to keep it for the next sibling, or to give to a nephew as we have done with many Melissa & Doug toys.
Top 7 Magnetic Learning Toys for Toddlers Reviewed
This pattern block set is very challenging for children of this age.
They are 12 fun assignment cards that you can place on a magnetic board surface. Then you have to arrange the 120 magnets in different geometric shapes and colors.
A fun challenge and good for their development of geometric shapes.
But it is also a toy where you can make assignments, but you can also get started with making fun shapes.
This means that the set can also grow up to toddlers.
They have focused on convenient carrying, because it comes with a bag with press studs and good handles.
Is it time for your little one to learn the numbers, and do you want to do it in the most fun way possible? The Quercetti magnetic numbers are the ideal toy!
With this set you get 26 numbers in different colors. The numbers are magnetic and made of plastic.
They can stick to any metal surface, such as the refrigerator or magnetic blackboards (also available from Quercetti).
There are not only numbers, but also calculation symbols such as plus, minus, divided by, fraction.
This way it can be fun for school children to practice with.
2 years is still too young. There are small parts and you really don't want to swallow a magnet.
With 3 years old it is fun to just stick them on and sort them by color every now and then. My son was interested in numbers from an early age and, for example, would name all the numbers he saw.
Smartmax is a system of bars and balls aimed at children from 1 year. Sit in the bars magnets, the balls are metal but not magnetic.
This system allows the rods to click on each other and on the balls to create beautiful 2D and 3D constructions.
The rods are not flexible so bends can only be made by using the curved rods or by building a rod at an angle on a ball.
With these metal balls and rods you can build something different every day. In addition, a child trains his or her spatial awareness with the different shapes. The possibilities are limitless!
It's a lot of fun building, but I also found out that making figures is very difficult.
The system with the rods and balls works well, but if you don't anchor a ball between two rods, it easily slips away.
Geometric shapes such as a cube connected on each side with one of the bars are very sturdy.
It is really very educational and a nice first step into the world of magnetic toys. I would recommend these for children between 1 and 4.
This block set in which creativity plays a greater role is the best from 3 years old, although they can build fun things with it earlier.
The rounded corners and light blocks mean that a child of any age could pick them up and try them out.
Smartmax makes structures from rods and balls and is therefore more suitable for geometric shapes. MagiCube are magnetic blocks that you can stack on top of each other and next to each other.
This way you can really lose your creativity.
They are also more suitable for making figures because the blocks do not slip as is the case with Smartmax.
Maybe it's a little less educational, but it also gives a lot of fun and is still very good for fine motor skills and spatial insight.
Geomag MagiCube is also one of them best magnetic building blocks we reviewed here
Sometimes there are toys that teach your kids more than fine motor skills, or spatial awareness. Sometimes it is also good to start early with social aspects.
What's great about the Melissa & Doug Julia doll is that it's a woman who can do any profession she wants.
Hopefully our children will never have to experience that some professions are strange for a girl, or that girls are paid less later on.
But let's not dwell on that too much, because Julia is also just a lot of fun to play with.
With the magnetic clothes you can give her a different profession every time. She can become a firefighter, or superhero, or astronaut.
Or you can of course just go crazy and make the wrong pants with a different shirt.
My son used to play these kinds of games in a game on the iPad, with combinations that you can make.
Such a physical game where you can also hold it and made of good sturdy wood makes it so much more fun.
Melissa & Doug also stands for a screen-free play experience and that's exactly what these toys can bring.
There is always a lot going on with such a magnetic puzzle.
You can try to guide the balls around the maze.
There are blockades on the road that you need to get around.
There are different colored balls that you can each bring to their house.
You can learn about roundabouts and spinning discs.
They learn colors, fine motor skills and a lot of patience.
They can sit down with the puzzle and work on it for a while.
You have to be quite agile for it.
Haba advertises that it is also handy on the go. The balls are stuck in the puzzle so nothing can get lost.
I love the idea of ​​magnetic scenes to act out and came across the French brand Janod and their Magnetibooks.
Great game, especially as it teaches young children about matching and developing creativity and imagination.
The game comes in a quality hinged chest, made to look like a book.
Each book contains:
- Cards and magnets (Vehicles Magnetibook has 18 cards and 50 magnets, Crazy face Magnetibook has 12 cards and 67 magnets)
- Magnetic scene / background in the lid of the box
- Box itself has a magnetic closure to keep it closed
The MagnetiBooks are for kids between the ages of 3 and 8, but I say some of them are easy fun from age 2.
There are many different MagnetiBooks to choose from.
You can copy the pictures on the cards with the magnets or you can get creative and make the craziest things yourself.
Frequently asked questions about magnet toys for toddlers
Are magnetic toys safe for toddlers?
Many magnetic toys are also safe for toddlers, but you need to be extra careful. Toddlers sometimes put things in their mouths and you should never swallow a magnet, that is super dangerous. That is why there is often a higher age limit on toys with magnets, and always supervise them when they play with them.
Can a 2 year old play with magnet toys?
A magnet should never be swallowed, so you should always stick with it. Many magnet toys are aimed at building and they are not very good at that yet, but they can already make a start. In addition, there are also magnet toys specially made for 1 to 2 year olds with large parts that are perfect.
What do toddlers learn from playing with magnet toys?
Toddlers learn a lot from magnet toys. They learn fine motor skills when grasping. It's a first introduction to physics, even if they don't understand it yet. Often it is also a toy that you have to build and that stimulates their spatial insight.
Conclusion
There are a lot of educational sets out there, but combining magnets with an educational game is great for your child.
A nice first entry into the world of magnetic toys.
Lees meer: rated the best and safest educational toys for toddlers