Best electric cargo bike | Top 6 super options to transport your kids
I enjoy writing these articles for my readers, you guys. I don't accept payment for writing reviews, my opinion on products is my own, but if you find my recommendations helpful and you end up buying something through one of the links I may be able to receive a commission on that.
More information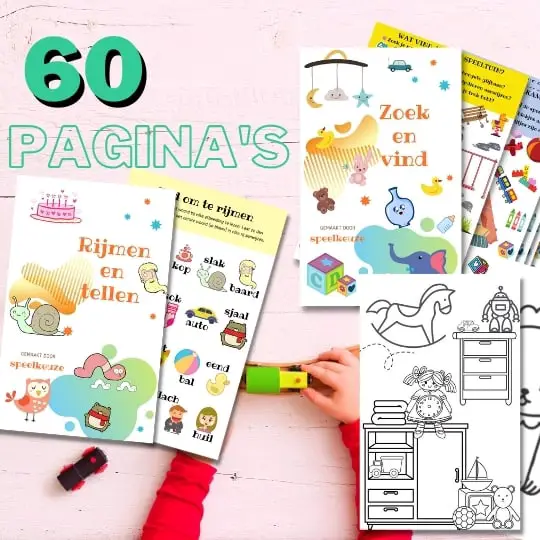 Always something to do for the holidays or rainy day?
Play Choice now has the ultimate activity book collection, with over 60 pages of fun coloring pages and educational puzzles.
Which cool father or mother doesn't have a cargo bike yet? You can choose between different styles: Bohemian, Chic or Sporty models.
Electric cargo bikes are contemporary and hot!
Having an cargo bike is - apart from being trendy - an extremely handy means of transporting yourself with children in a fast and practical way. In the city, but also outside it.
Of course; don't you choose one electrical cargo bike, then you will have to pedal (and sweat) a lot in headwinds. Especially with several children, your most ideal cargo bike is an electric one.
I've selected 6 top electric cargo bikes for you – all including a hood – and I'll also help you with an electric cargo bike buying guide.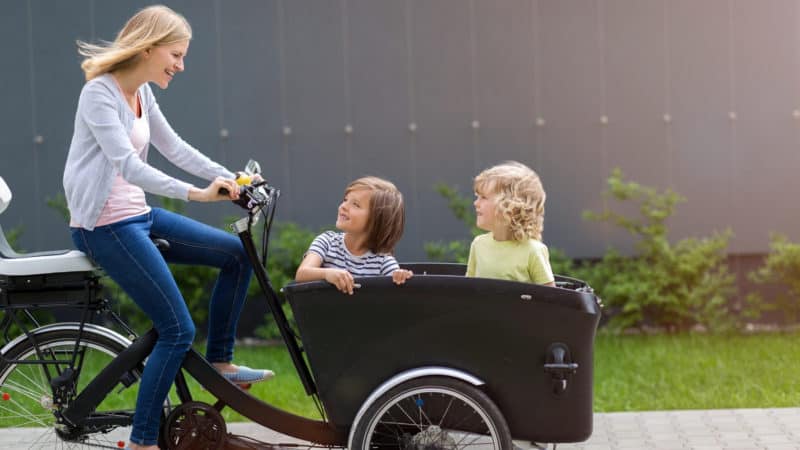 My overall best choice is this one Buxxo Bikes CALOO electric cargo bike. You sit comfortably on this electric cargo bike and you have a good overview. With its two front wheels, it is extremely stable, yet easy to maneuver and comfortable enough, due to the excellent weight distribution.
More about the Buxxo later, I will now first show you my entire top 6 electric cargo bikes, and then discuss my top choices in more detail.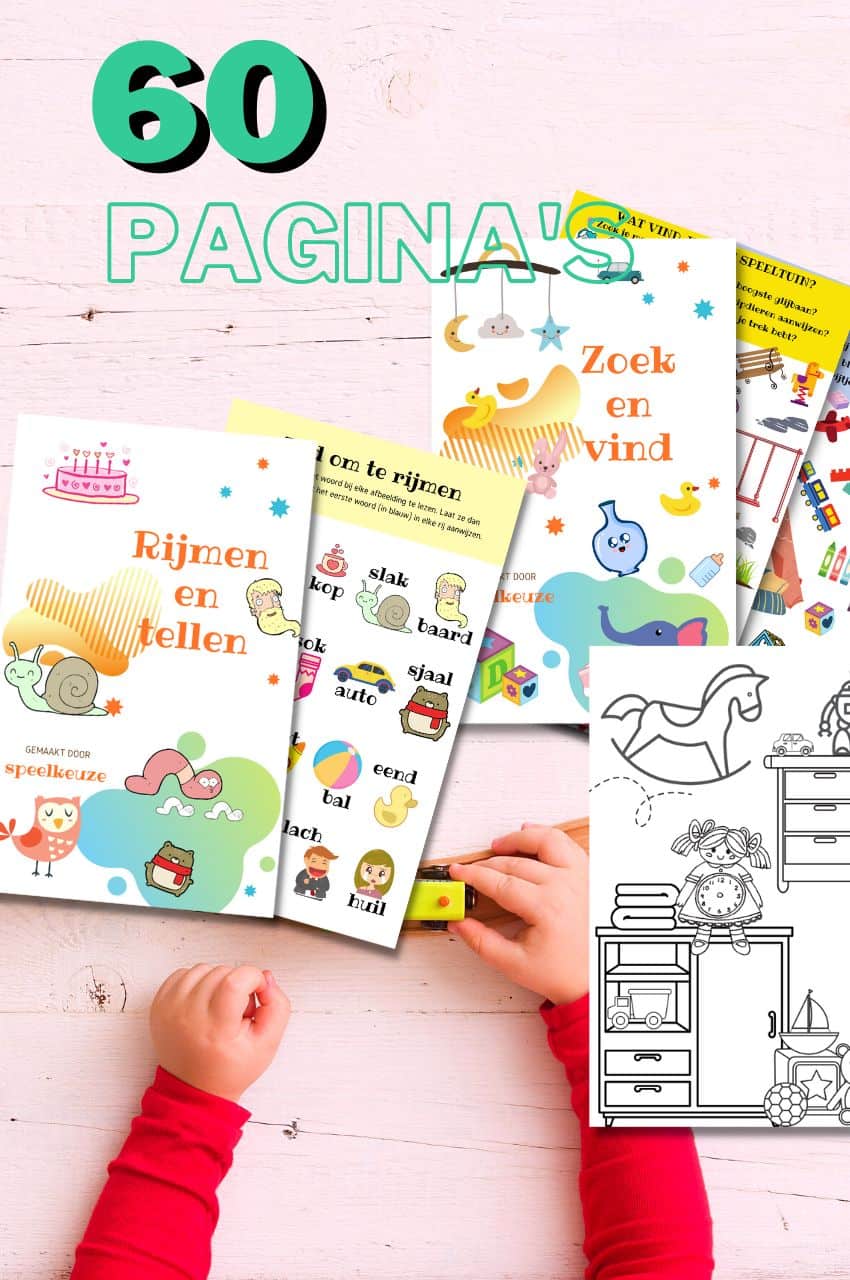 From toddler to toddler activity book collection
Educational games and coloring pages for 3 to 6 years
Your toddler and preschooler will love this e-book, along with the accompanying printables. He or she can play with it at every stage of development, together with mom and dad.
Buy at Bol.com
Buying guide – this is how you choose the best electric cargo bike
Are you still unsure whether you want to purchase an electric cargo bike? It may bother you to constantly take the car to take your offspring to school.
You want to make an environmentally friendly and fun choice, but a regular e-bike is simply not enough.
In the autumn and winter it is also difficult if your children arrive at school completely wet in rain or snow.
Of course a car is nice and easy; but each e-cargo bike is one less car in the city!
An electric cargo bike is not just a purchase. You want a sturdy, safe, and comfortable cargo bike, which is also good with a number of toddlers in it.
And which type of cargo bike do you go for, a tricycle or two-wheeler?
Three wheels are less manoeuvrable, but make the cargo bike very sturdy and stable. You often have a larger container, which can accommodate up to 4 children.
The two-wheeler can often only accommodate two children, but you can take the bends very quickly.
Two kids in it or four kids? Groceries, or dog?
What you pay attention to:
What is your budget?
How many children can you transport?
What are the dimensions of the container?
What are the total dimensions of the cargo bike? You may want to put it in the shed or garage..
How high should the frame be? Tall people should not go for a small frame size.
Where are you going to use the cargo bike? You want to take it into the dunes, towards the beach, or maybe it is just to take the children to school in the city.
Is the bicycle heavy and what is its carrying capacity?
How far can I cycle with it before I have to recharge it?
How many gears do I want?
Are the motor and battery powerful enough?
The frame size
What (and how many) wheels does the cargo bike have?
Is there a rain cover? Nobody wants to arrive at school soaking wet.
What is your budget?
Buying an electric cargo bike is a major investment, but always less expensive than a second car!
The purchase prices of electric cargo bikes can differ considerably.
For example, you have a top of the bill Cango Buckle electric cargo bike for about € 3500, and the prices of the more basic cargo bikes start around € 2000.
An example of this is the Troy.
But how do these price differences come about?
This includes the following factors:
The number of gears
the location and capacity of the motor
Accessories included with the cargo bike, like a rain cover
What are the standard dimensions of a cargo bike?
Do you have several children or a large dog that has to travel in the box? Then you need a large tank.
A larger cargo bike usually has three wheels. A disadvantage can be that with a large container you take up a lot of space on the road, but you also need sufficient space when parking and storing in the garden or garage.
In addition, you have a larger turning circle and the bike is a bit heavier.
With a smaller box, usually the cargo bike has two wheels, you can often lose two children and a dog. The cargo bike is then lighter and more manoeuvrable and you don't have a parking problem.
You wonder if you can get everywhere with the cargo bike? Do you doubt whether you can pass between the posts of a cycle path with your large cargo bike?
Certainly know. Cargo bikes that meet all the rules set by the Dutch government and the Bovag can be used on all bicycle paths, roads and streets.
Many two-wheelers have a width of around 75 cm, while the three-wheelers are around 1 meter wide.
TIP! Measure your garden fence in advance, then you know for sure whether you can store your cargo bike in your garden or not.
What are the standard dimensions of a cargo bike frame?
You are unsure about the height of the saddle, and whether the frame is suitable for your height and perhaps for your partner's height.
I'll show you below how much variation there is in that. The frame height of a bicycle is measured from the bottom bracket to the end of the seat tube.
The frame height is important because it determines the lowest seat height of the saddle.
If you start from your height, you can make a rough estimate of the frame height.
| | |
| --- | --- |
| Body length | Frame size |
| 150-165 cm | 49 cm |
| 155-170 cm | 51 cm |
| 160-175 cm | 53 cm |
| 170-185 cm | 57 cm |
One of the smaller electric cargo bikes is the Qivelo, with a frame size of 48 cm. The Buxxo has one of the largest available frame sizes, 56 cm.
In between is, for example, the Cangoo with a size of 50 cm, the Troy with 51 cm and the Vogue with 53 cm.
The importance of the battery
You need power to charge an electric cargo bike. However, the costs are minimal.
Charging a battery costs about € 0,10 per 80 km. If you take the car you will lose more than € 10 to get there.
Fortunately, electric bicycle batteries are lasting longer and longer. If at some point you want to purchase a new battery, you will have the purchase costs covered within a year with regular use of the 'bak e-bike'.
Did you know that in winter the batteries of bicycles have a shorter range than in summer? This can sometimes make a difference of 30%.
Make sure you have a cargo bike with a good battery capacity, because this determines your range. Within this category use is made of batteries with a capacity from about 470Wh, an outlier here is the Cangoo with 522Wh.
With a 470Wh battery you drive approximately between 50 and 80 kilometers. But if you opt for a light support and the conditions are right, the range can increase even further.
The power of the engine is also a determining factor for your range, and your chosen gear plays a role.
Lighter pedaling means that you need less support from the motor, so you can get a greater range from the system.
When starting after a stop, it is also best to select a lower gear.
The capacity of the battery also depends on the ambient temperature and age. On average, a battery decreases 10% per year in capacity.
A battery that is used a lot will last longer than a 'lazy' battery that is used less often. The cells are activated more often with frequent use.
It is also useful if you can remove the battery from the bicycle! This gives you more flexibility when charging the battery, and you don't have to put the entire bike close to the socket.
The engine of your cargo bike
E-bikes with a front-wheel motor often have less pulling power than those with a mid-mounted motor.
With a mid- or rear-wheel motor, the support feels more natural and you don't have the feeling of being pulled forward.
A middle or rear wheel motor can handle a much lower speed (number of revolutions) than a front wheel motor. So you can drive for a longer time, even in hilly areas.
Middle and rear wheel motors are therefore often equipped with a higher pulling force (Nm) and are therefore more suitable for a cargo bike.
The BAFANG mid-mounted motor has a pulling force of 80 Nm and is equipped with a rotation, speed and pedal force sensor.
The three sensors ensure that the support is adapted to the cycling behavior and that the support feels as natural as possible.
The Bafang is suitable for daily and recreational use, also in hills, and distinguishes itself from the competitors by its enormous pulling power.
The disadvantage of such a strong engine is the noise it produces.
The Troy cargo bike, for example, has an ION motor. For a cargo bike, the ION motor is available in a rear-wheel motor (40 Nm, as with the Troy) or a mid-mounted motor of 80 Nm.
The ION mid-drive motor is one of the quieter mid-drive motors on the market. The difference in these ION motors is in the location of the motor and the power it delivers.
What about the gears and pedal assist?
The type of gear of an electric bicycle determines other components, for example it influences the position of the motor, the design of the chain guard and the maintenance of your e-bike.
You can choose an e-bike with
Derailleur gears, a system with the least resistance and therefore very light, but quite maintenance-sensitive.
Hub gear, here the gear system is completely concealed in the hub of the rear wheel. A hub gear is fairly low maintenance.
My chosen e-cargo bikes all have 7 gears, and the pedal assistance varies from 5 to 9.
Pedal assistance provides a comfortable and natural cycling feeling, and ensures that longer distances can be easily covered. The greater the pedal assistance, the lighter you ride.
A cargo bike without pedal assistance cycles heavily. Especially when the barge is fully loaded with children and there is a considerable wind.
The best electric cargo bikes reviewed
That was a lot of information! Now let's take a look at my favorite electric cargo bikes, and why they score so well on the above.
Overall best electric cargo bike: Buxxo Bikes CALOO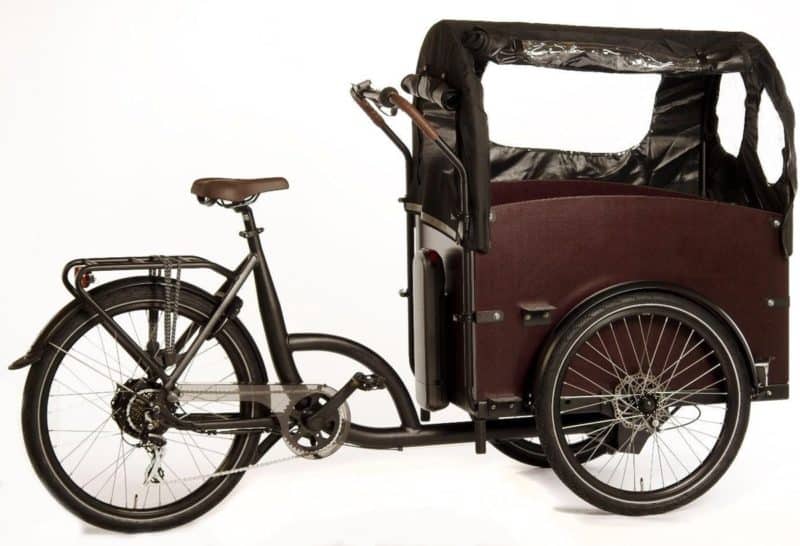 With this Buxxo Bikes CALOO you can safely transport 4 children, and if you fold the benches it becomes a regular cargo bike.
I chose this bike as the overall best, not only because of its nice price and tough looks. The loadable weight is 180 kg and it has good 'anti-puncture tires'.
Anti-puncture tires have an extra thick outer layer of impermeable material.
Sharp objects such as glass are much more difficult to reach the inner tube, these tires also provide extremely good grip on any terrain.
Its dual headlights make you highly visible in the dark, which is extremely important. The steering wheel has a display with 5 positions and a handy WALK function.
The powerful Bafang rear wheel motor in combination with the 13Ah / 470Wh battery ensures that even with maximum weight, this bike can easily go on.
The Caloo comes with a black rain hood with plastic see-through windows, it is nice that the windows can be rolled up on the sides and that is also possible with the window between parent and kids.
Its sturdy rear luggage carrier is suitable for a larger child, or for extra luggage that can be secured with the straps.
It has a larger frame (56 cm), less suitable for short people, than the Vogue Superior 3. It also comes with an Abus Amparo ART ring lock.
Pros
Great price
Very complete
Features
Dimensions container: L 88 cm x H 52,5 cm x W 59,5 cm
Total dimensions: L 217 cm x H 110 cm x W 82 cm
Weight: 70 kg
Motor: Rear wheel motor Bafang H400 250W
Pedal assist: 5 Modes with 6 km walk assist function
Rain cover: Yes
Range: Up to 100 km
Seats: 4 with seat belts
Material: Aluminum
Wheels: Tricycle, with anti-puncture tires
Rims: Strong double-walled rims, stainless steel spokes
Frame size: 56 cm high
Loadable weight: 180 kg
Brake: Saccon disc brakes front and rear with double parking brake
Gears: 7 Shimano Acera 7RD
Battery: 13Ah / 470Wh
Lock included: Yes, ring lock
Check prices and availability here
Best 3-wheel electric cargo bike: Vogue Superior 3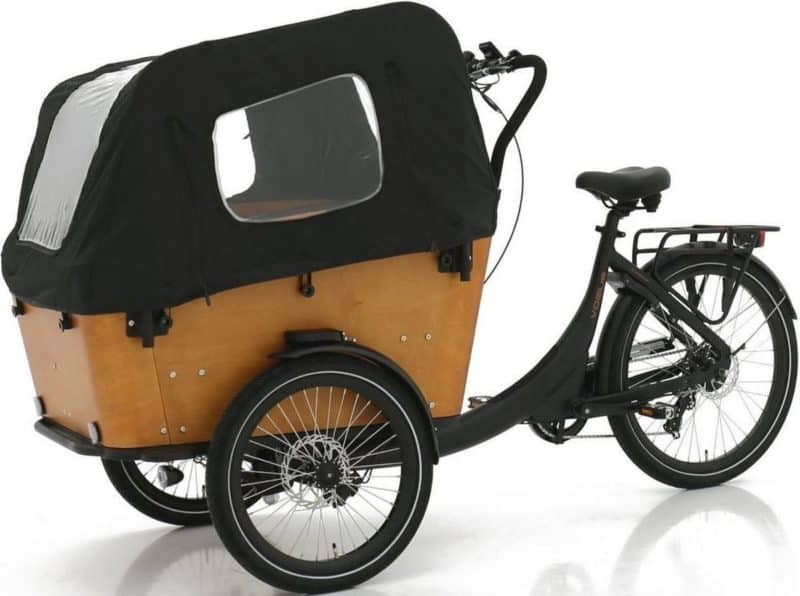 The Vogue Superior 3 is a beautiful electric cargo bike with a matte black frame.
The light wooden brown box gives this 'tricycle' a classic look. It is about a few hundred euros cheaper than the Buxxo.
This wooden box has 2 benches where 4 kids have their own place with safety belts. The ring lock is from Altec (TY-811), and the battery can also be locked.
There are recesses on both sides of the box, which serve as handles for the children in the box, very nice for the little ones. On the handlebars an LCD screen with 5 positions.
If you don't want an electric drive, you can still pedal lightly thanks to the Shimano Nexus 7-speed derailleur gear.
The cargo bike has a solid luggage carrier with straps, and it also has a rain cover, but unfortunately you can't roll up the windows here, it's a whole.
I find this cargo bike comparable to the Buxxo Caloo, only with slightly less 'tricks'. This Vogue has a slightly simpler look, but that's personal.
Pros
Pricing
Will be delivered free of charge and ready to drive!
Handles
Low entry
Cons
There are no seat cushions
Features
Dimensions container: L 104 cm x W 72 cm x 51,5 cm
Total dimensions: L 239 cm x W 80 cm x H 71,5 cm
Weight: 75 kg
Motor: Rear Wheel Motor Bafang
Pedal assist: 7 Positions
Rain cover: Yes
Range: 50 to 65 km
Seats: 4, with seat belts
Material: Aluminum
Wheels: Tricycle, puncture resistant tires CST heavy duty
Rims: 26 Inch Double Aluminum
Frame size: 51 cm high
Loadable weight: 220 kg​
Brake: Front mechanical disc brake, rear V-brake
Gears: 7 Shimano Nexus 7 speed derailleur gears
Battery: 36V-13Ah Lithium-ion exchangeable (481Wh)
Speed: 25 Km per hour
Lock included: Yes, ring lock
Also read: Wow, twins | these are the 13 things you all need
Best electric cargo bike 2 wheels: Qivelo Curve 2 Wieler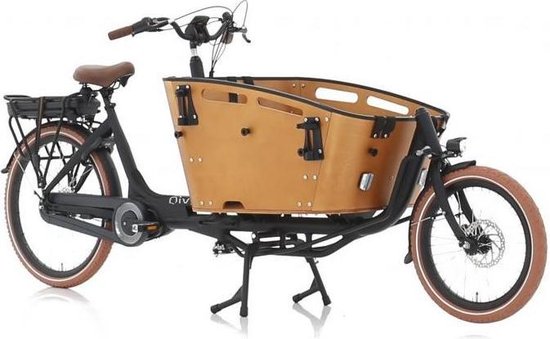 Two-wheeler Qivelo Curve 2 Wieler is an upgrade version of the Vogue Carry 2 Wheels cargo bike (not in this top 6 list!) and about € 100 more expensive.
This two-wheeler Qivelo has a BMS system which ensures that the energy from the battery to the motor is regulated more efficiently.
I love the Speed ​​Pedelec! That would namely offer pedal assistance up to a maximum speed of 45 km/h.
But unfortunately… the pedal assistance stops automatically when you have reached a speed of 25 km/h. This is legally stipulated for all e-bike motor systems and of course as safe.
The Qivelo is equipped with sturdier rims than the Vogue, to make it easier to carry the considerable weight.
The carrier is made of plywood and it has a closed chain guard.
Even if you do not use the battery for a while, it will not discharge itself 100%.
The frame is on the small side (48 cm), and better suited for not too tall people. So pay attention: tall people, this cargo bike is best for people between 154 and 171 cm.
This bicycle is equipped with large wheels at the front, making cycling even easier.
The engine is in the middle, so the center of gravity is low. This greatly improves road holding.
The control panel is mounted on the left, and the display is placed in the center of the handlebar.
This cargo bike is finished with A-brand, maintenance-friendly parts. Roadworthy and delivered very complete, including a hood with a see-through window on each side.
Pros
Prevents deep discharge
Seatpost suspension
Turn on the lights without getting off
Brake lights
Manoeuvrable (1 front wheel)
Cons
Only 2 seats
Cushion set not included
Features
Dimensions container: L 91 x W 60 x H 44 cm
Total dimensions: L 250 x W 74 cm
Weight: Kg 90
Engine: Middle Bafang 80Nm
Pedal Assist: 5 Positions Force Sensor
Rain cover: Yes
Range: 40-70 Km
Seats: 2, with seat belt
Material: Aluminum
Wheels: Two-wheeler, reflection stripe on the tires
Rim size: 26,2 inch, double-walled aluminum rims (extra thick)
Frame size: 48 cm
Loadable weight: 220 Kg
Brake: Front Tekro Disc Brakes, Rear Roller Brake
Gears: 7 Shimano Nexus
Battery: Lithium Ion 250 Watt, under luggage carrier, removable
Speed ​​per hour: 25 Km
Lock: Yes, approved ART 2* ring lock
Check prices and availability here
Best electric cargo bike with a door: Cargo bike Cangoo Easy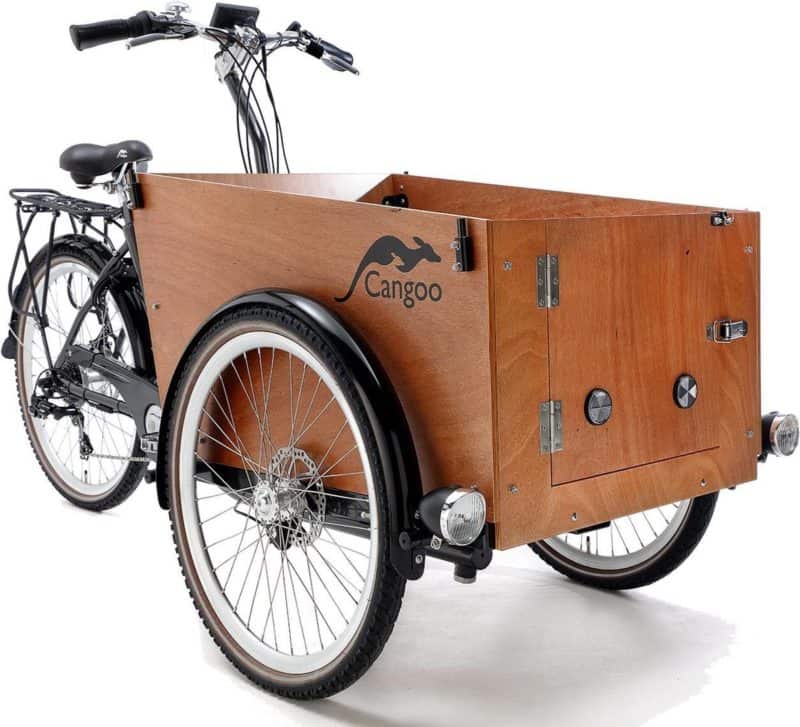 This cargo bike Cangoo Easy has a handy door at the front, for kids (and for dogs!) is angular and super hip.
You use a padlock to lock the door. The box is made of sturdy plywood. The display is on the steering wheel in the middle.
With the Shimano Tourney 6-speed gear and the powerful motor in the rear wheel, you can easily pedal over the most difficult terrains.
Thanks to its sturdy frame, special heavy-duty spokes, parking brake and seat belts in the box, I dare say that the safety of the Cangoo Easy is more than good.
The Cangoo Easy cargo bike is available in two beautiful colors, green and dark gray and has a good price.
This Cangoo Easy can be loaded with 100 kilos, while the Qivelo Curve 2, for example, can be loaded with 120 kilos more.
Pros
Free rain cover and tarpaulin
Hood can be zipped on the sides
Speed ​​Pedelec (just like the Qivelo Curve2)
Height-adjustable handlebars and saddle
Cons
Features
Dimensions container: L 90 x W 60 x H 49 cm
Total dimensions: L 220 x W 90 cm
Weight: Kg 75
Motor: Rear Wheel, 250W DC Brushness
Pedal assist: 6 positions
Rain cover: Yes
Range: 40 to 70 km
Seats: 2, with seat belts
Material: Aluminum
Wheels: Tricycle, reflective tires
Rim size: Front 20 inch, rear 26 inch with heavy duty spokes
Frame size: 50 cm
Loadable weight: 100 Kg
Brake: Front mechanical disc brake, rear V-brake
Gears: 7 Shimano Tourney 6-speed
Battery: Lithium Ion 250W 36V/14,5 , 522Wh
Speed ​​per hour: 25 Km
Lock: Yes, ring lock
Check prices and availability here
Best 4-seater electric cargo bike: Cangoo Buckle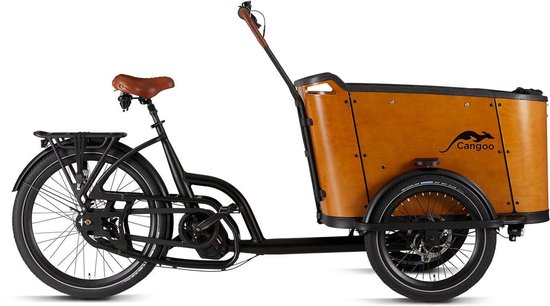 The new Cangoo Buckle is a tricycle, the cream of the crop, and therefore also one of the most expensive electric cargo bikes.
It is nicely decorated with seat cushions and sturdy carpet on the floor of the box. His curves are beautiful.
Even though it seems a bit clumsy, with its powerful mid-engine, every bike ride is a breeze.
Even in a hilly environment; but that's okay for its price.
It has a handle for the kids on both sides in the box and 2 wheels at the front.
Under the body, the 2 steering dampers absorb all shocks well and it is pleasant to cycle. The kids can relax on the thick cushions, while you pedal and enjoy.
The battery is concealed under the rear seat, and is easily removable for charging indoors. The brakes require little manual effort.
The hood can be placed on the (removable) rods. The side flaps can be rolled up and closed with zippers.
There are windows on all sides and children have a good view of the surroundings. There are steps on the sides, so that the kids can easily get in and out.
You can switch the lights on and off via the LCD display.
Pros
Gradual and natural progression
The power sensor makes the engine more economical
Integrated design in which motor, battery, lighting and curtain rods are intertwined
Stylish and very spacious
Does not have the disadvantages of the front and rear wheel motor
It looks like you're floating over the road
Cons
No (ring) lock
Decent price tag
Features
Dimensions container: L90 x W 60 x H 49 cm
Total dimensions: L 2,20 x W 85 cm
Weight: Kg 75
Motor: Ananda Mid Electric Motor 250W with Torq of 110Nm
Pedal assist: 5 Positions
Rain cover: Yes
Range: 75-100 Km
Seats: 4 With seat belts
Material: Aluminum
Wheels: Tricycle with thick Schwalbe tires, with reflector stripes
Rims: Rear 26 inch Front: 24 inch, Aluminium
Frame size: 50 cm
Loadable weight: 150 Kg
Brake: Tektro Hydraulic brakes
Gears: Shimano 7-Gang hub shifting
Battery: Sanyo Battery 14 Amp 48V 522Mah
Speed: 25 km per hour
Lock: No
Check prices and availability here
Best cheap electric cargo bike: Troy E-bike Special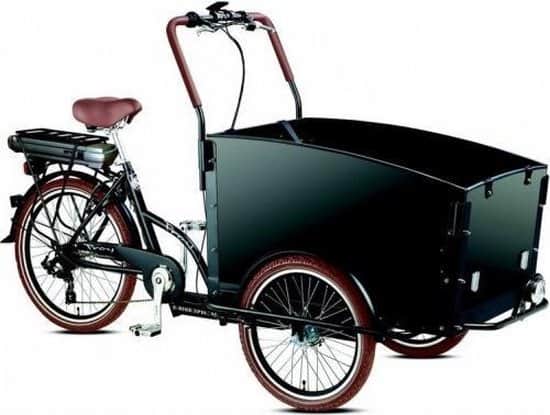 The matte black Troy E-bike Special Cargo Bike is an ideal tricycle entry-level model. It is suitable for people with a smaller budget.
Its semi-open chain case requires less maintenance than an open chain case, but is not as nice as a closed case.
You could reach a speed of between 30 and 50 kilometers per hour with it.
As I wrote before, this is not allowed. Provided you have a scooter driver's license. But if there are children in your box, it is certainly not wise to drive so fast.
If you use it as a regular cargo bike, it's fine that it rides faster.
Display on the handlebars and beautiful brown saddle and matching tires.
Pros
Super light weight
Best in the test 2020!
Cheap
Quick
Cons
Front lights do not work on battery
40 Nm engine
rear wheel motor
Not for bad roads
Features
Dimensions container: L90 x W 62 x H 51 cm
Total dimensions: L 235 x W 86 x H 125 cm
Weight: Kg 50
Motor: 250 Watt brushless F/D 8FUN 40 Nm, rear wheel
Pedal assist: 9 Positions
Rain cover: Yes
Range: 40-70 km (tested: 60 max in the lowest setting, 43 on the highest setting)
Seats: 4, with seat belts
Material: Aluminum
Wheels: Tricycle, Reflective Kenda Tires
Rims size: 20 and 26 Inch, double wall aluminum rims
Frame size: 51 cm
Brake: 2 Handbrakes (disc brakes)
Gears: 7 Shimano derailleur gears
Battery: 36V / 11 Ah lithium ion removable Panasonic 468 Wh
Speed ​​per hour: 25 km/h
Lock: ring lock and chain lock
Qivelo Curve 2 VS Vogue Carry 2
I just made a quick comparison, as the Curve 2 is considered the better successor to the Carry 2, but here's a closer look at the improvements of the Qivelo versus Vogue's Carry 2:
Both electric cargo bikes have the same engine: a Bafang Max Drive System mid-mounted motor of 80Nm.
Both have 7 Shimano Nexus gears.
The range of the Qivelo is slightly higher than that of the Carry 2: about 10 kilometers. It is equipped with sturdier rims than the Vogue, to make it easier to carry the considerable weight.
The Carry 2 comes with a chain lock (handy to attach to a post), and the Qivelo with a ring lock.
The Carry 2 does have a slightly larger container.
A great new battery system with the Qivelo prevents deep discharge, and that is a real plus!
The tires of an electric cargo bike
Whether it's a two- or three-wheeler, the best cargo bike weighs quite a bit on its own.
But with children and a dog in it, it is of course a lot of extra weight what you take with you, and the tires have to be able to handle that.
Buy a tire with a strong sidewall (side of the tyre).
Tires with a thinner sidewall may a children's bike are fine, because then a lot less pressure is exerted on the tires, but for a cargo bike, especially an electric one, you want firm sidewalls.
With a cargo bike, the tires may have to bear 3 to 4 times more weight, you can imagine that the tires are heavily loaded.
For example, a strong cheek has Schwalbe, other brands are CST and Continental.
So go for a good tire, preferably also with an anti-puncture layer.
Electric bicycles with a box are not so easy to walk home with you if you have a flat tire and certainly not if your box is full. They're just not that agile.
The chance of a flat tire with such a colossus is also simply greater. With a good anti-puncture tire you make that chance a lot smaller.
Conclusion
Why choose an e-bike cargo bike as a parent?
The children can join in the safe loading area and the dog will fit in it, together with the (large) groceries, without it being tiring. So many benefits in a row, it is a super convenient way to transport your children.
You stay slim and healthy, because you pedal hard every day. Enough exercise and you save money on petrol.
Many e-bike parents are even selling their cars, which is great news!
Another wonderful means of transport for children: the handcart! These are the 7 best handcarts reviewed (+ 6 tips before you buy)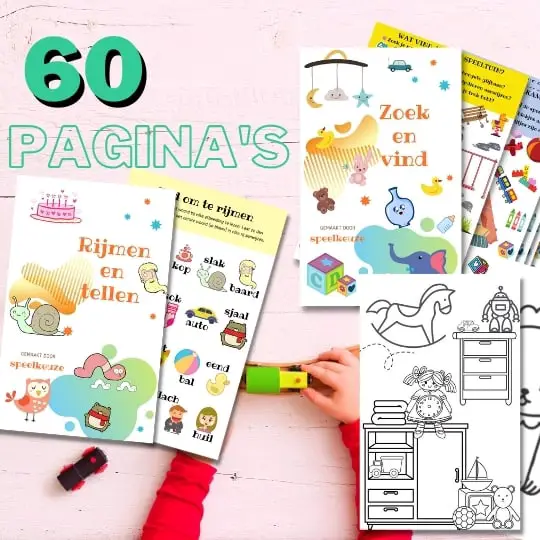 Always something to do for the holidays or rainy day?
Play Choice now has the ultimate activity book collection, with over 60 pages of fun coloring pages and educational puzzles.
Joost Nusselder, the founder of Speelkeuze.nl is a content marketer, father and loves trying out new toys. As a child he came into contact with everything related to games when his mother started the Tinnen Soldaat in Ede. Now he and his team create helpful blog articles to help loyal readers with fun play ideas.