Wow, twins | these are the 13 things you all need
I enjoy writing these articles for my readers, you guys. I don't accept payment for writing reviews, my opinion on products is my own, but if you find my recommendations helpful and you end up buying something through one of the links I may be able to receive a commission on that.
More information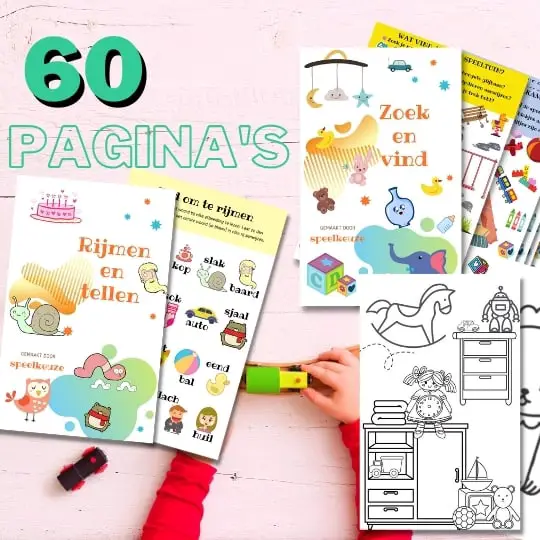 Always something to do for the holidays or rainy day?
Play Choice now has the ultimate activity book collection, with over 60 pages of fun coloring pages and educational puzzles.
Pregnancy is always an exciting and special period.
During this time you will be busy with all the necessary preparations such as coming up with names, making birth announcements and decorating the nursery.
It is also a time when you make a lot of purchases such as clothes, cribs and a pram.
It is an exciting time for every parent. But what if you are expecting twins?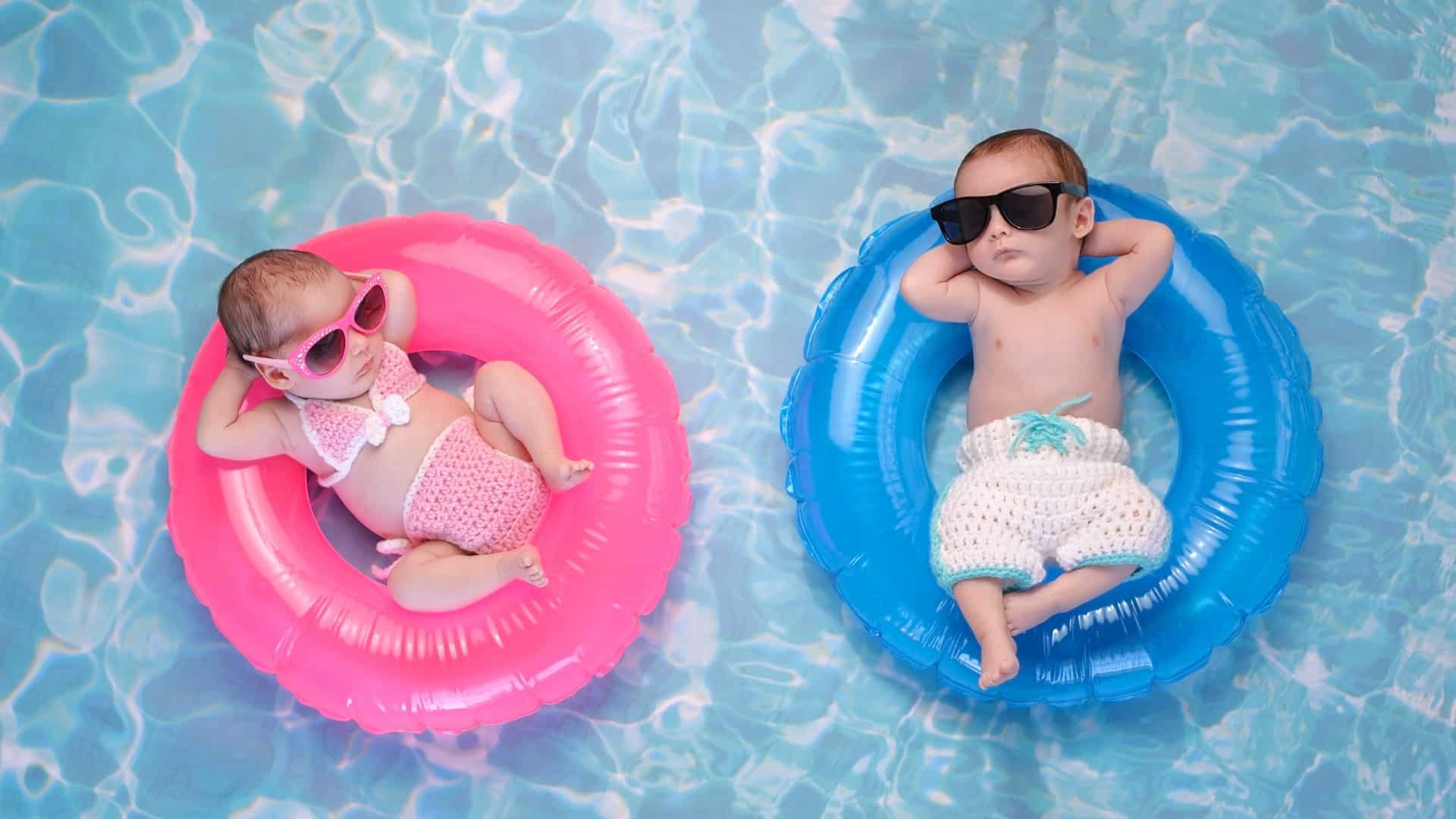 Making choices in terms of preparations and purchases suddenly becomes a lot more challenging. You will certainly have many questions.
Don't worry, with this post we're helping parents make the right choices so that they have everything at home when the little miracles are born.
Finding out that you are expecting twins raises a lot of questions.
Do you now have to purchase everything twice? Can you still buy that nice pram? What kind of birth announcements do you actually make for twins?
You can of course go a long way with good preparations.
In this post, we'll share great tips for parents of twins to make it a little bit easier to prepare properly.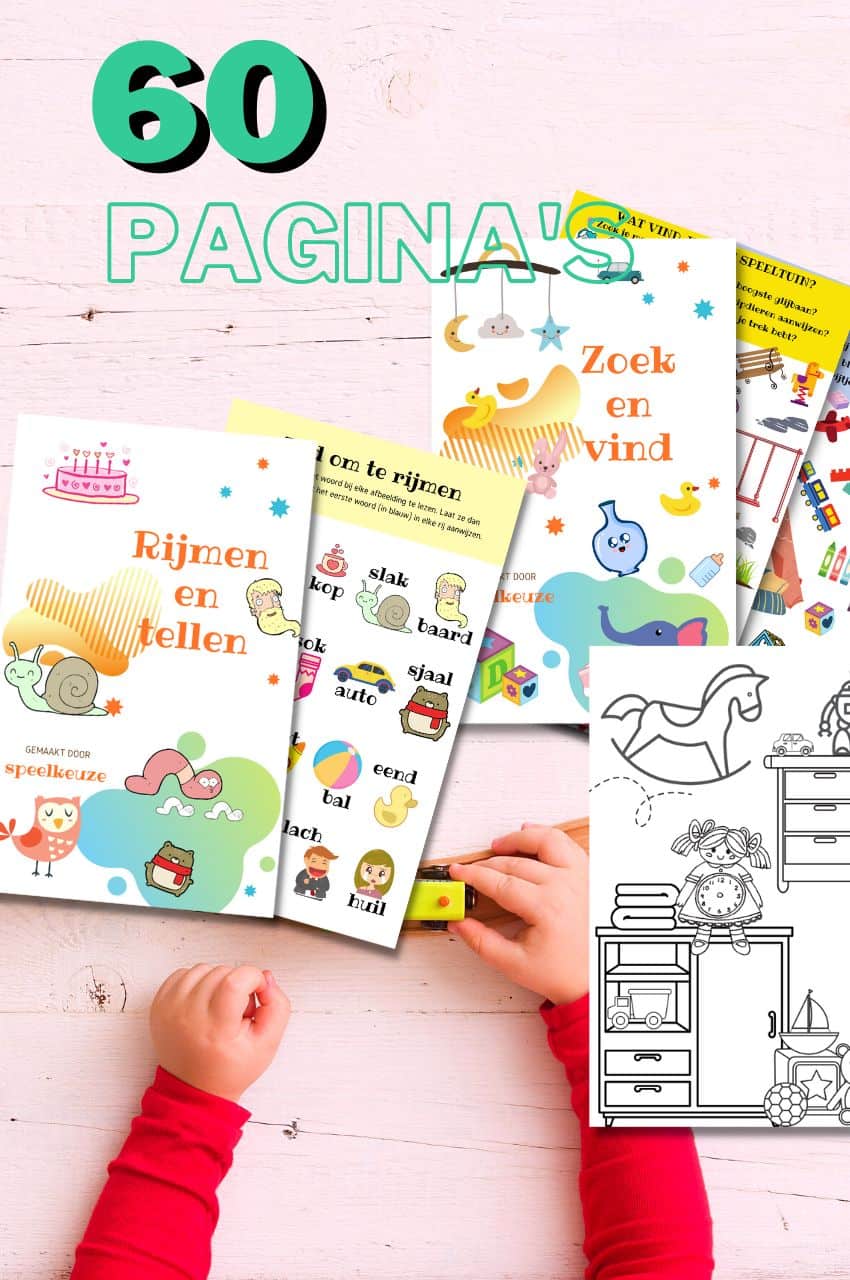 A play theme in your mailbox every month?
Fun play tips, activity books and more, with the first email being our free mini-guide "educational toys"
We will only use your email address for this newsletter and respect your privacy
Come up with a name for the twins
When a child is on the way, you often think of 2 names, so that you have a name for possibly a girl or a boy.
With twins, this usually becomes 4 or more names. Where do you get the ideas? And how do you make the right choice?
A fun way to come up with twin names is to rhyme the names!
For every pregnancy it is a great challenge to make a decision about the name of your future child.
If you are expecting twins, you are faced with twice the challenge.
Coming up names for twins is more difficult than for one child. A person's name is the first bit of information you receive when you meet someone.
It is therefore usually not an easy decision and something you want to think carefully about.
Twins are often referred to as a duo, especially early in life.
This makes it important that the names match well and sound fun together. Below are some ideas to inspire and get you started.
Tips for making up names
A fun way to come up with twin names is to come up with rhyming names.
This way you not only give your children two beautiful names, but also two names that go well together.
In addition, rhyming names can help people remember names better.
It is also common to think of names that start with the same letter. These names are often a good match.
In the past, people preferred not to opt for this, because people did not know for whom the post was intended. Nowadays it is a big trend.
Whatever you choose, make sure the names sound fun together.
Since the twins will often be called together, it is good to consider whether the names make a good combination together.
In addition, it can be useful to look up the chosen names on the internet before making a final decision.
Nice clothes for twins
How do you buy clothes for twins? Do you buy everything twice? Do you purchase matching outfits? Do you choose prints and fun texts or not?
Buying clothes for twins can be challenging. Don't panic, it's easier than you think!
Nowadays a lot of attention is paid to clothing. We not only want to look good in our clothes, but we also think it is important that our children and even babies look good.
For example, it is nice to buy the same garment in different colors:
In addition, you can buy clothes in the same style, but with different clothing items and often the best also different brands:
Finally, you could of course go for exactly the same outfit and colors for both children:
Combine fun outfits with the help of plain clothes
Especially with baby clothes, nice prints and prints attract our attention. That is why it often happens that the baby clothing mainly consists of prints and imprints.
It is a good idea to have some quieter items in the closet to be able to combine well in this way.
Even when expecting twins, your closet is quickly filled with prints and prints.
You can use combine nice outfits when you combine plain garments with patterns. It is therefore important to always purchase some clothes in a solid color.
You can buy a little in the same color style but
You don't necessarily have to buy everything twice
The babies will usually use the same rompers at first.
So you don't have to buy everything twice, just a few extra of each item so that you have enough for both babies.
When you have two girls or two boys, it stays simple, they can easily share their clothes.
If you have mixed twins, it is useful if you mainly go for unisex clothing.
This is more of a trend anyway and many children's clothing brands respond to this so that there is enough choice.
Tommy Hilfiger has here, for example a nice set that is available in dark blue and pink for a nice combination with your two little ones:
You can also opt for a real combination set for your twins, such as these here at bol.com:
Rompers in size 44
Most babies are a size 50/56, but twins are often born earlier making them smaller. Therefore, make sure you purchase a few pieces in size 44.
It can be helpful to make a list in advance of the things you think you will need.
You can also find lists on the internet for the release when having twins.
This way you can be sure that you have everything at home and at the same time you avoid buying too much.
Stroller vs. Buggy
When having a child, you think about purchasing many things, including a pram and / or buggy.
What do you choose and what is the difference between a pram and a buggy?
The biggest difference between a pram and a stroller / buggy is that you only use a stroller or buggy when your baby or child can sit.
The pram is suitable for babies from 0 to 9 months. The pram is often used as a travel cot, so that the baby can lie in it.
A pram is safe and stable and has special tires that ensure that shocks are reduced.
As a result, the little one does not suffer from a possible unstable surface.
As soon as a baby can sit independently, you may be able to purchase a buggy. A buggy can be used for a long time, is lightweight and easy to transport.
In addition, the buggy is foldable and can be folded up small.
Nowadays there are also combination cars for sale that can first be used as a pram and later as a stroller / buggy.
When purchasing such a car, it is important to see if child seats can be attached.
Stroller for twins
A pram is almost always indispensable when you go out with the babies.
But what do you pay attention to when purchasing a pram for twins? Fortunately, there is also a lot of choice for twins.
It makes sense to opt for a twin pushchair, so that you can transport the babies with ease, even if you go out alone.
Tips when buying a pram for twins
The twin stroller is an important purchase when purchasing the baby set.
There are many different models for sale and different details to look out for.
The position of the babies: next to, behind or above each other
First, it is important to know that there are different types of twin strollers available with the babies in different positions.
An option is a pram where the children sit next to each other.
Sometimes, however, parents do not like having a wide stroller. For example, it can be difficult to fit through the aisles of a store.
That is why you can also choose a car where the children sit behind each other or above each other.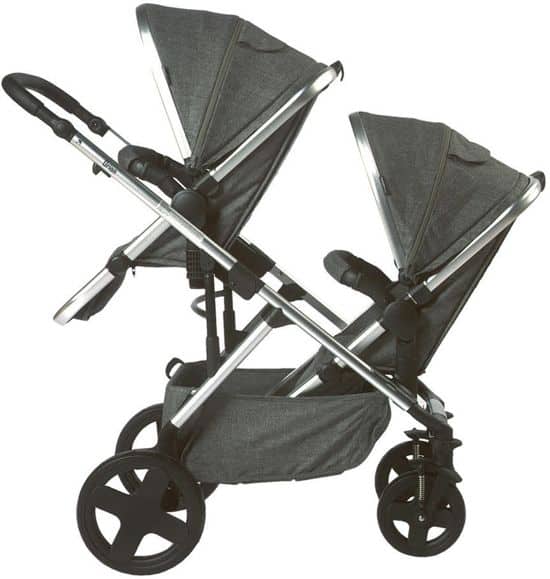 (view more images)
Our big favorite in the latter category is the Titanium Baby Beeyu Orion Duo Stroller.
This cart is suitable for different types of terrain, whether you are going for a walk in the box or just walk to the supermarket around the corner.
The car is nice and lightweight and comes with a lot of nice and handy accessories.
You may wonder why a car where the children are not sitting next to each other is better. The reason is often personal and depends entirely on your own preference.
Sometimes children, especially when they get a little bigger, can bother each other. This way they can push each other or take each other's bottles.
You will not be bothered by this if they are one above the other or one behind the other.
On the other hand, children sitting next to each other can see just as much of the world and you have a good view of the twins yourself.
Take a test drive in the store
Whichever option you choose, always take a test drive in the store before purchasing the pushchair.
It is good to know if you can move the car comfortably.
Place weight in the seats, so that you get a realistic picture of the final situation.
Also pay attention to the ease of use. Check that the baby seats can be easily attached and detached.
Is there enough storage space for accessories? Also check whether the car has good suspension.
Buggy for twins
The buggy is an important purchase that you will use for years. Just like with the pram There is a lot to consider when choosing a twin buggy.
What types of buggies are there for twins and what should you pay attention to when purchasing?
Tips when buying a buggy for twins
It is important to consider what you want to use the buggy for.
For example, if you choose not to buy a pram and you want to use the buggy from birth, then you choose a buggy where the babies can lie completely flat.
I think this buggy from Chicco great. We have Chicco already reviewed before on their baby-friendly items, so they have one for your twins too:
Whether or not as a pram?
A combination of a pram and buggy is often referred to as a combination stroller. The trolley consists of a chassis, a pushchair insert and a carrycot.
For example, you can first transport the babies lying down in the carrycots, until the babies can sit independently.
Then you can use the stroller insert to transform the stroller into a buggy.
Of course you can also only purchase a twin buggy. This is often cheaper than a pram and folds easily.
You can only use this if the babies can sit independently. You can choose to transport the babies in a sling or baby carrier until this time.
Whether or not to transport a baby seat on the buggy?
It is also important to consider whether you want to use baby seats before purchasing a buggy.
If you transport baby seats on the buggy, you should choose a buggy that allows this.
Some models have special adapters to place the baby seats.
Choose a buggy that folds and unfolds easily. You want to be able to easily transport the buggy in the car.
The buggy must therefore easily fit in the car and be able to fold and unfold. Also make sure that the buggy is not too heavy.
Birth announcements for twins
Sending a birth announcement is something that has been done for a long time, but is still so much fun!
As proud new parents, you are thus announcing the birth of the twins.
Making and / or coming up with a design for the birth announcement of the twins is a fun challenge. But how does that actually work with twins?
It is customary to make one birth announcement for the birth of twins.
When designing a birth announcement for your twins, you go for an original and special end result.
Below we would like to give away some tips about making the perfect birth announcement for twins.
Design the birth announcement online
Fortunately, nowadays you can find a wide range of birth announcements for twins online.
You can choose from existing ideas or you can design your own card.
You can think of the names of the twins, an image or a photo on the birth announcement.
Make sure the design is ready before delivery
Due to all the hustle and bustle surrounding the pregnancy, it is useful to have the birth announcement well before the delivery.
Once the little ones are there, it is often a bit more difficult to design and send the birth announcements.
Make a test print
Make sure to get a test print before having the final birth announcements printed.
This prevents any mistakes and allows you to make necessary adjustments before the tickets go out the door.
You can outsource the sending of the birth announcements
There are even companies that send birth announcements for you.
You just need to submit a file with all the names and addresses of family, friends and acquaintances.
They ensure that the birth announcements are sent as soon as the babies are born. This saves a little time and stress!
Pool float for twins
Nothing is more fun than floating around in the water with your twins. But 2 armbands is of course a bit tricky and you immediately have your hands full.
Fortunately, there is a great solution for that:
A twin pool float
With a twin pool you can enjoy the water safely and efficiently with your twins!
As the name suggests, the twin pool float is a pool where both children fit together.
It is a fun and safe solution to ensure that the twins can enjoy the water with great pleasure.
If you are going to swim with the twins, it is important to have enough hands free to hold the children.
But it is of course even better if you have your hands free.
With the twin pool the children sit together safely in the water and you can easily move them with one or two hands.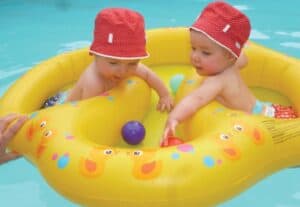 (
view more images
)
Our favorite is the Swimming safety Twin pool of 2enmeer.
This pool is suitable for babies from 6 months, because it is important that they are good and stable. The pool can be used up to approximately 36 months.
So you can enjoy the twin pool for a long time.
The pool has a middle part between the two children in which they can play with balls to provide even more water fun.
The twin pool is very stable, even if the children have different weights. In this way they can enjoy the pool together for a long time.
The baby carrier or sling for twins
Baby carriers are very popular, even for twins. Which baby carriers are there? And how exactly does it work? Read more about baby carriers for twins here!
Your twins together in a baby carrier. Yes, that's possible!
Parents of twins often have their hands full. With a baby carrier you carry the twins safely and close to you and you can enjoy free hands for a while.
In addition, it is a nice experience for the parents and the babies to be so close to each other.
You can carry twins in different ways with a baby carrier or sling. It is possible to carry both babies side by side on the stomach.
This is especially common with new-borns. In addition, there are baby carriers where the babies both rest on one hip.
You can also choose to carry 1 child on the stomach and 1 child on the back.
It is customary to carry the babies on the stomach together when they are small.
Especially because they like to be close together and so that you have a good view of the little ones.
If they are a little older you can choose to carry 1 of the children on the back. Often this wears finer in connection with the weight distribution.
There are all kinds of slings and baby carriers available for twins.
Let the choice of purchasing a sling or baby carrier depend on the age of the children and the way you wish to wear them.
A very nice wrap that also offers enough space for twins is the Bykay Front / back carrier Stretchy Wrap Classic.
A baby carrier can be used to replace a pram. You can then use the baby carrier or sling until the children can sit independently.
You can then switch to the twin buggy.
The Baby Box
An important purchase during pregnancy is a baby playpen.
Especially from 3 months it is good to put your baby in the playpen regularly so that he can move and develop properly.
What kind of baby playpen do you choose for twins? Are you buying a normal box, 2 boxes or a special box for twins?
To save space and costs, it is useful to opt for a twin box.
You can choose to purchase 2 boxes, but this quickly takes up a lot of space. In addition, the purchase of 2 boxes is more expensive than one twin box.
Therefore, the most obvious choice is a twin box.
Another big advantage of a twin playpen is that the babies learn to get along well with each other.
Twins usually have a special bond by nature, so they enjoy being close together and being able to sleep, lie down and play together.
Also read: the best ground boxes for your home
The correct dimensions
What do you pay attention to when purchasing a twin box? First of all, it is good to decide where you want to place the box.
This is important in order to be able to purchase a twin box of the correct size.
Keep in mind that it is not only about the length and width, but also the height of the box.
Safety first
Besides dimensions, safety is the most important. The playpen must be a safe place for the babies and for children to play around it.
Think of dangerous, protruding points. The twin box must therefore be practical, suitable and above all safe.
Even when the children are a bit older, the playpen remains a safe play area.
If you are busy for a while, it is nice if your children are used to playing independently in the box.
Always put some toys in the playpen that the babies can play together safely.
Feeding and the Nursing Pillow
Feeding twins can be a big challenge at first. How does it work?
And how do you use a nursing pillow? We give you some tips.
Feeding schedule for the babies
Breastfeeding twins can be tricky. Especially in the beginning. It is therefore recommended to feed the babies one by one at the beginning.
This way you can practice finding the correct posture and the babies can learn to drink properly.
After the babies learn to suck properly, it is helpful to create a feeding schedule.
This is not very common in a normal pregnancy, but with twins it is good to coordinate the feeding so that you are not feeding all day.
Use a twin nursing pillow
Feeding the twins is made a lot more comfortable with the use of a twin nursing pillow.
The nursing pillow specially made for twins provides extra support while feeding the twins.
The nursing pillow for twins can be used during pregnancy as a support for sleeping, for breastfeeding and also for bottle feeding.
Most nursing pillows have clips so that you can make the holes in the pillows smaller. This way you ensure that the little ones are always comfortable.
Cots for twins
When purchasing cribs or one twin cot, it is important to decide whether the babies will be placed together or separately from each other.
How do you know what for and how many cots you can buy?
The situation is different for each twin. It is therefore a bit of research and especially responding to the needs of the twins. Sleeping separately is a safe choice.
Everyone their own place
Most twins sleep together in one room and sometimes even in one crib† However, co-sleeping is often discouraged.
This has mainly to do with safety.
The babies are not mobile at first and it is important to prevent them from bumping into each other in an unsafe manner.
A safe choice is two cots so the babies don't endanger each other. In addition, the babies can have different sleeping habits.
One can wake up the other. Of course you want as much sleep as possible for the children and for yourself. That is also why 2 cots can be a good choice.
It is also possible to purchase a special crib for twins. The babies lie in one cot with a partition.
In this way they lie together, but cannot bother each other through movement.
So there are several options with regard to the purchase of cots.
Base your choice on safety and sleeping comfort for the children and for yourself. The purchase of a bed bumper for the cots is also to consider.
How do you decorate the nursery for twins?
Decorating a baby room is something you can really enjoy. You can put all your creativity and inspiration into it.
In addition, it is of course also quite a job. Especially if you have to furnish the room for twins.
Below are a few good tips for decorating a twins' nursery.
It is nice if the nursery is a practical space, but also a space that you and your babies can enjoy.
Because twins usually like to be together from infancy, you basically only have to set up one nursery.
Below are a number of tips that can help you with the design.
Start on time
First of all, it is recommended to start on time. Decorating the nursery is quite a job in itself.
With twins, you have even more choices and more things to consider. For example, you can do a little bit every weekend. That saves a lot of stress!
Provide a comfortable place to sit and feed
For yourself it is nice to create a comfortable place in the nursery where you can sit with both babies and possibly feed them.
This way you can easily sit down when one or both babies wake up. That way you don't necessarily have to leave the room.
It is not necessary to purchase everything twice
You do not have to purchase everything twice. Rompers, for example, can be easily shared.
You also only need one changing table, because you will not often change the babies at the same time.
Of course, a cupboard with some extra storage space and possibly two cots is an option.
Choose a specific theme or color
It is always fun and totally hip to use a theme in the nursery. This is usually quite easy for girls.
For example, you can think of a princess room. The choice is also large for boys.
With a boy and girl you can choose a neutral theme such as jungle or Disney. Prefer no theme? Then choose a color.
The right playpen for twins
There is a wide choice when it comes to box cloths. Also for twins. But how do you choose a playpen rug for your twins?
It is important that the playpen mat fits well in the playpen and is made of a comfortable fabric.
Made-to-measure playpen rug
Nowadays you can have a box mat made to measure at many companies and online. You choose the fabric or fabric combination yourself.
This is a fun way to have a unique playpen mat made for your twins.
If you buy a normal playpen rug, pay close attention to the dimensions. Rugs are available for rectangular, square and round boxes.
Make sure you measure the box carefully before making a purchase, so that you can be sure that the rug will fit in your twin box.
Multifunctional and practical
Some playpen rugs are specially made to be used first as a playpen and later as a play mat.
This way you have a multifunctional rug and you only have to make one purchase.
When purchasing a playpen rug, it is important to pay attention to the type of fabric. It's nice to have a washable rug, so you can wash it out easily.
Preference is given to cotton. Furry fabrics are not a good idea, as dirt will get stuck in between.
An extra large diaper bag
The baby layette for twins naturally includes a diaper bag. What do you pay attention to when looking for a diaper bag for twins?
There are special twin diaper bags with extra storage space, so you can store all your things in one bag.
Special twin diaper bag
First of all, it is important to know if there is a difference between a regular diaper bag and a diaper bag for twins. Is the purchase really necessary?
The answer is yes! The normal diaper bag is equipped for one child. There is often only one compartment for a bottle.
Of course you need more space with twins than with one child. It is therefore useful to purchase an extra large diaper bag.
In addition to diapers, you also have more other things with you than if you have one child.
Fortunately, there are special diaper bags for twins. These diaper bags have extra storage space for not only diapers, but also bottles and other things.
These diaper bags are often longer than the regular bag.
There is a lot of choice when it comes to diaper bags. This way you can choose different designs, colors and trendy designs.
Does your partner also want to go out with the diaper bag? Then maybe choose a neutral color or material.
And of course a very big one. I would go with your twins for simple and practical and and this big one from Skip Hop is really great:
You can buy this diaper bag here at Wehkamp.
Bicycle seats with twins
We like to cycle everywhere in the Netherlands. But how do we do this with twins?
Are there special bicycle seats to take both children on the bike at the same time?
Most common is one child in the front and one child in the back. You can also think of a twin seat on the back or, for example, a cargo bike.
Two options
There are two types of bicycle seats. The front seat, also called mini, is suitable for children from 9 months old.
In addition, the rear seat, can also be used from 9 months. Many parents choose the front seat because they prefer to have their children in sight.
But how does this work with twins?
It is customary to put one child in front and one child on the back. This provides the most stability through weight distribution.
You can alternate in the front and back to have the same contact with every child during the bike ride.
Being a big favorite the bicycle seats from Yepp, in fun colors, lightweight yet very comfortable.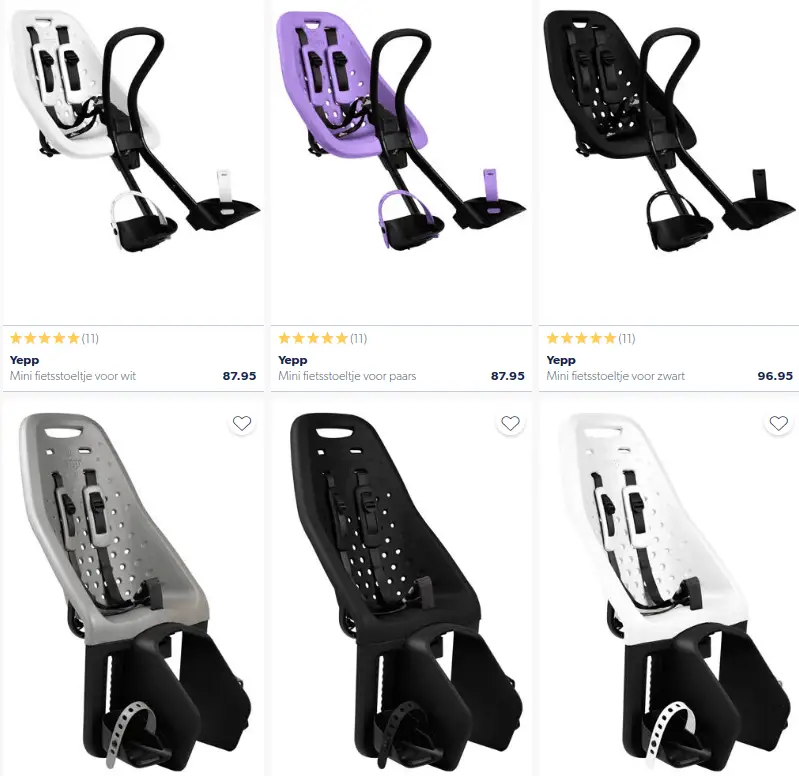 You can also opt for a twin seat on the back. These are 2 bicycle seats in a row.
However, it is important to have a basket on your bicycle in the front, for example, and to put a heavy object here.
It is important to keep your balance and make sure that the bicycle cannot fall backwards.
If the children are a bit older, you can think of a cargo bike. This is usually easier when they are larger than with child seats.
There is a large choice of cargo bikes. Take a test ride to find out which cargo bike suits you and your children best.
Car seats
Safety is always a top priority when transporting children in the car. With twins it can fit and measure a bit more than with one child.
Are there any special skills when transporting twins? Below we will discuss how best to transport twins in the car.
Everything double in the car
Twins means two baby seats and later two child car seats in the car. A few years ago, twin car seats were still being produced.
These are now no longer available for security reasons. It is therefore common to use two baby seats or two car seats.
The baby twins travel most safely in the car in two baby seats (also called Maxi Cosis).
Because a baby's head is heavy in comparison to the body, a baby cannot sit properly and stably yet.
In a baby seat, the baby can be transported in a safe position and with adequate support. Always place the baby seat against the direction of travel.
Car seats if they are a bit older
In the Netherlands, children up to 1.35 are obliged to use a car seat. This also applies to twins up to this length.
When choosing car seats, it is important to pay attention to the lateral support.
Adjust the seat to the height of the children. Adjust the seat belts and headrest to the correct height.
Camping bed
For parents who love camping, going on vacation with the twins for the first time can be challenging.
Not only because you have to think carefully about the space distribution, but also about everything you need for the trip. How do you camp with twins?
Comfort is important
Good night's sleep is essential. Therefore, provide a comfortable place to sleep for everyone and good camping beds for the twins.
First of all, it is important to create a good place to sleep, so that everyone gets the right night's sleep. The better the twins sleep, the better the parents will sleep.
Therefore buy two good camping beds for the twins, so that they can sleep well.
A camping bed is a must-have for every parent. Wherever you go, the children should have a wonderful place to sleep.
There are several options when it comes to camping beds. Most beds are foldable and are transported in a bag with any wheels protruding underneath.
These camping beds are between 8 and 10 kilos.
The camp bed often has the standard dimensions of a cot. This is ideal because mattresses and other crib decoration fit into the camp bed.
There are also accessories available, such as a raised floor or mosquito net.
Lightweight for less lugging
If you prefer to choose two lighter camping beds, there are also camping beds with a weight of 6, 5 or even only 2 kilos.
Some beds are even equipped with a mattress with this weight. This is of course ideal if you are going on vacation and are trying to limit weight.
It is a very nice bed Deryan Baby Luxury Camping Cot. In addition to its light weight, this bed also offers extra protection against sun, mosquitoes and other insects.
It is easy to set up and because it weighs so little, it is fine to carry in duplicate.
Whatever camping beds you choose, make sure that any tent or accommodation is large enough to accommodate the two camping beds.
This way you can enjoy a wonderful holiday with the twins without any worries.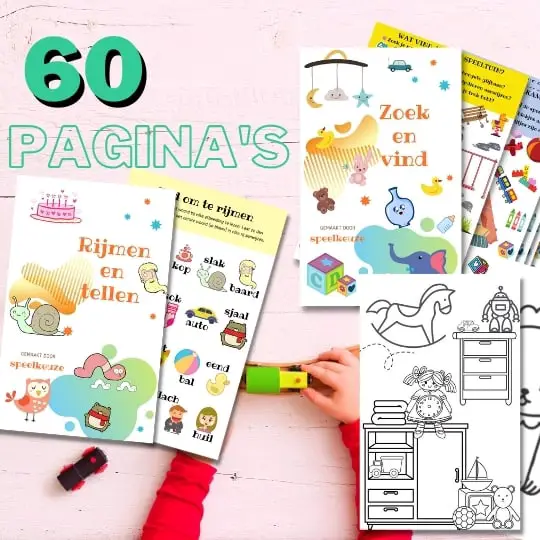 Always something to do for the holidays or rainy day?
Play Choice now has the ultimate activity book collection, with over 60 pages of fun coloring pages and educational puzzles.
Joost Nusselder, the founder of Speelkeuze.nl is a content marketer, father and loves trying out new toys. As a child he came into contact with everything related to games when his mother started the Tinnen Soldaat in Ede. Now he and his team create helpful blog articles to help loyal readers with fun play ideas.