I enjoy writing these articles for my readers, you guys. I don't accept payment for writing reviews, my opinion on products is my own, but if you find my recommendations helpful and you end up buying something through one of the links I may be able to receive a commission on that.
More information
Today I want to focus on children's clothing for bicycles, because it can sometimes be difficult to find the right clothing.
Most sites are completely focused on clothing for adults and if they already have children's clothing, it is often difficult to find.
A friend recently told me how hard she was finding cycling clothes for her children.
She was looking for cycling shorts that were both affordable and 'cool' and I paid attention in this post to answer that question.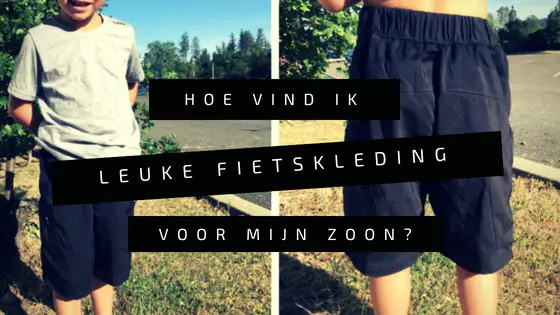 Watch the post as a video:
Or read on for all the tips and recommendations ...
While I can't promise that all of the options listed here are affordable (totally depends on how much you're willing to spend on an outfit that will last a season), I've focused on putting together the most comprehensive list of kids cycling apparel out there is!
I often buy the cycling clothes for the kids myself bol.com, most stores don't let you search for sportswear specifically for kids.
But here is the page at bol.com where you can find everything you need.
I'll dive a little further into the various articles you may need in a moment. But first the why of cycling clothing for children.
why separate cycling clothing for children?
You may be wondering why children need cycling clothing. The short answer is they DO NOT NEED THIS PER SE.
Small children in particular can ride a bike in their street clothes.
My son tends to prefer his pajamas, but that's a whole different discussion. Either way, it just works in their own clothes too.
Your children do not need specific cycling clothing to get on their bike. Most outdoor or casual wear will do the job.
Most parents don't get dressed until they leave for day trips or have a cycling vacation planned.
There is one exception and I would like to dwell on that first, and those are helmets.
A bicycle helmet is essential to protect your child's delicate little face.
Children's bicycle helmets
When your child is learning to ride a bicycle, the first item you will need is a helmet.
The helmet must have a good fit, but give their heads room to grow, otherwise you will keep buying new ones.
Children's helmets come in a variety of sizes and styles to fit both toddlers and teens and are anything but boring.
If you really often go cycling and your son or daughter is a bit older and a speed demon, then you can of course go for the best.
We often go cycling and recently bought the Rudy Project Windmax cycling helmet for my son (here you can see some pictures).
It's the best we've found and well worth the money if you use it frequently at high speeds.
Super cool of course, but a hefty expense with about 200, - euro and totally unnecessary if you are just getting started with cycling.
And it is for older children with a head circumference of 59-61 cm.
There are also alternatives that are a lot kinder on your wallet, and I'll discuss them in two categories here:
for young children and
for older children
Young children: the Puky PH-1 helmet is perfect for younger children, it also offers protection for young children from every angle. It also looks very nice for kids, red with a cartoon on it (view the photos here) and built-in LED lighting for safety.
If your child is more concerned about style than safety, it looks fun but is also designed for kids who aren't afraid of falling.
With a lower back cover, this helmet protects their head and it looks great.
Older children: the Dunlop MTB Mountain bike helmet is a tough choice that is very durable and yet budget friendly. Here are some customer reviews you can read about it. It comes out well and is not too expensive. It is a size M with a head circumference 55-58cm.
It's just really, really important, and I even have this entire article devoted to stunt helmets and multifunctional helmets, of which cycling is also an important part.
Then on about the clothes
If they are a bit younger and just want to cycle a bit quietly, or even try some tricks, then regular clothing is of course perfectly fine.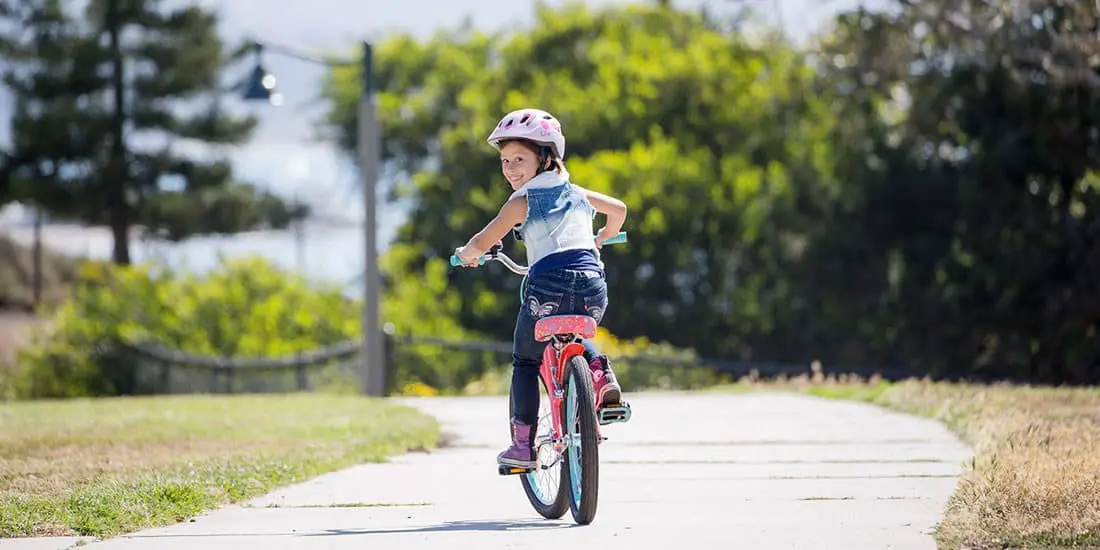 I would mainly choose a firmer type of clothing and especially long pants, to protect the knees should they fall.
Here are some very good ones, buy one from a good brand so that it lasts a long time.
| boys | girls |
| --- | --- |
| | |
| | |
Long sleeves are also possible, but when it is very hot outside that is almost impossible.
Now that the essentials are behind us, I can tell you more about cycling clothing for a real cycling tour.
I distinguish clothes for boys and girls:
As a boy you want sportswear that is cool and comfortable
As a girl, she wants clothes that look nice and fit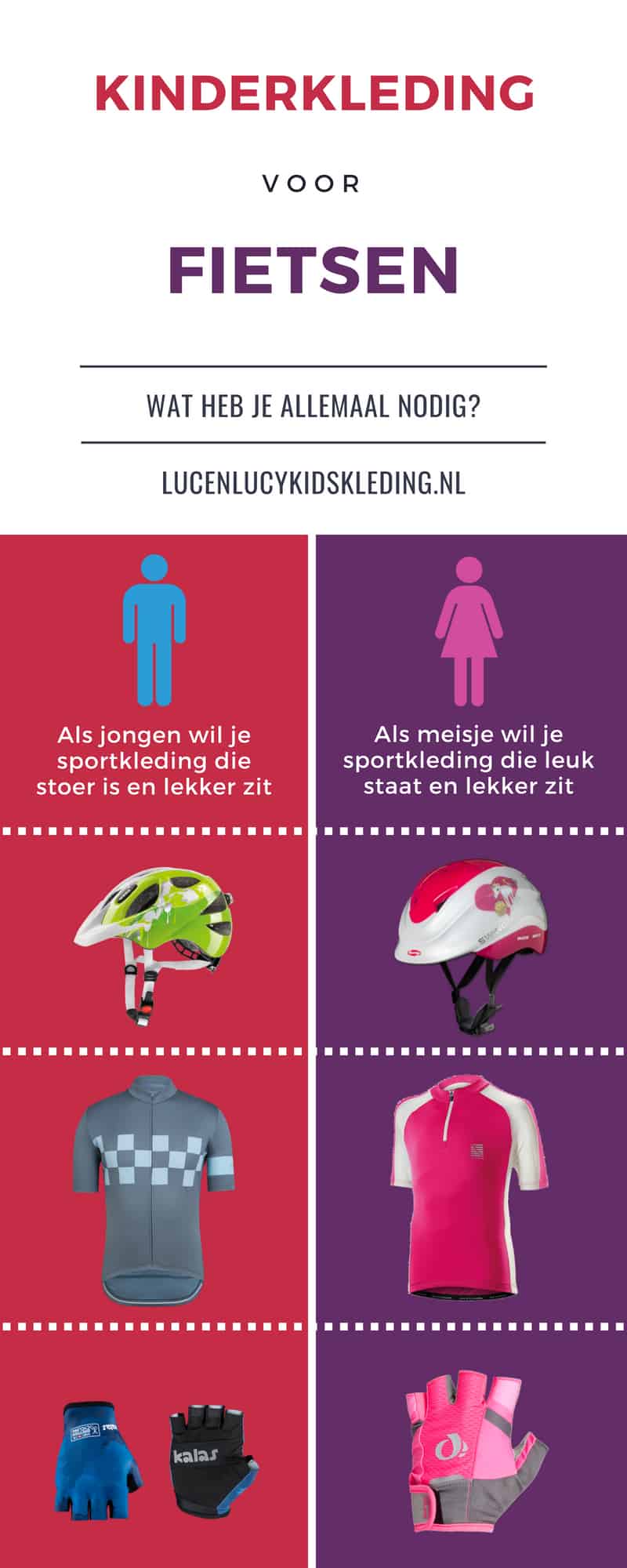 Cycling clothing for boys
Specific cycling clothing is not necessarily necessary at all, but padded cycling shorts and gloves can make cycling more comfortable, especially on longer rides.
So if you're planning a long trip or a fun cycling holiday, it can pay off to invest in a specific outfit.
However, as children become more serious about riding, bike-specific clothing becomes more important. Padded bike shorts can make long rides much more comfortable.
Cycling jerseys offer handy pockets for storage and there are many useful extras that are specially made for bicycles.
Cycling shorts for your son
If your kids are getting more serious about cycling, it might be time to invest in padded cycling shorts.
There are many different brands available, although the majority are available in one color - black.
Rogelli cycling shorts are a good choice for your boys. He's the most sold on bol.com and gets good reviews.
The Rogelli Cycling Short Junior has a number of advantages:
It has been specially developed with a smaller person in mind, instead of many shorts which are just a scaled-down version of the adult pants.
That makes them very comfortable cycling shorts that your son can ride in for hours on end.
The best innovation is the CoolMax DuPont lining. This lining has been developed to quickly wick away perspiration so that you stay dry and cool.
This special CoolMax chamois in the crotch of the cycling shorts ensures that perspiration moisture can be transported faster and offers extra comfort.
In addition, the Rogelli cycling shorts Junior has been given a non-slip edge in the seams of the trouser legs, so that the familiar and annoying "creeping up" of the pants while cycling can be avoided.
Specifications:
Rogelli cycling shorts for children
CoolMax DuPont lining
CoolMax chamois
Non-slip edges at the bottom of the trouser legs
Material: 80% polyester 20% elastane
Colour: black
You can buy it here:
Cycling jacket for boys
Here too you can see that Rogelli is an excellent bicycle brand with specific products for children. In addition to the pants, they also have a cycling jacket that stops the wind well.
When you are on the bike and it is a bit colder, you especially need something against the wind, something that has long sleeves.
Your own effort and body heat further ensure that you stay warm.
The Rogelli jacket provides excellent protection.
It is the PESARO model, a version with long sleeves in the colors black and yellow.
It is an autumn / winter jacket, specially designed for use during the colder periods in our country.
The inner lining is made of heat-retaining fleece material and the outside has a windproof and water-repellent quality.
Using the R-STar breathable materials, they are windproof, yet feel airy and light.
The back is soft and equipped with Dynacool material. This increases wearing comfort and at the same time improves the fit.
You will also find a zipper in the back with a handy storage compartment behind it.
The material is made on the basis of ultra-light fabrics.
Specifications:
Available sizes: S to 3XL
Child sizes: 128 - 164
DynaCool Brushed material
R-Star breathable and windproof
Water resistant with a water column of 1000mm
Inside fleece
Back pocket with zipper
Share reflection
You can buy it here:
Cycling jersey short sleeves
For the summer a sleeveless shirt is better and I found this one from XLC.
A good shirt should be breathable, not pinched at the back and have large enough pockets to store your electronics or some food waterproof.
When it is a little less cold and just nice weather outside, such as on a summer cycling holiday, then you also want something lighter.
Then you choose this cycling jersey with short sleeves from XLC.
It is a cycling jersey for children, made of a jacquard fabric. This gives the shirt an excellent fit on the body.
Shirt is made of colourfast fabrics and has a short zipper.
In addition, there is a three-part pocket on the back of the shirt to take important items with you.
Finally, the bottom collar of the shirt has a matte silicone anti-slip band so that the shirt does not slip during those long bike rides.
You can buy it here:

Cycling Gloves and Pads
Cycling gloves protect your child's hands from chafing on the handlebars and from falling over.
Gloves with short fingers make it easier to snuggle up on the gears in the summer, but for cold rides or mountain bikers, a glove with a finger is a safer choice.
If your kids love the bike park or downhill, you may be more than a little concerned about bumps, bruises, and other falls.
Fortunately, there is protective gear for juniors to protect their bodies without interfering with their enjoyment.
In the summer a nice cool and comfortable glove is the grip grab:
In the winter months, you may prefer something with long fingers to keep your son's toasty:
Cycling clothing for girls
I'll admit that the list I've put together is pretty shabby when it comes to girls' clothes.
There just isn't that much. A lot of the things we've found are marketed as boys' clothes, but I'd just ignore that.
There are quite a few nice options when it comes to girls' clothes.
Cycling shorts for girls
If your daughter really wants to get started, then there is these cycling shorts with long legs from Susy Cyclewear.
The pants are composed of recycled polyamide yarn. This gives a strong elastic fit with UV filter.
This Susy regulates moisture and manages to maintain the correct compression of the muscles.
They also have a three-quarter cycling shorts variant for children in a somewhat cooler dark blue, which works better in the summer months:
Cycling jersey for children
A more cheerful color than most black you see. This cycling jersey is not specific for girls in itself, but it is certainly a very fashionable choice.
It is from the brand Gonso, a German bicycle manufacturer known for their child-friendly department.
If your daughter is really such a girl girl, you might be able to make her happy with this really pink version of Rogelli.
A trendy cycling shirt that gives your daughter a sleek and fast look when she is on the bike.
Camo and pink, cool for cycling and pink for femininity.
The shirt also has a perfect finish and excellent fit in which every sporty girl can enjoy her bike.
Made of moisture-regulating material and therefore perfectly suitable for cycling on those hot summer days.
Cycling gloves that are fun for girls
Of course, if you still have a little girl, a disney glove is extremely cute. There is this one from Frozen:
But there is a chance that she is a bit older and has outgrown this kind of cycling clothing for the little ones, or that she simply does not like it of course.
In that case I would also consider it a girl on the best tested Gripgrab X-Trainer Junior:
Children's cycling clothing is cool!
Children's cycling clothing is not really necessary, but it can very well help you to keep up those long trips and stay comfortable.
But the biggest reason to buy your kids bike-specific clothing is that it's just really COOL.
Of course, non-cyclists don't think they are cool, but we don't care.
With the right outfit, your child can feel part of a fun sport that you do together.
Cycling is a great family sport and there are many options for children who want to take the sport more seriously.
And the cooler they think it, the sooner you will get them on the family trips
Children's clothing for bicycles can help them become part of the "cyclist feeling" and keep them safe.
What is the difference between cycling clothing for adults and children?
Well, aside from the obvious format difference, not much.
Most children's clothing is a scaled-down version of the adult range with similar features.
While there is plenty of choice for essentials such as helmets, if you are looking for a technical cycling kit such as SPD compatible shoes and protective hard vests, your choice is more limited.
Waterproof bicycle bags for children
Especially for those holidays, waterproof bicycle bags for children are a must.
Hiding is fun, but you never know when disaster (or storm) will strike and get you wet.
A children's bicycle just fits a lot less, and you also have a number of fun designs and colors that they may not mind as much to attach to their bicycle.
It is of course a lot of extra hassle and ballast that they have to lug along. Bee bol.com you have a wide selection, like this one: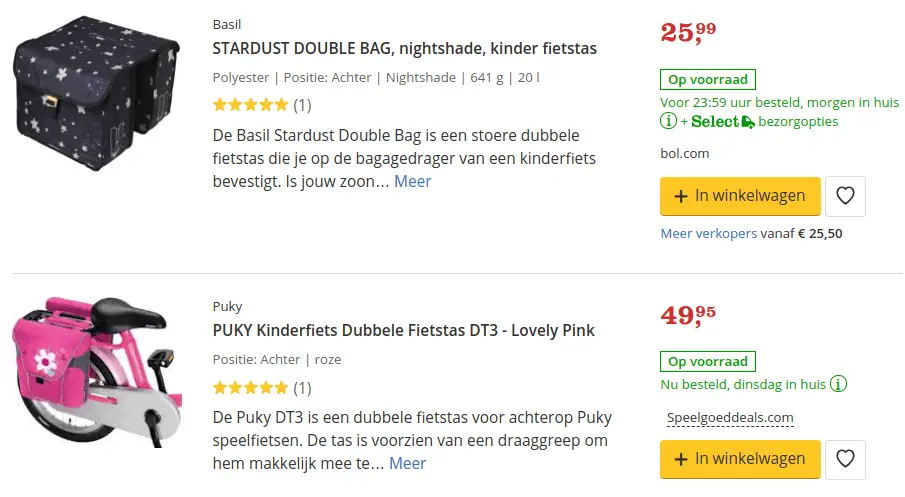 Not finished reading about cycling?
Then read also my blog post about the best children's bicycles for girls and boys, such as a retro model or one with sturdy training wheels.
[Wl_faceted_search]
Joost Nusselder, the founder of Speelkeuze.nl is a content marketer, father and loves trying out new toys. As a child, he came into contact with everything around games when his mother started the Tin Soldier in Ede. Since 2016, he and his team have been creating helpful blog articles to help loyal readers with fun play ideas.