I enjoy writing these articles for my readers, you guys. I don't accept payment for writing reviews, my opinion on products is my own, but if you find my recommendations helpful and you end up buying something through one of the links I may be able to receive a commission on that.
More information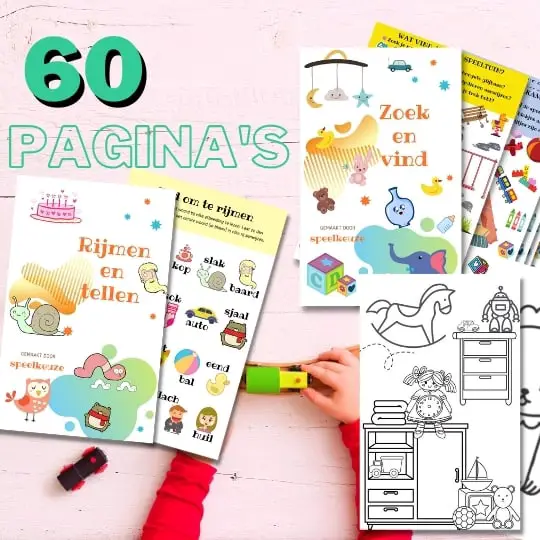 Always something to do for the holidays or rainy day?
Play Choice now has the ultimate activity book collection, with over 60 pages of fun coloring pages and educational puzzles.
Children love to imitate their parents, but of course they are not allowed to use the real vacuum cleaner.
Toy vacuum cleaners are a fun way for your kids to play like you are, without all of those safety risks that come with the real thing.
For example, the right choice can also be an excellent addition to a play kitchen or dollhouse. These lightweight vacuum cleaners help to stimulate the imagination of children and so I decided to test some fun children's vacuum cleaners last week.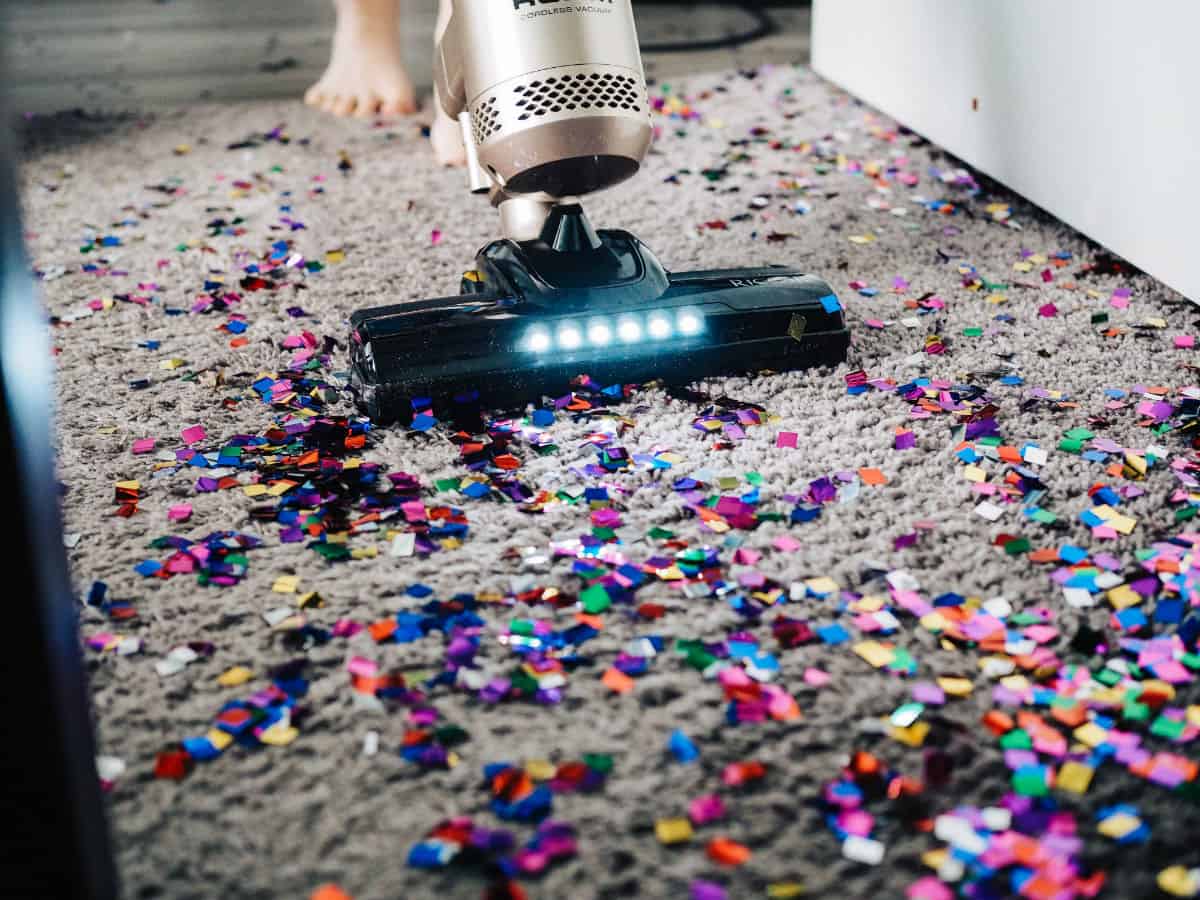 The best thing for your child to walk behind you is this Casdon Dyson toy Ball vacuum cleaner because it is quite real but still has a nice insight into the cyclone effect with cheerful balls inside.
Then they also learn something from it.
But I have come across more good vacuum cleaners, in different styles.
Let's take a quick look at the best options, then I'll dig deeper into each of these choices:
Kids vacuum cleaner buying guide
I will briefly discuss the most important features to look for in a children's vacuum cleaner, especially safety and design.
Toy safety
The toy vacuum cleaners should be suitable for the age of the children as safety is always a first concern.
They should have as few small parts as possible as they can pose a choking hazard so those with blocks and beads can targeting older children.
These should also be made of non-toxic materials, especially durable plastic; on batteries to prevent electrocution; and with manageable cords to reduce the risk of strangulation, among other things.
Attractive design and functions
The toys should attract the attention of the children, especially with regard to the vibrant colors, for example a vacuum cleaner with light or other small details such as bows and pink balls.
However, to keep their attention, these toys must also have attractive features such as realistic sounds and indicator lights, clear plastic chambers to see the spinning balls and a wide variety of songs.
Playgo's toys win the third criterion.
I also read parents' reviews to determine which ones were satisfied with the overall performance, in addition to the manufacturer's reputation for making safe, high-quality toys.
Best toy vacuum cleaners reviewed
Following are all of our top picks, starting with the Casdon. So, here come the best toy vacuum cleaners for kids!
Overall nicest real working toy vacuum cleaner: CASDON Dyson Ball DC22
Suitable for: 3 to 9 years old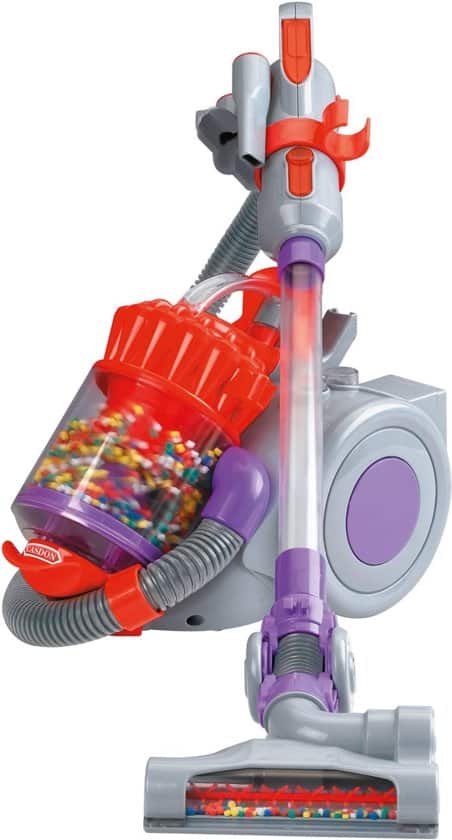 The Dyson Ball vacuum cleaner toy combines the authentic look and feel, as well as sounds, of a large vacuum cleaner, although without the same power.
The power head can be used to pick up small debris from the floor, while the trash can in the back can store a bit before throwing away becomes a must.
The combination means that your child can help a little bit with vacuuming your floors, although only in play.
The real strength of this vacuum cleaner lies in the clear plastic chamber that can hold hundreds of tiny balls.
When it is on, the balls are subjected to a cyclone action, which fascinates the children for the impressive display of colors.
The cyclone action can also be used to teach older children how vacuum cleaners work.
What's nice about it: Apart from the noises of the vacuum cleaner, the height and weight, as well as the cyclone action of the Dyson Ball Vacuum Cleaner, contribute to a realistic experience even for toddlers.
Casdon Dyson DC22 vs DC14
The main difference between the Casdon Dyson DC22 and DC14 children's vacuum cleaners is that the DC22 has a traditional design and the DC14 is modeled after Dyson's upright model of the same name.
Both are great fun to play with and also have real suction action and a transparent chamber to see the cyclone in action, but the DC22 has some nice attachments to put on the hose, just like you would with your own vacuum cleaner. to have.
Cutest realistic toy vacuum cleaner: Theo Klein Miele 6841
Suitable for: 3 to 7 years old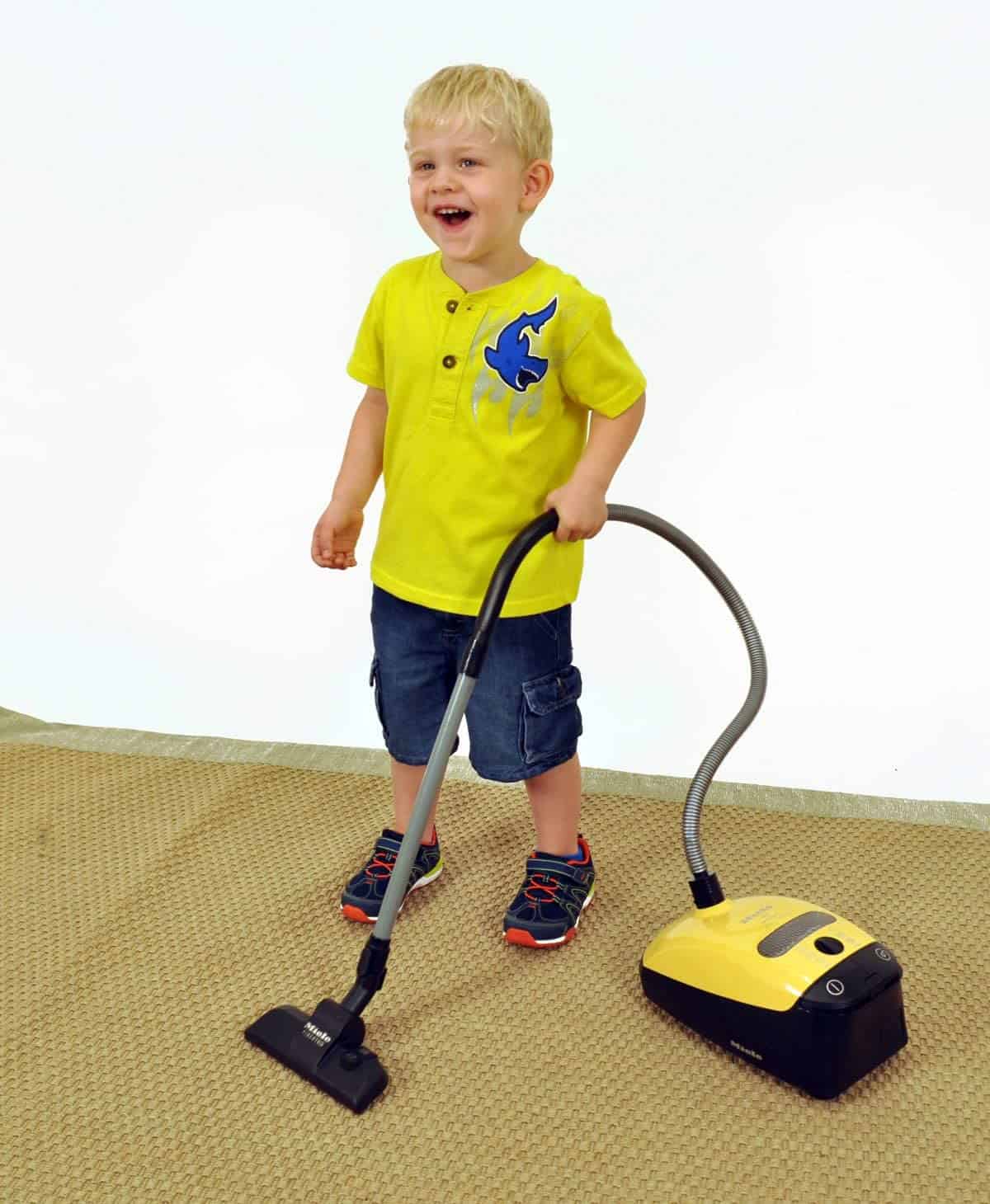 This Miele looks like a large vacuum cleaner, but in miniature, so that children can enjoy their fantasy work more.
The sounds are so much like the real thing that you might even think the kids are using a handheld vacuum cleaner without your permission!
However, the toy vacuum has no suction power, unlike the Dyson Ball Vacuum, which is just a minor flaw in its overall design as many kids are content with pretending.
The height and weight are also suitable for younger children, and contribute to the development of their gross motor skills (push, pull and lift).
What is great about it This is an excellent toy for kids to learn about cleaning the house and sharing chores (Here are more tips for making chores fun!) with others.
The attractive design also adds to its appeal.
Check prices and availability here
Cutest pink toy vacuum cleaner: Casdon Hetty Handheld Vacuum
Suitable for: 3 to 6 years old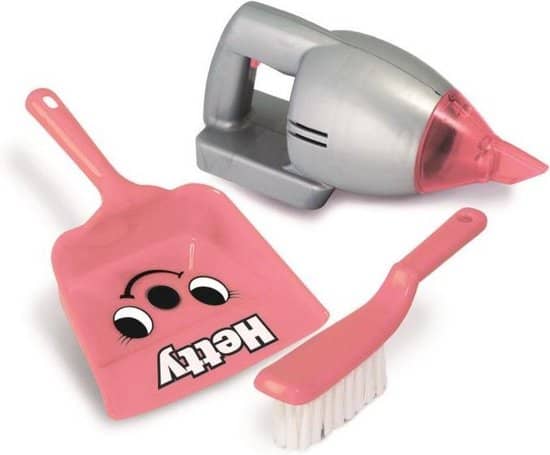 The pink Casdon Handheld Vacuum is clearly a toy vacuum, but therein lies its appeal to young girls - they can play with it without their parents worrying.
The characteristic Hetty face on the included dustpan and dustpan enhances the playful appearance for girls.
At the age of 2, or maybe even 1 year, they can already try to wipe a little with the brush, making this a nice set to grow with your child.
Check the latest prices here
Cutest upright toy vacuum cleaner: CASDON Dyson DC14
Suitable for: 3 to 8 years old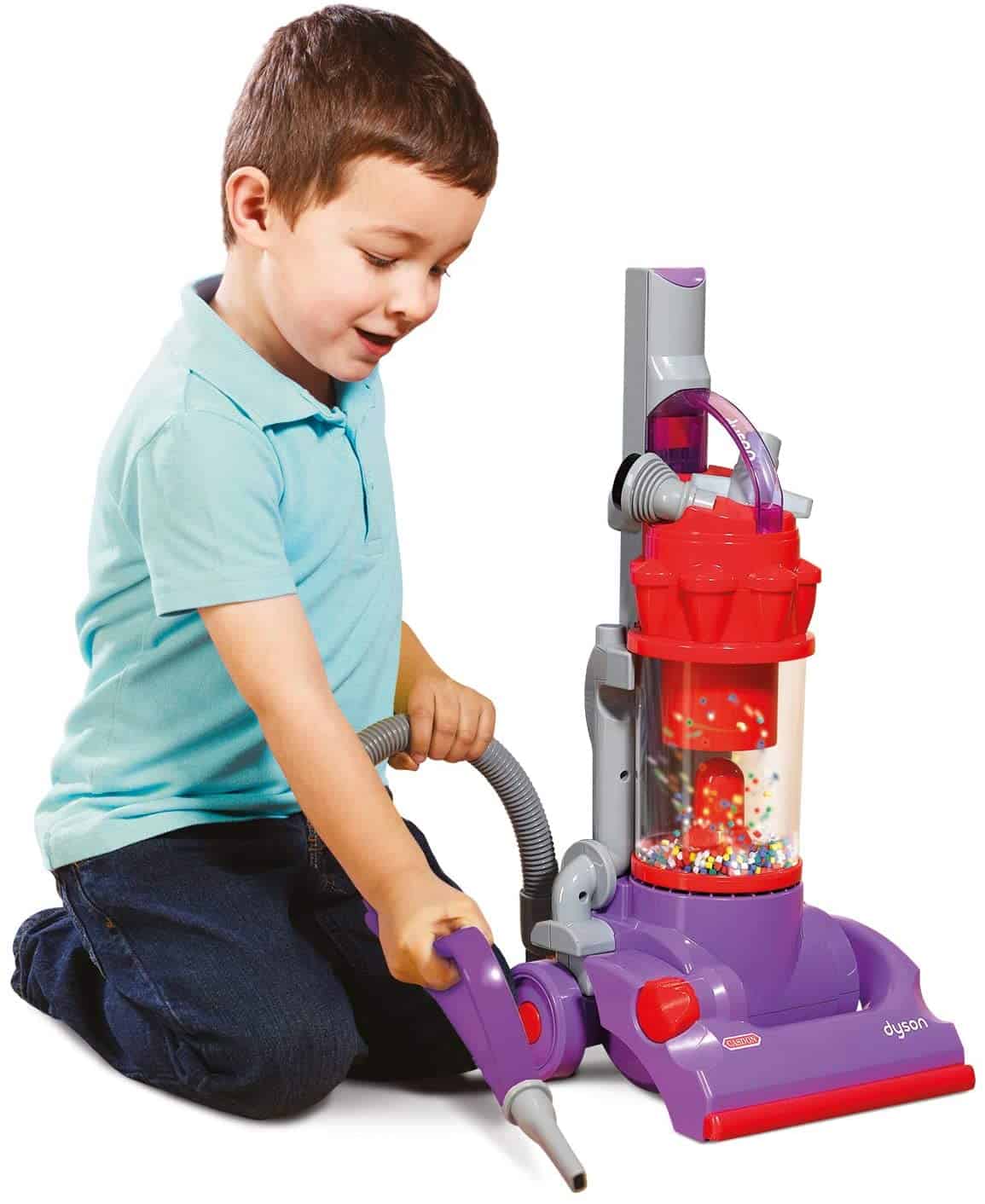 The Dyson DC14 has several things that make it unique, so we couldn't leave it out of this list of the best toy vacuums for kids.
The true vacuum action means it can suck lightweight items, such as small beads and strips of paper, off the floor.
The cyclone action that can be seen from the clear plastic chamber provides an interesting view, as well as a learning opportunity about how vacuum cleaners work.
Even the realistic sounds when turned on add to the experience.
Add to that the fact that it stands on its own, unlike the Dyson Ball, and the DC14 is a great toy.
Make sure to set a realistic expectation as it is a toy and not your full-sized appliance so you still really need your own vacuum cleaner!
What's great about it: I like the overall design from the suction to the standalone feature.
Check prices and availability here
Happiest child vacuum cleaner: Numatic Casdon LH-R1 Little Henry
Suitable for: 3 to 8 years old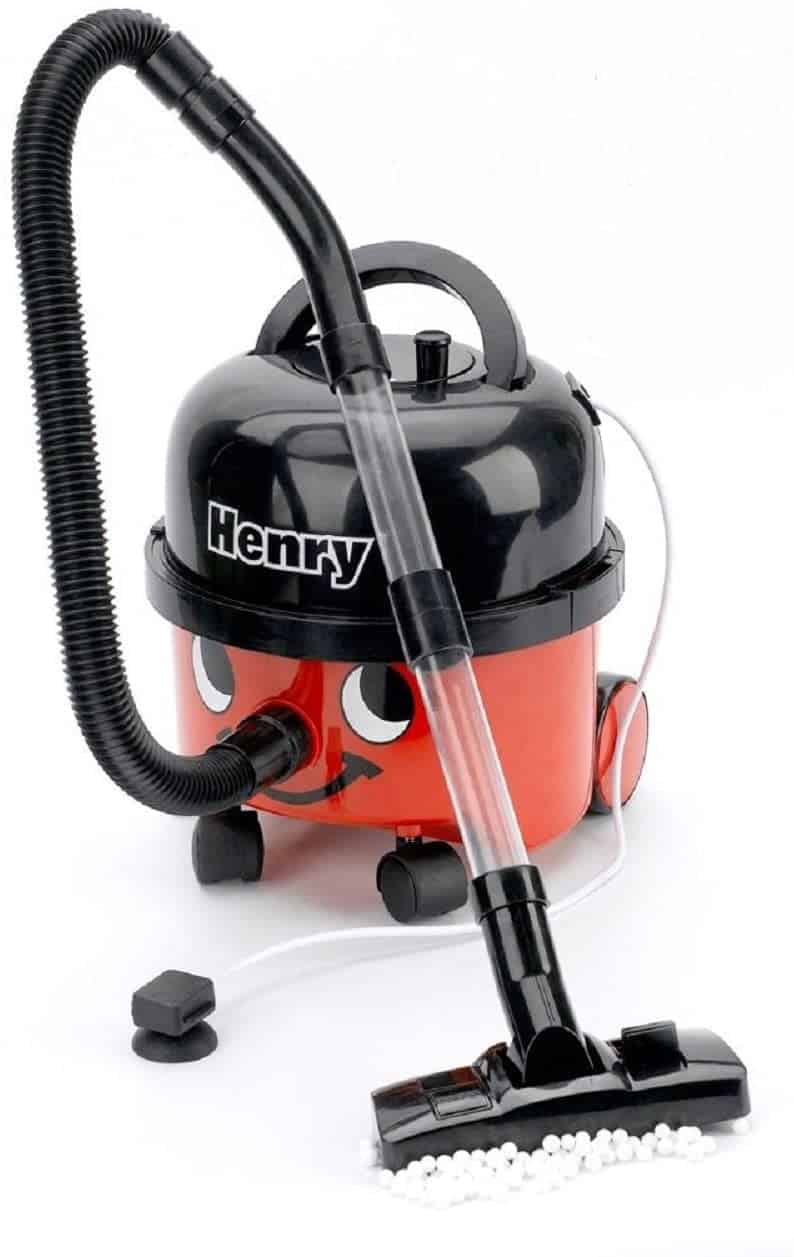 Little Henry is no small in terms of great features.
The small, drum-type toy vacuum cleaner has enough suction power to be lightweight due to its T-shaped nozzle.
The suction power comes from the battery-powered motor.
The clear tube through which the vacuumed items pass gives children a direct view of the suction power, which ensures interactivity and fascination.
What's great about it: the real suction power, the cord, the plug, the accessories and of course the appearance (especially when you have this full-fledged real Henry vacuum cleaner) make the Little Henry great toys.
It is available here
Most fun wooden toy vacuum cleaner game: Melissa & Doug
Suitable for: from 3 years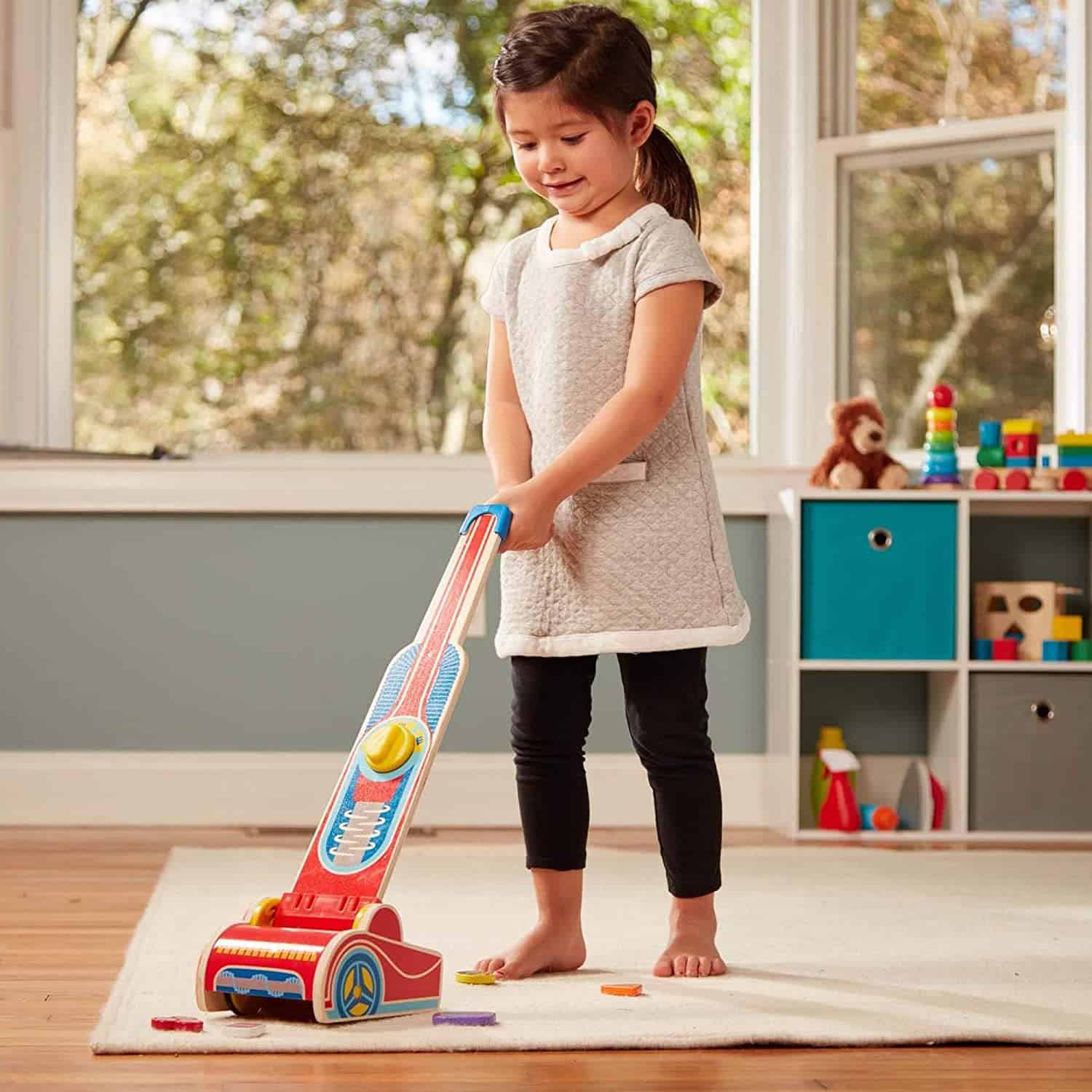 The Melissa & Doug vacuum cleaner is quite different from the others on this list, but that is also a lot of fun!
So it is made of wood if you like wooden toys this is also a nice choice.
It doesn't really have suction, but it's more like a game where you have to "suck" the popcorn, pretzels and more by going over it with the machine.
As soon as your child does that, the piece of dirt, which is also all made of wood and looks very cute, will be picked up by the bin.
Check the latest prices here
Best toy vacuum cleaner for toddlers: Playgo 2-in-1
Suitable for: 3 to 6 years old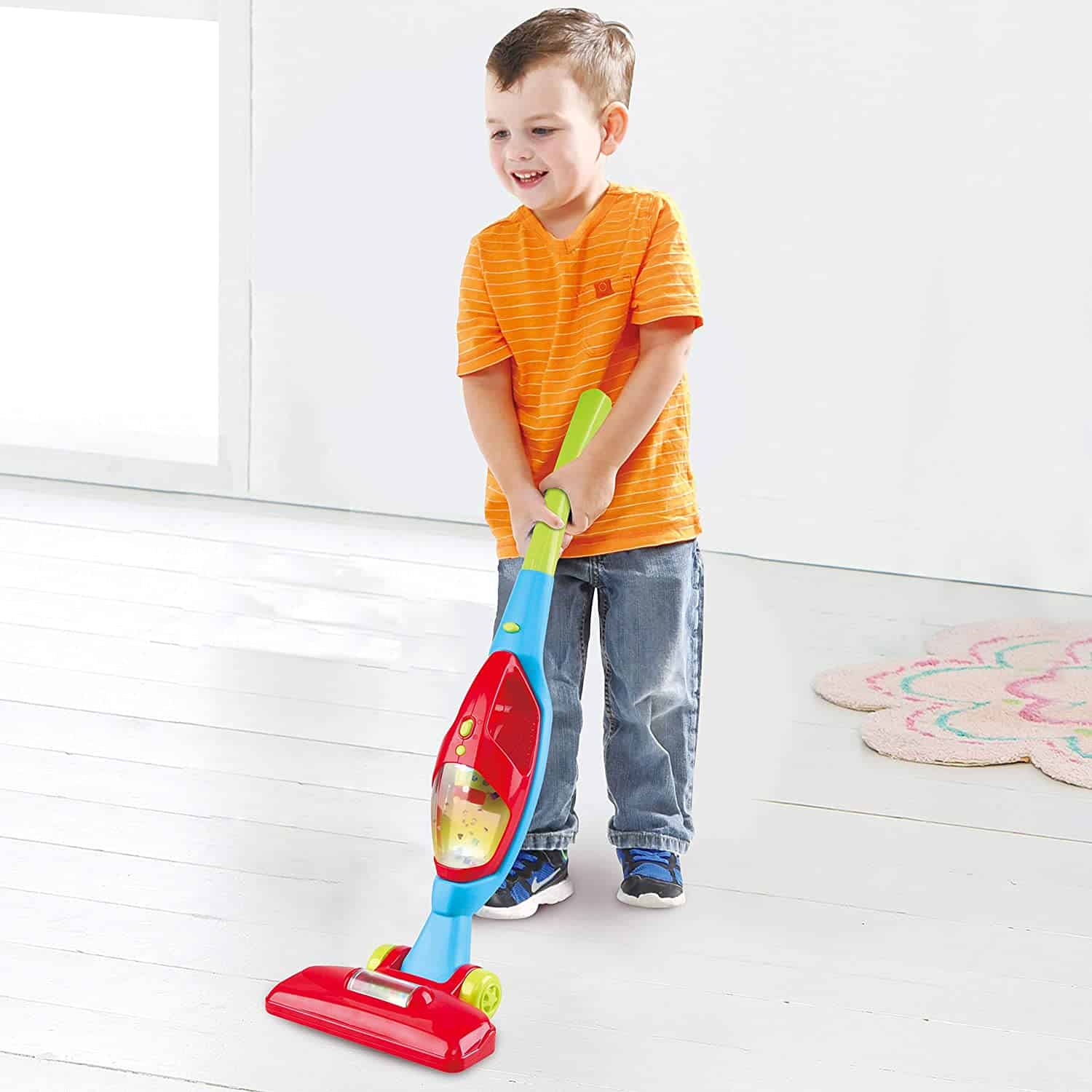 The Playgo 2-in-1 combines an upright and a handy toy vacuum cleaner in one, so there is more for your money.
The small vacuum can be detached from the handle, turning it into a hand dust vacuum for cleaning in smaller areas.
The LED lights and sounds, combined with the clear plastic chamber with the mini balls, make this a fun interactive vacuum cleaner with light.
What's great about itNot too many full-sized vacuums have the same versatility as the Playgo 2-in-1, and that's a good reason to make it to this list.
It is for sale here
Lees meer: the most educational toys for your kids
Why should you buy a children's toy vacuum cleaner
Did you know that children with sensory processing disorders can benefit from using toy vacuum cleaners?
These children often have auditory defensiveness, a hypersensitivity to loud and / or sudden sounds, which makes them hate and fear the sounds of a wide variety of everyday objects.
These include the sound of hairdryers, sirens, loud laughter, flushing toilets, or even dogs barking, just to name a few.
The sound of a large vacuum cleaner operating can cause many of these kids to cover their ears and run away from the noise, or even throw a tantrum after it is turned off.
But when these kids are encouraged to use toy vacuum cleaners, they can get used to the noise and thus become more tolerant of the sounds of their full-sized counterpart.
But even in children without sensory processing problems, playing with toy vacuum cleaners also has advantages.
This is because toy vacuum cleaners are tools for role-play, including imaginary play, which have proven critical in healthy physical, mental and social development.
The benefits of roleplaying, also known as pretend play, with toy vacuums as one of the toys, are:
Developing their physical skills as play requires physical movement, whether it be after the playmates or putting on costumes. Children have the opportunity to express their gross and improve fine motor skills when they push and pull the toy vacuum, cut out paper strips to suck them up, and press the toys' switches, among other things.
Their mental skills development is also assured when they play with toy vacuum cleaners. Children learn the cause-and-effect relationship between pressing a switch and turning on the toy, between passing the mouthpiece and sucking up the mess, and between cleaning up and earning their parents' praise.
The development of their social skills is also shown. Children take turns learning to play and share their toys, expressing themselves constructively and picking up new words and phrases.
So let your toddlers and youngsters play with the best toy vacuum cleaners for kids on this list! The investment will certainly be worth their new learning and their beaming smile.
Conclusion
Just keep in mind that even the best toy vacuum cleaners come with their risks, such as kids swallowing the tiny beads.
Be around so you can supervise their game and keep them as safe as possible.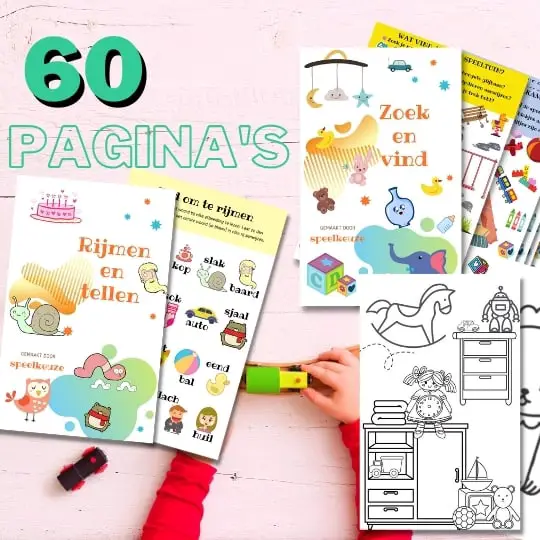 Always something to do for the holidays or rainy day?
Play Choice now has the ultimate activity book collection, with over 60 pages of fun coloring pages and educational puzzles.
Joost Nusselder, the founder of Speelkeuze.nl is a content marketer, father and loves trying out new toys. As a child he came into contact with everything related to games when his mother started the Tinnen Soldaat in Ede. Now he and his team create helpful blog articles to help loyal readers with fun play ideas.