Playmobil vs LEGO: 3 unknown differences to help you choose
I enjoy writing these articles for my readers, you guys. I don't accept payment for writing reviews, my opinion on products is my own, but if you find my recommendations helpful and you end up buying something through one of the links I may be able to receive a commission on that.
More information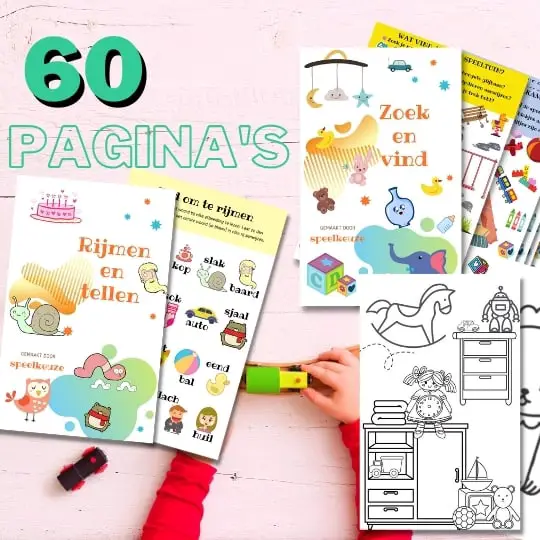 Always something to do for the holidays or rainy day?
Play Choice now has the ultimate activity book collection, with over 60 pages of fun coloring pages and educational puzzles.
LEGO en Playmobil both come from Europe and are WORLD FAMOUS. They are compared so often, but that is actually quite crazy.
In some aspects they could be NO MORE different.
Yet there are few children (and parents because the brands have been around for that long!) Who have never played with both.
IN EVEN MORE: for many children, playing with LEGO of Playmobil an important part of their childhood and development.
Once again, in fact, MY childhood is full of playing with LEGO and Playmobil, and maybe yours too.
I remember exactly why and when I liked one more than the other. Plus I bought a lot of toys to further strengthen my research.
I had a lot of fun making videos with that for our Youtube channel if this:
In short the main differences:
LEGO is perfect for building while Playmobil mainly involves role playing. LEGO also focuses on all ages with real collector's items, and it has been shown that at a later age boys mainly prefer LEGO, and girls for Playmobil. The same trend occurs in the youngest age groups.
But that is VERY VERY in short, and if I leave it at that, I probably get both brands on my roof that I have not emphasized all the differences clearly enough.
If you find it interesting I will now cover ALL the main differences so that you know EXACTLY when to choose which brand for your child!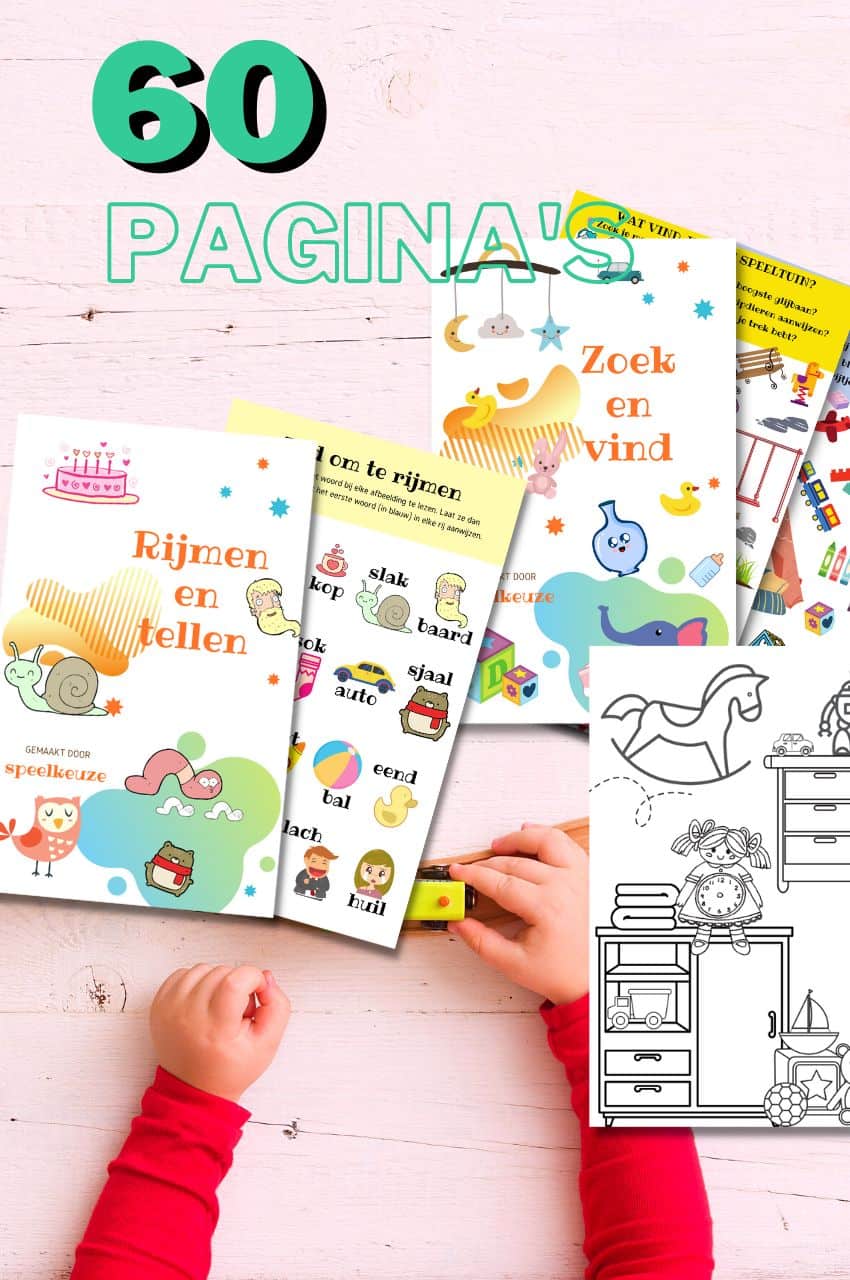 From toddler to toddler activity book collection
Educational games and coloring pages for 3 to 6 years
Your toddler and preschooler will love this e-book, along with the accompanying printables. He or she can play with it at every stage of development, together with mom and dad.
Buy at Bol.com
What are the differences between LEGO and Playmobil?
LEGO is mainly known on the building blocks, while Playmobil is mainly known for its small, smiling dolls.
In addition, you have extra LEGO many more options than with Playmobil, which you probably noticed already.
The biggest differences at a glance:
With LEGO and Duplo, the focus is on building, while Playmobil is mainly about reenacting a story.
The possibilities are more extensive at LEGO.
LEGO and Playmobil each have a different philosophy.
If your child doesn't necessarily love building, then... Playmobil might offer a better outcome then LEGO (Duplicate).
But of course it has Playmobil also a wide range of building and construction toys. In most cases, the toys are quick and easy to assemble.
Because Playmobil focuses on role playing and not necessarily building, there is a limitation when we talk about the possibilities.
Do you want with LEGO building a house, for example, you always have the opportunity to deviate a little from the instructions so that there is a lot of freedom of movement.
There is even a whole movement to create so-calledLEGO MOCs", which stands for My Own Creation.
This is unlike a cottage Playmobil; it is as it is, you cannot simply build a floor on top of it. This means that the range of Playmobil so not nearly as diverse as that of LEGO.
The philosophy of both brands is also completely different: LEGO focuses its products on children and people of all ages, while Playmobil really focuses on kids.
LEGO gives the user what he needs to build it himself, true Playmobil provides the elements to create your own story.
LEGO is doing everything it can to expand the range, including entering into partnerships with famous external parties such as Disney and Warner Bros, where Playmobil relies more on one's own creativity. There even is a special LEGO Life Magazine!
It has also been shown that, especially at a later age, boys have a preference for LEGO, and the girls in front Playmobil. The same trend occurs in the youngest age groups.
What are the similarities between LEGO and Playmobil?
Besides the fact that we are talking about two super successful toy brands that want to offer children as much fun as possible, there are a number of other things in which LEGO en Playmobil to agree:
Both LEGO and Playmobil have sets in different themes.
The brands have special toys for children between 1 and 3 years old.
The great thing about themes is that there is always something interesting for every child. In addition, it is also convenient that the brands are classified by theme, so that it becomes easier to purchase the right set for your child.
As also mentioned earlier, another similarity between the brands is that both have a toy series aimed at children between 1 and 3 years old.
What is LEGO known for?
LEGO is a very popular toy brand that we all know and that is loved by young and old. Children can start working with a beautiful building set from a fairly young age LEGO.
Because the indestructible building blocks always have cheerful colors, they are incredibly attractive. LEGO focuses its construction kits on various age groups.
LEGO has the LEGO Duplo series, suitable for children between 1,5 and 4 years old. The older, the smaller the LEGO blocks and the higher the difficulty of building.
The difference between Duplo and 'normal' LEGO toys is that Duplo toys consist of larger pieces, making them safer for smaller kids because they cannot simply put these toys in their mouths.
In addition, these blocks are easy to grasp by small children's hands.
Thanks to LEGO toys, children will be able to shape their own creative world. They will learn that some blocks are compatible and fit together, while others do not.
With the toys of LEGO Children not only learn to build, they will also learn to count and recognize colors, for example.
Also read: Best toys to learn colors [+ complete practice guide]
What is Playmobil known for?
Generally it is Playmobil developed for kids between the ages of 4 and 12 years. Like LEGO (Duplo), also has Playmobil a toy series aimed at children between 1 and 3 years old.
Thanks to Playmobil a world opens up for children. The toys stimulate imagination and creativity.
The many figures make it possible to play different role-playing games and thus act out situations from real life.
This is of course also great fun for stop motion videos (which you can also make with your child!)!
The nice thing is that the cheerful mini figures of Playmobil are all talents who each face their own challenges.
Think of pirates, construction workers, police officers, vets and road workers! With which Playmobil character can your child identify with?
Playmobil has a creative team that constantly comes up with new ideas behind the scenes to offer children all over the world a lot of fun!
I have, by the way compared the two toy giants Bruder & Playmobil
The LEGO range
LEGO grows with your child. A child usually starts with LEGO Duplo, and as your child gets older, new ones form LEGO packages or series of new challenges.
Roughly speaking, the following are five LEGO categories can be distinguished, sorted by age/difficulty:
LEGO Duplo
Lego juniors
LEGO Creator and LEGO City
LEGO with various themes, existing or not
LEGO Technic
So there is the LEGO Duplo, as I mentioned before. In essence, the figures of this series are close to those of Playmobil dolls.
When a child becomes too old for Duplo, the switch is often made to LEGO Juniors. Here children are challenged to build more realistic and complex things.
However, before you let your child switch to LEGO Juniors; be sure he or she is clearly ready for that.
LEGO Juniors contains the standard size LEGOstones, but the smallest LEGO stones are not yet involved and therefore neither are the complex constructions.
A logical next step is the series LEGO Creator; a box full of possibilities where different constructions can be built, and the LEGO City; which is actually similar to the LEGO Juniors, but this time without restrictions on small stones and more complex constructions.
We could call these the basic packages, and from here come the LEGO themed sets come into play. Take for example the LEGO Chima series; a fantasy world with its own style and figures.
There are more LEGO Elves, LEGO castle, LEGO Friends and several other themes.
Besides the self-invented worlds, LEGO also has building kits with pre-existing themes, such as Star Wars, the Hobbit and more.
LEGO Technic goes a little further than these packages. With this theme you can build constructions that really work.
Consider, for example, vehicles that you normally see on construction sites, such as a truck or a shovel. Often there is a remote control with which you can move elements.
The last is the LEGO Architecture series, which allows you to recreate in detail the Eiffel Tower, Big Ben, the White House, the Trevi Fountain and other famous buildings.
This series is suitable for anyone over the age of 12 and is generally also very interesting by adults.
Where do you buy? LEGO? Read: Shops from LEGO | our 5 favorites for hours of shopping fun
The Playmobil range
The range of Playmobil consists of a toy line for the little ones (similar to LEGO Duplo) and one for the older children.
For children between the ages of 1 and 4, themes are common the farm or playground.
This is followed by various themed packs intended for children from 4 years old, divided into the categories boys (knights, dragons, pirates, the wild west, the construction site), girls (princesses, dollhouses, fairies) and general (zoo, circus, water amusement park, farm).
For the little ones, the emphasis is on the use of the available accessories, whereby the child determines how the setting is arranged.
For the older kids it is nice that they can choose a theme that suits their interests.
Of course, girls can just as well play with the toys that are supposed to be for boys, and vice versa.
Looking for even more beautiful construction toy brands? read Best Bruder construction toys: 10 trucks, excavators, forklifts & more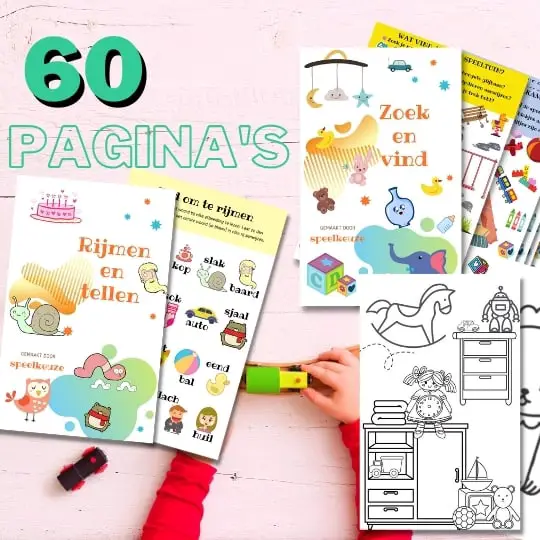 Always something to do for the holidays or rainy day?
Play Choice now has the ultimate activity book collection, with over 60 pages of fun coloring pages and educational puzzles.
Joost Nusselder, the founder of Speelkeuze.nl is a content marketer, father and loves trying out new toys. As a child he came into contact with everything related to games when his mother started the Tinnen Soldaat in Ede. Now he and his team create helpful blog articles to help loyal readers with fun play ideas.