11 best toy animals rated for pretend play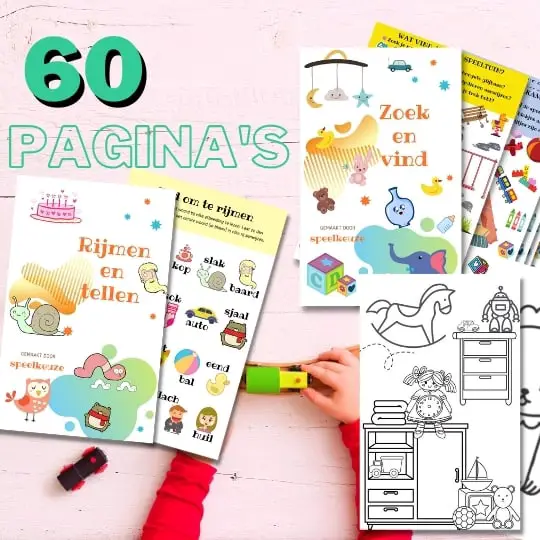 Always something to do for the holidays or rainy day?
Play Choice now has the ultimate activity book collection, with over 60 pages of fun coloring pages and educational puzzles.
Children and animals, it is a fantastic combination. Nothing is as fun as taking the kids for a day at the petting zoo or zoo.
And to see how they interact with our fellow residents on this planet.
Children can also spend hours at home with toys animals. From the first bear hug, a child likes to play with animals.
This is a very nice toy and very suitable as gifts for children. Here we have made a selection of the nicest animal toys.
It is nice for children to have toys with which they can make up stories.
That's why toy animals are so much fun. Children love to interact with nature and create their own world with all kinds of animal figures.
To help you a little, I have researched what is available and what the best products are for your child.
I looked at the quality of the toys, the educational value and of course the fun factor. That's why this play set from Smartmax with magnetic animals ABSOLUTELY the best set to grow with your child. From just grabbing to discovering how magnets work.
But of course there are more fun options, also for smaller children. Here's the best from the test, then I'll dig deeper into each of these choices:
Top 11 Best Toy Animals Reviewed
What a cute set of animals this is. And one of my son's favorite toys. They are nice and soft made of safe silicone rubber so that they actually go well in the mouth from baby.
After that, they are still fun to buy because they can grow with your child in different age stages.
For example, with 1,5 they can click apart and together a bit because the different parts can separate and mix and match (for example two heads at each end) and your child's hands are already strong enough to separate the magnets. to get.
A little older again and your child will understand that colors belong together and that they always want to put them together in the right way. And they are also always a favorite with a fun fantasy game that involves animals.
This cool playset immediately appealed to us because it is full of very happy animals with which a child can come up with very cozy adventures.
It is also an educational game and teaches your child about different animals and why it sticks together with magnets.
Furthermore, the play set stimulates the child's eye and hand coordination. So those are 3 great advantages in a row!
With us, for example, they are regularly put in the tractor for transport and they are allowed to play on the farm.
Nice toys from Smartmax which is definitely worth it.
I have reviewed this set a little more extensively in our article about the best magnetic toys
I am thrilled with the DUPLO Animals of South America set. My 2,25 year old son is crazy about coloring and stacking right now. He loves this set because there are so many flowers in it.
For the past 20 minutes he has enthusiastically stacked and named the colors. Pink flower! Red flower! Orange flower! GREETINGS! He also loves the unique animals in the set. For us, DUPLO is high on the list of essential toys, along with colorful wooden blocks and soft toys.
As for the Animals of the World series, it's a great way to get a good mix of blocks, special pieces, food, and unique animals. There is so much play transition for kids from 18 months to 5 years old. The DUPLO bricks are durable and easy to clean!
I'm not the only one excited about this set. Other buyers have also shared positive experiences. One reviewer noted that the set is perfect for kids who love animals, while another noted that the large pieces are easy for young children to hold. The quality and price of the product were also rated positively.
If you have a child who loves animals and adventure, the DUPLO Animals of South America set is definitely a great gift. It stimulates children's creativity, language skills and fine motor skills, and offers endless possibilities for fun. I highly recommend this set!
Suitable for outside but also very nice for inside, this rocking cow is easy to inflate and nice and bouncy!
This brand mainly focuses on outdoor toys, we have already treated a nice octopus for outside on the garden hose from them. This rocking cow is inflatable and therefore also suitable for outdoor use, but it is also great for indoor use.
It is great fun for children from about one and a half to three to sit on and bump around and every now and then when my son watches TV he likes to grab it and just sit on it.
It is very easy to inflate with a nozzle at the bottom and actually since we got it, we only had to inflate once more and that was actually because it had been outside for a while, so it is hardly necessary at all .
It looks very nice in the room and it is nice to drag along and to bump into rows every now and then. And what I like most is that he's just standing there.
There are all books in which also cows occur and then he recognizes it and then says "cow" and then he immediately sits on it!
A very nice and sturdy rocking cow for those who have a rocking horse want alternative.
The Little People series from Fisher-Price is great fun for children because of the cute designs, cheerful colors and soft dolls to play with.
The farm animals appealed to us the most to be able to learn animals and their sounds and to play with them for hours.
A very nice farm set with soft dolls like the farmer with a chicken, and they are all soft animals.
They are made of rubber with a hole as an opening and can therefore easily be bathed or as a toy in the shower be used if you want.
There is really everything such as grain that they can play with that really rotates and a faantje that can rotate so always nice to put the farmer on it of course who can stand on it.
There is also a nice door where the animals can slide down with a kind of slide underneath. The moment an animal hits the platform, it will make a noise.
There are many different sounds in it, but at a certain point you get a bit fed up, at least I as a parent, but not my son as a child, he just keeps on going.
There are quite a few different sounds and each animal actually comes along so your little one can also play along with what the animal wants.
For example, at a certain point he says that the cows must be in the stable with a warm blanket over it and so you can take care of the cows and everything has a door where the animals can enter in their coop or some of the hay that is included. to do.
Furthermore, the doors open automatically when you press the button and there is also a button for the hen and her chicks to emerge from under the eggs.
And of course the farm bell that indicates dinner time.
A very nice set for a lot of fantasy play and the beauty of it is that it can close and with the handle it is easy to carry for hours of fun.
Large farm playset from Playmobil with many country farm animals and a silo.
The Playmobil Big Farm playset not only looks great, but also offers a lot of options to the child who will play with it.
It teaches your child in a very playful way to know different animals and how to deal with animals.
From taking care of the animals to feeding the animals and even cleaning the pens.
Numerous animal adventures
The playset has all the attributes your child needs to make up and experience countless stories and adventures.
It contains all kinds of animals that you can encounter on the farm and many other nice pieces that should not be missing on the farm.
This absolutely stimulates the child's imagination. You will be amazed when you hear them play or maybe laugh very loudly, because children are very creative in their thinking and make up the funniest stories.
A real farm
Your child can build his own farm with this playset, because the pieces are loose. This allows a nice creation to be made.
The child can decide for himself how the farm should be arranged. This is extremely suitable for promoting the spatial insight and creativity of the child.
And because the pieces are easy to assemble and disassemble, something new can be made every time.
That never gets boring! No wonder the set is perfect for the age group 4 - 10 years.
Allow your child to fully empathize
For parents who may be planning a trip to a real farm, this is a welcome solution.
Besides having to take the standard things into account for such a trip, the play set can certainly help to prepare your child for the visit itself.
Especially if it is their first time, as a parent you want to be well prepared for the day.
Small children can become more fearful of animals that are bigger than them or that they have never seen in real life.
With the set they get to know the different animals in advance and what they can possibly expect.
What to expect in the fun Playmobil Large farm package
Because the Playmobil Large petting zoo can be used in such a variety of ways and is particularly affordable and fun in almost every way, we think it is a fantastic example of toy animals.
We said we are very satisfied with the price of this product as you actually get a lot more than just a few game pieces.
This is the reason why it is our preference.
Here we will go a little deeper into this fun package, so that you as a parent know exactly what to expect when you purchase it.
Nice game pieces with many details
The playset has no less than 74 pieces to play with. From animals to trellises and straw, but also fun tools and figures are part of the set.
The dolls have 'handy hands' with which they can easily hold a bag of food and feed the animals, because you can also move their arms and legs.
The dolls are nicely dressed and all have a cheerful face that automatically makes you happy.
The animals look just as cute, are portrayed very realistically and are made in good proportions to the other pieces.
Made of solid material
As a parent, it is certainly important to know what material the toy is made of.
The playing pieces in the playset are made of durable plastic. That means that they last a long time, because plastic does not break easily.
A big advantage of plastic toys is that it weighs less than, for example, wood.
Anyone who has more than one child in the house knows from experience that sheep and rabbits can sometimes 'fly' and end up on the little brother's or sister's head. In that respect, we think plastic toys are a lot safer.
The maintenance of plastic toys is also easy.
For example, you can easily put all the toy animals in a bucket of soapy water, rinse with clean water and your toy animals are as good as new.
In short, toys made of plastic have many advantages that the average parent can agree on.
Cheerful fresh colors and easy to handle
The colors used are very fresh and you can assume that the colors are colourfast.
As long as you neatly store the game pieces in the appropriate box after playing, the color will certainly be preserved for a long time.
It is not recommended to leave the pieces in the sun or rain.
What we also found important in this choice is that the toys are very easy to handle.
The toy animals work without batteries or charger or cables. The child can therefore play with it anytime and anywhere.
Pay attention to safety with the small pieces
The game pieces are quite small. Although the age category indicates that the toy is suitable for 4 years upwards, it is still recommended that as a parent you should definitely keep an eye on the younger siblings because of the risk of ingestion.
The best Playmobil petting zoo is in our opinion the Family Fun Large petting zoo from Playmobil's 'Family Fun series'.
All animals participate!
The latter is therefore not from the Country series of Playmobil, but it is recommended in the theme.
A highlight during every visit to the zoo is the petting zoo for the kids.
The animals can be stroked and cuddled on this large Family Fun Large petting zoo.
The children get food from a feeder and then they can quickly go to the animals to give them treats.
The kids run towards the children, because they are always hungry!
Feeding animals is so much fun. Guinea pigs, rabbits, sheep and goats, the children do not miss a single animal. Parents have a good view of their children from the high bridge.
There is a large feeder in the yard and the loose fence can always be put in a new setup.
The Family Fun and Country series from Playmobil have a lot of overlap when it comes to animals.
So you can buy great sets of different series, it is good to play and combine with everything from Playmobil!
Also read: Transporting nice animals with these toy tractors
What else you should know
The robot dog is quite on the pricey side, but for such an advanced toy this is the right price range.
Beautifully finished Schleich Wild Life set consisting of 4 cute animals: a lion, a baby elephant, a monkey and a zebra.
Wooden buttons puzzle with sound. The puzzle has 8 pieces in the shape of different types of animals.
If you place the right animal in the right place, the board will make the corresponding animal sound.
Fun for 4 year olds to stack up, figure out and learn animals.
From the moment the child enters group 1, a lot will change.
For the first time, the toddler has to learn to wait his / her turn and to share things with others.
Playing together often has a positive influence on the social-emotional development of the young toddler.
Learning to stack is a game that many fathers and mothers played in childhood, but probably not in animal form!
It teaches children to recognize colors, recognize animals, play together and help them get started with good hand-eye coordination.
Different skills are therefore trained with this. Especially social contact with other children is important for a four-year-old toddler.
This gives them a good basis for the rest of their primary school time. This sustainable educational game is not only educational, but also a lot of fun.
The best train track set with wild animals!
The safari train leaves for a great adventure. Along the way you will encounter all kinds of wild animals, such as a monkey, a giraffe and a beautiful lion!
This 38-piece set with wooden rails has a locomotive with two carriages, as well as wild animals including an elephant and a zebra.
Did you know that there are all kinds of extra accessories available to expand this set? The rails can be expanded with, among other things, the BigJigs Rails Expansion Set.
The train set is suitable for children aged 3 to 6 years.
This African themed puzzle consists of 100 pieces that fit together seamlessly and show beautifully detailed scenes of African animals.
What immediately struck me about this puzzle are the extra thick cardboard pieces. They are sturdy and have an easy-to-clean surface. This is especially useful if there is a mess during the puzzle, which can sometimes happen with young children.
In addition to the fun my child had while making the puzzle, I am also very pleased with the developmental benefits it offers. It helps develop strong hand-eye coordination, fine motor skills and problem-solving skills. These are all important skills that need to be fostered at this age.
What I also appreciate about Melissa & Doug is their focus on sustainability. They use wooden materials whenever possible and have set themselves the goal of planting 2030 million trees by 10. This makes me even more excited to support their products.
Frequently asked questions about animal toys
Why do children love animals so much in stories and toys?
This is because the world of animals is an instinctive place for children to explore, because it is so tangible.
Another reason psychologists believe that children are so fascinated with animals is that children have an innate desire to understand their ever-expanding world and animals are a big part of that.
How do you teach children about animals?
There are several things you can do to teach children about animals:
Get a pet. There is nothing like direct contact with animals to help children feel comfortable with them.
Talk about the animals in books and on TV or a kid-friendly iPad. If you see animals in television shows and movies, point them out to your kids.
Take trips to zoos, parks and farms (like this nice one).
Visit animal welfare centers such as Pieterburen.
Have fun and educational toys and with animals as we discuss in this article.
From what age should a child know animal sounds?
Most children start speaking their first word after 12-14 months. By 18 months, they have increased their expressive vocabulary to about 20 words.
Of those 20 words, there may also be some or a large portion of sounds (such as animal sounds or car sounds), names, food, verbs, etc.
Then they begin to learn more and more words or animal sounds to learn.
Conclusion
So you see that there are different options for the suitable toy animals.
And the things you should pay attention to when choosing the toys are also important.
Every parent has almost a different view and what he or she finds primarily important about a toy.
One thing is certain for us and that is that toys do not have to be approached that complicated.
The first thing that applies is: how does your child react to the toy? Is he having fun and having fun with it?
That was or has always been the real purpose of toys? Have fun!
In addition to the fun and safety, you can then look at the educational value of the toys and the interests of your child.
If you have something extra to the toy that you choose for your child, then it is certainly included.
Because it not only gives your child endless fun and enjoyment, but it teaches them to interact with animals in a playful way.
It also stimulates their thinking and the motor skills of their hands and eyes.
Furthermore, the playset is a good preparation for that one trip to the real petting zoo or for when you would consider taking a rabbit or guinea pig into your home.
And this applies to almost all toy animals. Let your child play with all kinds of animal figures, such as our number 3 in the list above, the Wild Life animal set from Schleich. A very nice brand.
We have also written about it before with the best toy dinosaurs.
With this they will explore and discover the world around them in a playful way. They cannot learn early enough that we are not walking this planet alone.
You can read more about this fun DUPLO Safari packages for even more animal fun!