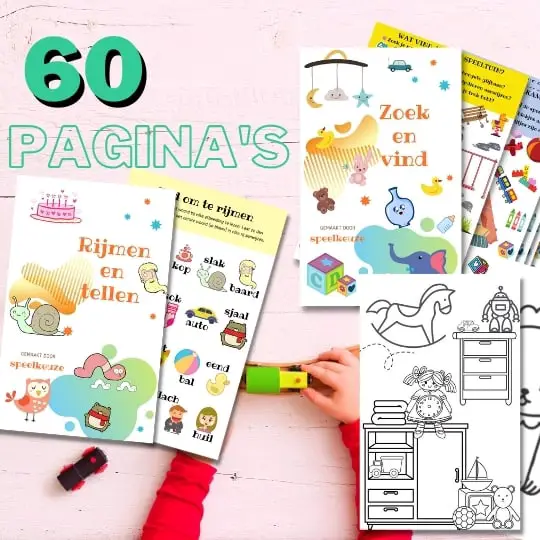 Always something to do for the holidays or rainy day?
Play Choice now has the ultimate activity book collection, with over 60 pages of fun coloring pages and educational puzzles.
What can I take with me when I fly with a baby?
and how do I entertain a toddler on an airplane?
These are two of the most common questions when it comes to traveling with a baby to toddler.
Or, if you have several children, what do you bring to satisfy all these ages?
In this article I'll cover all those toys that can keep your little one entertained during those long flights.
It's really no wonder many people have these questions as most parents fear being those people on the plane with the screaming baby or toddler.
Just a few years ago, you may have been the one who bothered!
If you're looking for airplane activity suggestions for babies or how to keep a toddler or preschooler occupied on an airplane, you've come to the right place.
This article is full of suggestions of what to pack to keep your baby, toddler or toddler busy on a long flight.
I cover air travel with a baby at any stage of development up to what you can bring with you to fly with a toddler and toddler.
When choosing toys for the plane you should pay attention to:
the convenience of taking it with you
the ease of use in a small environment such as an airplane seat
and the amount of time they can spend sweet with it
I will rank the toys by age so you can easily skip to what you want to read about, but also want to give you my top tip for all my air travel :)
The best activities to take with you are always DIY or coloring books, but the problem is that they go on and you have to take several with you (especially if you have more kids!), but these Water Wow coloring books from Melissa & Doug can be used over and over and they are fun in quite a few age categories.
My son actually likes to color the same picture more often, so it's a godsend.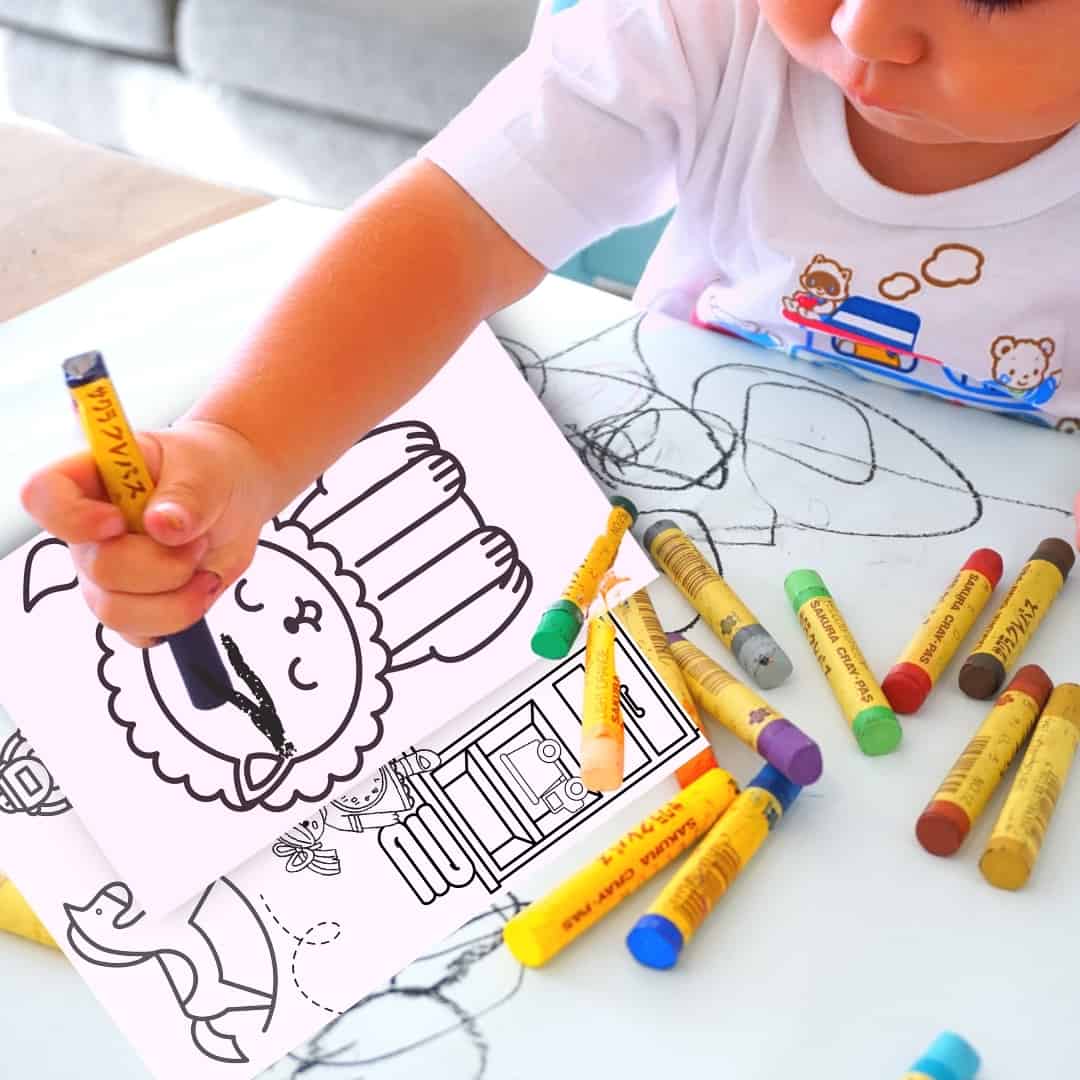 Coloring pictures
The coloring pages are always fun to do. I've made a few for the little ones, with big shapes and big pictures, plus a whole bunch with more coloring like the nursery, all in our free activity book collection.
Ok, now you can click on the ages and toys you are interested in:
Cutest baby toys for the plane 3 to 6 months
Traveling with a baby is a great time to travel because they eat and sleep most of the time.
Flying with a baby is probably one of the easiest flights you will take with your child.
When you fly with a baby who is between 0 and 3 months old, you really don't have to worry about bringing travel toys or books for your baby.
Chances are that you can travel well with your child and kill the time between eating and your baby's napping.
When they are between 3 and 6 months old, flying with your baby can still mean a lot of sleep (hopefully), but your baby may also start to show more interest in a few travel toys.
Your baby will probably be entertained enough by everything around her on the plane, but here are the best baby travel toys for this age:
Read also: the ultimate checklist for going on holiday with your baby
Crinkle Books
One of the first things you can take with you is a nice crisp book. Remember, the most important thing on the plane is that it is easy to carry.
You only have so much space in your hand luggage and you are already left with diapers and milk.
I like this crisp book from Imaginarium the best because it also has some extra rings and beads to grab and play with while still being nice and thin.
View this crisp booklet here at bol.com
Teether or bite chain
When your baby's teeth are already starting to come through, it is useful to bring a nice teether.
Most of them are flat anyway and therefore easy to carry.
It really doesn't get any cuter than the products of Sophie de Giraf and that also applies to the nice teethers:
If you like it and like to travel very light (like me), you can also think of a bite chain. For example this one from Bibi4you.
That saves an item in your bag, but you can easily take it around your neck and still have something to give your baby.
Just don't forget to boil the chain in advance just like you would with other bites or pacifiers before putting it on.
Cuddly toys with a lot of texture
If you are going to bring something bigger for your baby, it should be a cuddly toy with lots of texture.
With all kinds of different fabrics and rings and things they can enjoy themselves for a very long time.
I have already covered this Lamaze Octopus in my article about on holiday by car, and although you have a little more space to take things with you, a cuddly toy is definitely worth taking with you.
It also has a handy large ring to attach it to a ring or similar on the airplane seat so that it can hang.
Droomfabriekje made a nice video about it:
This Lamaze Captain Calamari Octopus is for sale here
Tiny Love Inspiral ball
Tiny Love Spin Ball. This is a great sensory toy. Provides a clicking sound with the balls on the inside.
Lots of different things and not too big to take with you.
The strings on the outside are great for developing the sense of touch, the colors are great and the little ones love it up to about 6-8 months.
Airplane bed
Of course not a toy, but super handy to have with you to ensure that your baby is comfortable.
This airplane bed from Deryan ensures that your baby always has a soft place to lie down and get some sleep and it also easily folds up for a feed.
It is suitable for newborn to 2 years and is available here at bol.com
Toy for the plane 6 to 12 months old
When traveling with a baby in this age bracket, they are especially interested in playing with the stuff on the plane.
The bags, leaves, cups and buttons on the chairs.
It's all new to them too.
In all likelihood, your baby will be like that and will be most interested in their environment on the plane, including the safety card, seat buckle and sun blind.
Other passengers can be quite exciting too.
Peeking through the seats is a great game (if you can find someone interested in connecting with your baby on the plane).
Or take them for several "walks" down the aisle.
Air travel with a baby doesn't have to be complicated.
But there are certainly times when they could use a little extra distraction, and I have some suggestions for easy-to-carry toys here.
Another extra tip: buy toys especially for this trip so that they have never seen it and can focus their attention on it extra long :)
Fat Brain Toys - Dimpl sensory toys
Toys for getting to know different shapes and structures are very good for this phase and they also love to fiddle with them for a long time.
But the disadvantage of these types of toys is that they are often a bit bigger to carry, not with Fat Brain Toys.
This flat Dimpl from Fat Brain Toys is a very nice alternative because it is easy to put in your bag.
The bubbles have a fine texture that is fun to grab, and it is also good for the cause and effect development of your baby, because as soon as the bubble is pressed on one side, it pops up on the other.
Here's our own video about it:
And here those of Fat Brain Toys themselves:
Tegu magnetic blocks
My little one loves to play with blocks and especially to grab one and crawl around the room.
This is of course not possible in the airplane and stacking will also be too easy. But, then there are the Tegu magnetic blocks.
There are a lot of different packages as you can see here, but by far the most convenient for traveling and because of the large blocks also the most suitable for this age is the pocket pouch. J
you can stack all kinds of shapes with it without it falling.
In addition, I find the Beans & Tumtum set super funny, but it is more suitable for slightly older children from the age of 1,5. I have listed them below :)
Read more about it too in our article on the cutest magnetic toys here
Fat Brain Toys Pip Squigz
Another nice one from Fat Brain Toys, these are Pip Squigz.
They are a kind of rattles, but with the handy extra addition that you can stick them on smooth surfaces, such as a chair in front of you, or a folding table in the airplane seat.
Nice to be able to entertain your baby for a while while you watch them try to grab it, hit it or of course just hold it and suck it.
Check prices and availability here at bol.com
Tolo First Friends
These adorable toys are perfect for the baby. They're also small, but not too small, and there's something about the soft clicking noise that makes the toys that babies love.
And there are many, from this cute bear to monkeys, lions, an elephant and even dolls.
View all First Friends here at Amazon
Snacks and trays
Snacks are also a great way to entertain a baby on a plane and are also one of our top tips for traveling with a baby.
It is best to bring along airplane snacks that last a long time to eat, such as baby breadsticks.
You can of course easily take everything with you in resealable plastic bags like this one, but maybe you can consider this Travel Stasher Bag.
It is made of silicone, not plastic and is therefore reusable and a lot better for the environment:
The slightly older baby will also want some real food and if you know how to handle food and plates from home, you may want a more convenient solution for the plane.
A baby anti-spill food bowl like this one from boy happy is really super!
Airplane toy for your toddler (12 to 18 months old)
It should come as no surprise that traveling with a toddler on an airplane is completely different from traveling with a baby on an airplane.
The more mobile your little one gets, the more time you spend entertaining your child on the plane.
You can get all our tips for flying with a toddler here. And don't worry, this phase won't last forever.
The key will be to have enough airplane activities for your toddler to go through and choose from.
A long flight with a toddler who is between 12 and 18 months old can be the most intimidating age to fly with a child.
At this age, the concentration is still quite short and they are very active.
For this age, some of the best airplane baby toys are simple toys that can be easily put down and taken back as they will want to switch toys every time.
Reading book
Reading has always been a big part of your child's development and it is nice that it continues when you travel.
Books with lots of pictures to talk about are a great way to entertain a toddler on a long flight.
I think a book about flying while you are going to fly is a very nice idea and this book by Kaatje is a very nice book to read for this age:
Finger puppets and hanging stuffed toys
They like many different toys, right? And it should be easy to store and retrieve for when they're suddenly done with another toy.
That's why finger puppets and hanging cuddly toys are so much fun.
Especially this Buckle Toy Buster has a lot to offer because you can easily buckle it on everything and click it off again and your toddler can try the same with all the buckles that are attached (it is one of the best toys to take with you on vacation).
Is he done with it? Then you just let it hang and continue with the finger puppets.
Melissa & Doug On the Go Water Wow! Activity Books
These coloring books from Melissa & Doug are great travel toys for a 1 year old child.
Not only do they work with water (i.e. very little mess) but they are also reusable.
There are many different variants available as you can see here, so you can always bring a bunch with you to provide some variety in theme.
Toy for the plane for 1,5 to 2 years
Traveling with toddlers between the ages of 18 and 24 months you will find that the attention span for watching short shows will pop up, which is great news for flying with a toddler.
This means you can take a break every now and then!
Reusable Sticker Sets
Of course you are not going to take real sticker sheets with you on the plane. You will never be able to get them off the seats again and then you will leave the staff with them.
But there are very good alternatives to stick reusable stickers in the supplied book, or to stick them on the chair or the window with these sticker sets.
There are many different variants available.
Crayola Color Wonder coloring pages
Coloring pages are great fun in any situation where a child has to sit for a long time.
The disadvantage of taking markers with you is that you have the chance that they will also smear other things while you are just not paying attention.
A pencil is a bit better, but there are other options.
The Color wonder coloring pages from Crayola are a very good alternative because the markers only work on the paper of the coloring book itself.
Again, there are many different variants available like you see here.
Toys on the plane for toddlers 2 to 4 years
Toddlers can play better on their own and get started with fantasy games.
That is why it is nice to bring things that they can enjoy for the time being.
Janod Magnetibooks
For a long-haul flight, it is absolutely good to look for somewhat larger activities for the plane.
I love the idea of ​​magnetic scenes to act out and came across the French brand Janod and their Magnetibooks against.
I think these are great, especially since they teach the little ones about matching and developing creativity and imagination.
There are a number of different packages available and the best part is that they are both travel cases and play trays at the same time to reduce the amount lost during the flight.
The game comes in a quality hinged chest, made to look like a book.
Each book contains:
- Cards and magnets (Vehicles Magnetibook has 18 cards and 50 magnets, Crazy face Magnetibook has 12 cards and 67 magnets)
- Magnetic scene / background in the lid of the box
- Box itself has a magnetic closure to keep it closed
The MagnetiBooks are for kids between the ages of 3 and 8, but I say some of them are easy fun from age 2.
There are many different MagnetiBooks you can choose from. Prices vary from € 25 to € 30.
You can copy the pictures on the cards with the magnets or you can get creative and make the craziest things yourself.
My favorite is therefore also the crazy faces Magnetibook:
In the Crazy Face magnet book there are 12 cards and 67 magnet pieces.
This one is also slightly more suitable for younger children because there are not too many different types of pieces.
Things like eyes and mouths are easy to spot and stick in the right place.
Create your own crazy face or there are 12 crazy face pictures to recreate.
View all available variants of Janod's Magnetibooks here
Lace up toys
Great for developing fine motor skills, but also just super handy toys for toddlers on airplanes.
It can be used over and over again and requires quite a bit of their concentration.
These animals from SEES are a lot of fun because there are a lot of different ones and when you take them out of the box in a resealable bag they don't take up much space at all.
Ravensburger aqua doodle travel
Handy portable and reusable coloring pages that only use a water pen. Once they have dried, you can use them again.
This is a great idea if you're packing travel toys for ages 2 and up.
Airplane toy for toddler 4 to 6 years
Now that they have a little more concentration than a few months ago, they can also sit for a while at an activity.
Here are fun toys that are easy to carry to put them to work.
Scratch Art
The easiest thing if you want to get them drawn without making a mess is to have them scratched instead of drawing.
Sratch art is a fun activity for children without the chance of them smearing a chair.
This scratch art by Melissa & Doug is a bit more extensive, making it really suitable from pre-schoolers, but there are also smaller tickets for younger children.
With the stylus they can scratch the cards nicely and watch the rainbow colors appear underneath.
A perfect travel toy for pre-schoolers on airplanes that will hardly take up space in your bag!
Wikki Stix
Wikki Stix is ​​suitable for older toddlers and preschoolers from 3 years old. Made from wax and yarn, no glue is needed, so no mess.
Perfect for keeping kids entertained while flying, in the car for a road trip, hotel room and all kinds of family travel.
BONUS ESSENTIAL: an iPad!
I know, I know, you don't want to be one of those parents with a digital babysitter. But that's not what an iPad on a long haul flight is to your toddler.
It is a wonderful, amazing, God-given resource for keeping everyone healthy.
Trust me, if your toddler has had enough of being overwhelmed by airport security and check-in desks and the hustle and bustle of the airport and sitting still in an airplane seat and popping their ears, you'll need an iPad.
Don't rely on the airplane entertainment on a long haul flight with your toddler.
Sometimes it suddenly turns out that the entertainment for the children is not properly programmed and that there was nothing to watch or play.
Or they just don't have that favorite show where your child suddenly doesn't want to watch anything but that.
Forget the headphones and a case and don't forget this: if you have more than one child, a headphone splitter is something you can't just do.
We have here's everything you need to know about iPads for kids.
Are you allowed to bring toys on the plane?
You are allowed to bring toys on the plane, as long as they fit in your hand luggage. Only be careful with liquid things and gel toys because they are not allowed on the plane.
Perhaps a bit redundant now, but I noticed that many people still have this question so it is good to answer it specifically.