12 best children's tablets tested: complete buying guide
I enjoy writing these articles for my readers, you guys. I don't accept payment for writing reviews, my opinion on products is my own, but if you find my recommendations helpful and you end up buying something through one of the links I may be able to receive a commission on that.
More information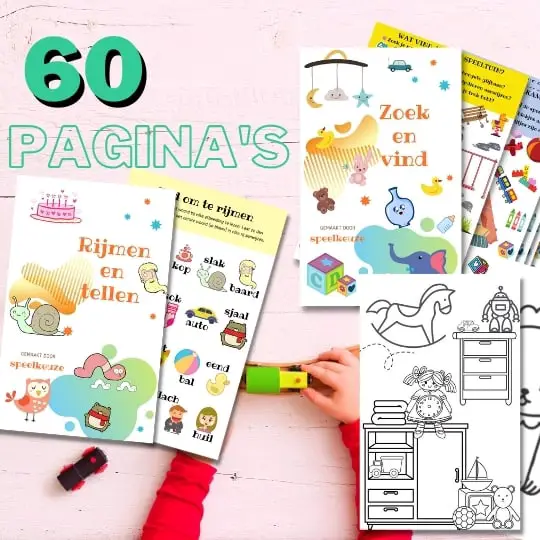 Always something to do for the holidays or rainy day?
Play Choice now has the ultimate activity book collection, with over 60 pages of fun coloring pages and educational puzzles.
Your child asks for a tablet and you are not sure what to give him or her?
You don't want your child to be left out of the digital revolution. But you also want to make sure they have a safe, educational experience that helps them learn new skills.
That's why we've been testing children's tablets for the past few weeks – so we can make it easy for you to choose!
Our team has done all the research for you and narrowed down the best choices based on safety, features and price, and most importantly, your child's age.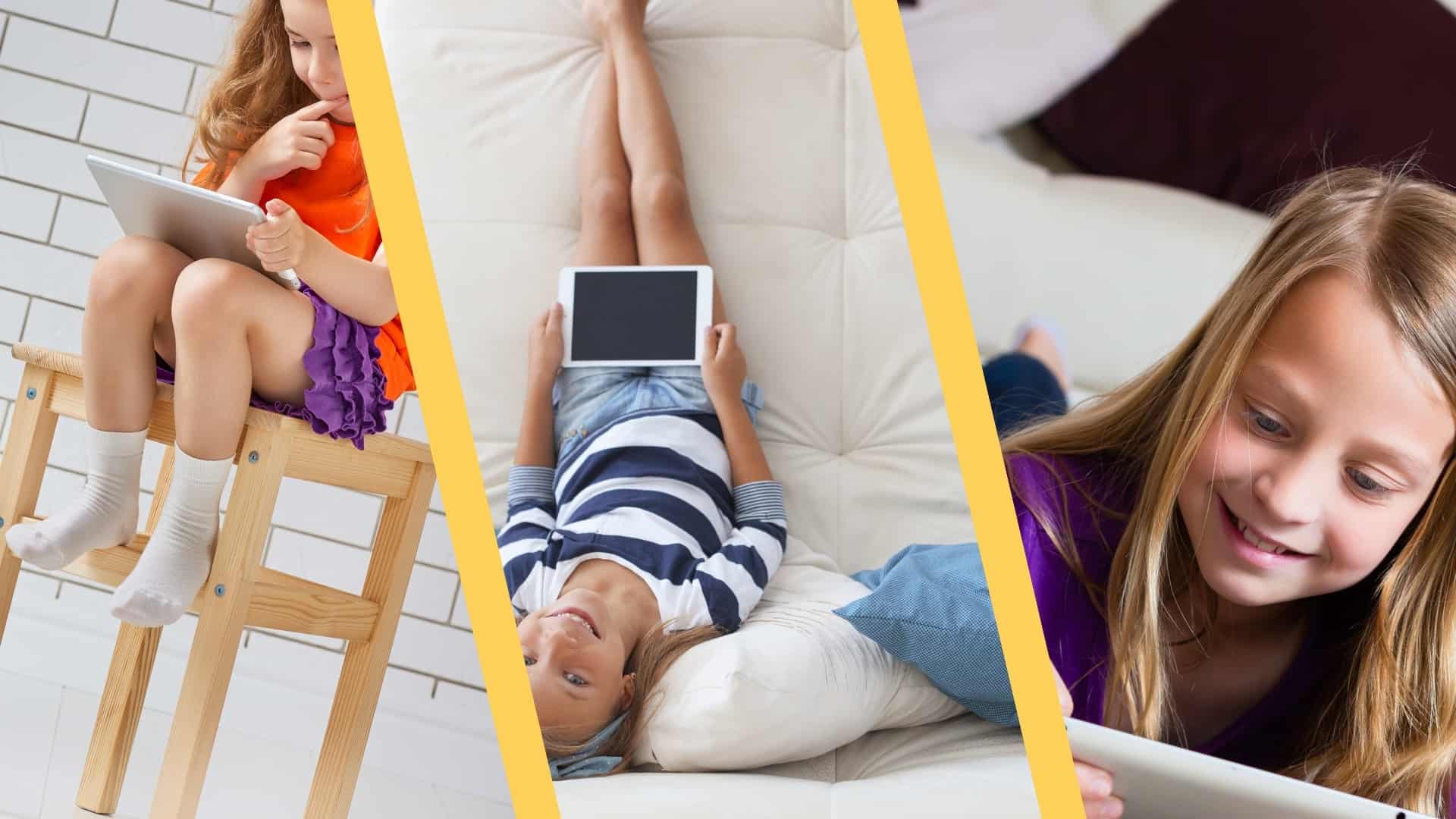 The ABSOLUTELY best this Kurio Tab Ultra. It's not the cheapest, but still very affordable and the parental settings, such as setting a time limit on specific activities and one of the largest libraries of own content make it the children's tablet of the moment.
I also reviewed 11 other tablets and there are also some more budget choices to choose from, plus one specifically for younger children.
I have looked at the included games, security, speed / memory, design and of course a good price-quality ratio.
Here are the best from the test in a nutshell, then I discuss all the important functions per tablet: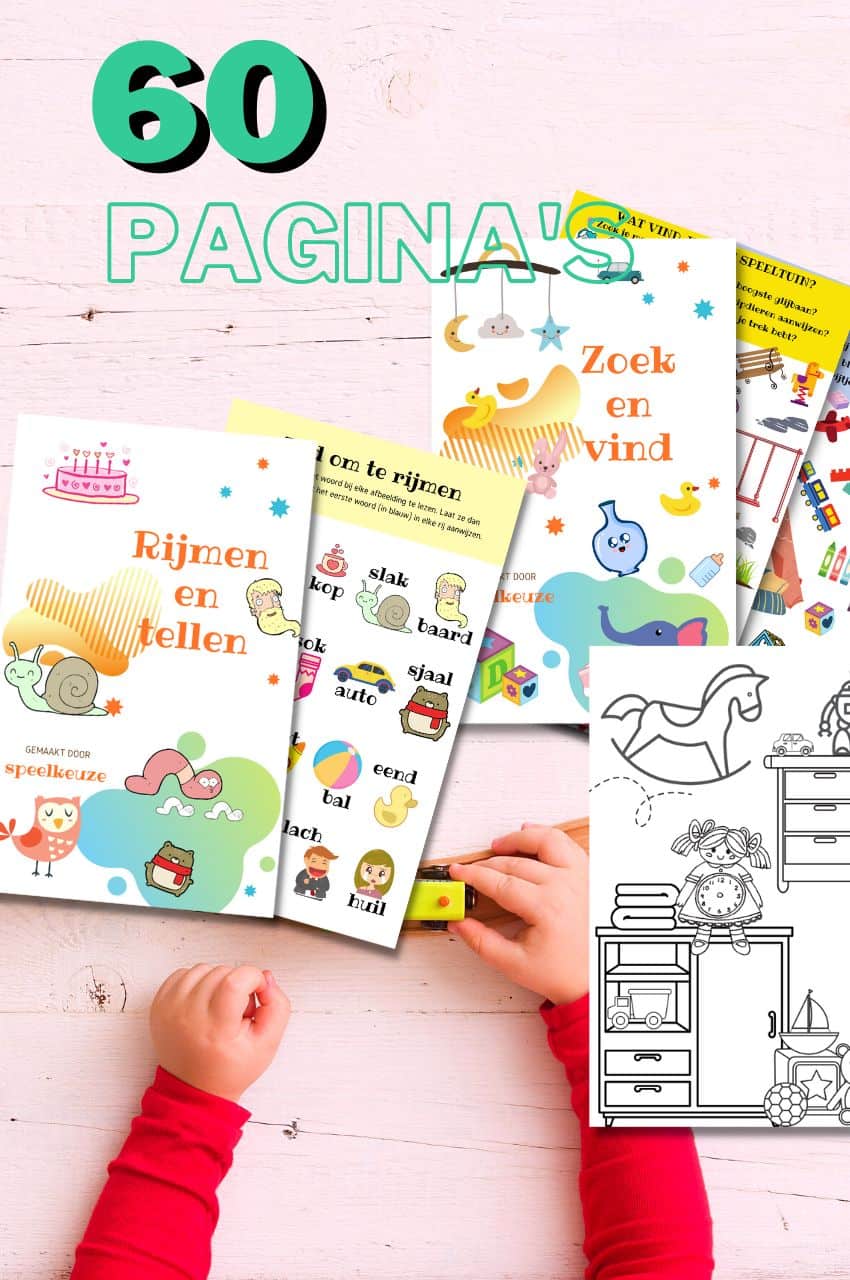 From toddler to toddler activity book collection
Educational games and coloring pages for 3 to 6 years
Your toddler and preschooler will love this e-book, along with the accompanying printables. He or she can play with it at every stage of development, together with mom and dad.
Buy at Bol.com
Children's tablet buying guide
When you buy a children's tablet, in any case look at the suitability for the age.
That is why I have drawn up this visual decision aid and I would also like to pay extra attention to this:
We've got a few more alternatives on this list that are cheaper, for example, or with a better cover, but these are the top picks to choose for your child's age.
Is your child older than 10? Then I would definitely go for an adult tablet that you might also want to make a bit more child-friendly, such as the:
Tablets, just like laptops or telephones, have basic components on the inside such as:
the core processor (responsible for all the calculations your device makes, such as opening a browser, playing videos, music, educational games, etc.),
RAM or Random Access Memory (responsible for making your computer faster when loading programs - the more RAM, the faster your computer / tablet / smartphone will run),
GPU or Graphics Processing Unit (comparable with the core processor, except that it is specially developed to be able to display graphics on your screen of the device),
Motherboard (houses all other essential parts such as the core processor, GPU, RAM, etc.),
HDD or Hard Disc Drive / internal memory (many desktop PCs and laptops contain HDDs; however, smaller devices contain solid state drives or SSD to store data).
All these parts work harmoniously together to give you the best experience in using your tablet or smartphone.
Although these things are a little less important for a children's tablet (because you are not going to run difficult software and most children's games are quite simple, especially for the younger children), it is still important for the speed with which the tablet responds, and thus the EASE OF PLAY (* * Daddy! The tablet is slow to respond! **)
Dimensions
The size of the display of the tablet that you are going to choose depends most on what you will need the tablet for.
Are you going to use it purely for multimedia? Or do you also need it if you travel a lot with your family?
You probably want one that is both handy to take with you, but also a decent tablet to watch a video on and play educational games with.
If you are someone who likes to draw and edit a lot, we still recommend choosing the tablets with a screen size of 10 - 18+ inches.
Plus you have to take their small hands into account with young children.
Choosing the OS (operating system or operating system)
In addition to the better known operating systems such as iOS (Apple), Windows (Microsoft) and the Android operating system (Google), there are also other OS' that you can choose for your tablet.
Most children's tablets also have a standard OS already built in and that means that you usually work with Android with a child-friendly shell around it.
These are the specific tablets made for children of a certain age.
For what purpose?
How you are going to use your tablet is another consideration that you have to take into account.
Is this only for your young child, or should other family members also be able to use it such as older children for school or you also a bit for work or email?
In the latter case you probably want to go for a full tablet with child-friendly settings, such as the Samsung tablets that we wrote about before.
If children are the reason for buying a tablet, there are some that are specially designed for children like the Kurio.
In any case, a children's tablet is often used to play games or watch YouTube videos, but it can also be used for educational purposes.
That's also why I let my kids play and learn on a kids tablet, but of course with protected internet settings and I limit screen time.
Do they need their own tablet? Not in itself ...
I have researched which device our readers give their children, and that is often their own tablet or telephone, especially up to a certain age.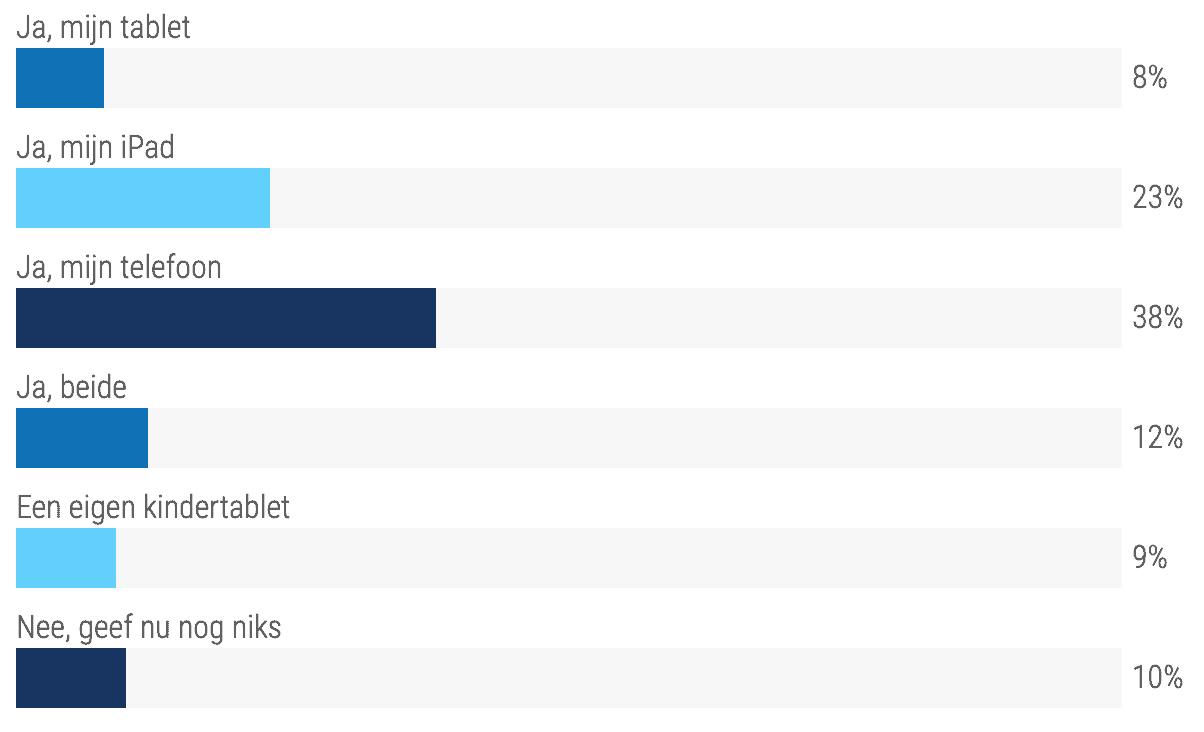 Most people give at least some sort of device to their kids, and on the other hand, many parents are concerned about screen time settings and parental controls.
The right children's tablet can then be very useful to get a better grip on how long and what they use a tablet for, only entertainment or also to learn something?
Considerations for Using Apps and Content
All major OS developers, which are iOS, Windows, and Android operating system, have their own app stores where you can download various apps and programs for free or paid.
With children, you would prefer to choose a children's tablet that can't just be added here, or buy a full-fledged tablet and block the Android Playstore for in-app purchases or set a limit of an amount.
Android clearly has a big lead over Apple's products in terms of apps for children, but also in making the tablet child-friendly.
Battery life
What's the most important element to perhaps spend a little more on kids' tablets? Battery life!
Yes, because if your battery doesn't have enough power to keep up with all that high performance, your tablet won't be nearly as fun as you thought it would be.
The problem with high quality specifications is that they consume far too much battery and will run out quickly.
So if you want to spend a little more, choose a good battery in particular.
The price
Because tablets are developed by different brands with different sizes, specifications and features, you can be sure that the price can vary considerably from the lowest price segment (starting from € 50) to the higher segments (€ 150 to € 200 or more for a child's tablet).
The final choice, of course, depends on yourself and will largely depend on your goal for the tablet.
Your use and necessity is what determines your decision. Do you mainly use it at home and can it often be on the charger? Or is it the intention that he goes on the road and on vacation a lot?
Make a choice based on your need and purpose for your tablet.
Best children's tablets rated
Well, the advantage of these tablets specifically designed for kids is that you can set the limit in how much you want them to play on them and even what activity.
So you can say, ok…. You can watch videos for half an hour, but then only use educational apps. You can control it as a parent if you want to invest the time to set it up.
And therein lies the power of a real kids tablet instead of just giving the family tablet to your child and hoping it will work out.
Overall Best Kids Tablet: Kurio Tab Ultra
The most bought and most popular children's tablet of the moment, and for good reason!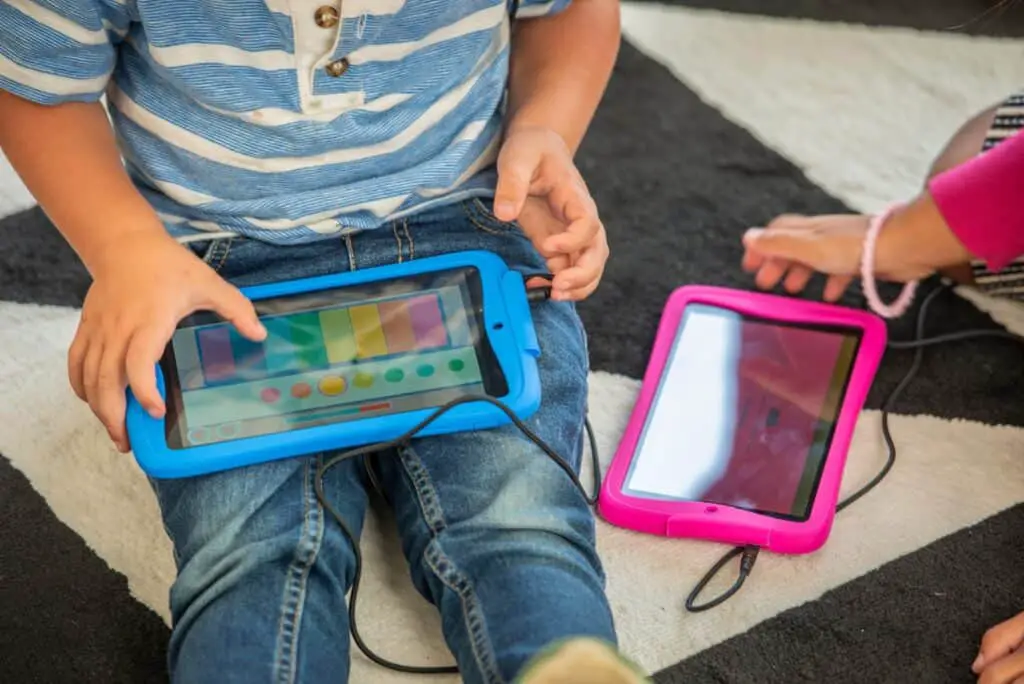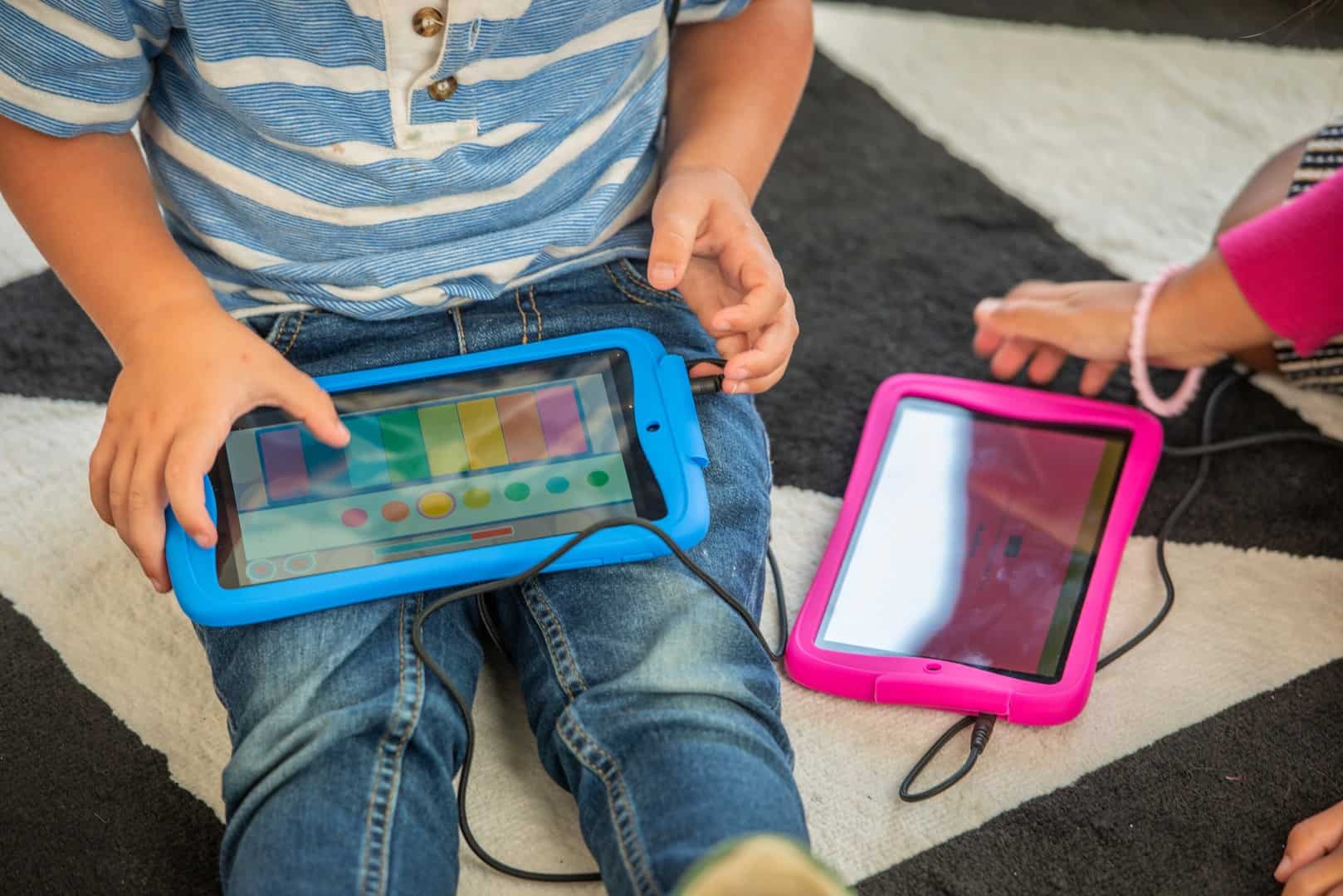 Best suited for: 3 to 7 years
Safe browsing: Yes
Youtube: Ja
Size: 7 inch
Speed: Quadcore 4 GB RAM (average)
Where the Denver TAQ is really a budget choice, the Kurio Tab Ultra Studio 100 costs a bit more, but you do get a lot of specifications and fun in return.
Suitable for: Children who want to do something more with it, often slightly older children. Convenient integration with the Telekids or Connect Studio 100 offerings and great secure internet mode.
To begin with, as a parent, you have full control over what your child does with the tablet and how long the device is used.
You can filter out unwanted apps with the handy App Management, and websites are filtered and categorized.
This is where this Tab Ultra STANDS OUT!
The most useful child-safe settings you can find, and quite easy to set up.
In addition, you can always control and stay in touch with your child with your own phone and App, a unique parental experience that none of the other tablets offers.
That is also the choice you make for this tablet, because it is, for example, less powerful than the even cheaper Fire HD XNUMX.
But for parents who want the greatest security and the best kid-friendly content and apps, the Ultra is undefeated.
Not for nothing the MOST SOLD children's tablet at the moment!
Create multiple profiles for your kids
You can set the desired internet behavior for each profile, so that your child can always use the internet safely.
In addition, you can set a maximum time per session that your child uses the tablet, so that your child cannot sit on the tablet all day.
Blue light filter is also a nice function that makes looking at the screen less bad for the eyes.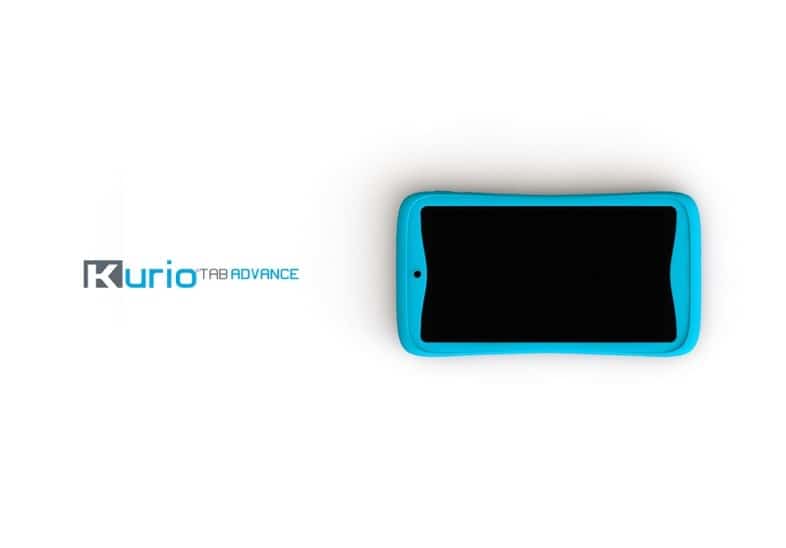 In addition, 8 profiles can be set on the tablet, which is easy if several children use the tablet. The device then remembers what the preferences are based on which profile is used.
The tablet also has Kurio Motion Games that are played with the camera of the tablet, which is of course very cool for the kids.
The Kurio Tab Ultra is packed with handy gadgets, which makes it a very attractive tablet and has therefore earned a place in the top 11.
It is an investment because the device is quite expensive, but it is well worth it!
Also watch Kurio's trailer about the Ultra:
Check the most current prices and availability here
Best Budget Kids Tablet: Fire HD XNUMX
Suitable for multiple ages, safe and affordable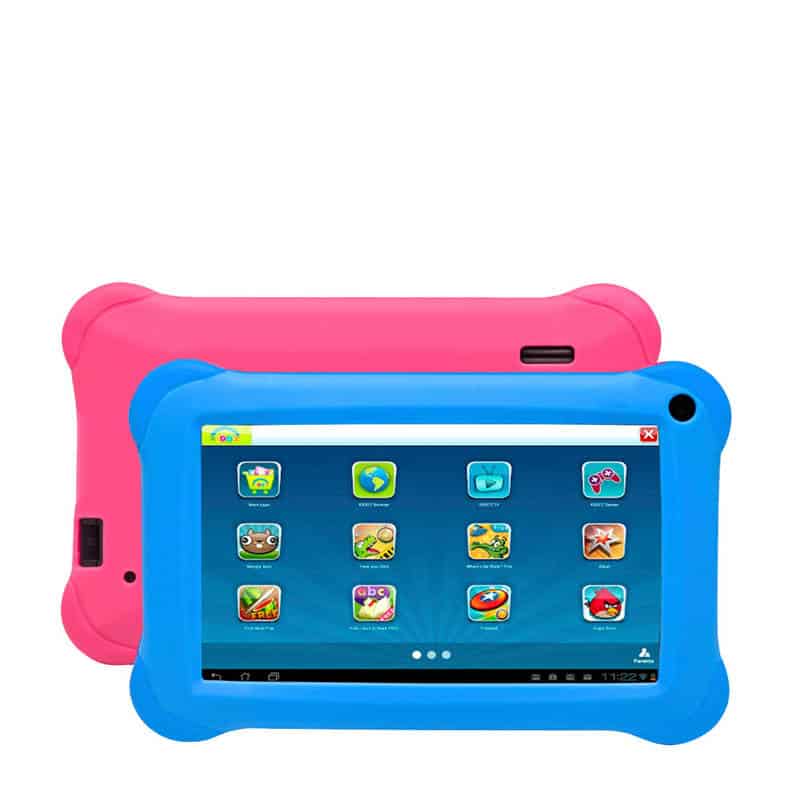 Best suited for: 3 to 7 years
Safe browsing: Yes
Youtube: Ja
Size: 7 inch
Speed: Quadcore 4 GB RAM (average)
Suitable for: Smaller children who mainly use the children's apps. It is a lot cheaper and easy to use for younger children.
Furthermore, the tablet has a memory of 8 GB, which is expanded because it fits a micro-SD card.
That is a big advantage, as it allows you to download more games from the Google Play.
Finally, the price is one of the main reasons that the tablet has ended up in the top 11, the tablet does not cost much at all and is therefore one of the cheaper tablets in this list.
All in all, a good tablet with which to enjoy a lot of fun for a low price.
We do want to be fair in our assessment. As a result, some features lag a bit behind, but the price-quality ratio is great.
You also have access to the KIDO'z software that makes learning and playing very easy for children.
Fire HD and their development for kids
Fire is a Norwegian company so that is sometimes a nice change from all those originally Japanese and Chinese companies or the Americans.
The tablets are made in China, by the way.
Design and development all the way in Norway.
Nowadays, by the way, all major manufacturers make their products in either China or India, so that in itself does not have to be an issue.
They state that they have high quality standards.
Fire HD: Made for kids
The tablet has been completely developed with the kids in mind. He therefore has an extremely simple menu and the style is very colorful.
In terms of functionality, it is also completely stripped down to those features that a child will need.
This can be a great advantage as you do not always look over your child's shoulder. You can let your little one explore and discover safely through this.
However, it is also a disadvantage for many. You shouldn't take these if you want one that you will use for yourself at the same time.
Then you better go for a child-friendly full tablet.
But if you want one in addition to your current one, specifically for your kids, it might be a good alternative.
KIDO'z platform for child-friendly content
Then we come to the great advantage and of specialized product. What you may sacrifice in terms of overall functionality, you will get back in the form of the KIDO'z platform.
It is a content discovery platform specially made for children where they can safely search for things they like, without accidentally discovering things on the (real) internet that are not suitable for them at all.
It is not only a platform where they can search themselves, but also one that knows how to learn from the preferences of the child on the basis of smart technologies and thus can grow with him.
The right content at the right time, that's what they stand for.
At KIDO'z they can learn as well as enjoy fun videos and books.
You also have a lot of games in different age categories.
These can also be distinguished in mainly fun games, and games that are also educational in nature.
This way you always have an overview of the playtime that your child has on the tablet and whether it is best spent educationally.
The features of the Fire HD XNUMX
A child-friendly tablet review is not complete without also talking about the technical features, so we would like to consider that with this Fire HD 90033.
It is small and handy with an inch touch screen.
The screen has a resolution of 800 × 480 (16: 9). That is not optimal compared to, for example, the 1024 × 600 resolution of the Kurio Tab 2.
A 1.2 GHz quad-core CPU chip and 1GB DDR3 ram RAM ensure smooth operation of the operating system and the KIDO'z software. You don't need more processor power
With 16GB of internal memory you could still be short. Especially when you also want to download your own apps and games or let them get started with the camera. and SD card can help
A 0.3 megapixel front camera is not very good, but it is mainly used for games where the space around the child is being used
Built-in battery (3500mAh). It lasts for several hours without having to recharge. Sufficient for the children's playtime.
Here you can see what's included:
Performance
To evaluate Fire HD XNUMX performance in this section, we check processor count, processor frequency, and CPU architecture by comparing it to other tablets:
Processor Core Count: 76%
Processor frequency: 80%
CPU architecture: 80%
Analysis of the features of this Fire HD XNUMX showed that the Fire HD XNUMX really does a decent job, especially for the money.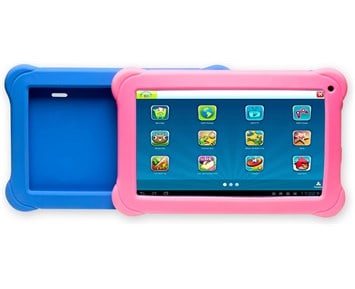 Then we come to the final verdict. Is it the best tablet you have ever held in your hands? Certainly not. Should he be?
No, I don't think so either.
It is one to have extra in the family and where you only let the children play and learn. In that regard, he certainly fulfills this need.
With above-average ergonomics, quite acceptable screen, really solid battery, and pretty pleasing performance, the Fire HD XNUMX packs a punch.
It also has a sturdy cover so that you do not have to buy something like that extra, such as for your iPad.
And it has enough fun content to keep the kids entertained for years to come.
It runs the applications quickly and without jerks, and those are actually the things you are looking for.
Check the most current prices and availability here
Best for baby and toddler: Vtech activity tablet
The VTech Baby activity tablet is the same size as an adult tablet, but is designed for small children.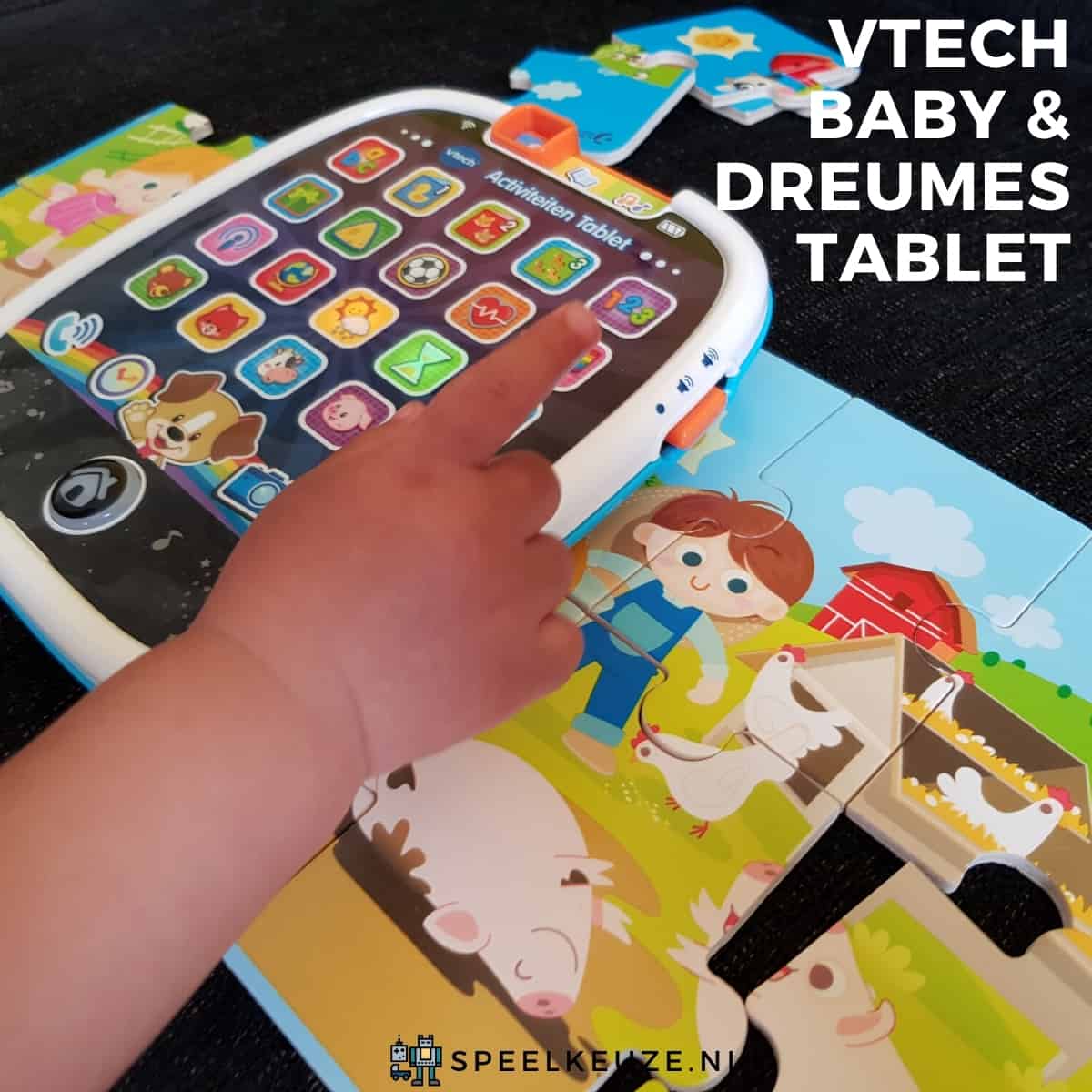 Best suited for: 1 to 2,5 years
Safe browsing: No.
Youtube: No
Size: 20 x 17 x 4 cm
Speed: na
It is an educational, interactive toys with lights, sounds and colors (the whole shebang!) that will stimulate the little ones and keep them entertained for a long time.
Every button does something different and little users receive a musical reward for every action.
But it is. This one is really only suitable for the youngest children and no longer after year 3.
The areas on the touchpad are quite meticulous, by which I mean that you have to press quite precisely, otherwise the tablet will play a standard tune.
That made it frustrating for us until he was about 2,5 years old because he kept misprinting.
I therefore think that it is the best thing to do together from baby to 2,5, but as a tablet to keep them entertained for a while from 2,5 to 3,5.
Then it's time for a more full-fledged tablet like the Kurio Ultra or Denver TAQ.
It comes with two volume settings (when the repetition and sound start to threaten your mind) and is safe, with nicely rounded edges, where you can be sure your little ones will use it for chewing at some point. .
The tablet is small enough to put in a travel bag when you on the way in the car need some entertainment, and it's rugged, even withstanding submersion in shallow water… you know, kids!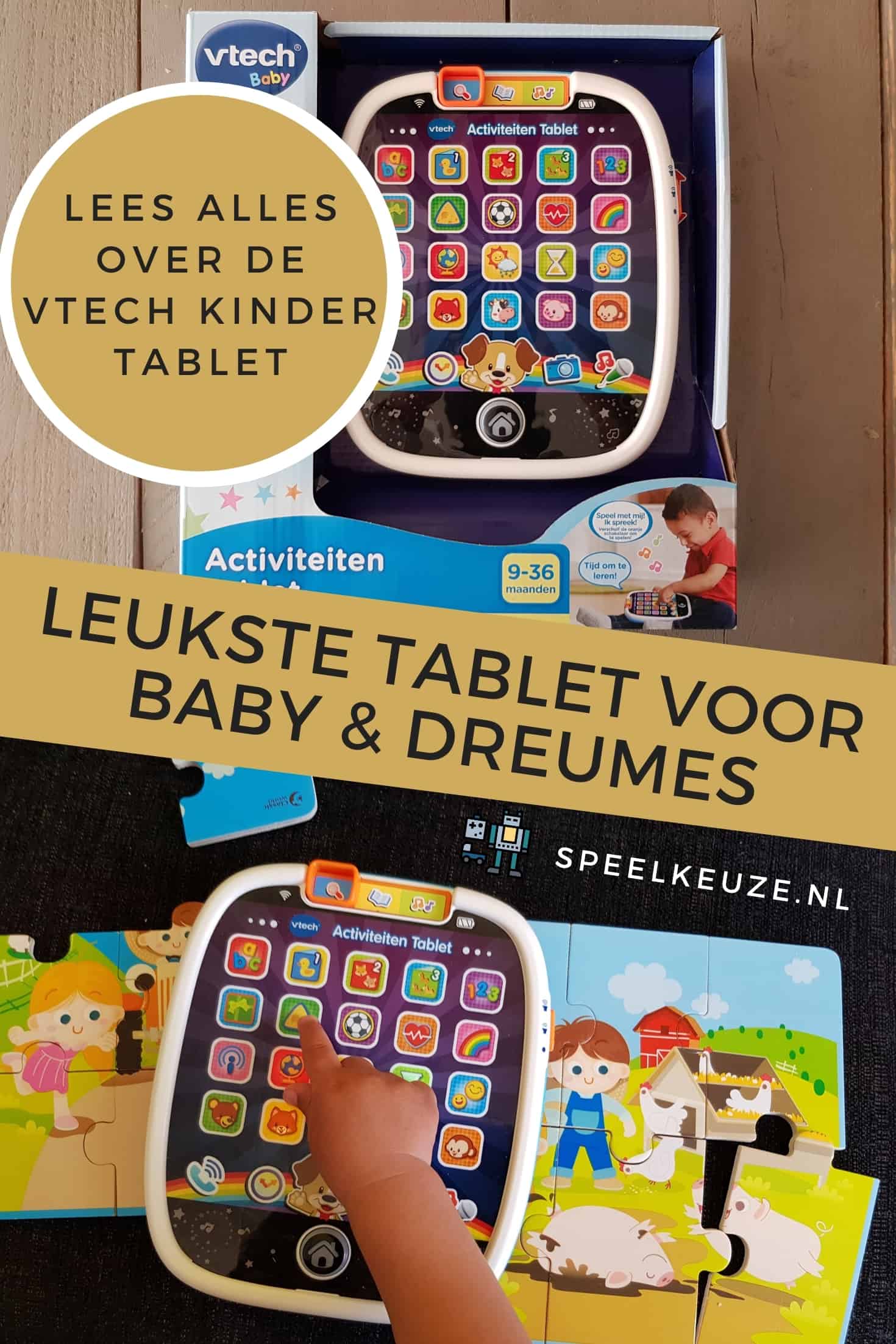 Real young babies sometimes like the tablet a bit much, but it is useful as a quick distraction and it also offers good value for money.
I must also say that our son found it difficult to press the buttons exactly, because if you press next to them, a standard sound plays.
Due to this frustration, he only started to like it again at the age of 2,5.
It is available here at bol.com
Best Protective Carrying Case: Veidoo 7 Inch Tab
Veidoo has the best games I've come across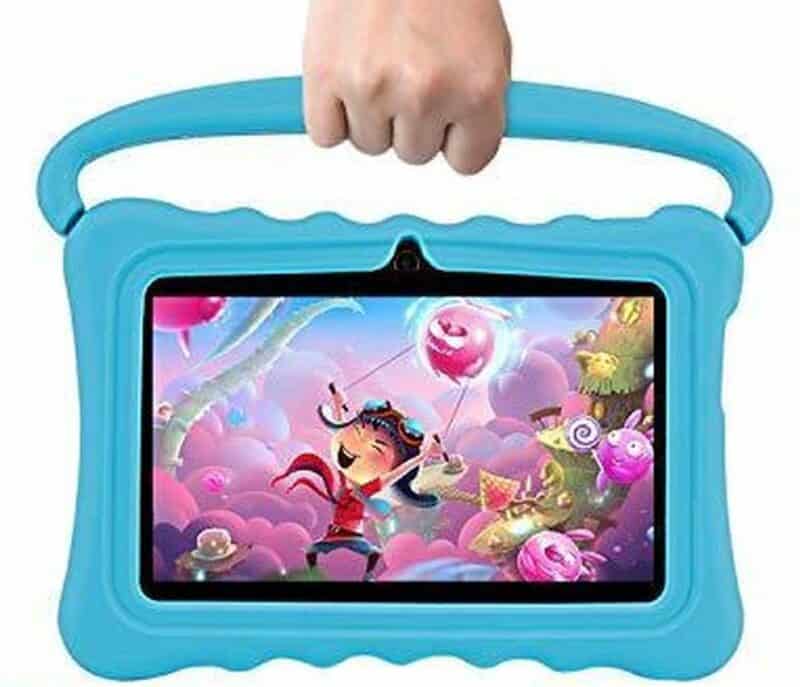 Best suited for: 3 to 6 years
Safe browsing: Yes
Youtube: Ja
Size: 7 inch
Speed: Quad-core 4 GB RAM (Low)
Good for: The powertab has more than 50 pre-installed games plus access to the Google Play store and yet is one of the cheaper ones on this list.
The tablet can be delivered in blue or pink and has an attractive and sturdy design. Parental Control allows you to specify restrictions on what can and cannot be visited, so you never have to worry when your child plays on the tablet.
A big advantage is that the tablet comes with 50 pre-installed games, so there is something for everyone to experience, and of course a price-conscious choice. to control your robot toys.
In between are racing, sports and skill games, as well as educational games to promote development.
The device is connected to the Google Play store, so that parents can also put apps on it to make maximum use of the tablet.
The tablet also has an excellent battery (2800 mAh) for this, which means that the tablet can be used for hours without having to be charged.
It's a great budget tablet for the younger kids.
The children's tablet is available in 2 different colors: pink and blue.
The tablet comes with a Dutch Veidoo children's tablet manual, a USB charger, a host device micro-USB and a headphones.
The tablet runs on Android and already has 50 pre-installed games on it.
In addition, there is the possibility to install more games via the Google Play Store and there is also parent control software.
A disadvantage is that the device quickly becomes slow.
And especially because it already has 50 games installed on purchase, it can take a very long time to start up.
The Veidoo children's tablet has an 8 GB Nand Flash and 1 GB RAM memory and can be expanded with the Micro SD slot with a memory up to 32 GB.
That is also the reason that I think it is good for smaller children, but when your son or daughter gets older and starts to do more, he cannot get along well.
Especially when they start installing apps and games on it themselves and you will (want to) have less control over it, it can no longer handle some larger programs.
There is a camera on both the front and the back of the tablet and the Veidoo children's tablet can also use the WiFi network.
The screen measures 7 inches diagonally and the tablet measures 20 × 12,5 × 1,2 centimeters (length × width × height) in total.
Although the tablet is made for children and is shock resistant, the screen itself is a bit fragile.
A Veidoo kids tablet sleeve is available for €10 and is also available in two colours: blue and pink.
This extra protection also bets that the screen is still unprotected, so keep this in mind.
What is positive about the Veidoo Kids Tablet is that it is relatively cheap for the many different possibilities it offers.
One downside is that it quickly becomes sluggish, especially during startup. But you can't expect top quality for this amount.
Best Cheap Educational Apps: Clementoni Clempad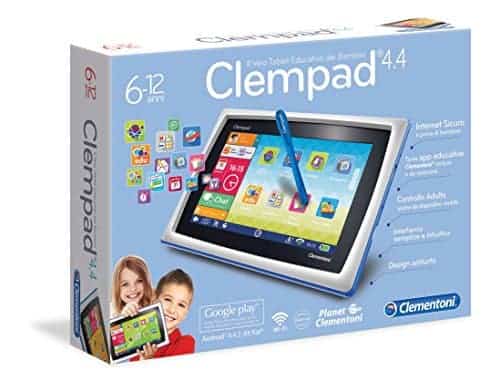 Best suited for: 3 to 9 years
Safe browsing: Yes
Youtube: Ja
Size: 7 inch
Speed: Quad-core 4 GB RAM (Low)
While Veidoo has focused on the fun and entertaining games, Clementoni has taken a different path with his tablet (and all their other toys for that matter!) by offering mainly educational apps.
That's not to say these educational apps can't be entertaining, because they certainly are, but maybe not always what your child would choose right away.
It is the best choice if you mainly want an educational tablet for your child, although you can also access the Android playstore to install a lot more of course.
Due to the educational content, which is tailored to different ages, it is also suitable for more ages and remains fun until about 9 years old.
The manufacturer says up to 12 years, but I don't see my child playing on this tablet until that age, then they definitely want an iPad.
Check the most current prices and availability here
Best Cover Included: ALCATEL 1T7 Family
One of the most important features with younger children is how good the cover is on the tablet. You can of course buy a separate cover that is sturdy, but this one has the best supplied cover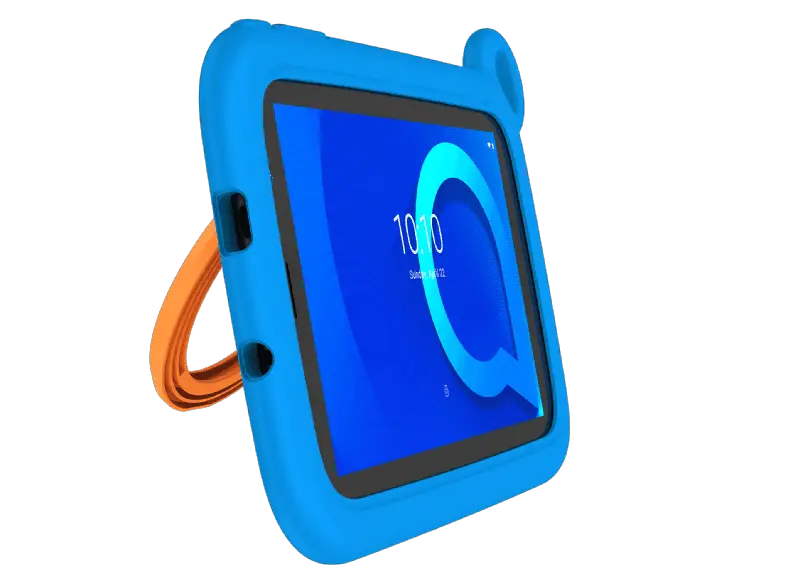 Best suited for: 3 to 7 years
Safe browsing: Yes
Youtube: Ja
Size: 7 inch
Speed: Quad-core 4 GB RAM (Low)
Suitable for: A children's tablet with one of the best covers on the market in one is a sustainable purchase.
However, this Alcatel 1T7 has one of the sturdiest and easiest covers on the market with a carrying ring and a fold-out stand at the back to put it down.
Furthermore, the tablet is also one of the cheaper. For the rest, the tablet does not have a lot of features, it is mainly the appearance that counts with this tablet.
Best widescreen: Fire HD 10 XNUMX inch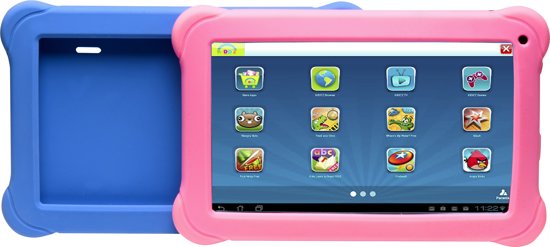 Best suited for: 3 to 7 years
Safe browsing: Yes
Youtube: Ja
Size: 7 inch
Speed: Quadcore 4 GB RAM (average)
Suitable for: For when you or your children prefer a larger screen, usually suitable for older children as it also becomes a bit heavier to hold.
The next tablet in our top 11 is the Fire HD XNUMX. The tablet has indeed already appeared in the list once, but this tablet is intended for those who like a larger screen.
The tablet has a screen of XNUMX inch, XNUMX inches taller than the other Fire HD. Furthermore, the tablet has the same features as its smaller brother, except for the price.
In short, for € 20 more, the kids have a nice large tablet for more fun.
Cheaper but Kurio child resistant settings: Kurio Tab Lite
The little brother of the Kurio Ultra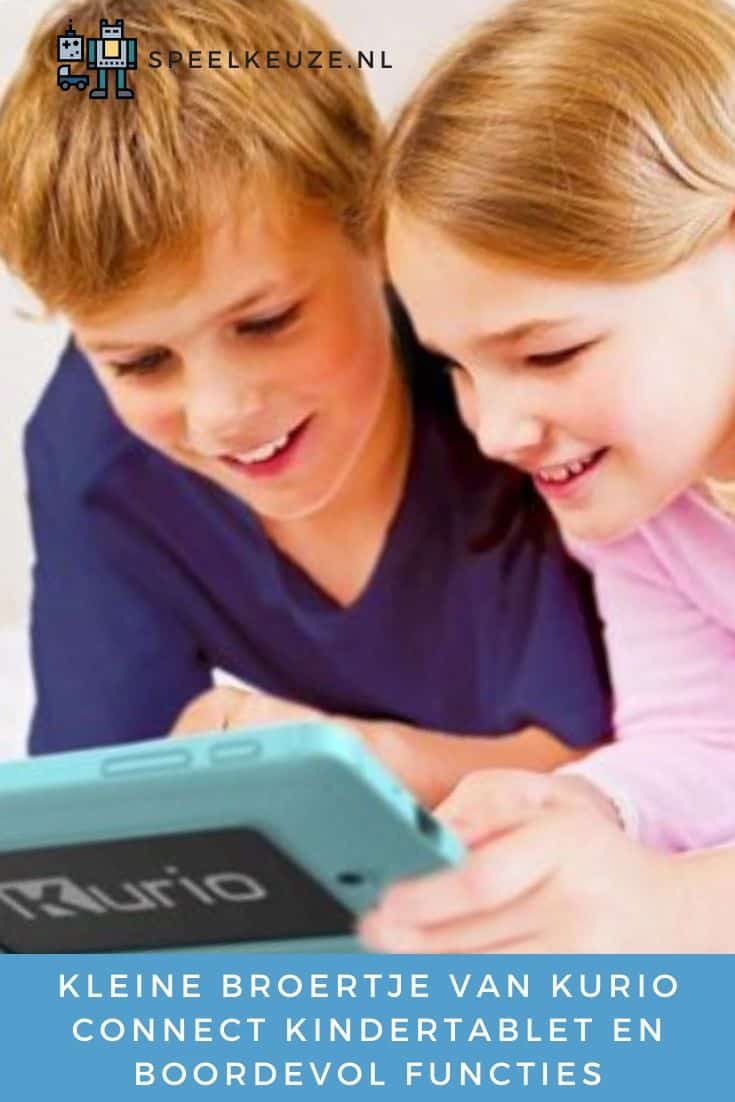 Best suited for: 3 to 6 years
Safe browsing: Yes
Youtube: Ja
Size: 7 inch
Speed: Quad-core 4 GB RAM (Low)
Suitable for: The Kurio Tab Lite is a cheaper version of the Kurio Ultra with fewer features and performance, but all the child-friendly settings you can expect.
This is a special one among our tablets, because the device is a bit more stripped down in terms of features! This makes the tablet very multifunctional, because in this way the children can also do homework and work faster with the device at a still low price.
Just like on the Kurio Tab Ultra, games can be played for the built-in camera of the tablet, the so-called Kurio Motion Games. One of the few drawbacks of the Kurio Lite Tablet is the price, which unfortunately is very high for a budget tablet.
A good argument is that you do not have to do away with a separate laptop for doing homework or other things for the kids, which will save you money later.
Best Kids Tablet for Toddlers: vTech Storio Max XL Tablet
Tough and robust, with an interface aimed at slightly older toddlers and young preschoolers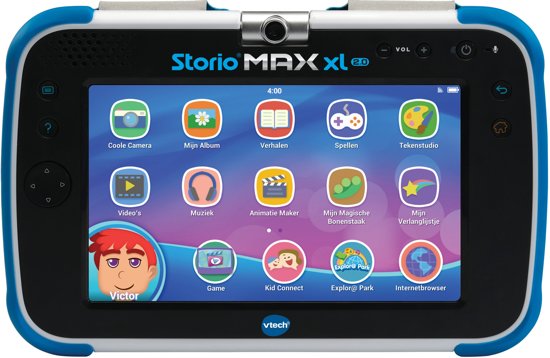 Best suited for: 2 to 5 years
Safe browsing: Yes
Youtube: Ja
Size: 7 inch
Speed: Quad-core 4 GB RAM (Low)
On the tablet it is possible to take pictures, play games and listen to music. In addition, you can also listen to stories.
The VTech Storio Max is a tablet made especially for children, with "child safe" Wi-Fi, built-in camera and player, MP3 functions and a lot of fun, educational and creative apps.
There's also an engaging Kid Ultra messaging tool that links to a parent's smartphone and tablet app. A bit like the Kurio Ultra, but with less parental settings.
It is a very nice tablet for somewhat younger children from 3 or 4 to about 5 years old and is a good and educational investment.
On the downside, we found the tablet to be frustratingly slow to load games and apps, or even switch between them.
It is well built and available in the mandatory colors for kids' tablets, pink and blue.
The cover protects the screen when not in use and also serves as a kickstand for a better viewing angle when watching videos or photo slideshows.
Or you can remove the cover entirely if you want the more classic tablet look.
What I love about it is that it's a tablet, but it's not.
It is not intended for older children or for yourself to use, but specifically to introduce younger children to new technology that they will certainly use more later in life.
In any case, more than we have ever done before and it is only getting more.
But it is also not such a toy tablet that can only play a few tunes and a few dozen games.
Under the hood is a real Android operating system and a whole bio library of Vtech's own video and games. It is right in the middle of the toy and educational tablet segment.
He is sometimes a bit slow with loading, but it might also be good for teaching children patience.
And on the other hand, they will not often want to do too many heavy things at the same time, which means that things are not that bad.
There are some nice unique features like the wonder cam, the movie maker app and art studio that can keep your kids entertained for a long time.
Drawing, painting and working with stickers is always very good for my children. And there is plenty of content that you can download again.
Better than those toy tablets, it also has a built-in browser and wifi.
This is not child-friendly or cannot be set, it just has one child-friendly mode.
That's why it's not a tablet for both you and your child, but that's okay.
All in all, a very good tablet that is really for the kids.
Perhaps a bit pricey for a tablet just for your child, but for the money full of features and unique child-friendly content.
It is not a full-fledged tablet that you would want to use yourself, that is something to keep in mind.
You'll want to buy the VTech Storio Max for ages 3-6 and it includes fun and creative games and educational content to keep them responsibly entertained.
Now let's look at the full review and features of the Vtech Storio Max.
For what age is the Storio Max suitable?
VTech believes that the Storio tablets are suitable for children aged 3 to 9 years.
I think kids ages 7 and up will find some of the included games a bit simplistic or childish due to their then sophisticated taste, but for kids ages 3 to 5 or 6 it's a fun choice.
Kids love to feel that this is their own device, instead of forever begging to borrow Mom or Dad's phone or tablet.
Android, but with its own sauce
The Storio Max is actually based on Android, but it has an interface designed for kids.
It is easy to use and features a 7-inch touchscreen (1.024 x 600 pixels) and they can operate the tablet with their finger or the included stylus.
The fact that it's powered by Android (4.2 if you need to know) means you can download over 200 teacher-approved Android games and don't be limited to VTech's own 650 software titles.
It still lacks the wealth of apps you get from a normal Android or iPad, and there are plenty of games featuring well-known kids' movies and TV shows.
Yes, there is a Frozen game (£ 4,99) and other stuff from the Disney / Pixar brand.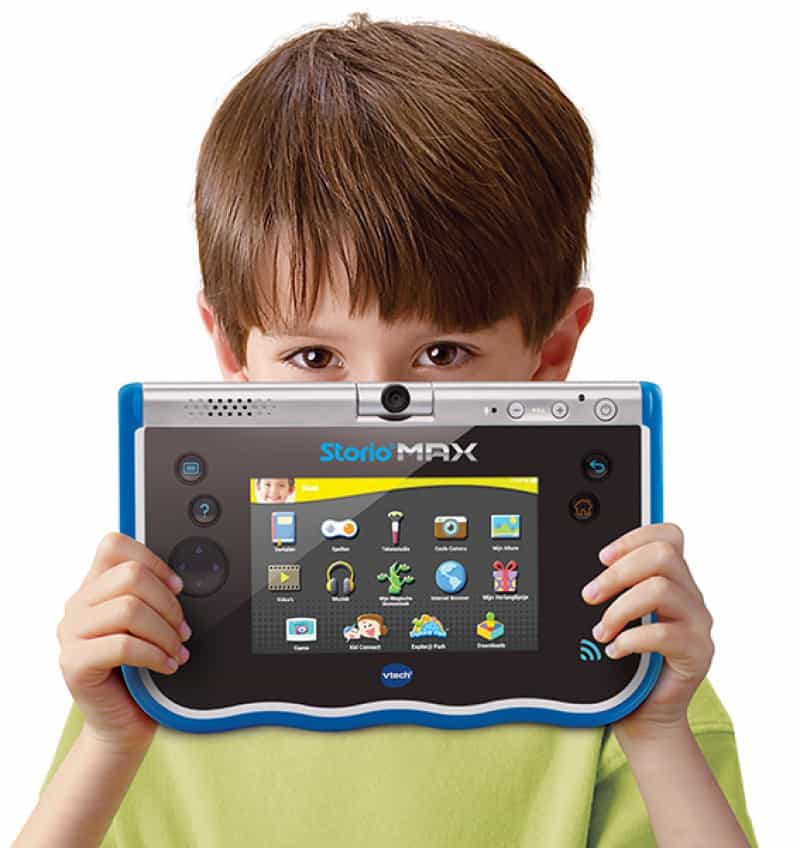 Pre-installed apps
It comes with 18 apps installed, two of which must be downloaded from VTech Learning Lodge's app store after registering.
The apps you get right away are the Wonder Cam Max, which lets kids create funny faces and add photo frames, more than 60 special effects and "kaleidoscopic creations".
The Movie Maker app is a lot of fun and will keep kids entertained. With adult supervision and guidance, this can be an interesting creative tool.
There is also an Art Studio for drawing, painting and adding stickers. Young children love to add a sticker as any parent can tell you.
The 2-megapixel camera is neat as it can pivot to take photos or video from both the front and the back.
Image quality isn't what you're used to from your compact camera or smartphone, but it's just about acceptable for kids to play with it.
This is also true for the LeapPad, by the way, and it would be nice if one day a kid's camera took some decent pictures.
The tablet has an internal storage capacity of 8 GB to keep all those photos, videos, music and apps.
We like the ability to expand this storage capacity up to 32 GB with a microSD card.
VTech download additional content
You can buy additional video content such as Charlie and Lola, Pingu, Octonauts, and some Disney shows, although these are not cheap.
There is an e-Reader with Story Dictionary, with which children can learn to read.
I would rather have more than one eBook with it, although there are also free books to download.
The built-in Wi-Fi means you can download games directly to the tablet instead of having to use a parent's PC, which has been frustrating for previous kids' tablets.
It is also there for Storio Max web browser.
Safe Internet browsing
VTech claims that the browser is "child safe" and that there are a lot of vetted websites for children to browse.
This makes it much more of an internet experience than its rival, the LeapPad from Leapfrog, which has a browser that's little more than a series of pretty random videos for kids to watch.
While we were extremely limited, we liked the LeapPad browser better than the InnoTab Max for better living up to the kid-safe emblem.
One of the pre-linked websites is the excellent HowStuffWork, which is full of fascinating facts that entertain and educate children, but also includes a chapter on sexual dysfunction.
While there is nothing obscene or pornographic, parents may prefer not to let their young people read about "How to Start Your Sex Life" or answer questions about "Herb Sex Boosters".
Obviously, such risks exist even on otherwise harmless websites like the above, so it's great that concerned parents can easily add or remove websites from any child's whitelist using the Web Browser Controls.
Unfortunately, some useful educational websites cannot be added because they require Javascript.
For example, we cannot make the Mathletics website work. This would have been a great addition to the Storio Max web browser.
Parents should remain vigilant when handing over their phone or tablet to their young children, unless because child can browse for inappropriate material unless they have parental controls in place.
The Storio Max's parent settings should make it easier to mitigate this risk.
Wifi on the Storio
One of the Wi-Fi features we really liked, is Kid Connect, where children can send and receive text and voice messages, photos, stickers and drawings to InnoTab friends and family members who install the Kid Connect app on their iPhone or Android smartphones.
Kid Connect also offers family group chat, multiplayer games and Family Bulletin features. The Kid Connect mobile app allows you to manage your child's contact list.
Older kids especially enjoy the messaging feature, although I found it confusing and had to ask another parent who had Storio helped.
Security is pretty good when a parent has to approve of every friend, and it's easy to use, even for a four-year-old.
Parental Settings
Parental settings include time settings so you can limit the amount of time your child can play with the tablet. This is an excellent idea.
Even with educational tablets like the Storio, parents have to limit the amount of time spent on such technology.
Also read: how much screen time is safe for kids
We also like that you can also connect it to your TV using a mini HDMI to HDMI cable - also known as an HDMI type A to type C cable.
However, you have to buy this separately.
The Storio MAX can use most cartridges designed for older InnoTab models.
However, due to the larger screen, you must first download updated versions to the tablet in order to play these older cartridges.
Vtech Storio Max 7 performance
We found the Storio Max 7 to be slow on loading (very slow at times), with the Loading icon spinning for frustratingly long times.
If you're used to a fast iPad or Android this will no doubt annoy you, although I think it teaches kids the value of patience!
Oddly, even the iOS and Android Kid Connect app mirrors the slow loading times.
Other apps include a clock (when can they actually read it?), a calculator, a calendar, notes and a music player.
With adult supervision, the VTech InnoTab Max helps your child with basic math (counting, addition, subtraction) and English (handwriting, spelling and reading).
Other games can improve a child's spatial sense, perception and pattern recognition.
Luckily, the battery is rechargeable (via the included micro USB cable), so it won't cost you a fortune in batteries.
VTech Learning games
However, downloading new games and apps can be expensive.
As with the LeapPad, additional software is not cheap, with new games averaging 3-5 euros, which is slightly cheaper than Leapfrog.
Should I buy the Vtech Storio Max 7?
Best suited for ages 3-6, the VTech Storio Max includes fun, creative games plus an excellent messaging feature that kids love.
The child safe web browsing needs some parental controls, but is more comprehensive than that of rival Leapfrog.
We found the Storio Max to be frustratingly slow to load, and the photo quality is just as bad as with any kids tech, but it's certainly a good choice for a kid's first tablet.
On the other hand, the tablet may get bored a little more quickly for the children because they cannot access the internet. The vTech Storio Max is for sale for € 120.
Budget for smaller children: vTech DigiGo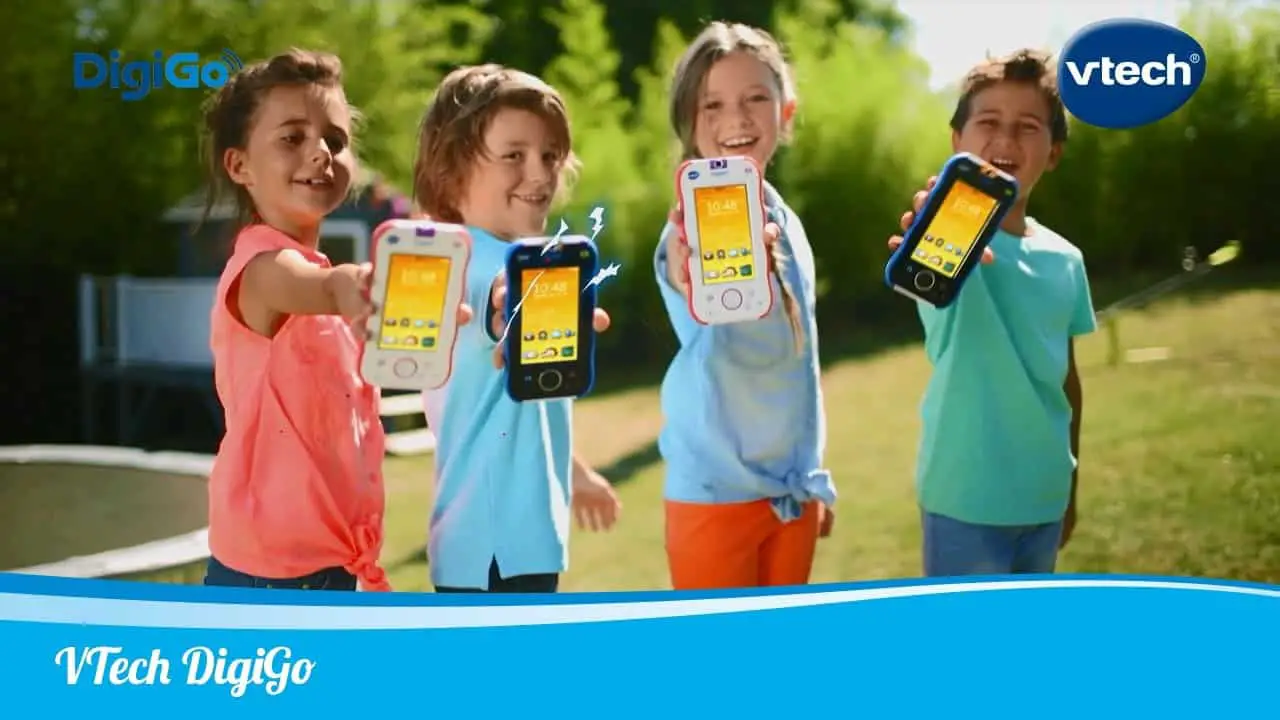 Best suited for: 2 to 4 years
Safe browsing: No.
Youtube: No
Size: 4.3 inch
Speed: na
We will stay with the vTech brand for a while, because the next tablet is the vTech DigiGo.
This device has a 4.3 inch screen, which is a nice small size for the smaller children.
Furthermore, the tablet also has WiFi with which you can share all kinds of things with family or friends, such as voice messages or pieces of text.
The DigiGo has an internal memory of 4GB, so quite a few messages can be stored with it. With the 10 built-in apps you can play with it right away.
In addition to the built-in apps, two free downloads are also offered via Explorer Park, where a huge selection of apps await you. Another cool feature of the DigiGo is the 180˚ rotatable camera lens, with which the coolest photos can be taken.
You can buy nice technical gadgets for children in this age category.
Nowadays everyone is either working inside with a dedicated children's tablet, or outside with a hoverboard doing tricks (also read our comprehensive review of different hoverboards).
Compared to the Vtech Storio, the DigiGo is arguably the better of the two with more features and a softer price. The DigoGo is namely available from € 90.
Best for Older Kids: Point of View Kids Tablet with Headphones
Best suited for: 6 to 10 years
Safe browsing: Yes
Youtube: Ja
Size: 10 inch
Speed: Quad-core 4 GB RAM (high)
If your child often drops things, the Point of View tablet is an ideal choice. They have equipped the tablet with a bumper around the 7-inch screen, so that damage will not be easily sustained after a fall.
The Point of View has a MicroSD slot with which you can expand the memory, which the Point of View unfortunately does not have that much (1GB).
The Point of View comes very cleverly with wireless headphones, which ensures that the kids can never trip over loose cables. All in all, the Point of View is a very safe and practical choice to prevent damage.
In terms of price, it is a slightly more expensive option, so you will have to consider whether you consider the practical advantages of the Point of View more important than, for example, installed games or Parental Control software.
Best Kids Tablet for Books: Amazon Fire Kids Edition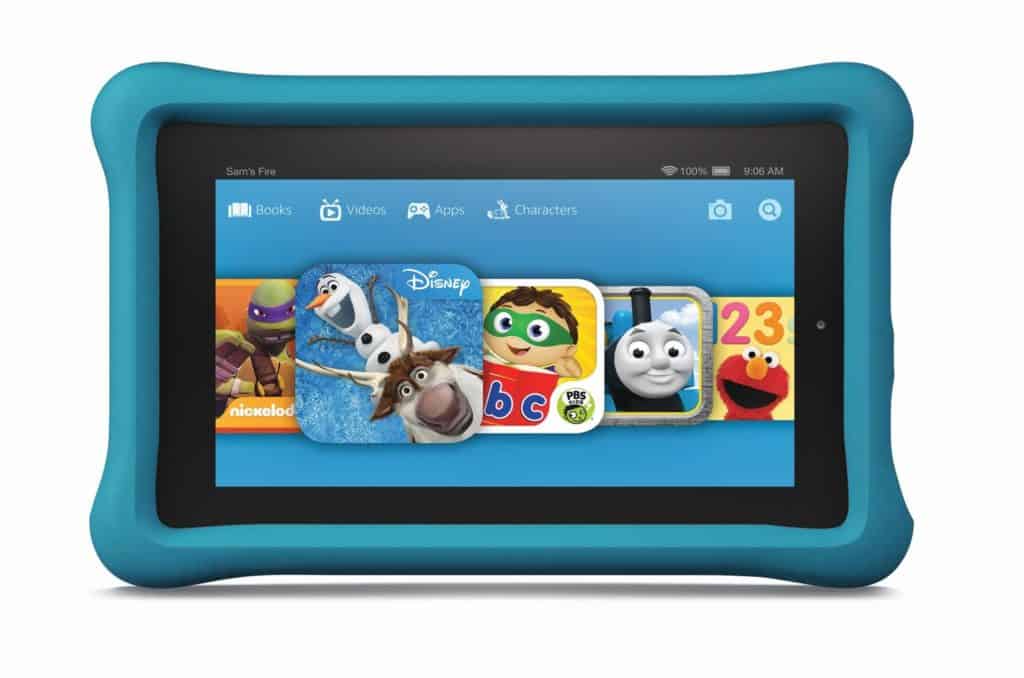 Best suited for: 3 to 8 years
Safe browsing: Yes
Youtube: Ja
Size: 8 inch
Speed: Quadcore 4 GB RAM (average)
Here I would like to specifically discuss the Amazon Fire and the Kindle tablet because many people asked me whether it is also available and used in the Netherlands.
Amazon Fire Kids Edition or Kindle in the Netherlands
And you can simply buy and use it in the Netherlands.
If you have younger children, it is best to purchase the kids edition because it has a soft protective cover included.
If your children are a bit older and probably don't just drop it anymore, or you buy one for yourself, you can buy the regular Kindle, which saves a little in amount versus processor power and is of course much more manageable for yourself.
Then there is the handy Kindle Paperwhite that makes it easy to read as if you were reading a book without that mirrored display, and waterproof so also perfect for the bath :)
Can you read Dutch books on the Kindle?
Nowadays you can also read Dutch books on the Kindle E-reader since amazon.nl put its offer online. You can also find a lot of popular English authors there.
The kindle e-book section is the only part that Amazon has rolled out in the Netherlands on the .nl website so far, for all other things you have to be in Germany (still).
Which in itself is not bad at all, because you can find very cheap products that you can of course also use here in the Netherlands.
But when you buy a Kindle e-reader, such as the paperwhite, you also want to be able to read books in your own language.
There are so many books available from Dutch writers which you can find here so that you don't miss out on your favorite authors.
There is also a whole section available with English books that you might also be able to read, you can find it here.
Convert Dutch E-reader books to Kindle
How people used to do it before is to buy books here at bol.com and convert them to Kindle by converting the EPUB format to MOBI.
After converting the book, you can load it onto your Kindle e-reader.
This video shows how to do this easily:
Now that Amazon is also available in the Netherlands, the need to do this will be less, but it is still a good option if your favorite book is not available on the Kindle in Dutch.
Amazon Fire kids edition in the Netherlands
The Fire Edition tablet starts in the Amazon Free Time and the design is aimed at children.
The device fonts and background color come in a kid-friendly format.
For example, the child only watches those titles that they have permission to view.
The home screen shows the history of the recent titles so you can watch what your child has searched for.
In addition, children can navigate visually to base the content on topics and characters.
Designed for child profiles: The tablet has a feature that allows parents to create a child profile and choose the content to access their children.
In other words, a parent can personalize the tablet according to their child's needs.
The child profile restricts access to email, social media and in-app purchases.
Screen Time Limits: The tablet offers innovative controls that a parent can use.
These controls ensure that the children learn first before continuing to play in order to manage screen time.
The free time allows the parent to choose all the content the child can see and limit their screen time based on content type.
For example, the parent can limit videos and games, but ensures that there is unlimited reading time.
Moreover, the Free Time in-app blocks payments and therefore you no longer have to worry about additional fees or charges.
Design and Durability: The tablet comes with several connectivity options.
The power button is at the top, along with the headphone jack and microUSB port. The volume control knob is on the left.
However, compared to the other tablets on the market, the Kids Edition abandons the microUSB option that complements the overall storage capacity.
A parent can further upgrade the Kids Edition from 8 GB to 16 GB by relying on Amazon Cloud Storage or during the checkout process.
Performance: The Kids Edition tablet comes with a sharp screen with a size of 1280 by 800.
This is stronger than the other competing tablets with a display of 1024 by 600.
The screen text is clearly visible and the colors are vivid when you play games.
Recently the Kids Edition delivered excellent scores in the benchmarking program (PCMark for Android).
The Kids Edition has established a score of 3610 points in the performance test of the program. The score is the highest in the tablets studied.
The test aims to simulate daily tablet tasks such as browsing and editing documents.
During the program's battery check, the Kindle has an excellent score of 4 hours 49 minutes.
Wi-Fi connectivity: The tablet has Wi-Fi with an antenna. This supports private and public networks using:
WLAN 802.11b-lowest cost
Signal range is good and not easily obstructed
WLAN 802.11n - With the fastest maximum speed and the best signal range. It is more resistant to signal interference from outside sources.
It also connects with the WLAN 802.11g standards and further supports the WEP, WPA2 and WPA password authentication. The tablet does not support connection to peer-to-peer Wi-Fi (ad-hoc) networks.
Do I need a special children's tablet?
To make the digital world safer and more intuitive for children, the tablet has recently been invented especially for children. This is a tablet intended for children of all ages.
They are specially designed and programmed to make it easier for children to use the tablet.
On the outside, they are often made with strong materials that allow the tablet to receive significant impacts and drops without seriously damaging the tablet as would happen with a normal adult tablet.
Often these tablets come with a special cover to give them extra security. For the rest, there are many models that are also water resistant. Ideal for your child.
Internally they are programmed for children and the latest models can be adjusted according to your child's age.
As a parent, you can set parental controls on your child's tablet. Many of the latest models are quite safe.
They have their own secure internet browser and can be adapted to what you as a parent want your little one to do and not do on his or her tablet.
You can restrict what your little one can and cannot see, do, download, and more on these devices.
In addition, you can also ensure that there is a time limit where the tablet blocks itself after a certain amount of time that your child has played on it.
Or you can indicate a specific time until when the little one can play.
Everything is thought of when creating the latest children's tablets.
Every year we see more and more models with more options and more qualities.
There are certain brands that do quite well in the market and are at the top.
View the reviews in video format, or read on for all background information and detailed tips:
What is a special children's tablet?
A children's tablet is a handheld computer with a touchscreen that is particularly suitable for use by children, sometimes with a completely child-friendly environment with its own apps and educational games.
Often times, it is a full-featured tablet with special settings that make it safe for children to use, such as parental controls and limited access to sites and apps.
Parental control
Some have fingerprint support and PIN that only the parent can set.
Others have robust built-in controls that ensure that parents limit the type of applications the children can access and the type of website they can visit.
So a parent does not have to worry about what the children are doing while using the tablets.
Provided you buy one that is specifically suitable for children. Otherwise, adding WiFi is a dangerous business.
Wi-Fi connectivity
The term Wi-Fi is short for "wireless", which refers to devices that can connect or connect wirelessly to a private Internet connection.
For a successful connection, a wireless router sends a signal that allows Wi-Fi enabled devices to connect.
The use of Wi-Fi was mainly for laptops. Nowadays, many more devices such as Smartphones, surveillance cameras and tablets have access to WiFi.
As long as there is an internet signal, a Wi-Fi device can be connected to the network at any time.
Most of the manufacturers that make kids tablets include the tablet with automatic Wi-Fi that helps them learn, play games, download applications and watch movies.
Normal tablet vs child tablet
Tablets have become important devices because of their computing power, portability and ease of use.
Kid's tablets have similar properties to regular tablets, but the design is optimized for the specific needs of the children and parents.
Kid's tablets have a wide variety of child-friendly features.
These modern times require the right products, which are also age-appropriate for children.
Many (grand) parents doubt whether this is a good idea and if so, which tablet?
A children's tablet is the right solution. In this way, children can safely learn about the modern techniques of our time.
A children's tablet is a nice gift for a birthday, Christmas or Sinterklaas, or as a reward after a good performance.
A children's tablet is available at many shops, of course from various brands.
The Intertoys toy store sells these, as well as specialist electronics stores such as Mediamarkt.
That is why it is good to list the possibilities, so that the right choice for the right children's tablet can be made. A tablet for relaxation, or as a helper with homework and / or social contacts.
A children's tablet is of course different from that for an adult. That is why it is important to look and compare.
If the children are allowed on an adult tablet, there is a good chance that they will face all kinds of things that are not appropriate for their age.
If they are allowed on their parents' tablet, they can even discover private matters, it is not advisable to do this.
A children's tablet does not give access to, for example, you-tube videos that are not suitable for their age.
Parents can indicate what is and what is not allowed on the tablet of their child (ren), on most children's tablets there is a function for this.
This feature can also apply to the maximum time that children are allowed to work on their tablet.
Other advantages of the tablet especially for children is that they are extremely sturdy.
This is of course very important, this makes the tablet much less vulnerable, even with rough use. The tablet is almost indestructible.
Advantages of a children's tablet
The tech world has grown rapidly in recent years and this process seems endless.
In addition, people are constantly excited about the emergence of various gadgets and productive devices that are worth exploring.
There is one technology toy, however, which, apart from other devices, is indisputably desired by the younger generation.
A tablet is a fascinating device that was first introduced in the XNUMXs and engraved into our lives shortly after.
Today, tablet has become one of the favorite devices for many small children.
And although you may still have doubts about whether you want to buy one for your child, seen too all discussion of screen time and child development, there are also many educational benefits to using a children's tablet.
I recommend that you use everything in moderation and set good guidelines about the use of screens, and would like to reflect on the benefits for your child.
According to it Pew Research Center about 58% of (U.S.) teens interact with tablet computers, and 46% of families have at least one at their disposal (according to the Grunwald Associates study).
These high numbers indicate that parents do not mind buying such a gadget for their little ones.
In addition, they find that it has a positive effect on the way children grow, think and deal with problems or the world around them.
There are many reasons why tablets are good for kids, and I am a big believer in introducing them to technology early on.
After all, it is definitely going to be their future and probably their future job.
But it's not even all about being tech-savvy or having fun.
So let's take a look at the benefits of your little man or girl using a tablet:
Entertainment
Games, animated series, movies, music, books and apps that are suitable and safe to entertain or even cheer up your child when he is moody.
Since all tablets have an internet connection, the fun becomes limitless. A child has all the trendy entertainment in one gadget.
Plus, this will be a time for parents to bond with their kids and spend time together to have fun and positive moments.
It is a way to learn together while playing games, but also to connect with family members and make video calls.
Education
Not only do educational books or programs help to learn, but most of the aforementioned kids tablets also contain educational games.
For example, playing games helps to improve thinking or understanding of certain things in children, and you have something for every age.
For toddlers and preschoolers, there is fun content to keep them entertained as they learn and get used to touchscreens, something they will see more and more in the world.
For school-age children there is a lot of support and additional learning materials for arithmetic, language and more.
For teens it is crucial to have access to textbooks, to be able to do homework on a tablet or to give presentations.
Since a tablet is capable of meeting all of these needs and tasks, children feel more confident and learn to value and manage their own time.
Development
This aspect relates directly to toddlers and babies actively exploring the world.
A little one develops with multiple applications and games
his responsiveness,
he learns how to use his hands and can control things with finger movements
he learns how digital devices can respond to what they do
Tech talent
Different technologies are introduced and implemented constantly in all gadgets and in our life in general.
Letting a child use a tablet is a good solution to keep our boy up to date with the technology.
With a tablet and its functions, they learn how to make, change and adapt settings to their needs.
It is a significant step for future success and easy adjustment in society.
Now gadgets complete our social life and it is very important for our children to know how to use and manage them.
According to the Nielsen survey 70% of families with children under 12 say their children use tablets, true
77% of children play games,
57% pursue educational goals,
and 55% enjoy themselves while traveling,
where a lower number of children use tablets to watch TV alone or communicate with others.
From these statistics we can infer that parents tend to let their children use tablets for different purposes.
Along with many positive aspects for children to use a tablet, there are a number of advantages for parents to buy it and let the children use the device:
Relatively cheap: A children's tablet combines functions of several useful and important things of today, such as Internet access, TVs, MP3 players, game consoles, books, notebooks. With this set of valuable features, a tablet at 10-20 times cheaper price becomes a reasonable replacement for a regular computer costing hundreds and often thousands of dollars.
Portability and Lightweight: A comfortable size and a light weight make it possible for children to bring a tablet. Almost everything a young person can expect from a laptop or desktop PC is now easily available on the go.
Fast start-up and long battery life: Sometimes it is very important for parents to entertain a child immediately and for a considerable amount of time. For those attending school, quick access to the information or continuous operation is very important. In this way, tablets can save both adults and their children time and nerves.
Ability to follow children: Tablets are a great way for parents to keep track of their children's lives and control certain things. For example, you always know where your children are when you install an app on their tablet. Or you can block inappropriate apps and sites, you can set specific time limits and view their screen time.
Infinite Expandability: Modern tablets can become an essential part of life thanks to its redundant capabilities to extend functions and install apps from the web. Moreover, a tablet with a USB port, memory card slot or HDMI is a real relief for parents who are always trying to entertain their children.
Opportunity to get together: A tablet connects parents with their children through useful and fun apps. Playing games, learning things together and watching a series complement better relationships and a closer bond between children and their parents and grandparents.
Now that you know the value of a tablet for children and their parents, it is difficult to talk about the disadvantages that these gadgets can have.
There are certainly a few, but it all depends on attitudes to tablet use, children's education, and other things.
So let this little device entertain, teach and improve the technical skills of your beloved kids and make good arrangements about it like one of these ways to earn screen time.
Before we dive into the reviews, I also want to consider a few tips to keep in mind when considering buying one:
Children's tablet offers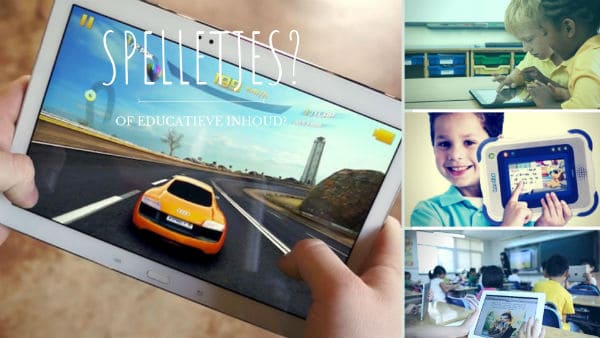 Especially bol.com and Mediamarkt are two giants known for their price-friendliness and good offers. Keep an eye on their offer.
And although bol.com offers everything online, the Mediamarkt website can sometimes be a maze, so look here for some of the best tablets at Mediamarkt. And we'll discuss some offers and tips here!
Offers at Bol.com
Bol.com has annually recurring special promotions, in addition to the monthly changing offers.
Bol.com has new offers every month. In addition to these varying offers, bol.com also has recurring promotions every year, with attractive discounts.
An overview of the special promotions can be found on the website, on this page here are the deals on electronic devices. But there are also often price reductions on individual devices such as children's tablets.
Moreover, there are also special seasonal promotions and even then the list does not end yet. In the list you will also find permanent promotions where the items are always changing, such as the Sales Corner and the Weekendsale.
Bol.com always has a few good promotions running, so check regularly whether there is also a nice children's tablet among the offers so that you can purchase it for the best price!
Offers at Mediamarkt
Mediamarkt has a great promotion with VAT away, and has weekly changing offers with nice discounts on various items.
Mediamarkt has a well-known recurring promotion, namely VAT away with it. For a few days, the VAT is deducted from your purchase, so you can save a nice amount with this.
The VAT on electronics is 21%. The 21% is in addition to the price that stores charge for their items, so the retail price displayed is actually 121%.
If you want to calculate how expensive your chosen children's tablet is during the promotion, the calculation is simple: 'the price * 100/121' gives the correct price without VAT that you will have to pay!
The products and brands that participate in this promotion will sometimes change. Just before the promotion, it is always announced which products and brands are participating. So make sure that your chosen children's tablet also participates in the promotion!
The offer applies in the Mediamarkt stores and in the webshop, so if your children's tablet takes part in the promotion, you don't even have to leave the house to get the children's tablet with a nice discount.
The range of this giant is actually quite limited when you consider the other products they sell.
For example, you will get lost in the TVs, laptops, speakers, and home appliances they offer.
In the field of children's tablets, there is really only one brand offered, and that is the Kurio children's tablet.
They offer a total of 3 models, the Telekids Tab Advance (pink or blue) and the Kurio Tab 2 in green.
These are one of the most qualitative tablets available on the market and the store guarantees that too.
The models do fit in different price ranges
View the range of children's tablets at MediaMarkt here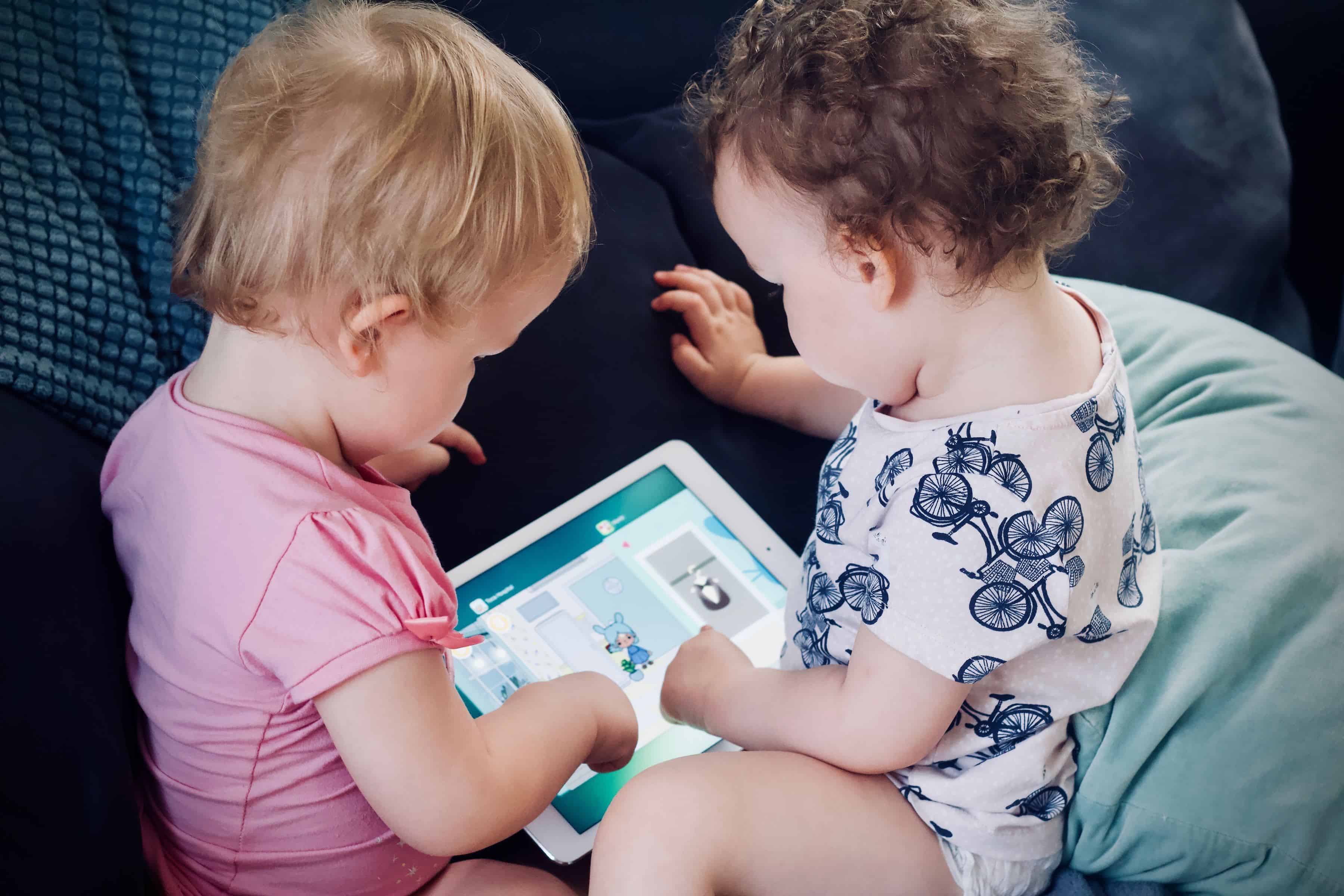 In addition to the nice VAT away with it promotion, Mediamarkt naturally also has offers running all year round, which change every week.
You can also view the brochure online if you don't get it home.
Also keep a close eye on this, because your child's tablet might be there. How much discount you get varies greatly.
Yet there are often good offers where you get a nice discount.
And then you don't even have to wait for the VAT away with it, and you can get the tablet even earlier.
Conclusion
Buying a kids tablet can be quite pricey, but you don't have to. As long as you keep an eye on the offers and wait for the right time!
Bol.com has annually recurring promotional weeks with many different discounts, and Mediamarkt has gotten away with the well-known VAT promotion.
In addition, both stores have constantly changing offers, which you can also keep an eye on for well-discounted children's tablets.
We hope that with the top 11 tablets you have gained more insight into the range of available children's tablets on the market!
Also read: the best laptops for school children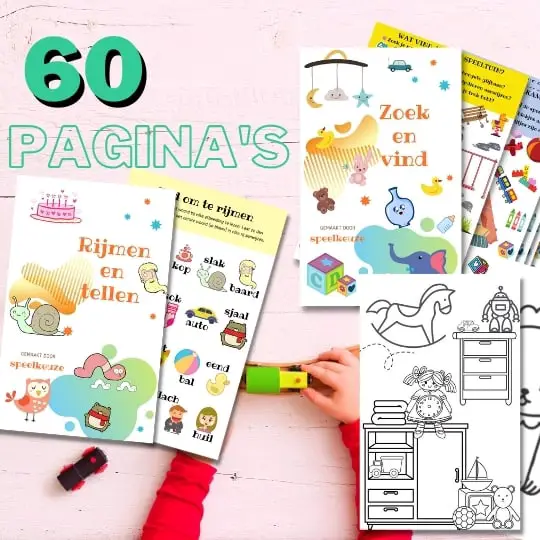 Always something to do for the holidays or rainy day?
Play Choice now has the ultimate activity book collection, with over 60 pages of fun coloring pages and educational puzzles.
Joost Nusselder, the founder of Speelkeuze.nl is a content marketer, father and loves trying out new toys. As a child he came into contact with everything related to games when his mother started the Tinnen Soldaat in Ede. Now he and his team create helpful blog articles to help loyal readers with fun play ideas.